Finvasia Securities is a key player in the stock market with hundreds of Finvasia Securities Sub Broker working under them across India. Around 2,597 active customers are actually active by Finvasia Securities in the current year.
Summary
Top Business Model
Sub Broker
Revenue Sharing
50% – 70%
Security Deposit
Rs.25,000 – Rs.100,000
Become Sub Broker in
28 Days
Receive Payout in
30 Days
Founder
Sarvjeet Singh Virk
Established Year
2003
There are absolutely no charges as AMC for trading is Zero, the Account opening is Free, call and trade charges are free and as they don't charge commission so the GST charged on commission is also Zero. Compared with other brokers, Finvasia Securities is relatively new.
We discussed sub broker, franchise, authorized person, partner Review and many more details about Finvasia securities in the following article.
---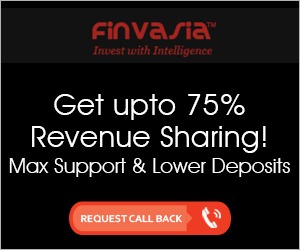 ---
Finvasia Securities Sub Broker – Customer Ratings
Finvasia Securities stockbroker is rated good by its customer. Overall ratings on the basis of experience, offers, etc are 2.4 out of 5.
The essential factor customer select Finvasia Securities stockbroker is for their lower brokerage, better customer service, high leverage, and robust trading platforms.
They are backing with average customer support service, security deposit, and minimum exposure.
---
About Finvasia Securities Franchise

Finvasia is a discount broker, which was launched in 2003 and is based in Chandigarh, Punjab.  It was established by Sarvjeet Singh Virk.
Finvasia is new in the stockbroking discount block. Their proposal is easy–nil brokerage through all of segments, fixed payment for the trading platforms (more about that later). Customers and users are not subject to the "technology cost" model on the basis of the number or quantity of stock markets traded.
It takes 28 Days for activating SB code and 30 days for Payout time.
Offer customer for trading in the following segments:
Equity
Currency Trading
Derivative Trading
Commodities Trading
IPO
Bonds
NRI Trading
---
Become a Sub Broker with Finvasia Securities – Just Fill up the form
---
Compare Sub Broker Franchise
vs
---
Finvasia Securities Sub Broker – Business Models
Below business model of Finvasia securities is discussed.
As per the business modelFinvasiasecurities gives the franchisee a license entitling franchisee to use their methods, trademarks and brand.
In return, the franchisee pays an initial license fee and an ongoing business fee.
The franchisor provides the Finvasiawith a support package and operating manual that cover things like induction, training, business development advice, marketing and so on.
Which means Finvasia'sbusiness partnercan run and develop the business, even if they have no prior experience in this field.
Following business model Finvasia securities follow:
Sub Broker: A Sub Brokeris a business relationship where they allows sub broker to operate clones of a proven business model in return for initial and ongoing fees.A Sub Broker should be a SEBI registrant.
Remisier:Remisier is an agent for a stock broking company and receives a commission for each transaction. The remisier is responsible for losses arising from any securities transaction transacted through him by a stock broking company.
---
Finvasia Securities Franchise Commission Models / Revenue Sharing Models
The Finvasia securities revenue sharing model is explained below.
The Finvasia securities offer the opportunity to be partners in profits as a token of approval of trading with them.
The Finvasia Securities Franchise appoints-
Sub Broker on variant range of minimum 50% to 70% sharing model
Remisier on flat 30% sharing model
---
Check out Revenue Sharing of other Sub Brokers
---
Finvasia Securities Franchise Cost / Security Deposit
Franchise security deposit is explained below:
Finvasia securities offer others the chance to run a successful, profitable business with their support.
Franchisee can run a top-quality business with an additional reassurance of our extensive franchise support package for an initial investment in the deposit amount.
Sub Broker has to deposit amount of Rs.25, 000 to Rs.100, 000.
Remisier has to deposit amount of Rs.1, 000.
---
Here are Security Deposit info of other Stock Broking Franchise
---
Finvasia Securities Partner Infrastructure Requirement
Below infrastructure requirement for partner are explained.
Finvasia securities do not enforce requirement of office premises.
Finvasia securities provide research services to clients, which help trader to save time and money. It is mandatory to provide clients.
They send their reports to clients, if customer uses these reports; they should look at the recommendations they have given in the past and try to assess their accuracy.
TheFinvasia securities discount stock broker offers different trading platforms to its clients and is looking to launch 4-5 new trading and analysis based platforms.
Providing trading terminal are not compulsory to clients.
High Speed Internet connection should be facilitating.
---
Finvasia Securities Sub Broker Offers
In the following table offer of Finvasia sub broker is mentioned.
There are various offers available for the Sub-brokers of the Finvasia Securities which are as follows –
Zero deposit is offered for the Sub-brokers of the Finvasia securities.
The initial deposit of Rs 10,000 is not obtained.
Finvasia securities allow Flexible Revenue Sharing to Sub Broker.
Flat revenue share is not necessitated to sub-broker.
Zero Revenue Sharing with Prepaid is not permitted.
---
Check out other companies Sub Broker Offers
---
Finvasia Securities Franchise Support
Franchise Support by Finvasia securities are discussed-
Finvasia securities supports franchise on many ways to retain their customer and grow their business in following ways.
Rentable back office solutions free your ability to focus on the customers.
Offer to use SCALPERT which is free of cost and is just about the right fit for customer trading requirements.
Finvasia securities do charge some technology costs for softwares like NEST.
Every month RM Team call and take feedback.
Detailed Trading report forwarded through SMS and email at the end of the day.
Since its a discount stock broker, thus, most of the communication channels are online in nature.
As far as the turnaround time is concerned, it is relatively quick and able to get the solution of your concern within a stipulated time period. The quality of the resolution can be unsatisfying at times.
---
Finvasia Securities Franchise – Brokerage Charges to Clients
Below Brokerage Charges to Clients are discussed.
Finvasia securities charge a fixed fee for using their trading platform.
Finvasiasecurities sub broker charge annual maintenance charges, call & trade charges etc.
They chargefixed amount per order traded:In this plan the broker charges a fixed amount per traded order.
Finvasia securities brokers charge flat 10/- per executed order for trading on every segments.
---
Finvasia Securities Sub Broker – Account Opening Charges to Clients
Know how to open accounts for customers with the table below.
The trade account is used to place orders on the stock marketto buy orsellthem.  The trading AMC is free.
The demat account is used for the purpose of transferring stocks and collecting stocks sold. It cost 300 per annum for demat AMC
Finvasiasecurities sub broker charges for account opening charges are zero.
The trader is obliged to pay transaction charges for every transaction, and it is 0.00275%.
The margin is the difference between value of an investor's total securities and a broker's loan, for trading with Finvasiasecurities sub broker margin money is ZERO.
---
Benefits of Finvasia Securities Partner Program
The Finvasia Securities Sub-brokers program is beneficial for the sub-brokers as –
Robust trading platforms (NEST, NOW, Presto)
10x Leverage in MIS
No clearing indicts.
Many automated (algo) trading resolution.
Decent customer service
Intraday Square off time of 3:15 pm in cash equities.
Zero brokerage/ Zero account opening charges/ Zero clearing charges.
Charge Zero for platform (mostly use NOW and Scalpert for trading).
Back office reports & EOD SMS trade reports.
Client support, most of customers problems solved in 24 hours.
Nearlyinstantaneousfinance transfers
---
Become a Sub Broker with Finvasia Securities – Just Fill up the form
---
Find detailed review of other Sub Broker Franchise