Kotak Securities Sub Broker program is one of foremost broking franchise to have business partnership in form of sub-brokership.
Summary
Top Business Model
Sub Broker
Revenue Sharing
50% – 70%
Security Deposit
Rs.100,000 – Rs.300,000
Become Sub Broker in
21 Days
Receive Payout in
35 Days
Founder
Uday Raj Kotak
Established Year
1994
It gauged the potential that retail outlets and local/communal merchant posses and to capitalize on the same, Kotak Securities launched sub-brokership programmes.
Herein, one will get to read about Kotak Securities Franchise Review & also get in-depth understanding on revenue models, the eligibility criteria for each of partner program, the quantum of investment required and other relevant aspects.
---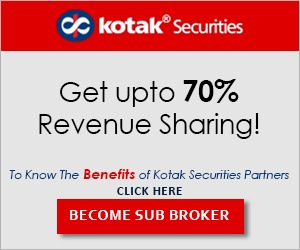 ---
Kotak Securities Franchise Customer Ratings
Kotak Securities Franchise
Experience
3.50
Services
4.00
Products
4.00
Trading Platforms
4.00
Support
3.20
Revenue Sharing Model
3.40
Security Deposit
3.20
Offers
2.50
Market Share
2.50
Overall
3.37
---
Compare Sub Broker Franchise
vs
---
Types of partnership models
Sub-broker model
NetInvest Ace
NetInvest Direct
---
Become a Sub Broker with Kotak Securities – Just Fill up the form
---
Kotak Securities Sub-broker model
This is a typical sub-broker business model wherein the person ties-up with Kotak Securities. Kotak Secrities will provide its brand tag and support to the sub-broker and in return the sub-broker is required to increase the customer base and assist the existing customers with their investment/trading activities.
Kotak Securities NetInvest Ace model
This business model is brought out for the sub-brokers that wish to expand their customer offerings from mutual funds and IPOs to equities.
Kotak Securities NetInvest Direct model
This is an entirely different business mode that Kotak Securities offers – under this model, the sub-broker is only required to increase the customer base.
It does not require the partner to assist the clients with their investing/trading activities, rather their scope is limited to connect customers with the Kotak Securities network and thereafter it is the main broker that will take care of the customer.
The Netinvest Direct broker's role ends at the point of connecting the customer with Kotak network.
---
Kotak Securities Sub Broker Commission or Revenue Sharing Model

Kotak Securities offers a competitive revenue sharing ratio i.e. more or less at par with the other major market players.
Though it has standardised revenue sharing ratios but in actual the ratios may be negotiable depending upon the terms of agreement with the sub-broker.
The typical revenue ratio varies from 30% to 50% but it may go upto 70% as well if the sub-broker has a very strong market command and fetches large chunk of business.
The ratio that Kotak Securities offers is based on various parameters, some of which are listed below:
Experience of the sub-broker;
Expertise;
Networking skills;
Security deposit offered;
Trade volume generated;
Existing client base; etc.
As mentioned above, the sharing ratio may differ depending upon the case to case.
For each individual case, Kotak Securities would assess the above mentioned criteria and other relevant criteria and then offer a revenue sharing ratio such that it results in a win-win situation for both the sides of arrangement.
---
Check out Revenue Sharing of other Sub Brokers
---
Kotak Securities Initial investment/ Franchise Cost or Security Deposit Amount
Kotak Securities, while appointing sub-brokers, ensures that the candidate is capable enough of setting up a decent front office with workstations and trading terminals.
Apart from this, it requires the candidate to deposit a security amount ranging from 1 Lac to 3 Lac. This amount is refundable provided there are no dues of the sub-broker. Thus, this deposit is only as an insurance towards the default risk that sub-broker may pass on to Kotak Securities.
---
Here are Security Deposit info of other Stock Broking Franchise
---
Kotak Securities Sub Broker Offers
Since Kotak Securities recognizes the business potential that this model carries, it floats variety of offers for its sub-brokers. Some of these are listed below:
Negotiable revenue sharing ratio;
Performance awards & rewards;
Flexible deposit policy;
Technology support;
Lucrative offers to attract customer base;
Free Demat account for client;
Discounts on brokerage charges (depending upon performance)
---
Check out other companies Sub Broker Offers
---
How to become Sub Broker with Kotak Securities?
One needs to adopt a very plain and simple process for registering with Kotak Securities. To begin with, the candidate needs to visit the website. The next steps are:
1st Step – Fill up the applicable and relevant form on the website. Ensure that correct details are provided.
2nd Step – Kotak Securities' executive will connect over call for verification of details
3rd Step – Fix up an appointment with the Kotak Securities Team (the Kotak team would connect for the same)
4th Step – Exchanging the business ideas over the table and understanding what is expected by both the parties
5th Step – Furnishing all the requisite documents and making necessary payments
6th Step –Verification of documents
7th Step –  Receiving Account ID and activation of the same
The process takes 2 to 7 days depending upon the turnaround from the candidate.
Documents Required for associating with Kotak Securities –
Academic certificates and marksheets;
Identity proof;
PAN Card
Aadhaar Card
Date of birth proof;
Address proof;
Passport size photographs;
Cancelled cheque or Bank statement
Office space set up verification;
---
Why partner with Kotak Securities?
Few pros of associating with Kotak Securities are listed below:
A pioneer in Stock Broking;
Well reputed Broking Company of the nation;
Multiple asset classes offered;
Excellent trading platforms;
Advanced Technology;
Attractive revenue sharing mode;
Low initial investment;
Negotiable initial investment;
Easy & quick procedure
Launches attractive offers for customers;
---
Support provided by Kotak Securities Partner Program
Marketing Support
Client acquisition support
Technology Support
Educating on the technical skills of investing/trading
24*7 Customer Support
---
Become a Sub Broker with Kotak Securities – Just Fill up the form
---
Find detailed review of other Sub Broker Franchise
---
List of Top Kotak Securities Partners / Business Partners
| | | | |
| --- | --- | --- | --- |
| Company List | Remisiers Name | Trade Name | Remisiers Registration No. |
| Kotak Securities | VIKRAMSINGH BHARADWAJ | VIKRAMSINGH BHARADWAJ | AP0106730100324 |
| Kotak Securities | ANIL KUMAR LADHA | SHREE RUDRA FINANCE CONSULTANT | AP0106730100319 |
| Kotak Securities | ARTHYOG CONSULTANTS AND SECURITIES PVT. LTD. | ARTHYOG CONSULTANTS AND SECURITIES PVT. LTD. | AP0106730100461 |
| Kotak Securities | KALPESH KALIDAS PATEL | KALPESH KALIDAS PATEL | AP0106730100330 |
| Kotak Securities | DHEERAJ KUMAR | DHEERAJ KUMAR | AP0106730100327 |
| Kotak Securities | VENUGOPAL REDDY CHIDURUPPA | VENUGOPAL REDDY CHIDURUPPA | AP0106730100336 |
| Kotak Securities | CHIRANJEEVI NARRA | CHIRANJEEVI NARRA | AP0106730100332 |
| Kotak Securities | BHARATI S NAGDA | BHARATI S NAGDA | AP01067301111280 |
| Kotak Securities | BIBHUTI BHUSHAN TIWARY | BIBHUTI BHUSHAN TIWARY | AP01067301111391 |
| Kotak Securities | PUJA SANJAY SAXENA | PUJA SANJAY SAXENA | AP01067301111344 |
| Kotak Securities | GOENKA INVESTMENT ADVISORY PVT LTD | GOENKA INVESTMENT ADVISORY PVT LTD | AP01067301111407 |
| Kotak Securities | HARSHIT SADANI | HARSHIT SADANI | AP01067301111331 |
| Kotak Securities | KUNJ MRUNAL SHAH | KUNJ MRUNAL SHAH | AP01067301111399 |
| Kotak Securities | SUPRIYA SAHOO | SUPRIYA SAHOO | AP01067301111396 |
| Kotak Securities | UPENDRA KUMAR SINGH | UPENDRA KUMAR SINGH | AP01067301111416 |
| Kotak Securities | GANGA S BHAT | GANGA S BHAT | AP01067301111437 |
| Kotak Securities | ALOK KUMAR | ALOK KUMAR | AP01067301111430 |
| Kotak Securities | NITIN GOKULRAO CHINTAMANI | NITIN GOKULRAO CHINTAMANI | AP01067301111453 |
| Kotak Securities | PALLAVI SAHU | PALLAVI SAHU | AP01067301111443 |
| Kotak Securities | MANINDER PAL SINGH | MANINDER PAL SINGH | AP01067301111452 |
| Kotak Securities | GUBBALA SRINIVASA RAO | GUBBALA SRINIVASA RAO | AP01067301111461 |
| Kotak Securities | VISHAL SINGH | VISHAL SINGH | AP01067301111465 |
| Kotak Securities | SAMEER HARESH DHABALIYA | SAMEER HARESH DHABALIYA | AP01067301111481 |
| Kotak Securities | SANDIPA VERMA | SANDIPA VERMA | AP01067301111482 |
| Kotak Securities | RAJAT GHOSH | R G CAPITAL AND INVESTMENT | AP01067301111547 |
| Kotak Securities | ASHISH CHAUHAN | ASHISH CHAUHAN | AP01067301111533 |
| Kotak Securities | SAMIR RANJAN | SAMIR RANJAN | AP01067301111565 |
| Kotak Securities | MARY ANTONY | MARY ANTONY | AP01067301111559 |
| Kotak Securities | RAJENDRA P VADANGEKAR | RAJENDRA P VADANGEKAR | AP01067301111591 |
| Kotak Securities | VUNNAVA JYOTHIRMAYI | VUNNAVA JYOTHIRMAYI | AP01067301111627 |
| Kotak Securities | CHOUGULE MAHESH ABHAY | MAHESH ABHAY CHOUGULE | AP01067301111640 |
| Kotak Securities | MILAN KUMAR SACHDEVA | MILAN KUMAR SACHDEVA | AP01067301111676 |
| Kotak Securities | KUNJ BIHARI | KUNJ BIHARI | AP01067301111694 |
| Kotak Securities | NIDHI HARISH MITTAL | NIDHI HARISH MITTAL | AP01067301111697 |
| Kotak Securities | WASUDEV SAKHARAM ZAPARDE | WASUDEV SAKHARAM ZAPARDE | AP01067301111728 |
| Kotak Securities | FINPAL CONSULTING AND ADVISORY PRIVATE LIMITED | FINPAL CONSULTING AND ADVISORY PRIVATE LIMITED | AP01067301111757 |
| Kotak Securities | SUMAN SINHA | SUMAN SINHA | AP01067301111779 |
| Kotak Securities | PASAWALA KAJAL VIRAG | PASAWALA KAJAL VIRAG | AP01067301111749 |
| Kotak Securities | VIVEK PATWARI | VIVEK PATWARI | AP01067301111748 |
| Kotak Securities | O2O WEALTH MANAGERS PRIVATE LIMITED | O2O WEALTH MANAGERS PRIVATE LIMITED | AP01067301111787 |