SAMCO Securities Sub Broker Program is similar to Referral Business Model.
Lets us discuss in detail the various Sub Broker options with Samco along with the pricing and other benefits and why one should choose SAMCO Securities as their preferred broking partner.
Summary
Top Business Model
Referral Program
Revenue Sharing
10% & 20 Free Trades
Security Deposit
Zero
Become Sub Broker in
30 Days
Receive Payout in
27 Days
Founder
Jimeet Modi
Established Year
1993
Jimeet Modi, who is also the CEO of the company, established SAMCO Securities in March 2015. It was earlier known as Samrudhi Stock Brokers Limited.
Samco is one of the top and fastest growing Discount brokers of India and offers a platform to trade on all segments be it Equity, Commodity, Currency or Derivatives.
It was also the first one to have launched the Indian Trade League (ITL) in India in May 2015. It invites a lot of traders to do easy and faster trade while earning great money as well.
---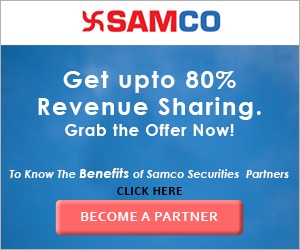 ---
SAMCO Securities Sub Broker Customer Ratings
SAMCO Securities Franchise
Experience
2.60
Services
2.50
Products
2.70
Trading Platforms
2.60
Support
2.40
Revenue Sharing Model
2.80
Security Deposit
2.40
Offers
2.70
Market Share
2.50
Overall
2.58
---
Compare Sub Broker Franchise
vs
---
Types of SAMCO Sub Broker Business Models
When it comes to the sub-broker or franchise model, there is only one model that SAMCO offers; the SAMCO referral/sub-broker model.
---
Start your business with SAMCO Securities Authorised Person – Just Fill up the form
---
SAMCO Securities Referral Model or SAMCO Securities Franchise
SAMCO Securities has a very interesting referral Business model that every trader can capitalize on. By inviting friends and family to join SAMCO, you get great cash as well as trading benefits.

For every friend referred, SAMCO gives you and your friend both 20 Free trades. Moreover, you get 10% of his brokerage share every time he trades and this is for lifetime. Which means this is a recurring lifetime income irrespective of your individual trades.
That earned brokerage amount is added to your trading account and can be utilized for individual trade or you can also withdraw it in form of cash from your bank account.
The business model of SAMCO securities is one of the most sought-after features, which can be highly beneficial for traders. You can get trading benefits and also cash benefits in case you can get people from your circle to sign up for SAMCO.
The benefits include:
Ten percent brokerage is spent by your find or family, who you have referred to as cash benefits for a lifetime.
The one you referred to, and you will get 20 free trades by SAMCO.
The cash benefit is either deposited in your trading account, which can be used for future trades or can be withdrawn in the form of cash directly into the bank account.
---
SAMCO Securities Sub Broker Commission or Revenue Sharing Model
SAMCO Securities has a very unique Revenue Sharing model wherein you can earn a lot. You can trade yourself and also get someone else to trade while benefiting from that as well. With the referral model with SAMCO, you can refer your friends and obtain 20 Free Trades right away.
Over and above that, with every trade they do, you will be paid 10% of their brokerage for lifetime. Imagine the kind of recurring income you would make only if you add more traders to the pool.
The below table of earnings could give you an estimate of what is the kind of earnings you can make with this model:
| | | | | | | |
| --- | --- | --- | --- | --- | --- | --- |
| Referred Clients | Trades Executed per client | Earnings / Trade | Daily Earning | Weekly Earning | Monthly Earning | Yearly Earning |
| 50 | 5 | 2 | Rs.500 | Rs. 2500 | Rs. 11000 | Rs. 132500 |
Below is the revenue sharing of SAMCO Securities Referral Model or Franchise Model –
| | | |
| --- | --- | --- |
| Business model | SAMCO Commission | Referrer Commission |
| Referral Program | 90% | 10% & 20 Free Trades |
---
Check out Revenue Sharing of other Sub Brokers
---
SAMCO Securities Franchise Cost or Security Deposit Amount
With SAMCO Securities, there is no minimum Security Deposit that one needs to pay. Infact the Account Opening is also free of charge.
There is also a provision of Zero Balance Trading Account; you need not maintain any specific amount of Cash collateral's in your account.
| | |
| --- | --- |
| Business model | SAMCO Securities Deposit required |
| Referral Program | Zero |
---
Here are Security Deposit info of other Stock Broking Franchise
---
SAMCO Securities Sub Broker Offers
The Broking House Offers a lot of benefits to its traders to ensure they trade and earn more day-on-day:
Samco offers great savings on Brokerage as you need to pay only Rs. 20 per trade irrespective of the order size or the trade amount. Which means maximum savings for brokers.
The SAMCO Cash Plus offer gives you the flexibility to purchase and trade upto 4X of the value of your portfolio, which means you can leverage upto 4 times of your available funds and still trade.
Advanced Trading tools offer comfort of trading from desktop, laptop and also mobile which means you can trade while on the go as well.
Zero Balance Trading facility is something no other Broking house would provide you; with this you can actually trade upto 4X your available cash flow.
The Account opening process is also free and really easy to follow; within 5 minutes one can open their trading account with SAMCO.
They have a repository of historical Charts and Intraday charts dating back up to 25 years from now through which they analyze and provide great insights to their customers as well
SAMCO Securities offers a wonderful Referral program through which trader gets 20 free trades on referring each friend or family member. Plus he also gets 10% of the brokerage every time his referred person trades
There is also a program for the Stock Note Platform. You get 100% brokerage cashback on all trades done on the first month if you trade through this tool.
---
How to become a Sub Broker of SAMCO Securities?
All you need to do is open a Trading Account with SAMCO free of charge and add clients to your portfolio. This is an online procedure.
The customer can fill in all the details online below in the form and then upload the KYC documents for account opening. You will enjoy free trades as well as their 10% brokerage share every time they trade with SAMCO.
Documents required for SAMCO Securities Sub Broker Registration
Identity Proof – You can submit either of the following Adhaar Card / Pan Card / Passport / DL
Age proof: Passport or Pan Card
Address Proof: Adhaar Card / Passport / Voter ID
Cancelled cheque for bank details
SEBI registration certificate
---
Check out other companies Sub Broker Offers
---
Why Partner with SAMCO Securities?
SAMCO Securities is India's fastest growing Broking house today offering some really lucrative benefits to its Sub brokers
It gives an opportunity to its Sub Brokers to make a lifetime income by referring clients under their portfolio hence share a percentage of their brokerage generated.
SAMCO Securities Sub Broker Team uses humongous bank of data and strong business acumen to help its traders make informed decisions
The Advanced trading platform gives traders a comfort and hassle free trading experience where maintain record of each trade, brokerage, profit etc is very simple
The Multi market access from a single trading platform is also an added advantage given Sub brokers a comfort to deal with all segments in one go
Their Backend support team is also very robust and alert in assistance.
---
SAMCO Franchise Eligibility Criteria
When it comes to joining the franchise model, one needs to meet certain requirements to be eligible. These restrictions and criteria help the company to find candidates who can be successful as sub-broker for SAMCO.
This also helps level the ground for all the applicants. Here are the given eligibility requirements to be part of the program:
Age: there is a minimum threshold of age that one should meet to be part of the sub-broker model. You should be 21 years or more part of the program and fill in the registration form.
Experience: the applicants for the franchise program should have a minimum of 2 years of experience in the financial industry.
Educational Qualification: The minimum educational qualification that a candidate must have is an intermediate degree. However, having a bachelor's degree is a much better way to enter a sub-broker program.
Certifications: having certifications can be quite beneficial for professionals in every field. To be a SAMCO-authorised person or sub-broker, you, too, need to have some certifications. One of the most common is SEBI certification for the sub-brokers and traders.
---
SAMCO Franchise Registration
You need to first register with the SAMCO program to start as a partner. You will have to first pass through the contracting phase after SAMCO guides and aid their partners in understanding the ropes of being a sub-broker.
Here are the steps that one needs to follow:
Provide contact details and sign up for the basic registration form.
SAMCO representative will call after this.
After this, the registration process will start, so be prepared.
Later the process starts, and you will have to upload documents for KYC.
After this, start referring and adding clients to the account. You can start with your friends and family.
You can also create campaigns that will help spread the word about the SAMCO trading platform.
One thing to keep in mind is that there is no minimum investment fee asked from the sub-brokers. Also, one can earn anywhere from 50 to 60 percent as commission from the brokerage amount they earn.
---
Earning the potential of a SAMCO Partner / ROI
For the SAMCO business partners, there are multiple ways to earn. Here are four common ways:
When you refer SAMCO to various clients, and if they turn successful in signing up and start trading with SAMCO, then they will pay brokerage. The partners can earn 50 to 60 percent of the brokerage paid by the clients they bring as their earnings.
When a client buys a stock basket, then the sub-broker will get an annual fee of 40% as the commission.
Product Subscription Commission:
There are multiple products, Optionplus, Intrplus, Cashplus, and Stockplus, that are added to the SAMCO sub-broker program. For every product used and subscribed to by the clients, the partner will get a commission.
---
SAMCO Franchise – Pros & Cons
Here are the common pros and cons of the SAMCO sub-broker program.
PROS
The brokerage services in the franchise program will get a cashback of 100 percent in the first month.
The trade fee for each client is set to be INR 20 for every single trade they do. The lower prices will help attract more customers.
One can take advantage of multiple added products like KyaTrade, StockBasket, and RankMF.
One can get complete support and research material for better judgments and recommendations for the clients.
CONS
One will not get any help for branching out.
There are no NRI trading options for the clients.
There is an added cost for using the add-on products like StockBasket on the platform.
---
Infrastructure Investment by SAMCO Sub Brokers / Authorized Person
Infrastructure always remains one of the biggest concerns when it comes to any type of sub-broker program provided by brokers. However, with SAMCO, you do not need a separate office space as it is referral-based work, and it can be done from anywhere and everywhere. The sub-broking industry works in good faith and word of mouth, and there is no need to have any physical office.
However, one should have good internet connectivity and a computer to keep in touch with the clients. Also, try to have a good and modest space to have face-to-face meetings with the clients. Otherwise, one can do so using video chats as well.
---
Brokerage Charges were levied on the clients of SAMCO Partners
There is an exhaustive list of services and the charges that are paid by the clients. Every SAMCO partner needs to keep these terms in mind. The SAMCO partner charges are: –
2% or Rs. 20 for equity intraday services.
2% or Rs. 20 for equity futures services.
2% or Rs.20 for equity delivery services.
20 per lot for equity options services.
2% or Rs. 20 for currency futures services.
Rs 20 per lot for currency options services.
---
SAMCO Franchise Referral Program
SAMCO does not have a standard franchise program. Instead, theirs is a referral-based franchise program. In this, the partners can earn commissions by referring new clients to SAMCO. More clients referred equals more commission. You can use any mode of contacting new clients to get them to sign up and use SAMCO for trading.
This is a good side hustle for those who want to earn something extra on top of their regular income. You can get a commission of up to 10 to 20 percent on every referral.
---
SAMCO Authorised Person – Products Offered
When one becomes an authorized person under the SAMCO authorized person program, there are multiple benefits to reap. These benefits are quite useful in growing one's franchise business. You can also increase their overall income with the authorized person program. You can also manage their franchise as per their preference with this program. Some of the services that one can offer through the program are:
10k First Down Payment
Modular Earnings Distribution
---
SAMCO Franchise Conclusion
Currently, in India, among various companies, SAMCO Securities has created a good reputation over time with good services and lucrative rates. They also have a strong and reliable backend support system that helps in solving the issues as they arise. If you have a good and reliable client base or a good network of people looking to trade, then the SAMCO referral program is the perfect way to earn something extra for your lifetime.
---
SAMCO Sub Broker or Partner Program FAQs
When one thinks of a sub-broker program, multiple questions tend to rouse in one's head. Here are some of the common frequently asked questions.
Does SEBI authorize SAMCO as a trading platform?
Yes, SEBI is one of the authorizations that SAMCO has to be a legit trading platform in the Indian market. SEBI also has recently approved SAMCO's mutual fund business adding to the lots of products and services one can offer their clients.
How many partnership models can one choose from in SAMCO Securities?
SAMCO Securities offers only one partnership program called the SAMCO sub-broker program or the SAMCO Securities referral program.
Does SAMCO have a Partner Program?
No, there is no partner program, but one can still earn a good amount of commission from the referral program by SAMCO Securities.
What is the investment required to be a sub-broker of SAMCO?
There is no need for any initial investment; also, one can register for free. All you need is to provide the needed KYC documents during the registration process. Also, one should have a good computer and internet connectivity to stay in touch with clients.
What are all documents needed for the registration process?
Here are the documents that you need to submit:
Age proof
ID proof
Address proof
SEBI registration certification
Bank details or a Cancelled bank cheque
Passport sized photographs
Certificates showing education qualification.
Is there Training Assistance from the SAMCO program?
There is no dedicated training program for the sub-brokers, as the overall process is quite easy and simple to understand. One can, however, call backend support to get the needed assistance.
Is there any type of marketing support for the sub-brokers?
Yes, there are multiple marketing stationary that one can avail from the company. One can get pamphlets, banners, posters, etc., to increase awareness among possible clients. SAMCO also holds seminars that help learn about the services and products the company offers.
How much leverage is given by SAMCO?
Option buyers and sellers have different leverage provided by SAMCO. Option buyers get three times leverage, while the writer or sellers get 20 times leverage.
What is the overall reliability of SAMCO?
SAMCO, founded in 2019, is a company that is currently based in India and has a vast network of 5000+ traders and sub-brokers.
---
Start your business with SAMCO Securities Sub Broker – Just Fill up the form
---
Find detailed review of other Sub Broker Franchise
---
List of Top SAMCO Partners / Business Partners
| | | | |
| --- | --- | --- | --- |
| Company List | Remisiers Name | Trade Name | Remisiers Registration No. |
| SAMCO | Hiral C. Shah | Hiral C. Shah | R/0935/09146/17/01/2006 |
| SAMCO | Jatin Shah | Jatin Shah | R/0935/11316/11/07/2006 |
| SAMCO | Jatin Vinodbhai Vadalia | Jatin Vinodbhai Vadalia | R/0935/26450/26/12/2008 |
| SAMCO | Mohammed Khaleeque | Mohammed Khaleeque | R/0935/10686/23/05/2006 |
| SAMCO | Nikhil Dinesh Haria | Nikhil Dinesh Haria | R/0935/20093/15/02/2008 |
| SAMCO | Nirav J. Doshi | Nirav J. Doshi | R/0935/16678/06/09/2007 |
| SAMCO | Prachi K. Kesari | Prachi Kunjan kesari | R/0935/09145/17/01/2006 |
| SAMCO | Rajesh H. Sanghvi | Rajesh H. Sanghvi | R/0935/10228/10/04/2006 |
| SAMCO | S. L. Rao | S. L. Rao | R/0935/10220/10/04/2006 |
| SAMCO | Samruddhi Investment | Samruddhi Investment | R/0935/10301/17/04/2006 |
| SAMCO | Shilpa H. Shah | Shilpa H. Shah | R/0935/10416/21/04/2006 |
| SAMCO | Shishangna H. Maheshkumar | Shishangna H. Maheshkumar | R/0935/09648/28/02/2006 |
| SAMCO | Sonal Siddharth Shah | Sonal Siddharth Shah | R/0935/24667/08/10/2008 |