SAMCO Securities Sub Broker Program is similar to Referral Business Model. Lets us discuss in detail the various Sub Broker options with Samco along with the pricing and other benefits and why one should choose SAMCO Securities as their preferred broking partner.
Summary
Top Business Model
Referral Program
Revenue Sharing
10% & 20 Free Trades
Security Deposit
Zero
Become Sub Broker in
30 Days
Receive Payout in
27 Days
Founder
Jimeet Modi
Established Year
1993
Jimeet Modi, who is also the CEO of the company, established SAMCO Securities in March 2015. It was earlier known as Samrudhi Stock Brokers Limited. Samco is one of the top and fastest growing Discount brokers of India and offers a platform to trade on all segments be it Equity, Commodity, Currency or Derivatives.
It was also the first one to have launched the Indian Trade League (ITL) in India in May 2015. It invites a lot of traders to do easy and faster trade while earning great money as well.
---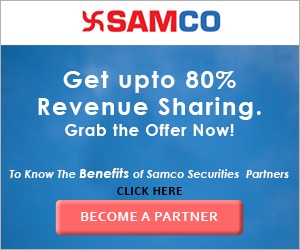 ---
SAMCO Securities Sub Broker Customer Ratings
SAMCO Securities Franchise
Experience
2.60
Services
2.50
Products
2.70
Trading Platforms
2.60
Support
2.40
Revenue Sharing Model
2.80
Security Deposit
2.40
Offers
2.70
Market Share
2.50
Overall
2.58
---
Compare Sub Broker Franchise
vs
---
Types of SAMCO Sub Broker Business Models
---
Start your business with SAMCO Securities Authorised Person – Just Fill up the form
---
SAMCO Securities Referral Model or SAMCO Securities Franchise

SAMCO Securities has a very interesting referral Business model that every trader can capitalize on. By inviting friends and family to join SAMCO, you get great cash as well as trading benefits.
For every friend referred, SAMCO gives you and your friend both 20 Free trades. Moreover, you get 10% of his brokerage share every time he trades and this is for lifetime. Which means this is a recurring lifetime income irrespective of your individual trades.
That earned brokerage amount is added to your trading account and can be utilized for individual trade or you can also withdraw it in form of cash from your bank account.
---
SAMCO Securities Sub Broker Commission or Revenue Sharing Model
SAMCO Securities has a very unique Revenue Sharing model wherein you can earn a lot. You can trade yourself and also get someone else to trade while benefiting from that as well. With the referral model with SAMCO, you can refer your friends and obtain 20 Free Trades right away.
Over and above that, with every trade they do, you will be paid 10% of their brokerage for lifetime. Imagine the kind of recurring income you would make only if you add more traders to the pool.
The below table of earnings could give you an estimate of what is the kind of earnings you can make with this model:
| | | | | | | |
| --- | --- | --- | --- | --- | --- | --- |
| Referred Clients | Trades Executed per client | Earnings / Trade | Daily Earning | Weekly Earning | Monthly Earning | Yearly Earning |
| 50 | 5 | 2 | Rs.500 | Rs. 2500 | Rs. 11000 | Rs. 132500 |
Below is the revenue sharing of SAMCO Securities Referral Model or Franchise Model –
| | | |
| --- | --- | --- |
| Business model | SAMCO Commission | Referrer Commission |
| Referral Program | 90% | 10% & 20 Free Trades |
---
Check out Revenue Sharing of other Sub Brokers
---
SAMCO Securities Franchise Cost or Security Deposit Amount
With SAMCO Securities, there is no minimum Security Deposit that one needs to pay. Infact the Account Opening is also free of charge.
There is also a provision of Zero Balance Trading Account; you need not maintain any specific amount of Cash collateral's in your account.
| | |
| --- | --- |
| Business model | SAMCO Securities Deposit required |
| Referral Program | Zero |
---
Here are Security Deposit info of other Stock Broking Franchise
---
SAMCO Securities Sub Broker Offers
The Broking House Offers a lot of benefits to its traders to ensure they trade and earn more day-on-day:
Samco offers great savings on Brokerage as you need to pay only Rs. 20 per trade irrespective of the order size or the trade amount. Which means maximum savings for brokers.
The SAMCO Cash Plus offer gives you the flexibility to purchase and trade upto 4X of the value of your portfolio, which means you can leverage upto 4 times of your available funds and still trade.
Advanced Trading tools offer comfort of trading from desktop, laptop and also mobile which means you can trade while on the go as well.
Zero Balance Trading facility is something no other Broking house would provide you; with this you can actually trade upto 4X your available cash flow.
The Account opening process is also free and really easy to follow; within 5 minutes one can open their trading account with SAMCO.
They have a repository of historical Charts and Intraday charts dating back up to 25 years from now through which they analyze and provide great insights to their customers as well
SAMCO Securities offers a wonderful Referral program through which trader gets 20 free trades on referring each friend or family member. Plus he also gets 10% of the brokerage every time his referred person trades
There is also a program for the Stock Note Platform. You get 100% brokerage cashback on all trades done on the first month if you trade through this tool.
---
How to become a Sub Broker of SAMCO Securities?
All you need to do is open a Trading Account with SAMCO free of charge and add clients to your portfolio. This is an online procedure.
The customer can fill in all the details online below in the form and then upload the KYC documents for account opening. You will enjoy free trades as well as their 10% brokerage share every time they trade with SAMCO.
Documents required for SAMCO Securities Sub Broker Registration
Identity Proof – You can submit either of the following Adhaar Card / Pan Card / Passport / DL
Age proof: Passport or Pan Card
Address Proof: Adhaar Card / Passport / Voter ID
Cancelled cheque for bank details
SEBI registration certificate
---
Check out other companies Sub Broker Offers
---
Why Partner with SAMCO Securities?
SAMCO Securities is India's fastest growing Broking house today offering some really lucrative benefits to its Sub brokers
It gives an opportunity to its Sub Brokers to make a lifetime income by referring clients under their portfolio hence share a percentage of their brokerage generated.
SAMCO Securities Sub Broker Team uses humongous bank of data and strong business acumen to help its traders make informed decisions
The Advanced trading platform gives traders a comfort and hassle free trading experience where maintain record of each trade, brokerage, profit etc is very simple
The Multi market access from a single trading platform is also an added advantage given Sub brokers a comfort to deal with all segments in one go
Their Backend support team is also very robust and alert in assistance.
---
Start your business with SAMCO Securities Sub Broker – Just Fill up the form
---
Find detailed review of other Sub Broker Franchise
---
List of Top SAMCO Partners / Business Partners
| | | | |
| --- | --- | --- | --- |
| Company List | Remisiers Name | Trade Name | Remisiers Registration No. |
| SAMCO | Hiral C. Shah | Hiral C. Shah | R/0935/09146/17/01/2006 |
| SAMCO | Jatin Shah | Jatin Shah | R/0935/11316/11/07/2006 |
| SAMCO | Jatin Vinodbhai Vadalia | Jatin Vinodbhai Vadalia | R/0935/26450/26/12/2008 |
| SAMCO | Mohammed Khaleeque | Mohammed Khaleeque | R/0935/10686/23/05/2006 |
| SAMCO | Nikhil Dinesh Haria | Nikhil Dinesh Haria | R/0935/20093/15/02/2008 |
| SAMCO | Nirav J. Doshi | Nirav J. Doshi | R/0935/16678/06/09/2007 |
| SAMCO | Prachi K. Kesari | Prachi Kunjan kesari | R/0935/09145/17/01/2006 |
| SAMCO | Rajesh H. Sanghvi | Rajesh H. Sanghvi | R/0935/10228/10/04/2006 |
| SAMCO | S. L. Rao | S. L. Rao | R/0935/10220/10/04/2006 |
| SAMCO | Samruddhi Investment | Samruddhi Investment | R/0935/10301/17/04/2006 |
| SAMCO | Shilpa H. Shah | Shilpa H. Shah | R/0935/10416/21/04/2006 |
| SAMCO | Shishangna H. Maheshkumar | Shishangna H. Maheshkumar | R/0935/09648/28/02/2006 |
| SAMCO | Sonal Siddharth Shah | Sonal Siddharth Shah | R/0935/24667/08/10/2008 |