Religare Securities Sub Broker Program started in the year 2004 and since then it has been able to set up more than 1500 franchise outlets. It is quite a known name in the broking business and hence has been successful in attaining these numbers.
Summary
Top Business Model
Sub Broker
Revenue Sharing
60%-70%
Security Deposit
Rs.50,000 – Rs.200,000
Become Sub Broker in
3-4 Weeks
Receive Payout in
31 Days
Founder
Nitin Aggrawal, Manjushree Ghodke
Established Year
1984
To understand in detail about the business models offered, the revenue sharing ratio and other details, read this article and obtain a general understanding of the Reliage Securities Franchise program.
Religare Securities is a part of Religare Group and started the broking business in the year 1994.
It is based out of Mumbai and offers products like equity, currency, commodity and is a depository participant. Commodity products are offered by another group company. The customer base for Religare Securities is as large as 10 lakhs.
---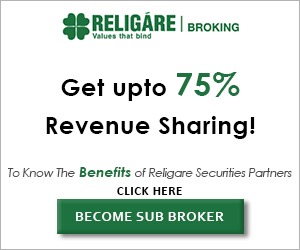 ---
Religare Securities Franchise Customer Ratings
Religare Securities Franchise
Criteria
Ratings
Experience
3.1/5
Services
2.9/5
Products
3.0/5
Trading Platforms
3.2/5
Support
3.1/5
Revenue Sharing Model
3.0/5
Security Deposit
2.9/5
Offers
2.8/5
Market Share
3.0/5
Overall
3.0/5
---
Compare Sub Broker Franchise
vs
---
Types of Religare Securities Sub Broker
Currently, Religare Securities is offering partnership in the following two business models:
---
Become a Sub Broker with Religare Securities – Just Fill up the form
---
Religare Securities Sub Broker
The sub broker model is a very basic and widely accepted business model. Religare Securities is a renowned name in the industry and hence has a wide spread network of sub-brokers.
The revenue sharing scheme and the investment patterns are similar and in line with the industry.
It does not have any special criteria for appointing a sub-broker and hence the general criteria like minimum age, basic understanding of business and stock market, deposit and investment would suffice. These aspects have been discussed in detail in subsequent paras.
---
Religare Securities Remisier
For the remisier model, Religare Securities has simple procedures. Herein also, the company has maintained the deposit and revenue sharing ratio in line with the industry practices. The details are discussed in paras below.
---
Religare Securities Sub Broker Commission or Revenue Sharing Model

Religare Securities offers a revenue sharing ratio ranging from 50% to 70%. Typically in most of the scenarios, the ratio is average of this range i.e. 60%. The company retains only 30% to 50% of the revenue and balance goes to the sub-broker.
This ratio is negotiable and is dependent on various factors like the revenue generated, revenue projected, investment made, deposit paid, products being dealt with etc.
For instance, if a higher deposit is made, the ratio can be increased in favor of the sub broker – thus, higher the deposit, higher can be the revenue sharing.
The revenue sharing ratio is pretty much consistent with the average that this industry offers and further scope of negotiation is also available – so one can have a customized revenue ratio depending upon the caliber shown and convincing power.
For a remisier model, the revenue sharing ratio is between 20% to 30% – typically a remisier obtains only 15%-25% of the revenue as the functions performed under this model are very limited.
It only requires the remisier to refer a potential client and thereafter everything is taken care of by the company. So, all in all, Religare Securities can be said to be offering a good revenue sharing ratio.
| | | |
| --- | --- | --- |
| | Religare Securities  Commission | Partner Commission |
| Religare Securities Sub Broker | 50% – 30% | 50% – 70% |
| Religare Securities Remisier | 20% | 80% |
---
Check out Revenue Sharing of other Sub Brokers
---
Religare Securities Franchise Cost or Security Deposit Amount
For a sub-broker, the minimum prescribed security deposit is Rs. 50,000 and it may be increased depending upon parameters like the revenue sharing ratio, the products being dealt, the credibility of sub broker in market etc.
This is refundable and is repaid upon termination of the contract by the parties. The deposit amount can also be as high as Rs. 1 lacs to Rs. 2 lacs for products like derivatives and commodity respectively.
Apart from this, one needs to make investment in the office set up, employees training etc. and SEBI/NSE/BSE registration fee.
For a remisier, security deposit amount ranges from Rs. 10,000 to 20,000. This is also a refundable deposit. Apart from this, a remisier might have to pay certain fee to the statutory bodies like SEBI etc. and a one time non refundable fee  of Rs. 1500 approx. per segment.
| | |
| --- | --- |
| | Religare Securities Franchise Cost |
| Religare Securities Sub Broker | Rs.50,000 – Rs.2 Lakh |
| Religare Securities Remisier | Rs.15,000 |
---
Here are Security Deposit info of other Stock Broking Franchise
---
Religare Securities Sub Broker Offer
Reliare Securities often runs offers to its sub brokers. Some of such offers are:
Providing PAN/TAN facility – a one stop shop
Negotiable deposit amount
Assistance in setting up business
Customized solutions for clients
---
Check out other companies Sub Broker Offers
---
How to become Sub Broker of Religare Securities?
1st Step – Provide required details in the lead form available herein.
2nd Step – Our representative will call and confirm the details provided and your interest in the proposal.
3rd Step – Religare Securities Sales team will connect with you – please schedule an appointment with them.
4th Step – Discuss the proposal in detail from the Religare Securities sale representative and understand the complete terms of the proposal.
5th Step – Provide the documents required and also make payment of the security deposit.
6th Step – Religare Securities will verify the documents from their end.
7th Step – On completing the verification process, an ID for sub broker will be generated post which one can start the business.
The procedure gets completed in almost 7-8 days.
Documents Required for Religare Securities Sub Broker Registration
ID proof
Address proof
DOB proof
2 passport size photographs
Cancelled bank cheque
Documents of office set up
Aadhar card
PAN Card
Educational degree certificate
Receipt of payment of statutory and registration fee to SEBI/NSE/BSE
---
Why Partner with Religare Securities?
It is India's one of the leading broking houses
Large product profile
Highly qualified and experienced professional in research team
Spread over 500 cities
Offers TIN/PAN facilities
---
Support provided by Religare Securities Partner Program
Supports in setting up of office – including branding and all business applications
Dedicated manager to assist the sub broker and his employees in onboarding with the process and modules
Assists in planning the activities and setting business goals
Has a Partner support desk to take care of sub broker specifically
Customised research report for sub broker's clients
Has set up contingency dealing desk for sub brokers to deal from this desk for their clients in emergency
---
Become a Sub Broker with Religare Securities – Just Fill up the form
---
Find detailed review of other Sub Broker Franchise