Religare Securities Sub Broker Program started in the year 2004 and since then it has been able to set up more than 1500 franchise outlets. It is quite a known name in the broking business and hence has been successful in attaining these numbers.
Summary
Top Business Model
Sub Broker
Revenue Sharing
60%-70%
Security Deposit
Rs.50,000 – Rs.200,000
Become Sub Broker in
3-4 Weeks
Receive Payout in
31 Days
Founder
Nitin Aggrawal, Manjushree Ghodke
Established Year
1984
To understand in detail about the business models offered, the revenue sharing ratio and other details, read this article and obtain a general understanding of the Reliage Securities Franchise program.
Religare Securities is a part of Religare Group and started the broking business in the year 1994.
It is based out of Mumbai and offers products like equity, currency, commodity and is a depository participant. Commodity products are offered by another group company. The customer base for Religare Securities is as large as 10 lakhs.
---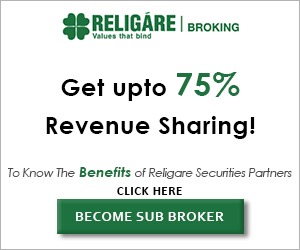 ---
Religare Securities Franchise Customer Ratings
Religare Securities Franchise
Criteria
Ratings
Experience
3.1/5
Services
2.9/5
Products
3.0/5
Trading Platforms
3.2/5
Support
3.1/5
Revenue Sharing Model
3.0/5
Security Deposit
2.9/5
Offers
2.8/5
Market Share
3.0/5
Overall
3.0/5
---
Compare Sub Broker Franchise
vs
---
Types of Religare Securities Sub Broker
Religare, as we know, is a group engaged in multiple businesses and extends its products and services to customers differently. They have been in the business for years, standing on a strong foothold, backed by a highly skilled and experienced team of individuals driven toward the success of the entity.
One of the esteemed businesses of this group is a financial services company where it offers dealing with stock market products and presents customers with helpful services.
And another extension of this business is the sub-broker program. Through this, any person having experience in the field and looking to start a business of their own can become a Religare Sub-Broker.
Currently, Religare Securities is offering partnership in the following two business models:
---
Become a Sub Broker with Religare Securities – Just Fill up the form
---
Religare Securities Sub Broker
The sub broker model is a very basic and widely accepted business model. Religare Securities is a renowned name in the industry and hence has a wide spread network of sub-brokers.
The revenue sharing scheme and the investment patterns are similar and in line with the industry.
It does not have any special criteria for appointing a sub-broker and hence the general criteria like minimum age, basic understanding of business and stock market, deposit and investment would suffice. These aspects have been discussed in detail in subsequent paras.
---
Religare Securities Remisier
For the remisier model, Religare Securities has simple procedures. Herein also, the company has maintained the deposit and revenue sharing ratio in line with the industry practices. The details are discussed in paras below.
---
Religare Securities Sub Broker Commission or Revenue Sharing Model

Religare Securities offers a revenue sharing ratio ranging from 50% to 70%. Typically in most of the scenarios, the ratio is average of this range i.e. 60%. The company retains only 30% to 50% of the revenue and balance goes to the sub-broker.
This ratio is negotiable and is dependent on various factors like the revenue generated, revenue projected, investment made, deposit paid, products being dealt with etc.
For instance, if a higher deposit is made, the ratio can be increased in favor of the sub broker – thus, higher the deposit, higher can be the revenue sharing.
The revenue sharing ratio is pretty much consistent with the average that this industry offers and further scope of negotiation is also available – so one can have a customized revenue ratio depending upon the caliber shown and convincing power.
For a remisier model, the revenue sharing ratio is between 20% to 30% – typically a remisier obtains only 15%-25% of the revenue as the functions performed under this model are very limited.
It only requires the remisier to refer a potential client and thereafter everything is taken care of by the company. So, all in all, Religare Securities can be said to be offering a good revenue sharing ratio.
| | | |
| --- | --- | --- |
| | Religare Securities Commission | Partner Commission |
| Religare Securities Sub Broker | 50% – 30% | 50% – 70% |
| Religare Securities Remisier | 20% | 80% |
---
Check out Revenue Sharing of other Sub Brokers
---
Religare Securities Franchise Cost or Security Deposit Amount
For a sub-broker, the minimum prescribed security deposit is Rs. 50,000 and it may be increased depending upon parameters like the revenue sharing ratio, the products being dealt, the credibility of sub broker in market etc.
This is refundable and is repaid upon termination of the contract by the parties. The deposit amount can also be as high as Rs. 1 lacs to Rs. 2 lacs for products like derivatives and commodity respectively.
Apart from this, one needs to make investment in the office set up, employees training etc. and SEBI/NSE/BSE registration fee.
For a remisier, security deposit amount ranges from Rs. 10,000 to 20,000. This is also a refundable deposit. Apart from this, a remisier might have to pay certain fee to the statutory bodies like SEBI etc. and a one time non refundable fee of Rs. 1500 approx. per segment.
| | |
| --- | --- |
| | Religare Securities Franchise Cost |
| Religare Securities Sub Broker | Rs.50,000 – Rs.2 Lakh |
| Religare Securities Remisier | Rs.15,000 |
---
Here are Security Deposit info of other Stock Broking Franchise
---
Religare Securities Sub Broker Offer
Reliare Securities often runs offers to its sub brokers. Some of such offers are:
Providing PAN/TAN facility – a one stop shop
Negotiable deposit amount
Assistance in setting up business
Customized solutions for clients
---
Check out other companies Sub Broker Offers
---
How to become Sub Broker of Religare Securities?
1st Step – Provide required details in the lead form available herein.
2nd Step – Our representative will call and confirm the details provided and your interest in the proposal.
3rd Step – Religare Securities Sales team will connect with you – please schedule an appointment with them.
4th Step – Discuss the proposal in detail from the Religare Securities sale representative and understand the complete terms of the proposal.
5th Step – Provide the documents required and also make payment of the security deposit.
6th Step – Religare Securities will verify the documents from their end.
7th Step – On completing the verification process, an ID for sub broker will be generated post which one can start the business.
The procedure gets completed in almost 7-8 days.
Documents Required for Religare Securities Sub Broker Registration
ID proof
Address proof
DOB proof
2 passport size photographs
Cancelled bank cheque
Documents of office set up
Aadhar card
PAN Card
Educational degree certificate
Receipt of payment of statutory and registration fee to SEBI/NSE/BSE
---
Why Partner with Religare Securities?
It is India's one of the leading broking houses
Large product profile
Highly qualified and experienced professional in research team
Spread over 500 cities
Offers TIN/PAN facilities
---
Support provided by Religare Securities Partner Program
Supports in setting up of office – including branding and all business applications
Dedicated manager to assist the sub broker and his employees in onboarding with the process and modules
Assists in planning the activities and setting business goals
Has a Partner support desk to take care of sub broker specifically
Customised research report for sub broker's clients
Has set up contingency dealing desk for sub brokers to deal from this desk for their clients in emergency
---
Infrastructure Investment by Religare Sub Brokers / Authorized Person
Starting a business can be entangling and make you stressed, but with Religare, you don't have to worry so much. The stock broking house will provide you with a simple step-wise procedure through which your setup will be done.
You will need to make an initial investment of about 3 to 4 lakhs. Further, you will need a working space to operate from.
In this working place, you can arrange meetings with your clients, maintain important documents, and you will have a permanent and peaceful space to work from.
---
Religare Franchise Eligibility Criteria
Joining forces with Religare as a Religare Franchise is not as confusing as it looks. Religare has very basic requirements and eligibility parameters for its sub-brokers. We will look into these now:
Make sure that you are above 18 years to start a Religare franchise
You have completed your basic education.
You are informed of all the stock market and its operations.
You have some level of experience working in the financial market.
---
Religare Franchise – Pros & Cons
Pros
A reputed brand in the market and has experience of years in the business
Offer diverse products as per the requirements of the customers
Revenue sharing model is highly beneficial for the partners
Widely known in major parts of India
Cons
The investment required at the initial stage is relatively high
Online presence in the market is weaker than the offline presence 
---
Religare Franchise Registration
Religare promises that the Religare Sub-broker registration can get started in just 30 minutes.
All you have to do is:
Sign up on the Religare website for partner registration. Provide your details like Name, Email, Mobile Number, and City. Then an OTP will be sent to your mobile number; enter the OTP.
Once the OTP has been entered, click on CLICK HERE TO APPLY, and there you go.
After the submission, your details will be verified by the entity.
You will be asked to submit your documents like PAN, Aadhar card, address proof, and so on.
Once the documents are verified, your account will be generated.
And now, you can start your journey as a Religare Franchise.
---
Earning the potential of a Religare Partner / ROI
Religare shares the revenue with the sub-broker in a definite portion. One portion remains with the entity, and the sub-broker receives the other.
As the entity is aware that it's the franchise owners' efforts that bring the revenue, they ensure to appreciate their efforts in every possible way.
The percentage of revenue sharing is generally flexible, and it can grow as you grow in the number of clients and the quantum of income generated through your clients.
As a Religare Business Partner, you can keep up to 70% of the earnings, and the remaining 30% will be shared with Religare.
---
Religare Franchise Referral Program
Referral programs are an innovative way to involve customers in adding more clients to the circle. This way, the customers get to earn some reward, the new entrant gets a new member reward, and Religare gets a new client.
To refer to Religare, the customer needs to give the referee's name and contact number and submit the detail. The team will contact your friend and help them open their Demat and Trading Account online.
On successful account opening, both of you will get rewarded.
---
Brokerage Charges were levied on the clients of Religare Partners
Religare Authorized Person not only offers a wide array of products and service to their clients but introduce them to an economic trading platform. The brokerage charges are very low and do not take too much out of the profits made on trades.
When you are trading for Delivery Trades, you don't have to worry about brokerage at all, as there are no charges at all.
Then even on Loss Making Intraday Trades, you don't have to pay any brokerage. Other brokerage charges of the entity are also quite economical for any type of investor or trader.
---
Religare Authorised Person – Products Offered
What Can't Religare offer? There is nothing that you will not find under the roof of Religare. They have extensive product offerings supported by irresistible services and features that every trader needs.
The vast products list of Religare which the Religare Partner can appeal to their customers are:
Stocks
Derivatives
Commodities
Currency
IPO
ETF
NCD
SmartInvest (WealthDesk)
Global Investing
Health Insurance
Life Insurance
General Insurance
Mutual Fund
SmartInvest (Narnolia)
Debt/Fixed Income
---
Religare Franchise Conclusion
Features like easy account opening, a wide variety of products, interesting research facilities, and all-time available customer support make Religare a perfect partner to start a franchise.
Religare Franchise gets all support they need in setting up and running their business with Religare.
They get high earning potential, innovative tools, efficient trading platforms, extensive training, business support, timely payout, and so much more.
They get to offer a wide pool of financial securities and services to their clients, which makes them happy and offer ample trading opportunities.
---
Religare Sub Broker or Partner Program FAQs
Here is the list of FAQs related to the Religare Securities Franchise:
How to start as a Religare Partner?
The very simple process of becoming a Religare Partner starts from the website itself. Here, you just have to provide very basic details, and your registration will be completed.
What are the documents required for the Religare partner program?
During the registration process, the applicant will need to submit the following documents to the entity:
PAN CARD
Registration Certificate for SEBI
Identification Proof
Address Proof
Office Proof
Voter ID
Is the Religare Partner Program a good choice to start a business?
Religare is a reputed and successful stock broking company. It is a significant part of the Religare Group. They have a variety of tools, products, and services to offer to their end customers. They offer attractive revenue sharing for the partners and support completely in their business setup and management.
What are the benefits of a Religare Franchise?
Some of the benefits extended by Religare for their partners are:
Completely Digital On-boarding process
Training & Business Development support
Timely payouts
Dedicated partner portal
Mentorship and guidance
Access to advance technology
What is the support offered to Religare Authorized Person?
Support in the form of Free Marketing Collateral, Dedicated local and centralized partner support desk, client seminar support, robust back office support, and operations support is provided to the partners.
What are the Religare partner programs?
Religare has designed multiple models to offer sub-brokership to interested individuals. These are:
Full-service Business Partner
Digi Associate
Refer & Earn
Does Religare have nationwide reach?
Religare is a known name in the stock broking industry and has a wide presence across different parts of India. They are currently present in over 530 cities and are located in more than 2000 locations in India.
The company has a strong network of business partners.
How much can a Religare Partner earn in a month?
The earnings and income of a Religare Partner largely depend upon the capabilities of the partner. Their earnings grow as their number of clients grows. With full potential and dedication, a partner can earn up to Rs. 5 lakh per month through the Religare Partner Program.
What are the products offered by Religare?
Religare offers a wide range of products to customers. The following are some of them:
Stocks
Derivatives
Commodities
Currency
IPO
ETF
NCD
What are the Religare trading platforms?
An online trading platform allows you to invest and trade in different types of securities from the comfort of your home. Religare also has developed online platforms for customers, and these are known as:
Religare Dynami – Mobile Application
Religare Online – Web Portal
Dynami Wrap – Mutual Funds App
---
Become a Sub Broker with Religare Securities – Just Fill up the form
---
Find detailed review of other Sub Broker Franchise