Nirmal Bang Sub Broker program is a leading franchisor with more than 3000 franchisees around the country. It launched the partner association model quite many years ago and now has built up a strong network of sub brokers.
Summary
Top Business Model
Sub Broker
Revenue Sharing
50% – 70%
Security Deposit
Rs.75,000 – Rs.200,000
Become Sub Broker in
20-30 Days
Receive Payout in
1 month
Founder
Nirmal Bang
Established Year
1986
Let's have a detailed Nirmal Bang Franchise Review. Along with this, we will illustrate Nirmal Bang Sub broker offers, Nirmal bang Franchise revenue sharing models, Nirmal bang Partner security deposit requirement & other important elements of Nirmal bang broking franchise.
---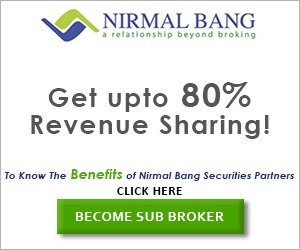 ---
Nirmal Bang Franchise Customer Ratings
Nirmal Bang Franchise
Experience
3.20
Services
3.00
Products
2.80
Trading Platforms
2.80
Support
3.50
Revenue Sharing Model
3.80
Security Deposit
3.80
Offers
3.00
Market Share
2.50
Overall
3.16
---
Compare Sub Broker Franchise
vs
---
Type of Nirmal Bang Franchise
Nirmal Bang has only one business association model which is the most basic and simple association model. It is like a typical partnership wherein the sub-broker/franchise gets into a partnership agreement with Nirmal Bang.
Nirmal Bang Franchise is not known for any Master Franchise or Referral Program. It only provides one business model:
Sub Broker / Authorised Person
In this partnership model, the organization provides all the services that they offer to the partners. And the partners can provide them to their clients.
Therefore, to maintain such an exclusive relationship, the organization seeks partners who have a good experience in the field of BFSI, stock market, and mutual funds.
The revenue sharing is also fair, thus, becoming a partner with Nirmal Bang will be beneficial for every interested party.
---
Become a Sub Broker with Angel Broking – Just Fill up the form
---
Nirmal Bang Sub Broker / Authorised Person
Since it offers a partnership, it expects the candidate to have a good experience in the field of financial market – be it stock market, mutual funds, bank, insurance, assurance etc.
In other words, it can be said that it is relevant only for the well-versed and well-established candidates who wish to get associated with this brand name.
A beginner might not be preferred by Nirmal Bang house as it will not have the expertise to do justice to the partnership firm and might not be deserving of the revenue ratio that Nirmal Bang offers.
---
Nirmal Bang Sub Broker Commission or Revenue Sharing Model

As mentioned above, this broking house only offers a partnership model, hence the revenue ratio is always close to 50:50.
This is because it expects the candidate to get the expertise whereas the brand is lent by it.
It appreciates the value addition that the expert would make to the business and hence shares 50% of the revenue unlike in the case of any other sub-broker wherein there is no partnership but just an association.
---
Check out Revenue Sharing of other Sub Brokers
---
Nirmal Bang Franchise Cost or Security Deposit Amount
Being a part of a partnership venture, one will obviously have to fetch in the requisite initial investment. Though it does not prescribe any minimum investment amount, however, the same may range from INR 50,000 to INR 2.5 lacs.
Further, a certain part of this investment is towards the refundable security deposit. This deposit is generally refunded in case where the sub-broker shuts the business association. The balance amount can be used by the sub-broker to set up its front office which again is a mandate from Nirmal Bang.
---
Here is Security Deposit info of other Stock Broking Franchise
---
Nirmal Bang Sub Broker Offers
Nirmal Bang provides the following offers to its sub-brokers:
Reduced brokerage rates;
Cashback on brokerages;
Increased credit limit;
Increased credit period;
Reduced margin money;
Reduced deposits
---
Check out other companies Sub Broker Offers
---
How to become Sub Broker of Nirmal Bang?
One needs to follow these steps for becoming a sub-broker with Nirmal Bang:
1st Step – Fill in the lead form available here
2nd Step – Accept call from our executive for verification of details and interest in sub-brokership
3rd Step – call the Sales representative of Nirmal Bang for a personal meet
4th Step – Meet with Sales Representative for a detailed discussion, understanding the expectations, agreeing to the terms, and resolving other concerns
5th Step – Submit the requisite Documents & Initial Investment proofs
6th Step – Verification of documents by ICICI Direct
7th Step – Activation of account
This may take up 3-6 working days depending upon the turnaround time taken by each party.
Documents Required for Nirmal Bang sub broker registration
Identity Proof
DOB proof
Address proof
Academic Certificate
Employment/experience proof
Canceled cheque or Bank statement
Registration certificate with SEBI/Stock exchange
Passport size photos
Infrastructure proof
PAN Card
Aadhaar Card
---
Why Partner with Nirmal Bang?
Key highlights of Nirmal Bang are:
Brand Name
Trusted organization
Part of the pioneer group
Growing organization
Large product profile
Selective sub-brokers implying higher revenue
---
Support provided by Nirmal Bang Partner Program
Assistance in setting up the front office
Dedicated onboarding manager
Assistance in client acquisition
Training sessions to access the trading platforms
Access to research reports
Assistance in advising the clients
Aggressive customer support team
---
Nirmal Bang Franchise Eligibility Criteria
The following are the criteria that you need to fulfill to set up a Nirmal Bang Franchise.
Should have a minimum of 1-2 years of experience working in the field of the stock market. Being a sub-broker or main broker can act as an added advantage for getting selected among other applicants.
If you are registering as a partnership firm or an individual, it is important to have a clean slate and a good track record. Having a good reputation in the market will help in making a tighter-knit network.
Alongside the needed infrastructure, you will also have to make a small initial investment to ensure stable business growth.
Keep a look out for any circular, as Nirmal Bang can add more requirements to the list of criteria.
---
Infrastructure Investment by Nirmal Bang Sub Brokers / Authorized Person
Now that it is clear what the Nirmal Bank sub-broker model is and what criteria need to be fulfilled to be able to get selected, it is time to identify the needed infrastructure to run this model.
A minimum staff/team of 3 members.
An effective trading terminal for all transactions.
A stable and strong internet connection to avoid any kind of disruptions amidst any operations.
A well-connected telephone line for active communication with clients and staff members. This is also an important requirement to ensure proper customer service.
Resources to provide in-depth research reports to clients.
There is no restriction on the office space, however, to be able to provide proper services with a staff of 3, a minimum space of 200 sq. ft. is needed.
---
Nirmal Bang Franchise Registration
To become a sub-broker with Nirmal Bang, you will be needed to follow the following procedure:
The first step is to fill out the lead form.
The second step constitutes waiting for a call from Nirmal Bang's executive to confirm details and answer a few questions related to your interest in sub-brokership.
Post the confirmation call, the sales representative will reach out again to schedule a call for a face-to-face meeting to discuss every aspect of the partnership.
Have a detailed chat with them and make sure to understand all the requirements and expectations of the position. It is best to not leave any topic untouched.
After the initial level of selection, proceed to submit all the documents starting from identity proof to the initial investment requirement.
The last and final step is to wait for the confirmation of the account activation.
---
Nirmal Bang Franchise – Pros & Cons
Nirmal Bang Franchise is a well-balanced organization with a good number of advantages and minimal disadvantages. They are listed below:
Pros
Provide sub-brokers and workers with training programs to help grow the business.
Receive free consulting advice from professionals daily.
A specialized sub-broker help desk that offers all types of service assistance.
Online fund transfer feature available. makes it easier for both sub-broker and clients to make monetary transactions.
Aggressive and robust customer service model.
Selective sub-brokers indicate increased income.
Cons
Unlike other brokerage firms in the business, you only have one variety of partnership models to choose from.
Its revenue-sharing arrangement is not the best in the market.
Tough eligibility criteria
---
Earning the potential of a Nirmal Bang Partner / ROI
Earning potential in the Nirmal Bang Business Partner program is reasonable when compared to most other trading platforms. The broker agrees to a 50:50 split.
They are more inclined towards a complete half-half distribution of revenue, however, you as a partner can negotiate income sharing if you deliver additional high-quality clients to the broker.
---
Nirmal Bang Authorised Person – Products Offered
Here's the list of products offered by a Nirmal Bang authorized person.
NSE-Currency
BSE-Currency
NSE-Cash
BSE-Cash
MCX-Commodities
NCDEX-Commodities
NSE F&O
IPO
Mutual Fund
NSDL (Depository Participant)
CDSL (Depository Participant)
---
Brokerage Charges were levied on the clients of Nirmal Bang Partners
The authorized representatives of Nirmal Bang charge either 0.02% or Rs. 20 for the equities intraday service. The same happens for equity delivery as well.
The next is the equity option, which costs Rs 35 per lot. In relation to the market, this is quite inexpensive, a benefit to the traders.
The price for currency options is Rs 20 per lot. When compared to other firms, this pricing is pretty favorable. For commodities futures, stock futures, and currency futures, Nirmal Bang Partner charges 0.2% or Rs. 20, accordingly.
---
Nirmal Bang Franchise Conclusion
Given that the majority of stock broking franchisers already offer this service, it is not a significant offering. Since Nirmal Bang is a full-service broker, a novice might not be favored by the company since they lack the knowledge to properly represent the partnership firm and may not be worthy of the revenue ratio that Nirmal Bang gives.
However, every interested party who successfully becomes part of this partnership network can benefit significantly from this additional income source.
---
Nirmal Bang Sub Broker or Partner Program FAQs
Check out the most frequently asked questions about the Nirmal Bang franchise model:
Who is a Sub Broker?
Sub-brokering refers to the practice of a broker using an agent to bring in more clients. For a broker, the sub-brokers recruit new clients, convert them, and persuade them to trade and use different goods and services. In exchange, the sub-brokers will receive a portion of the brokerage fees that clients pay to the brokers.
Do I need any prior stock brokerage experience to work at Nirmal Bang?
Yes, someone needs to have a basic understanding of the financial industry and its functionality. It is also necessary to have a comprehensive understanding of all the products, such as stocks, derivatives, IPOs, currencies, mutual funds, etc, trading in the financial market. Additionally, 1-2 years of financial industry experience are required.
What attractive sub-broker offers are provided by Nirmal Bang?
The offers provided in favor of the partners are cashback on brokerages, lower brokerage fees, higher credit limits, longer credit terms, lower margin requirements, and lower deposits.
How many different partnership types does Nirmal Bang offer?
Currently, only one Nirmal Bang partnership model, the Nirmal Bang franchise model, is available. The major reason behind this altercation is that the organization wanted their associates/partners to fully focus on only one partnership model.
How long must I wait before I can begin operating my Nirmal Bang franchise?
For the entire procedure to be finished, you must wait 3 to 6 days. The procedure would be further delayed if any documents are missing.
Is a monetary investment required to launch the Nirmal Bang franchise?
Yes, you need to make an initial investment ranging from 50,000 to 2.5 lacs to launch a Nirmal Bang franchise. The sum deposited is a refundable amount and includes a security deposit and infrastructure setup sots in it.
What revenue share may I anticipate if I own a Nirmal Bang franchise?
You will receive 50% of the money that is produced since the company considers you a partner rather than an associate. You can negotiate a greater revenue share with them after you can add more clients and produce high brokerage.
What Paperwork is needed to register as a Nirmal Bang franchise/partner?
A legitimate ID proofs
Address proof
The rental agreement is related to the space where the franchise is going to have a physical presence.
A partnership agreement
Few passport-sized pictures
academic credentials
Proof of employment or experience
Documents on GST and other taxes, etc.
Canceled cheque
What kind of assistance does the Nirmal Bang Partner Program offer?
Even if one is a novice in the field of trading, the training and support model of the organization will help in preparing you for all the responsibilities. Some of the support services are mentioned below:
Access to the trading platforms training
Assistance with front office setup
Assistance in acquiring clients
Availability of research reports
Attentive onboarding manager
Assistance with customer advice
Which Indian states are home to the Nirmal Bang Franchise?
Nirmal Bang Franchise may be found in several states. The list of states includes West Bengal, Chattishgarh, Bihar, Andhra Pradesh, Delhi, Jharkhand, Gujarat, Karnataka, Kerela, Madhya Pradesh, Maharashtra, Punjab, Rajasthan, Tamil Nadu, and Uttar Pradesh.
---
Become a Sub Broker with Angel Broking – Just Fill up the form
---
Find detailed review of other Sub Broker Franchise
---
List of Top Nirmal Bang Partners / Business Partners
| | | | |
| --- | --- | --- | --- |
| Company List | Remisiers Name | Trade Name | Remisiers Registration No. |
| Nirmal Bang | Radhey Shyam Yadav | Radhey Shyam Yadav | R/0498/31551/31/08/2009 |
| Nirmal Bang | Uday A Chheda | Uday A Chheda | R/0498/31555/31/08/2009 |
| Nirmal Bang | Banwari Lal | Banwari Lal | R/0498/33268/19/11/2009 |
| Nirmal Bang | Maharukh Cherag Gandhi | Maharukh Cherag Gandhi | R/0498/33269/19/11/2009 |
| Nirmal Bang | Tejashwi Raj | Tejashwi Raj | R/0498/33270/19/11/2009 |
| Nirmal Bang | D Sree Rama Murthy | D Sree Rama Murthy | R/0498/37653/08/07/2010 |
| Nirmal Bang | Pradeep Patel | Pradeep Patel | R/0498/37656/08/07/2010 |
| Nirmal Bang | Jakhotia Hemant Mohanlal | Jakhotia Hemant Mohanlal | R/0498/37694/08/07/2010 |
| Nirmal Bang | Deepali Dubey | Deepali Dubey | R/0498/37695/08/07/2010 |
| Nirmal Bang | Balwant S Jain | Balwant S Jain | R/0498/37814/19/07/2010 |