Nirmal Bang Sub Broker program is a leading franchisor with more than 3000 franchisee around the country. It has launched the partner association model quite a many years ago and now has built up a strong network of sub brokers.
Summary
Top Business Model
Sub Broker
Revenue Sharing
50% – 70%
Security Deposit
Rs.75,000 – Rs.200,000
Become Sub Broker in
20-30 Days
Receive Payout in
1 month
Founder
Rahul Arora, CEO
Established Year
1986
Lets have a detailed Nirmal Bang Franchise Review. Along with this we will illustrate Nirmal Bang Sub broker offers, Nirmal bang Franchise revenue sharing models, Nirmal bang Partner security deposit requirement & other important elements of Nirmal bang broking franchise.
---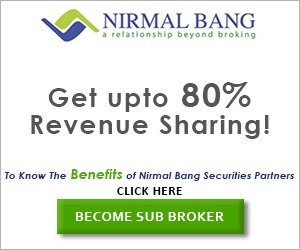 ---
Nirmal Bang Franchise Customer Ratings
Nirmal Bang Franchise
Experience
3.20
Services
3.00
Products
2.80
Trading Platforms
2.80
Support
3.50
Revenue Sharing Model
3.80
Security Deposit
3.80
Offers
3.00
Market Share
2.50
Overall
3.16
---
Compare Sub Broker Franchise
vs
---
Type of Nirmal Bang Franchise
Nirmal Bang has only one business association model which is the most basic and simple association model. It is like a typical partnership wherein the sub-broker/franchise get into a partnership agreement with Nirmal Bang.
---
Become a Sub Broker with Angel Broking – Just Fill up the form
---
Nirmal Bang Sub Broker / Authorised Person
Since it offers a partnership, it expects the candidate to have a good experience in the field of financial market – be it stock market, mutual funds, bank, insurance, assurance etc.
In other words, it can be said that it is relevant only for the well- versed and well-established candidates who wish to get associated with this brand name.
A beginner might not be preferred by Nirmal Bang house as it will not have the expertise to do justice to the partnership firm and might not be deserving of the revenue ratio that Nirmal Bang offers.
---
Nirmal Bang Sub Broker Commission or Revenue Sharing Model

As mentioned above, this broking house only offers partnership model, hence the revenue ratio is always close to 50:50.
This is because it expects the candidate to get the expertise whereas the brand is lent by it.
It appreciates the value addition that the expert would make to the business and hence shares 50% of the revenue unlike in case of any other sub-broker wherein there is no partnership but just an association.
---
Check out Revenue Sharing of other Sub Brokers
---
Nirmal Bang Franchise Cost or Security Deposit Amount
Being a part of partnership venture, one will obviously have to fetch in the requisite initial investment. Though it does not prescribe any minimum investment amount, however, the same may range from INR 50,000 to INR 2.5 lacs.
Further, certain part of this investment is towards the refundable security deposit. This deposit is generally refunded in case where the sub-broker shuts the business association. The balance amount can be used by the sub-broker to set up its front office which again is a mandate from Nirmal Bang.
---
Here are Security Deposit info of other Stock Broking Franchise
---
Nirmal Bang Sub Broker Offers
Nirmal Bang provides the following offers to its sub-brokers:
Reduced brokerage rates;
Cashback on brokerages;
Increased credit limit;
Increased credit period;
Reduced margin money;
Reduced deposits
---
Check out other companies Sub Broker Offers
---
How to become Sub Broker of Nirmal Bang?
One needs to follow these steps for becoming a sub-broker with Nirmal Bang:
1st Step – Fill in the lead form available here
2nd Step – Accept call from our executive for verification of details and interest in sub-brokership
3rd Step – call from the Sales representative of Nirmal Bang for a personal meet
4th Step – Meet with Sales Representative for detailed discussion, understanding the expectations, agreeing to the terms and resolving other concerns
5th Step – Submit the requisite Documents & Initial Investment proofs
6th Step – Verification of documents by ICICI Direct
7th Step – Activation of account
This may take up 3-6 working days depending upon the turnaround time taken by each party.
Documents Required for Nirmal Bang sub broker registration
Identity Proof
DOB proof
Address proof
Academic Certificate
Employment/experience proof
Cancelled cheque or Bank statement
Registration certificate with SEBI/Stock exchnage
Passport size photos
Infrastructure proof
PAN Card
Aadhaar Card
---
Why Partner with Nirmal Bang?
Key highlights of Nirmal Bang are:
Brand Name
Trusted organization
Part of pioneer group
Growing organization
Large product profile
Selective sub-brokers implying higher revenue
---
Support provided by Nirmal Bang Partner Program
Assistance in setting up front office
Dedicated onboarding manager
Assistance in client acquisition
Training sessions to access the trading platforms
Access to research reports
Assistance in advising the clients
Aggressive customer support team
---
Become a Sub Broker with Angel Broking – Just Fill up the form
---
Find detailed review of other Sub Broker Franchise
---
List of Top Nirmal Bang Partners / Business Partners
| | | | |
| --- | --- | --- | --- |
| Company List | Remisiers Name | Trade Name | Remisiers Registration No. |
| Nirmal Bang | Radhey Shyam Yadav | Radhey Shyam Yadav | R/0498/31551/31/08/2009 |
| Nirmal Bang | Uday A Chheda | Uday A Chheda | R/0498/31555/31/08/2009 |
| Nirmal Bang | Banwari Lal | Banwari Lal | R/0498/33268/19/11/2009 |
| Nirmal Bang | Maharukh Cherag Gandhi | Maharukh Cherag Gandhi | R/0498/33269/19/11/2009 |
| Nirmal Bang | Tejashwi Raj | Tejashwi Raj | R/0498/33270/19/11/2009 |
| Nirmal Bang | D Sree Rama Murthy | D Sree Rama Murthy | R/0498/37653/08/07/2010 |
| Nirmal Bang | Pradeep Patel | Pradeep Patel | R/0498/37656/08/07/2010 |
| Nirmal Bang | Jakhotia Hemant Mohanlal | Jakhotia Hemant Mohanlal | R/0498/37694/08/07/2010 |
| Nirmal Bang | Deepali Dubey | Deepali Dubey | R/0498/37695/08/07/2010 |
| Nirmal Bang | Balwant S Jain | Balwant S Jain | R/0498/37814/19/07/2010 |
| Nirmal Bang | Shalini Kumari | Shalini Kumari | R/0498/37840/19/07/2010 |
| Nirmal Bang | Amol Deepak Chuttar | Amol Deepak Chuttar | R/0498/37912/26/07/2010 |
| Nirmal Bang | Poonam Periwal | Poonam Periwal | R/0498/37946/26/07/2010 |
| Nirmal Bang | Prerit Garg | Prerit Garg | R/0498/38033/30/07/2010 |
| Nirmal Bang | Manoj Kumar Bala | Manoj Kumar Bala | R/0498/38372/06/09/2010 |
| Nirmal Bang | Shivdas Chudale | Shivdas Ghudale | R/0498/38455/13/09/2010 |
| Nirmal Bang | R Saravanan | R Saravanan | R/0498/38529/13/09/2010 |
| Nirmal Bang | Kalyan Rao T | Kalyan Rao T | R/0498/38531/13/09/2010 |
| Nirmal Bang | Jaydev Bawalal Thummar | Jaydev Bawalal Thummar | R/0498/38536/21/09/2010 |
| Nirmal Bang | D John Raj D Nadar | D John Raj D Nadar | R/0498/38537/21/09/2010 |
| Nirmal Bang | Devender | Devender | R/0498/38538/21/09/2010 |
| Nirmal Bang | K Jeeva | K Jeeva | R/0498/38539/21/09/2010 |
| Nirmal Bang | Manoj H Mistry | Manoj H Mistry | R/0498/38547/21/09/2010 |
| Nirmal Bang | Nilesh P Supe | Nilesh P Supe | R/0498/38549/21/09/2010 |
| Nirmal Bang | Malyadri Sirivella | Malyadri Sirivella | R/0498/38550/21/09/2010 |
| Nirmal Bang | Balkeshwar J Pandey | Balkeshwar J Pandey | R/0498/38572/21/09/2010 |
| Nirmal Bang | Sandhya Vishwakarma | Sandhya Vishwakarma | R/0498/38578/21/09/2010 |
| Nirmal Bang | Amit Khanna | Amit Khanna | R/0498/38610/30/09/2010 |
| Nirmal Bang | Mehjabeen | Mehjabeen | R/0498/38630/30/09/2010 |
| Nirmal Bang | Jayesh S Shah | Jayesh S Shah | R/0498/38644/30/09/2010 |
| Nirmal Bang | Cajetan Dias | Cajetan Dias | R/0498/38666/30/09/2010 |
| Nirmal Bang | Bhandari Mohansing | Bhandari Mohansing | R/0498/38667/30/09/2010 |
| Nirmal Bang | Pradip Das | Pradip Das | R/0498/38685/30/09/2010 |
| Nirmal Bang | Vijay Madhavrao Patil | Vijay Madhavrao Patil | R/0498/38691/13/10/2010 |
| Nirmal Bang | Jebaarulraj A | Jebaarulraj A | R/0498/38692/13/10/2010 |
| Nirmal Bang | Md Ansar | Md Ansar | R/0498/38784/13/10/2010 |
| Nirmal Bang | Vijay Raja Singh | Vijay Raja Singh | R/0498/38826/21/10/2010 |
| Nirmal Bang | Vikrant Nigam | Vikrant Nigam | R/0498/38871/21/10/2010 |
| Nirmal Bang | Rajendra Prakash Agrawal | Rajendra Prakash Agrawal | R/0498/38899/01/11/2010 |
| Nirmal Bang | Atanu Sen | Atanu Sen | R/0498/38956/12/11/2010 |
| Nirmal Bang | Malvika Anil Bhatia | Malvika Anil Bhatia | R/0498/39043/22/11/2010 |
| Nirmal Bang | D Prabhakaran | D Prabhakaran | R/0498/39470/05/01/2011 |
| Nirmal Bang | Yogesh Govind Kulthe | Yogesh Govind Kulthe | R/0498/39491/05/01/2011 |
| Nirmal Bang | Shivani S Kinlekar | Shivani S Kinlekar | R/0498/39492/05/01/2011 |
| Nirmal Bang | Pradeep Kumar jain | Pradeep Kumar jain | R/0498/39494/05/01/2011 |
| Nirmal Bang | Anil shridhar Dhatrak | Anil shridhar Dhatrak | R/0498/39495/05/01/2011 |
| Nirmal Bang | Vinay Kumar Somani | Vinay Kumar Somani | R/0498/39635/31/01/2011 |
| Nirmal Bang | Aditya Kedia | Aditya Kedia | R/0498/39893/24/02/2011 |