Swastika Investment Sub Broker Program is one of the well known broking franchise in Madhya Pradesh. Here in this article we will go through in detail about Swastika Investment Sub Broker Review & we will also do a through analysis on Swastika Investment Franchise Offers, Swastika Investment revenue sharing models other important features of Swastika Investment Partner Program.
Summary
Top Business Model
Sub Broker
Revenue Sharing
50% to 70%
Security Deposit
Rs.30,000 to 150,000
Become Sub Broker in
35 Days
Receive Payout in
35 Days
Founder
Sunil Nyati
Established Year
1992
Swastika Investment is a recent player in the industry. It is based out of Indore, a city in Madhya Pradesh. Within a short span of time, it has created a wide customer base of 67 thousand plus with presence in 55 cities.
It came out with the franchise program in its early years and has been able to set up more than 1100 investment centers. Let us have a look at the franchise model that this broking house offers.
---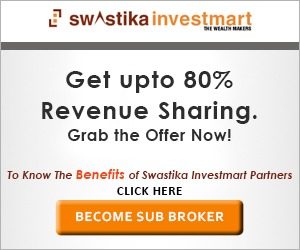 ---
Swastika Investment Franchise Customer Ratings
Swastika Investment Franchise
Experience
3.00
Services
3.00
Products
3.00
Trading Platforms
2.70
Support
2.90
Revenue Sharing Model
3.40
Security Deposit
3.50
Offers
2.00
Market Share
1.70
Overall
2.80
---
Compare Sub Broker Franchise
vs
---
Type of Franchise by Swastika Investment
Self set up Sub Broker
Remiser
Referral/Introducer
---
Become a Sub Broker with Swastika Investment – Just Fill up the form
---
Swastik Investment Sub Broker
It is a plain and simple kind of sub-brokership, wherein the sub-broker is expected to identify new clients, convert them into the clients and then serve them by assisting with trade executions.
This is like providing an end to end serving to the customers. Herein the sub-broker performs all the functions that the main broker does, expect that this is on a smaller level and for a specific locality.
Swastika Investment Remisier
This model is similar to the resident broker model wherein the sub-broker is required to identify opportunities, convert them to client and then passes off the client accounts to the main broker who then take care of the trade executions etc.
Swastika Investment Introducer
As the name makes it clear, the sub-broker in this model is only required to identify the potential opportunities and then refer the same to the main broker.
---
Swastika Investment Sub Broker Commission or Revenue Sharing Model

The broking house is quite competitive when it comes to the revenue sharing ratio. The ratio that it offers to the sub-brokers ranges from 50% to 70%. In fact, in some instances, it is even higher vis-à-vis other major players of the market.
For the remiser and introducer models, the sub-broker can get a part of upto 20% to 40% of the revenue.
The revenue ratio is highly negotiable provided the candidate provides a strong and reasonable case.
---
Check out Revenue Sharing of other Sub Brokers
---
Swastika Investment Franchise Cost or Security Deposit Amount
Swastika Investments is not very expensive when it comes to the initial investment or the security deposit. It only requires the candidate to deposit INR 50,000 as a security amount. Further, for the sub-brokers, it might require for certain infrastructure for the office set up.
This investment may not be necessary if the sub-broker has an alternative decent working space and working stations.
For remisier & introducer, no infrastructure is required or expected. Merely, a security deposit ranging from 10,000 to 40,000 is called for.
---
Here are Security Deposit info of other Stock Broking Franchise
---
Swastika Investment Sub Broker Offers
Swastika Investment, being new in the sector, has resorted to the following lucrative offers to connect with a large number of sub-brokers:
Referral programmes;
Flexible business models
Low investment cost;
Negotiable revenue sharing model;
Free DEMAT
---
Check out other companies Sub Broker Offers
---
How to become Sub Broker of Swastika Investment?
To become a sub-broker with Swastika Investments, these steps need to be adopted:
1st Step – Fill in the requisite details in the lead form available here
2nd Step – Attend the from Call centre representative to verify the details and interest in sub-brokership
3rd Step – Attend call from the Sales executive of Swastika Investment for Appointment confirmation
4th Step – Personal meeting with Sales Representative for understanding the terms of the arrangement and agreeing to the various relevant aspects
5th Step – Provide the documents as required and furnish Initial Investment Cheque
6th Step – Swastika Investment will verify these documents and conduct a background check
7th Step – Activation of account
This may take up 5-10 working days depending upon the speed of the events.
Documents Required for Swastika sub-broker registration –
Proof of identity
Address proof
Date of birth proof
Certificate of academic qualification
Cancelled cheque or Bank statement
Registration certificate with SEBI/Stock exchnage
Passport size photos
Infrastructure proof
PAN Card
Aadhaar Card
---
Why Partner with Swastika Investment?
Certain key positives of Swastika Investment are listed below:
Trusted organization
Large product profile & base
Lucrative revenue model
No heavy initial investment
Brokerage cashback
---
Support provided by Swastika Investment Partner Program
Marketing assistance
Technical assistance
Training on trading platforms
Assists in setting up initial infrastructure
Customer Support
Provides advisory support
---
Become a Sub Broker with Swastika Investment – Just Fill up the form
[contact-form-7 id="57″ title="Indian Franchise Review – Broking Franchise Form"
---
Find detailed review of other Sub Broker Franchise
---
List of Top Swastika Investmart Partners/ Business Partners
| | | | |
| --- | --- | --- | --- |
| Company List | Remisiers Name | Trade Name | Remisiers Registration No. |
| Swastika Investmart | Abhay Pratap Singh | Abhay Pratap Singh | R/0942/44383/05/10/2018 |
| Swastika Investmart | Ankit Singh Jhala | Ankit Singh Jhala | R/0942/44604/28/02/2020 |
| Swastika Investmart | Bharatkumar Jaysukhlal Shah | Bharatkumar Jaysukhlal Shah | R/0942/43679/27/11/2015 |
| Swastika Investmart | Chetan Nathalal Kotak | Chetan Nathalal Kotak | R/0942/44579/17/01/2020 |
| Swastika Investmart | Kapil Kumar | Kapil Kumar | R/0942/44573/10/01/2020 |
| Swastika Investmart | Prakash Chandra Sahu | Prakash Chandra Sahu | R/0942/44572/10/01/2020 |
| Swastika Investmart | Ramgopal Choukse | Ramgopal Choukse | R/0942/44549/30/09/2019 |
| Swastika Investmart | Ravi Kumar Joshi | Ravi Kumar Joshi | R/0942/44580/17/01/2020 |
| Swastika Investmart | Sonali Sinha | Sonali Sinha | R/0942/44581/17/01/2020 |
| Swastika Investmart | Sonali Sinha | Atul Jain | R/0942/44563/06/12/2019 |