Shriram Insight Sub Broker Program is a very well known stock market franchise in the country. Lets have a detailed review of Shriram Insight Franchise along with in-depth understanding of their Revenue Sharing Models, Different types of franchise cost, offers & more.
Summary
Top Business Model
Sub Broker
Revenue Sharing
55% – 70%
Security Deposit
Rs.15,000 to Rs.30,000
Become Sub Broker in
35 Days
Receive Payout in
20 Days
Founder
Shri. R Thiagarajan
Established Year
1995
Shriram Insight is a broking arm of the famous Shriram Group and has been in business since year 1974 founded by Padma Bhushan Shri. R Thiagarajan.
The Shriram group first ventured into Chit funds business and then spread its arms in nearly all financial businesses of the country providing diverse products and investment options to consumers.
With a customer base of more than 9.3 million people across the country, it operates from 2800 branches with over 7000 employees working for the group. Apart from the employees, Shriram group has an army of more than 1,40,000 agents and with Asset Under Management of about 93,000 Crores.
---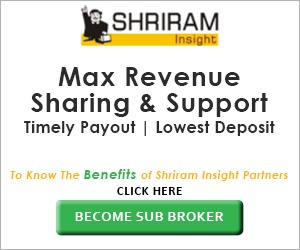 ---
Shriram Insights Sub Broker Customer Ratings
Shriram Insights Franchise
Experience
3.10
Services
3.10
Products
2.90
Trading Platforms
3.20
Support
3.00
Revenue Sharing Model
3.10
Security Deposit
3.20
Offers
2.90
Market Share
3.00
Overall
3.05
---
Compare Sub Broker Franchise
vs
---
Types of Shriram Insight Sub Broker Business:
There are three models that the Shriram Insight team operates through:
Business Associate
Franchise or Partner
Authorized Person
---
Start your business with Shriram Insight Authorised Person – Just Fill up the form
---
Shriram Insight Business Associate:

This model is primarily for Financial advisors who would want to partner with Shriram Insight and get licentiate to trade with them.
This is an agency model where the financial advisor will be trained and assisted by the Shriram Insight team and they could utilize their portal to trade themselves as well as for their customers.
A Relationship manager will be deployed to provide any help on generating or closing leads. The internal team will also provide marketing related assistance.
---
Shriram Insight Franchise or Partner Model:
If you have an entrepreneurial instinct in you and you dream to make it big, then you can certainly partner with Shriram Insights for a great career growth.
A Partner is basically an entrepreneur who wants to get associated with Shriram Insights and enhance his business leveraging Shriram Group's flagship. With Shriram Insights' wide range of financial products, you can become a one-stop-shop to your clients for all their financial needs.
The Partner model works with a truly partnering spirit. Right from training to marketing to Business Development, Shriram's Support team will help you through it all.
---
Shriram Insight Sub Broker or Authorized Person Model:
If you are not from the Financial services industry, but have the capital and interest to start out in this domain; the Shriram Insights team will help you startup your own business from the scratch.
Right from hiring resources to training them on all the products; from managing all trading activities to handling customer concerns; everything will be taken care of by the team.
This model is more of a handholding model wherein the company would extend all the support required to stabilize the business and help you grow.
---
Shriram Insights Sub Broker Commission or Revenue Sharing model:
All the three types of associations – Business Associate, Partner & Authorized Person have distinct Revenue models. The Business Associate is a commission or brokerage based model whereas the Partner and Authorized Person model has a profit sharing model with fixed sharing percentages decided.
In all three associations, you are sure to make good amount of money with the Shriram legacy and pedigree of being in the market space since long.
| | | |
| --- | --- | --- |
| Business model | Shriram Insight Commission | Sub Broker Commission |
| Business Associate | 60% – 80% | 40% – 20% |
| Partner | 40% – 50% | 60% – 50% |
| Sub Broker | 20% – 30% | 80% – 70% |
---
Check out Revenue Sharing of other Sub Brokers
---
Shriram Insight Franchise cost or Security deposit:
Each business model has different security deposit amount. But all the models has refundable feature. The Business Associate model has Security deposit range of Rs.15,000 to Rs.30,000.
While the Franchise or Partner model has security deposit range of Rs.50,000 to Rs.100,000.
The third model i.e Sub Broker or Authorised Person has security deposit ask of Rs.200,000 to Rs.300,000.
The broking house provides wide range of flexibility in both revenue sharing & security deposit amount.
| | |
| --- | --- |
| Business model | Shriram Insight Deposit required |
| Business Associate | Rs.15,000 – Rs.30,000 |
| Franchise / Partner | Rs.50,000 – Rs.100,000 |
| Sub Broker / Authorised Person | Rs.200,000 – Rs.300,000 |
---
Here are Security Deposit info of other Stock Broking Franchise
---
Shriram Insight Sub Broker Offers:
With Shriram Insight, a Partner or Sub Broker enjoys immense benefits which can take his business to the next level.
The biggest asset is that the product range and offerings with Shriram is exhaustive: Equity, Mutual Funds, Tax Free Bonds, IPO, Derivatives etc. One can offer an array of products to their customers and earn huge profits. You can actually become a single point of contact for all your customers' financial needs.
Training is done for all the products through classroom training, online as well as offline training
Brand & Marketing Support is also provided by the team so that there are no teething issues. The team provides regular brochures / mailers and sms so that we could send them to our clients
Business Development support is also provided whenever needed. Especially in the case of Partner and Authorized person, they deploy a Relationship Manager to your account who could assist you in all queries
There are multiple and efficient trading tools which enable users to trade multiple times without any hassle. Netpro Desktop, NetPro Browser and Modile App enable smooth an speedy transactions.
Expert Advice: The Shriram Insight team regularly keeps providing you with latest market updates and suggestions as per trends
After Sales support is also provided by the team
---
Check out other companies Sub Broker Offers
---
How to become a Shriram Insight Sub Broker?
You need to first choose which model of partnership would you want to go for with Shriram – Business Associate, Partner or Authorized Person.
Then you an just fill up the form here & share your details. We will connect you with the Broking House.
They will call you & understand your requirement & then will set up a meeting with the relationship manager.
The relationship manager will again clear all your doubts & then he will start the documentation & agreement process.
This entire process takes 2 weeks.
Below are the documents required to start a broking franchise. 
Documents required for Shriram Insight Sub Broker Registration:
Like any other Financial services company, a lot of emphasis is given the KYC documents before enrolling onto anything.  You need to provide the following documents:
For Age proof, you can provide Passport or PAN card copy
For ID proof, you can provide either of the following documents: Adhaar Card, Driving License, PAN Card, Passport or Govt ID Card
Address can be the following: Passport, Driving License, Adhaar Card, Voter ID Card, or an utility bill of that address
Passport size photographs
Financial documents – ITR copies
Registration certificate from SEBI
Bank Account details
---
Why Partner with Shriram Insight?
Shriram Insight has a strong and long drawn customer connect.
It is a well known name in the financial services market and anyone would invest in it without any apprehensions. This is one of the major reasons why one should partner with them.
Moreover, Their infrastructure and technology and strong customer support team provides a cushion to carry on with the business effortlessly.
You can easily rely on Shriram to be able to fulfill your dream of becoming a top notch Sub Broker.
---
Start your business with RK Global Sub Broker – Just Fill up the form
---
Find detailed review of other Sub Broker Franchise