India Infoline or IIFL Sub Broker program has not been existing since long in sub-broking business, but despite this, it has recorded a rapid growth in a very short span of time with its franchise business. It launched this partnership model with the aim of wide spreading its business and expansion of the same.
Summary
Top Business Model
Sub Broker
Revenue Sharing
60% – 75%
Security Deposit
Rs.1,00,000 – Rs.200,000
Become Sub Broker in
30 Days
Receive Payout in
40 Days
Founder
Nirmal Jain
Established Year
1995
In the subsequent paras, the business partnership being offered by IIFL and the critical and relevant aspects of the same are being discussed.
Some of the highlights of this discussion is IIFL Sub Broker offers, India Infoline Franchise revenue models, IIFL Partner security deposit requirements & other important features of IIFL partner program.
---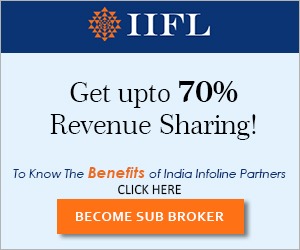 ---
IIFL or India Infoline Franchise Customer Ratings
IIFL Franchise
Experience
3.50
Services
3.50
Products
3.50
Trading Platforms
3.20
Support
3.00
Revenue Sharing Model
3.20
Security Deposit
3.40
Offers
2.50
Market Share
2.30
Overall
3.12
---
Compare Sub Broker Franchise
vs
---
Type of IIFL Franchise
IIFL has multiple models wherein a person is appointed as the authorized individual based on the type of model they choose.
Franchise Model – An IIFL sub-broker who represents IIFL at a regional/local level. The sub-broker acts on behalf of IIFL and assists the clients in undertaking their investment/trading activities.
Marketing Associate – This kind of a business owner works on individual terms and plays a role in marketing the broker's products and services.
Employee to Entrepreneur – Any individual who has been in the capital market industry for a minimum duration of 3 years, can choose to be the owner of a business on their personal terms. This models lets the owner work in the domain that they excel, with numerous growth possibilities.
Remisier / DSA – This model is related to referring clients to the broker and making a commission out of it. A person who has wide networking and also marketing capability can avail for it.
---
Become a Sub Broker with India Infoline – Just Fill up the form
---
IIFL Sub Broker Commission or Revenue Sharing Model

IIFL has earned a special place in the market as a brand among other major market players. It matches the industry benchmark when it comes to the revenue that it shares with its sub-brokers.
The ratio typically ranges as per the chosen business model. Infact, the ratio can also be said to on a higher side vis-à-vis other companies.
The same may be with the intent of expanding its reach and as a lucrative to the sub-brokers. Similar to other cases, herein also, the revenue sharing ratio is negotiable wherein the relevant parameter would include the volume of business expected, the risk assessed in the case of that sub-broker, the initial investment, the experience etc.
---
Check out Revenue Sharing of other Sub Brokers
---
IIFL Franchise Cost or Security Deposit Amount
As an initial deposit towards security or margin, IIFL expects the sub-broker to deposit INR 1,00,000 to INR 200,000. The investment is dependent on a variety of parameters and is negotiable. However, it does not require any major infrastructure investment unlike other broking companies which demand for setting up a front office etc.
For the Marketing associate model, there is no investment cost required, and this is a great perk investors wish to enjoy.
The same kind of feasibility if provided for the model – Employee to Entrepreneur as well, i.e. no investment cost required to commence with the model.
Lastly, the individual who wishes to opt for the Remisier model has to provide a small security deposit. The deposit amount to Rs.15,000.
---
Here are Security Deposit info of other Stock Broking Franchise
---
IIFL Sub Broker Offers
IIFL has adopted a performance based reward and offer programme. Vide such programme it provides the following offers/benefits to sub-brokers:
Reduced margin deposit;
Reduced brokerage charges;
Cash back on brokerage charges;
Higher revenue share;
Free DEMAT/Trading account;
Extended credit period etc.
---
Check out other companies Sub Broker Offers
---
How to become Sub Broker of IIFL?
The procedure for registering as a sub-broker is a very plain and simple procedure. For ease of understanding, the steps are provided below:
1st Step – Provide the requisite details in the lead form available here
2nd Step – Await verification call from our representative
3rd Step – Await appointment call from the Sales representative executive of IIFL
4th Step – Personal meeting with Sales Representative for negotiations and finalisation of terms and the aspired business model
5th Step – Submission of documents and furnishing the investment details
6th Step – Document verification by IIFL
7th Step – All set to start!
The overall process may take up 2-7 working days.
Documents Required for IIFL sub-broker registration –
ID Proof
DOB proof
Address proof
Academic Certificate
Cancelled cheque or Bank statement
Registration certificate with SEBI/Stock exchange
Passport size photos
Infrastructure proof
PAN Card
Aadhaar Card 
---
Why Partner with IIFL?
Some of the benefits to partner with IIFL are:
It a growing organisation and hence your contribution would be recognized;
Easy procedures;
Less formalities and compliances;
No major initial investment required;
Negotiable margin deposit;
Access to high end technology oriented platforms;
Time to time conducting of Seminars and workshops for awareness;
High degree of support provided in terms of marketing, the add on for client acquisition;
Reasonable revenue sharing ratio;
Various categories of assets catered
---
Support provided by IIFL Partner Program
Marketing support;
Front office operations related support;
Compliance support;
Client acquisition and retention support;
Technical training
---
Become a Sub Broker with Angel Broking – Just Fill up the form
---
Find detailed review of other Sub Broker Franchise
---
List of Top IIFL Direct Partners / Business Partners
| | | | |
| --- | --- | --- | --- |
| Company List | Remisiers Name | Trade Name | Remisiers Registration No. |
| IIFL | SANTANU SUDHIR BANERJEE | SANTANU SUDHIR BANERJEE | AP0101790101099 |
| IIFL | HEMANSHU BHOJAK | HEMANSHU BHOJAK | AP0101790101097 |
| IIFL | ANJU R JAGASIA | ANJU R JAGASIA | AP0101790101135 |
| IIFL | VASANT SITARAM NIKAM | VASANT SITARAM NIKAM | AP0101790100988 |
| IIFL | HEENABEN PARESH DHINGANI | HEENABEN PARESH DHINGANI | AP0101790101098 |
| IIFL | SNEHA RAMESH MEHTA | SNEHA RAMESH MEHTA | AP0101790101264 |
| IIFL | SANJAY MURLIDHAR DUBYE | SANJAY MURLIDHAR DUBYE | AP0101790101164 |
| IIFL | K G SURESH BABU | K G SURESH BABU | AP0101790101105 |
| IIFL | NAMITA P SHAH | NAMITA P SHAH | AP0101790100974 |
| IIFL | G V K MALLESWARI | G V K MALLESWARI | AP0101790100976 |
| IIFL | KRISHNA YADAV | KRISHNA YADAV | AP0101790100978 |
| IIFL | SUNIL JAISWANI | SUNIL JAISWANI | AP0101790100980 |
| IIFL | NITHIN APPU | NITHIN APPU | AP0101790100981 |
| IIFL | MOHITE GANESH NEMA | MOHITE GANESH NEMA | AP0101790101172 |
| IIFL | BHATT JAI MAHESHBHAI | BHATT JAI MAHESHBHAI | AP0101790101266 |
| IIFL | PANKAJ ANEJA | PANKAJ ANEJA | AP0101790100991 |
| IIFL | EKTA BHATIA | EKTA BHATIA | AP0101790100985 |
| IIFL | SUVARNA PARAS DHARIWAL | VARDHAMAN INVESTMENT | AP0101790100986 |
| IIFL | SUJIT KUMAR GHOSH | SUJIT KUMAR GHOSH | AP0101790100983 |
| IIFL | KAILASH CHAND JAIN | KAILASH CHAND JAIN | AP0101790101169 |
| IIFL | ROHIT KUMAR AGRAWAL | ROHIT KUMAR AGRAWAL | AP0101790101168 |
| IIFL | MAFATLAL BAKORBHAI PATEL | MAFATLAL BAKORBHAI PATEL | AP0101790102419 |
| IIFL | SANJIV KUMAR | SANJIV KUMAR | AP0101790101045 |
| IIFL | DINIL KUMAR S V | DINIL KUMAR S V | AP0101790101161 |
| IIFL | SNEHA DAS | SNEHA DAS | AP0101790101042 |
| IIFL | VANDANA SRUJANN MEHRRA | VANDANA SRUJANN MEHRRA | AP0101790101103 |
| IIFL | ARPAN KUMAR NAG | ARPAN KUMAR NAG | AP0101790101110 |
| IIFL | RUCHI ARORA | RUCHI ARORA | AP0101790101136 |
| IIFL | RAGHU VANSH SHARMA | RAGHU VANSH SHARMA | AP0101790101108 |
| IIFL | L RM ALAGAMMAI | L RM ALAGAMMAI | AP0101790101109 |
| IIFL | ANKIT GILL | GILLSON CAPITAL SERVICES | AP0101790101165 |
| IIFL | SHAILENDRA KUMAR DUBEY | SHAILENDRA KUMAR DUBEY | AP0101790101140 |
| IIFL | SANTOSH KASHINATH CHAVAN | SANTOSH KASHINATH CHAVAN | AP0101790101107 |
| IIFL | JAGDISH KASHINATH GUTTHE | JAGDISH KASHINATH GUTTHE | AP0101790101807 |
| IIFL | SOWRI REDDY VANGALA | SOWRI REDDY VANGALA | AP0101790101330 |
| IIFL | B KRISHNAM RAJU | B KRISHNAM RAJU | AP0101790101137 |
| IIFL | K VARALAXMI | K VARALAXMI | AP0101790101111 |
| IIFL | VAIBHAV P RELE | VAIBHAV P RELE | AP0101790101095 |
| IIFL | PARAM CHAND PATEL | BALAJI FINANCIAL AND SECURITIES | AP0101790101094 |
| IIFL | RAM PARBESH BHUIA | RAM PARBESH BHUIA | AP0101790101096 |
| IIFL | OTARI UDAY PRALHAD | OTARI UDAY PRALHAD | AP0101790101100 |
| IIFL | MITESHGIRI BALVANTGIRI GOSWAMI | MITESHGIRI BALVANTGIRI GOSWAMI | AP0101790101102 |
| IIFL | SPARS SHARES SUPERMART PRIVATE LIMITED | SPARS SHARES SUPERMART PRIVATE LIMITED | AP0101790101326 |
| IIFL | M/S. MONEY MATTERS FINANCIAL SERVICES | RAVI SHYAM DUDANI | AP0101790101380 |
| IIFL | RAJESH MAJUMDER | RAJESH MAJUMDER | AP0101790101260 |
| IIFL | CHAUDASAMA RAJVIRSINH M | CHAUDASAMA RAJVIRSINH M | AP0101790101357 |