India's Infoline or IIFL Sub Broker program has not been existing for long in the sub-broking business, but despite this, it has recorded rapid growth in a very short span of time with its franchise business.
It launched this partnership model with the aim of wide spreading its business and expansion of the same.
One of the few brokerage franchise firms that have experienced considerable growth over the past three years is IIFL Franchise. We shall delve further into the IIFL Sub Broker Review in this article.
The India Infoline Franchise Offers, India Infoline Sub Broker Commission, IIFL Franchise Cost, and other significant aspects of the IIFL Authorized Person Program will then be thoroughly examined.
Summary
Top Business Model
Sub Broker
Revenue Sharing
60% – 75%
Security Deposit
Rs.1,00,000 – Rs.200,000
Become Sub Broker in
30 Days
Receive Payout in
40 Days
Founder
Nirmal Jain
Established Year
1995
In the subsequent paras, the business partnership being offered by IIFL and the critical and relevant aspects of the same are discussed.
Some of the highlights of this discussion are IIFL Sub Broker offers, India Infoline Franchise revenue models, IIFL Partner security deposit requirements & other important features of the IIFL partner program.
---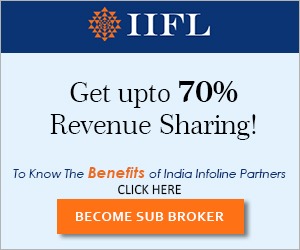 ---
IIFL or India Infoline Franchise Customer Ratings
IIFL Franchise
Experience
3.50
Services
3.50
Products
3.50
Trading Platforms
3.20
Support
3.00
Revenue Sharing Model
3.20
Security Deposit
3.40
Offers
2.50
Market Share
2.30
Overall
3.12
---
Compare Sub Broker Franchise
vs
---
Type of IIFL Franchise
IIFL has produced numerous elaborate models to demonstrate its belief in flexibility. Any person can represent the model and job function from different regions of the nation and bring in lucrative business for themselves and IIFL.
India, IIFL Sub Broker, IIFL Authorized Person Franchise Infoline
Sub-duties brokers include finding potential clients, making a sales pitch to them, securing clients, adding more services to existing client accounts, serving as a resource for these clients' trading and investment advice, executing trade orders on their behalf, and assisting with account settlement.
Marketing Associate at IIFL
This business model is an option for someone who wants to start a small firm in which they are the sole proprietor.
This position calls for someone with strong networking and marketing abilities because they will be in charge of publicizing the many services this stockbroking firm offers.
From IIFL employee to business owner
With the help of this program, a person with more than three years of expertise in the stock market can become an entrepreneur.
This concept enables the concerned person to run a business and engage in pursuits they are particularly good at.
DSA / IIFL Remisier
By selecting this model, you can benefit from the independent operation.
The Remisier would earn money by suggesting clients to the broker, who would then pay them a share of the commission in return. Here, effective networking and marketing skills are paramount.
---
Become a Sub Broker with India Infoline – Just Fill up the form
---
IIFL Sub Broker Commission or Revenue Sharing Model

IIFL has earned a special place in the market as a brand among other major market players. It matches the industry benchmark when it comes to the revenue that it shares with its sub-brokers.
The ratio typically ranges as per the chosen business model. In fact, the ratio can also be said to be on the higher side vis-à-vis other companies.
The same may be with the intent of expanding its reach and as a lucrative to the sub-brokers. Similar to other cases, herein also, the revenue sharing ratio is negotiable wherein the relevant parameter would include the volume of business expected, the risk assessed in the case of that sub-broker, the initial investment, the experience, etc.
---
Check out Revenue Sharing of other Sub Brokers
---
IIFL Franchise Cost or Security Deposit Amount
As an initial deposit towards security or margin, IIFL expects the sub-broker to deposit INR 1,00,000 to INR 200,000.
The investment is dependent on a variety of parameters and is negotiable. However, it does not require any major infrastructure investment, unlike other broking companies which demand setting up a front office, etc.
For the Marketing associate model, there is no investment cost required, and this is a great perk investors wish to enjoy.
The same kind of feasibility is provided for the model – Employee to Entrepreneur as well, i.e. no investment cost is required to commence with the model.
Lastly, the individual who wishes to opt for the Remisier model has to provide a small security deposit. The deposit amount to Rs.15,000.
---
Here are Security Deposit info of other Stock Broking Franchise
---
IIFL Sub Broker Offers
IIFL has adopted a performance-based reward and offer program. Vide such program it provides the following offers/benefits to sub-brokers:
Reduced margin deposit;
Reduced brokerage charges;
Cashback on brokerage charges;
Higher revenue share;
Free DEMAT/Trading account;
Extended credit period etc.
---
Check out other companies Sub Broker Offers
---
How to become Sub Broker of IIFL?
The procedure for registering as a sub-broker is very plain and simple procedure. For ease of understanding, the steps are provided below:
1st Step – Provide the requisite details in the lead form available here
2nd Step – Await verification call from our representative
3rd Step – Await an appointment call from the Sales representative executive of IIFL
4th Step – Personal meeting with Sales Representative for negotiations and finalization of terms and the aspired business model
5th Step – Submission of documents and furnishing of the investment details
6th Step – Document verification by IIFL
7th Step – All set to start!
The overall process may take up to 2-7 working days.
Documents Required for IIFL sub-broker registration –
ID Proof
DOB proof
Address proof
Academic Certificate
Canceled cheque or Bank statement
Registration certificate with SEBI/Stock exchange
Passport size photos
Infrastructure proof
PAN Card
Aadhaar Card 
---
Why Partner with IIFL?
Some of the benefits to partner with IIFL are:
It is a growing organization and hence your contribution would be recognized;
Easy procedures;
Fewer formalities and compliances;
No major initial investment is required;
Negotiable margin deposit;
Access to high-end technology-oriented platforms;
From time to time conducting Seminars and workshops for awareness;
The high degree of support provided in terms of marketing, the add-on for client acquisition;
Reasonable revenue sharing ratio;
Various categories of assets catered
---
Support provided by IIFL Partner Program
Marketing support;
Front office operations-related support;
Compliance support;
Client acquisition and retention support;
Technical training
---
Infrastructure Investment by IIFL Sub Brokers/ Authorized Person
The other type of investment a sub-broker must make is in the infrastructure. Since there are no strict standards for the way infrastructure should look and feel, IIFL is relatively lenient when it comes to infrastructure needs.
IIFL values simplicity and does not impose onerous infrastructure maintenance requirements. However, it has a few minimal infrastructure criteria to make sure there aren't any unhealthy offices that could damage IIFL's reputation and brand.
For each city tier, IIFL has set minimal workspace, workstation, and internet specifications in order to conduct business on behalf of the clients. These basic standards are all perfectly realistic.
---
IIFL Franchise Eligibility Criteria
For its sub-brokers, IIFL has established the following eligibility requirements:
The applicant must be at least 18 years of age.
The applicant should have at least a higher secondary degree.
Completion of any extra training programs leading to accreditation in the financial or stock markets would be highly beneficial.
The candidate must be at least somewhat familiar with and knowledgeable about the stock market.
Any prior experience in this area would be advantageous.
It goes without saying that the candidate must possess a SEBI registration certificate.
---
IIFL Franchise-Pros & Cons
It's time to examine the main advantages and disadvantages of acquiring an IIFL franchise because, occasionally, people don't think the broker is the ideal fit for their professional objectives. Look at this to see why:
Pros
A variety of trade and investment instruments
Different business models
Satisfactory return on investment
Cons
Brokerage is substantially more expensive.
Interactive trading terminals are absent.
---
IIFL Franchise Registration
An overview of IIFL franchise registration is provided here. What aspects of the journey will you as a prospective joiner take into account, and which paperwork will you be required to provide? Here is an overview of that.
Simply complete the registration form to get started.
You must enter your name and phone number on the form.
A representative of IIFL then schedules a call back for you.
Business goals, funding sources, personal background, and professional experiences will all be covered in this phonic interview.
The IIFL Managers will then approach you directly to collect documents.
The franchisee receives a partner token in addition to having access to IIFL software, Support, and pertinent services.
Following a successful registration, you may start sending out invitations to IIFL and getting the ball rolling on your business.
---
Earning the Potential of an IIFL Partner/ROI
Now that we've given you a general understanding of the income possibilities generated by the IIFL Franchise Program, let's talk about the investment.
Sincerity be damned, the broker has maintained a respectable income split for its partners. Franchisees and sub-brokers can earn anywhere from 60% to 75% on each client.
The IIFL master franchise earns a 75% commission, and no more, which is the highest. However, the minimal commission a franchise earns is greater than the typical revenue sharing frequently provided by franchisors.
In this way, the IIFL Partner Program has the enormous potential to help its partners create a reliable source of income.
---
IIFL Franchise Referral Program
You can earn money by recommending IIFL services to a trader, investor, or a specific person through the IIFL Franchise Referral Program.
An amount from each client's revenue generated by Indian Info Line securities is deducted as a commission when a referral client pays their account and initiates a transaction or investment for a specific amount.
Anyone over the age of 18 is eligible to join the referral program and quickly start earning money.
Before you start working extremely hard to find clients for the broker, it is still advisable to receive precise information from IIFL.
---
Brokerage Charges were levied on the clients of IIFL Partners
The IIFL Brokerage Fees are greater than the standard Industry Fees. Per executed order, the broker charges Rs 200, or 0.1%, in brokerage.
The fees for each trading or investment section, however, differ and can occasionally be considered reasonable. As a result, IIFL is still very popular.
As a franchise partner, you can draw customers by providing them with discounts or perks that IIFL may have given you in order to increase your lead generation.
---
IIFL Authorised Person-Products Offered
It's time to view the top-notch products that IIFL offers to its customers. As an IIFL Authorized Person, you can encourage customers to buy these products and contribute to the development of your income stream by doing business with IIFL.
The following is a list of IIFL's principal products.
Equity
Foreign Exchange
Commodity Options
IPO Services
Mutual funds
In addition to this, the broker works in the financial industry. As a result, it also offers lending, insurance, and banking services.
---
IIFL Franchise Conclusion
Great commercial chances come along with a new player on the market, IIFL. Its business model is extremely creative and client-focused.
In addition to having a wide range of products, their affordable brokerage plans are well-known & highly well-liked in the market.
They are one of the highest-paying enterprises, even with sub-broker businesses, and their investment needs are also relatively manageable & inexpensive.
The huge number of sub-broker business networks at IIFL is mostly due to these two causes.
---
IIFL Sub Broker or Partner Program FAQs
These are the frequently asked questions about the IIFL franchise program:
What paperwork do I need to become a sub-broker for IIFL?
The list of necessary documents includes:
A copy of the ID.
Copy of SEBI registration certificate and address evidence
Certificate of graduation from higher secondary
Can the IIFL sub-broker have a different city as their home?
Yes. A sub-broker can have a base outside of the head office city. An IIFL regional office is represented by a sub-broker.
How many shares does an IIFL sub-broker make in revenue?
The Authorized Person or Sub-Broker may get up to 75% of the proceeds. This is arbitrary and fluctuates from situation to situation.
Is there a sub broker model at IIFL?
The answer is that IIFL or India Infoline offers a sub-broker franchise concept to those who are interested. It is the most well-liked franchise model that the stock broker business offers. Numerous sub-brokers already successfully represent the franchise.
Do the IIFL's franchise models vary?
There are four franchise models available to you, which is more than the other significant stockbroking companies offer. You are given the option to invest in one of the four business models offered by IIFL, namely the sub Broker franchise, marketing associate, employee-to-entrepreneur, and remisier.
What is a sub broker commission under IIFL?
The sub-brokers have a right to any profits, meaning they get to keep a larger share of their earnings. The sub-broker has the upper hand in revenue sharing, thus they can hold up to 60% to 75% of their money, which is excellent.
What is the cost of an IIFL franchise?
Depending on the franchise model you select, a franchise can range in price. The franchise fee for the most common model, the sub-broker model, ranges from Rs. 100000 to Rs. 200000.
This model has a variety of subcategories as well. The Remisier model costs Rs. 15,000, as opposed to being free for the Marketing Associate and Employee to Entrepreneur models.
Is there a partner program for IIFL?
Yes, IIFL offers four franchise programs, of which the partner program is one. The Remisier model is known as this, and it costs Rs. 15,000 to purchase. Additionally, the remisier is entitled to 50% to 60% of the revenue.
IIFL Partners Sharing: What is it?
The revenue-sharing split between the sub-brokers is 75% to 60%. Revenue share for a marketing associate is 70%, compared to 80% for an employee who also happens to be the business owner. Finally, the remisier's revenue split ranges from 50% to 60%.
IIFL Partner Program: Is it Free?
The IIFL remisier business model, or the partner program, is not free. Instead, the semester model is available for Rs. 15,000 from the individual.
Since the registrar is allowed to keep between 50% and 60% of the earnings, the claim is also supported by the investment made.
Does IIFL offer training support?
Yes, the franchise business owner receives a good deal of training as well. The areas of operations, client acquisition, and research are where assistance is offered. This guarantees the franchisee can successfully launch the firm.
How do I become a sub broker for IIFL?
From this website, you may begin the application process to become an IIFL sub-broker. Select the model you want to use by clicking the "Become Sub Broker" button, filling out the pop-up form, and clicking "Submit."
The business will get in touch with you to go over every aspect of the franchise in depth. The franchise agreement will be drafted once there is consensus.
---
Become a Sub Broker with Angel Broking – Just Fill up the form
---
Find a detailed review of other Sub Broker Franchise
---
List of Top IIFL Direct Partners / Business Partners
| | | | |
| --- | --- | --- | --- |
| Company List | Remisiers Name | Trade Name | Remisiers Registration No. |
| IIFL | SANTANU SUDHIR BANERJEE | SANTANU SUDHIR BANERJEE | AP0101790101099 |
| IIFL | HEMANSHU BHOJAK | HEMANSHU BHOJAK | AP0101790101097 |
| IIFL | ANJU R JAGASIA | ANJU R JAGASIA | AP0101790101135 |
| IIFL | VASANT SITARAM NIKAM | VASANT SITARAM NIKAM | AP0101790100988 |
| IIFL | HEENABEN PARESH DHINGANI | HEENABEN PARESH DHINGANI | AP0101790101098 |
| IIFL | SNEHA RAMESH MEHTA | SNEHA RAMESH MEHTA | AP0101790101264 |
| IIFL | SANJAY MURLIDHAR DUBYE | SANJAY MURLIDHAR DUBYE | AP0101790101164 |
| IIFL | NAMITA P SHAH | NAMITA P SHAH | AP0101790100974 |
| IIFL | G V K MALLESWARI | G V K MALLESWARI | AP0101790100976 |
| IIFL | KRISHNA YADAV | KRISHNA YADAV | AP0101790100978 |
| IIFL | SUNIL JAISWANI | SUNIL JAISWANI | AP0101790100980 |
| IIFL | NITHIN APPU | NITHIN APPU | AP0101790100981 |
| IIFL | MOHITE GANESH NEMA | MOHITE GANESH NEMA | AP0101790101172 |
| IIFL | BHATT JAI MAHESHBHAI | BHATT JAI MAHESHBHAI | AP0101790101266 |
| IIFL | PANKAJ ANEJA | PANKAJ ANEJA | AP0101790100991 |
| IIFL | EKTA BHATIA | EKTA BHATIA | AP0101790100985 |
| IIFL | SUVARNA PARAS DHARIWAL | VARDHAMAN INVESTMENT | AP0101790100986 |
| IIFL | SUJIT KUMAR GHOSH | SUJIT KUMAR GHOSH | AP0101790100983 |
| IIFL | KAILASH CHAND JAIN | KAILASH CHAND JAIN | AP0101790101169 |
| IIFL | ROHIT KUMAR AGRAWAL | ROHIT KUMAR AGRAWAL | AP0101790101168 |
| IIFL | MAFATLAL BAKORBHAI PATEL | MAFATLAL BAKORBHAI PATEL | AP0101790102419 |
| IIFL | SANJIV KUMAR | SANJIV KUMAR | AP0101790101045 |