Ventura Securities Sub Broker Program is a well known broking franchise based out of Mumbai. The following review will be focusing on understanding how the Ventura Securities Sub Brokership works, while also giving an insight about Ventura Securities sub broker models, Ventura Securities Franchise Commission & more.
Summary
Top Business Model
Sub Broker
Revenue Sharing
55% – 70%
Security Deposit
Rs.50,000 – Rs.100,000
Become Sub Broker in
15 Days
Receive Payout in
31 Days
Founder
Hemant Majethia
Established Year
1994
The Broking house has been serving as a stock broker since 1994 and has emerged as a company which provides a complete range of financial products and services. The Broking house has more than 1500 sub brokers under their ecosystem.
---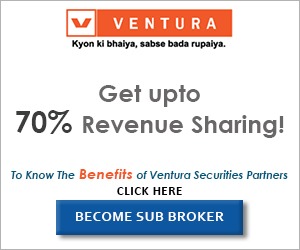 ---
Ventura Securities Sub Broker Customer Ratings
Ventura Securities Franchise
Criteria
Ratings
Experience
3.2/5
Services
3.1/5
Products
3.4/5
Trading Platforms
3.2/5
Support
3.5/5
Revenue Sharing Model
3.2/5
Security Deposit
3.4/5
Offers
3.5/5
Market Share
3.1/5
Overall
3.3/5
---
Compare Sub Broker Franchise
vs
---
Types of Ventura Securities Franchise
Business Partner
Professional Referrals
---
Become a Sub Broker with Ventura Securities – Just Fill up the form
---
Ventura Securities Business Partner

Ventura Securities Business Partner model is similar to Sub Broker Model. Here the Business Partner has to acquire & well as support their clients. This setup can prove to be ideal for people who are more socially active and have a sound knowledge of entrepreneurship.
It can be managed by people who are capable of investing into their own franchise office and hiring employees. One should keep in mind that this type of franchise involves dealing with clients at a large scale.
Ventura Securities Professional Referrals
Ventura Securities Professional Referral model is similar to remisier model used by other brokers. Here, the professional referral only supplies clients to the broking house.
It is suitable for someone who may be practicing accounts, is an Insurance Advisor,or is engaged in a financial company one way or the other where they can convince the already existing clients to invest in the stock market.
---
Ventura Securities Sub Broker Commission or Revenue Sharing Model
In the Business Partner Model, the Broking House provides appreciable percentage of brokerage to the business partners, which can range from 60-70 percent and 30-40 percent to the company. The commission sharing can go upto 80% for a very large Sub Broker.
However, when it comes to professional referrals, they can only get upto 25-35 percent of commission from revenue while the broking house gets 65-75 percent revenue sharing. This Commission can be earned for lifetime by the Professional Referral.
The Commission Sharing depends on 1 major factor i.e.
High Security Deposit can provide to high Revenue Sharing
| | | |
| --- | --- | --- |
| | Ventura's Commission | Sub Brokers Commission |
| Ventura Securities Business Partner | 30%-40% or 20% | 60%-70% or 80% |
| Ventura Securities Professional Referrals | 65%-75% | 25%-35% |
---
Check out Revenue Sharing of other Sub Brokers
---
Ventura Securities Cost or Security Deposit Amount
The security deposit amount for becoming a Ventura Securities Business Partner is Rs.1 lakh & goes upto Rs.3 lakh which will be refunded to the partner after they make an exit from the company. A Sub Broker with high client base like 1000+ clients can get their security deposit waived off. Apart from this, the partner has to bear costs for electricity, computers, broadband, office rent, CCTV etc.  Also, the minimum required office area is 200 square meters that too should be situated in a prime location.
For Professional Referrals, the security deposit amount is only Rs.20,000. This also gets refunded while exiting the program.
| | |
| --- | --- |
| | Ventura Securities Franchise Cost |
| Ventura Securities Business Partner | Rs.1 Lakh – Rs.3 Lakh or No Deposit |
| Ventura Securities Professional Referrals | Rs.20,000 |
---
Here are Security Deposit info of other Stock Broking Franchise
---
Ventura Securities Sub Broker Offer
Following, is the list of all the offers provided by Ventura Securities:
Vast range of financial products like Equity, currency, SIP, Mutual Fund, Bond etc.
Low investment
Reduction/waver off security deposit
Higher credit period
Flexible revenue
Brokerage cashback
---
Check out other companies Sub Broker Offers
---
How to become Sub Broker of Ventura Securities?
Follow the given steps to become a sub broker of Ventura Securities
Step 1 – Fill in the details on the lead form.
Step 2 – Take the call by Call Center Executive for verification of interest.
Step 3 – Sales Representative will call for an appointment.Confirm the appointment.
Step 4 – For details and understanding of the franchise, meet the Sales Representative.
Step 5 – Submit the required documents and initial deposit cheque.
Step 6 – Documents will be checked for verification.
Step 7 – Once the documents have been verified, Account ID will be provided.
The above process will take around 8-10 days to be completed.
Documents Required for Ventura Securities Partner Registration
Educational Qualification Certificate
DOB verification-should be 21 years and above
Cancelled cheque/Bank statement
2 photos
Rent Agreement for Office space
PAN card
Aadhar card
Address Proof
---
Why Partner with Ventura Securities?
Catering to different client needs by one solution
Better Trade execution than other companies
Updating partners on latest market trends.
Flexible Revenue Sharing plan
Analysis tool like Pointer
Outstanding Research Support
Feature rich Trading App Ventura Wealth
---
Support Provided by Ventura Securities Partner Proogram
Training related to business ethics & processes
Back office support/Technical Support involving in-house software,online fund transfer etc.
Market Advisory support through calls, mails and messages.
Marketing Support
Taxation reports
---
Become a Sub Broker with Ventura Securities – Just Fill up the form
---
Find detailed review of other Sub Broker Franchise
---
List of Top Ventura Securities Partners/ Business Partners
| | | | |
| --- | --- | --- | --- |
| Company List | Remisiers Name | Trade Name | Remisiers Registration No. |
| Ventura Securities | Dilip Mujibhai Soni | Dilip Mujibhai Soni | R/0307/01802/21/02/2004 |
| Ventura Securities | Maa Sarvamangla Portfolio | Maa Sarvamangla Portfolio | R/0307/02404/13/04/2004 |
| Ventura Securities | M/s. Shyam Consultants & Services (Pfirm) | Shyam Consultants & Services (Pfirm) | R/0307/03024/19/06/2004 |
| Ventura Securities | Kumar K. Patel | Kumar K. Patel | R/0307/06499/08/07/2005 |
| Ventura Securities | Jeet Singh | Jeet Singh | R/0307/07830/06/10/2005 |
| Ventura Securities | Bharat Bhushan Khemani | Bharat Bhushan Khemani | R/0307/07967/15/10/2005 |
| Ventura Securities | Laxmichand V Gala | Laxmichand V Gala | R/0307/08192/08/11/2005 |
| Ventura Securities | Rajiv Agarwal | Rajiv Agarwal | R/0307/08420/18/11/2005 |
| Ventura Securities | Kum Kum Jain | Kum Kum Jain | R/0307/08590/29/11/2005 |
| Ventura Securities | Kanaiya T. Halvawala | Kanaiya T. Halvawala | R/0307/08832/27/12/2005 |
| Ventura Securities | Ashok K. Jain | Ashok K. Jain | R/0307/09061/06/01/2006 |
| Ventura Securities | Chetan T. Halvawala | Chetan T. Halvawala | R/0307/10146/04/04/2006 |
| Ventura Securities | Ashok P. Khetia | Ashok P. Khetia | R/0307/10148/04/04/2006 |
| Ventura Securities | Arvind O. Kamdar | Arvind O. Kamdar | R/0307/10181/04/04/2006 |
| Ventura Securities | S.K.Investment | S.K.Investment | R/0307/10674/23/05/2006 |
| Ventura Securities | Pritesh Pandya | Pritesh Pandya | R/0307/10970/19/06/2006 |
| Ventura Securities | Pravinbhai M. Patel | Pravinbhai M. Patel | R/0307/10972/19/06/2006 |
| Ventura Securities | Jahar L. Khatua | Jahar L. Khatua | R/0307/11024/19/06/2006 |
| Ventura Securities | Rakesh K. Babariya | Rakesh K. Babariya | R/0307/11373/11/07/2006 |
| Ventura Securities | Jayantilal A. Shah | Jayantilal A. Shah | R/0307/11652/16/08/2006 |
| Ventura Securities | Vaibhav V. Sahasrabudhe | Vaibhav V. Sahasrabudhe | R/0307/11703/16/08/2006 |
| Ventura Securities | Urvashi D. Achharya | Urvashi D. Achharya | R/0307/11704/16/08/2006 |
| Ventura Securities | Kantilal M. Pavani | Kantilal M. Pavani | R/0307/11836/29/08/2006 |
| Ventura Securities | S.R. Securities | S.R. Securities | R/0307/12282/05/10/2006 |
| Ventura Securities | Mangalam Investments | Mangalam Investments | R/0307/12915/12/12/2006 |
| Ventura Securities | Vishal Chand | Vishal Chand | R/0307/13314/08/01/2007 |
| Ventura Securities | Sunil P. Shenoy | Sunil P. Shenoy | R/0307/13381/16/01/2007 |
| Ventura Securities | Ravindra D. Gupta | Ravindra D. Gupta | R/0307/13688/13/02/2007 |
| Ventura Securities | Ajit Jadhav | Ajit Jadhav | R/0307/13849/27/02/2007 |
| Ventura Securities | Ram B. Gupta | Ram B. Gupta | R/0307/13853/27/02/2007 |
| Ventura Securities | Raju Ramaiya | Raju Ramaiya | R/0307/13901/27/02/2007 |
| Ventura Securities | R.M. Securities | R.M. Securities | R/0307/13962/09/03/2007 |
| Ventura Securities | Sunil Punjaram Gaikwad | Sunil Punjaram Gaikwad | R/0307/14671/23/04/2007 |
| Ventura Securities | Harshad Hasmukhlal Kothari | Harshad Hasmukhlal Kothari | R/0307/15578/27/06/2007 |
| Ventura Securities | Ben Hur Securities | Ben Hur Securities | R/0307/15579/27/06/2007 |
| Ventura Securities | Jagdish H. Thacker | Jagdish H. Thacker | R/0307/15816/06/07/2007 |
| Ventura Securities | Suvidha Securities | Suvidha Securities | R/0307/15817/06/07/2007 |
| Ventura Securities | Rajshree Consultant | Rajshree Consultant | R/0307/16023/19/07/2007 |
| Ventura Securities | Deorao N Yelmule | Deorao N Yelmule | R/0307/16376/13/08/2007 |
| Ventura Securities | Priti Haresh Poladia | Priti Haresh Poladia | R/0307/16422/13/08/2007 |
| Ventura Securities | Vandana Pal | Vandana Pal | R/0307/16548/29/08/2007 |
| Ventura Securities | Vishal Gupta | Vishal Gupta | R/0307/16638/29/08/2007 |