Anand Rathi Sub Broker Program is well known in the broking industry. Considering the big name in the financial market, the sub-brokers / authorized person usually give preference to Anand Rathi over other small-size broking companies.
Summary
Top Business Model
Sub Broker
Revenue Sharing
30% – 70%
Security Deposit
Rs.2,00,000 – Rs.5,00,000
Become Sub Broker in
2-3 Weeks
Receive Payout in
30-45 Days
Founder
Anand Rathi
Established Year
1994
It has very basic models which are easy to understand and execute and supports the business partners in operating in multiple segments.
This article discusses the models available, the revenue sharing in each model, the deposit requirement, the support that Anand Rathi provides, and other softer aspects.
Anand Rathi was set up in the year 1994 and is considered a top firm for offering premium services like wealth and investment management, corporate finance, and advisory.
It has its offices in more than 1200 locations and an international presence in Dubai. It employs a workforce of 2500+ professionals.
---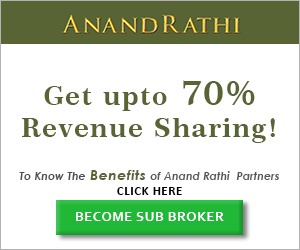 ---
Anand Rathi Franchise Customer Ratings
Anand Rathi Franchise
Criteria
Ratings
Experience
2.8/5
Services
2.7/5
Products
2.6/5
Trading Platforms
2.7/5
Support
2.8/5
Revenue Sharing Model
2.9/5
Security Deposit
2.5/5
Offers
2.4/5
Market Share
2.6/5
Overall
2.7/5
---
Compare Sub Broker Franchise
vs
---
Types of Anand Rathi Sub Broker/ Authorised Person
Keen to start a business with Anand Rathi as their Sub-broker and contribute to the company's growth along with making handsome revenue for yourself.
Anand Rathi Franchise Programs offer a variety of sources to make a living with just a little work. Currently, the company has developed the following types of franchise programs under whose shelter you can create your own business in no time.
Anand Rathi offers the following two types of business partnership models to associates:
Sub broker or Authorised Person
Remisier
Both these programs have different setup requirements, features, investments, earning potential, sources, growth prospects, etc., to offer to the applicant. Let's check out some of the benefits of each of these sub-brokers programs.
---
Become an Anand Rathi Authorized Person – Just Fill up the form
---
Anand Rathi Sub broker or Anand Rathi Authorized Person

Anand Rathi is a big name in the broking business and it has maintained its repute by ensuring strict parameters for associating with business partners.
The broking house looks into various other qualitative aspects like the repute and network of the business partner apart from the projected revenue and the client base.
As against the strict parameters, it also ensures that its partners get to reap the benefits of its repute and allows a good sharing ratio.
The revenue-sharing ratio ranges from 50% to 80%. The investment amount prescribed for this model ranges from Rs. 2 lacs to Rs. 3 lacs
 The benefits of this program are listed below:
Investment Business Model
High Revenue Sharing
Multiple Income Source
Marketing and Branding Support
Anand Rathi Remisier
Anand Rathi's remisier model is also referred to as the zero infrastructure cost model.
The remisier is not required to make any investments as such- it merely needs to connect the potential clients with the team of Anand Rathi and help Anand Rathi in expanding its customer reach by word of mouth and network.
While appointing remisier, mandates an experience of 2-3 years in the financial market and hence ensures that only qualified people are associated with the brand.
The investment amount thus is zero and the revenue-sharing ratio ranges from 20% to 30%. This is further discussed in the paras below.
---
Anand Rathi Franchise Commission or Revenue Sharing Model
Anand Rathi has prescribed criteria that all the business partners (sub-broker or AP and remisier) should have a minimum of 2-3 years of experience with a good client base. This is a mandatory requirement.
They also undertake background checks of the candidate to ensure that the business partner has good credibility in the market and is safe to represent the brand in the market.
The revenue-sharing model of the Anand Rathi Sub Broker Program has been very much in line with the industry rates. The revenue sharing ratio for the sub-broker or the AP model ranges between 30% to 70%.
This depends upon various factors like the performance of the sub broker, the revenue base, the client credibility, the repute of the sub-broker, sub-broker's and their customer's default rates, investment amount, city, number of experience, etc.
One should also try and bargain on the ratio as there is no fixed matrix for deciding the ratio. It is decided on the basis of such softer aspects and hence there is always a scope to bargain on the ratio. One can also consider the option of revising the ratio after a few months.
For a remisier, the revenue sharing ratio of Anand Rathi ranges between 20% to 30%. This can be said to be competitive with the industry range. Since a remisier's role is very limited, the revenue sharing ratio is also less as compared to a sub-broker or an AP.
---
Check out Revenue Sharing of other Sub Brokers
---
Anand Rathi Franchise Cost or Security Deposit Amount
Anand Rathi has prescribed the initial investment amount at a higher side as compared to other broking houses in the market. The initial investment amount for a sub broker or authorized person is Rs. 2 lacs to Rs. 5 lacs. They also specify that if there is a need one should be able to expand their infrastructure and resources to serve the clients appropriately.
This amount includes the infrastructure that one needs to maintain like office, workspace, employees, workstations, trading terminals,s, etc. This also includes certain components of the security deposit which is refundable at the time of termination of the agreement.
For a remisier, the initial investment is NIL. However, a remisier is required to pay a security deposit at the beginning of the agreement. The deposit amount varies from Rs. 20,000 to Rs. 50,000 depending upon the client base and the revenue projected.
Further, the company also offers infrastructure support to a remisier like a trading terminal with the required software, a dealing desk, a phone set, and research support along with back-office support.
| | |
| --- | --- |
| Business model | Investment amount |
| Sub broker/ Authorised partner | Rs. 2 lacs to Rs. 5 lacs |
| Remisier | Rs. 20,000 to Rs. 50,000 |
---
Here are Security Deposit info of other Stock Broking Franchise
---
Anand Rathi Authorised Person / Sub Broker Offer
The offers available for Anand Rathi Authorised Person and sub-broker are:
Flexible revenue sharing ratio
Premium advisory services
Customized plans for sub brokers' customers
Waiver of security deposit/initial investment
Extended credit period
---
Check out other companies Sub Broker Offers
---
How to become Anand Rathi Sub Broker?
1st Step – Fill in the details in the form available here.
2nd Step – Our representative will call you – kindly confirm your interest in the opportunity /proposal.
3rd Step – Schedule a meeting with the sales team of Anand Rathi via our representative.
4th Step – Discuss the terms and conditions of the proposal with the Anand Rathi Team. Ensure that all the aspects are discussed during the meeting.
5th Step – Provide the required documents to Anand Rathi Team. Also provide the payment of the deposit and registration fee for registering with the stock exchange, if not already registered.
6th Step – Anand Rathi Team will verify the documents. If any deficiency is mentioned by them, ensure that the same is corrected at the earliest.
7th Step – After Anand Rathi Sub Broker Team verifies the documents, they will draft an agreement. Read that agreement carefully and then sign it. This agreement will then be submitted to the stock exchange and you will be registered as an Anand Rathi Franchise.
The procedure gets completed in almost 7-10 days.
Documents Required for Anand Rathi Partner Registration
PAN card
Aadhar card
DOB proof
Academic certificates
Experience certificates
Canceled bank cheque
5 Passport size photograph
Proof of sufficient infrastructure and office space to operate
---
Why Partner with Anand Rathi?
It is a reputed brand
Has quite a long experience in the market and has gained the trust
Has a good revenue-sharing model
Large product profile
Ensures that business partners' business is given a sufficient boost
Provides various types of supports
High-level investment advisory and wealth management services
---
Support provided by Anand Rathi Authorized Person Program
Anand Rathi Assurance – This is a unique feature of Anand Rathi. Herein, the clients of Anand Rathi sub broker can directly undertake trading by connecting with the helpdesk.
Support in acquiring new clients
Marketing support in terms of marketing material
Research support
Development sessions for business partners to update them with market technology and trends
Back office support services – by allowing access to centralized back office support
In the case of remisier, it gives infrastructure support as discussed above.
Also provides assistance in issuing contract notes and access to back-office software
---
Office Space for Anand Rathi Sub Brokers / Authorized Person
Under the business partner program of Anand Rathi, they expect their partner to establish and maintain a good office space where all the meetings with the clients can be executed.
The office space requirement, as specified by Anand Rathi, is at least 200 sq. ft.
Further, for assistance and smooth functioning, the partner will need to employ certain employees for the working place.
Also, in the office, facilities like trading terminals, computers, internet, etc. should be available.
---
Anand Rathi Sub Broker Eligibility Criteria
Anand Rathi has not put any unreasonable restrictions or regulations on the applicants. They ask for very basic requirements to be fulfilled to ensure that the candidate is suitable for the job.
The age of the applicant must be at least 18 years or above.
The company prefers graduates while accepting applications for the sub-broker program.
The sub-broker shall have a SEBI registration to perform their operations.
Basic knowledge of the financial market and prior experience in the segment will also be required for the individuals.
---
Anand Rathi Franchise – Pros & Cons
Pros:
Robust risk management system
The issue of customers and partners are resolved solved quickly and effectively.
Offers services like investment advisory and wealth management
Strong support ensuring timely assistance
In-depth research reports
Advisory support
Cons:
The investment sum required at the initial stage can be disturbing.
---
Anand Rathi Sub Broker Registration
Check out how you can start your Anand Rathi Franchise:
Fill out the form to register online, which is available on the website.
The Anand Rathi Executive will get in touch with you to guide you.
You can ask your questions and clear all the doubts you might have regarding the program.
An in-person meeting will be arranged between you and the executive, where you will submit the documents and provide the payment receipt for the registration fees.
The entity will verify all the documents submitted by you.
Once the verification is complete, the team will create your account and give you access to same.
---
Earning the potential of an Anand Rathi Partner / ROI
The revenue sharing of Anand Rathi is competitive and offers almost the same rate as other large stockbroking companies in the market.
Your earnings as an Anand Rathi Sub-broker can range anywhere between 50%-80%. This revenue depends on your efforts. The revenue-sharing percentage can be shifted to higher rates.
These percentages highly depend on your end. How you perform and what contribution you make to the growth of Anand Rathi.
---
Anand Rathi Sub Broker Referral Program
Of course, Anand Rathi offers its customers this reward. When a customer refers Anand Rathi to their friends who want to invest and trade in the stock market, they receive an E-Gift Voucher worth Rs. 500.
On every unique account opening, the customer will get this reward. The referee is required to open their Demat Account with Anand Rathi. The account shall be unique, and in case the details are the same, the referrer will not be eligible for any reward.
---
Brokerage Charges for Anand Rathi Partners
The brokerage charges of Anand Rathi are straight forwards and do not entangle the customers.
They charge Rs 350 per Cr for Equity Delivery, Currency Futures, commodities, and Equity Intraday.
For Equity Futures, the charges are Rs. 410 per cr.
Equity Options and Currency Options are charged at Rs. 7000 per cr.
---
Anand Rathi Sub Broker – Products Offered
Anand Rathi Partners get to offer a wholesome number of products to their customers. They are extensive and provide a wide scope for investing and trading.
Equity
Derivatives
Commodities
Currency
Mutual Funds
Insurance
Structured Products
Financial Planning
PMS
---
Anand Rathi Sub Broker Conclusion
Anand Rathi Franchise gets to participate with a well-known and reputed brand in the market. The company has a long track record of offering its services to customers. You get to enroll for a reliable income source for the long term. They keep up with industry trends and offer the best.
The entity offers complete support to the sub-brokers in every possible manner. From the start, they offer guidance and support training. Also, in further operations too, the support is never decreased.
---
Anand Rathi Sub Broker or Partner Program FAQs
Following are the FAQs:
In how many days has Anand Rathi Sub-broker account been opened?
In about 7 to 10 working days, the entire process of registration is completed, and the partner can start.
How many sub-broker programs are there for Anand Rathi?
There are broadly two sub-broker programs.
Business Partner (Franchise)
Introductory Authorized Person (IAP)
The customers can also participate in the refer and earn program to earn some additional income in the form of Gift Vouchers.
What are the documents required for the Anand Rathi Sub Broker?
Following are the necessary documents for the Anand Rathi Partner program:
Identity Proof
Education Qualification Certificates
Age Proof
Address proof
NISM certificate
Photographs
SEBI Certificate
What is the support provided by Anand Rathi?
Following are some of the valuable advantages of the Anand Rathi Partner Program:
Wide range of Offerings
High-tech platforms
Marketing and Branding Support
Training
Webinars & Conferences
What are the products under Anand Rathi Sub Broker?
Products like Equity, Derivatives, Commodity, Currency, Mutual Funds, and Insurance are offered by Anand Rathi to its customers to offer them a wide array of choices.
What are the research and advisory services of Anand Rathi?
Innovative and attractive features are provided by Anand Rathi which include:
Fundamental Research
Technical Research
Financial Planning
---
Become an Anand Rathi Sub Broker – Just Fill up the form
---
Find detailed review of other Sub Broker Franchise