ICICI Direct Sub Broker program was launched in 2003 and they introduced the Remisier program in 2012. It serves Tier 1 as well as Tier 2 cities with a total of more than 1050 offices as recorded in the year 2017.
To know more about the business models offered, the cost involved, the potential revenue offered, and other relevant details, one can read the following article.
In this article, we will discuss in detail ICICI Direct Franchise Review & dig deep into ICICI Direct Sub Broker offers, ICICI Direct Franchise commission models, ICICI Direct Partner Initial Investment & other important features.
Summary
Top Business Model
Sub Broker
Revenue Sharing
50% – 75%
Security Deposit
Rs.25,000 – Rs.200,000
Become Sub Broker in
14 Days
Receive Payout in
30 Days
Founder
Vjay Chandok
Established Year
1994
---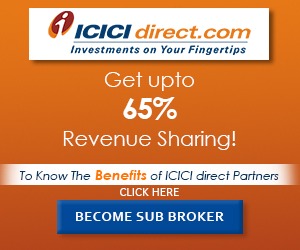 ---
ICICI Direct Franchise Customer Ratings
ICICI Direct Franchise
Experience
3.50
Services
4.00
Products
4.00
Trading Platforms
3.60
Support
3.50
Revenue Sharing Model
3.00
Security Deposit
2.50
Offers
2.50
Market Share
2.50
Overall
3.23
---
Compare Sub Broker Franchise
vs
---
Type of ICICI Direct Franchise
Sub Broker
Investment Associate or Remisier
When it comes to advisory sectors and financial planning, the ICICI Direct franchise has seen major growth since 1994. They now possess a lot of industry knowledge as a result. Additionally, they are familiar enough with how the business is run.
There are two franchise models that one should know about; the sub-broker model and the remisier model. They do, serve a variety of consumers and their function varies as well.
Authorized Person/Sub Broker
Remisier Partner Program
ICICI Direct Sub Broker / Authorised Person
For the sub-broker model, there is a need for a proper investment. In this model, the commission rate is much higher as compared to another model of remisier. That is one should also have the proper corporate infrastructure in place along with a substantial security deposit.
ICICI Direct Partner Program / Remisier
The ICICI Direct Partner/remisier strategy, on the other hand, does not require any initial infrastructure. To be a sub-broker however one does not require a very high-security deposit like of a partner or authorise person. While being a remisier one can handle other works as well.
---
Become a Sub Broker with ICICI Direct – Just Fill up the form
---
ICICI Direct Sub Broker Commission or Revenue Sharing Model

Just like the other industry players, this broking house also offers a variable revenue sharing ratio which is further negotiable from case to case.
Typically, at ICICI Direct, the revenue sharing ratio would be determined on the basis of business generated by the sub-broker. However, there are other secondary parameters as well like leads brought in, infrastructure investment, the experience/potential/skill set of candidate and deposit made.
Generally the ratio would range from 30% to 75%. However, this does not represent the minimum and maximum ratio, rather the average ratio. For an investment associate, this may range from 30%. The Sub Broker gets 50% – 75% sharing.
---
Check out Revenue Sharing of other Sub Brokers
---
ICICI Direct Franchise Cost or Security Deposit Amount
For an investment associate, the cost would range from INR 7000 to INR 20,000 which is towards the registration fee.
This is the only amount that a candidate needs to deposit i.e. no other deposit or investment is expected unlike in case of a sub-broker.
For a sub-broker, ICICI Direct expects maintaining a front office with internet connectivity to serve the clients. In certain cases, it may also call for certain security deposit wherein it identifies a threat of default.
The sub broker required to invest minimum of Rs.25,000 & maximum of Rs.200,000.
---
Here are Security Deposit info of other Stock Broking Franchise
---
ICICI Direct Sub Broker Offers
ICICI Direct, to promote its business relations, provides certain handsome offers. Some of these are:
Low investment cost;
Agreeing to a break-even period;
Varied business models;
Negotiable revenue sharing model;
Free of cost training;
Free of cost DEMAT account to clients;
Flexibility brokerage plans;
---
Check out other companies Sub Broker Offers
---
How to become Sub Broker of ICICI Direct?
Enrollment as a sub-broker is a piece of cake if one fulfils the eligibility criteria set by ICICI Direct and is able to verify the requsite details. The steps are provided below:
1st Step – Provide the requisite details in the lead form available here
2nd Step – Await call from Call centre representative for verification of details and interest in sub-brokership
3rd Step – Await a call from the Sales executive of ICICI Direct for Appointment confirmation
4th Step – Face to face meet with Sales Representative for detailed discussion
5th Step – Furnish the requisite Documents & Initial Investment Cheque
6th Step – Verification of documents by ICICI Direct
7th Step – Activation of account
This may take up 2-4 working days depending upon the movement of parties.
Documents Required for ICICI Direct sub-broker registration –
ID Proof
DOB proof
Address proof
Academic Certificate
Cancelled cheque or Bank statement
Registration certificate with SEBI/Stock exchnage
Passport size photos
Infrastructure proof
PAN Card
Aadhaar Card
---
Why Partner with ICICI Direct?
The advantage of being associated with ICICI Direct are listed below on an illustrative basis:
Brand organization
Large clientele
Part of trusted group
Trading across all asset classes
Attractive revenue model
No heavy initial investment
Brokerage cashback
Allows interaction of sub-brokers helping others to leverage on experience of others
High exposure or limit to clients
---
Support provided by ICICI Direct Partner Program
Provides assistance in acquiring clients;
Trains in marketing of products;
Trains in using the Trading software and other platforms
Assists in setting up initial infrastructure
Customer Support
Provides advisory support
---
Infrastructure Required for ICICI Direct Sub Brokers / Authorized Person
There should be infrastructure present for the partners to function with ICICI Direct. However, these infrastructures are not required if one is a sub-broker or remisier.
Partners' infrastructure assistance allows them to carry out ordinary corporate activities. The required infrastructure will help hold together the franchise and its functions.
ICICI Direct Infrastructure Sub-Broker criteria include: –
Sub brokers should have their own offices: the size of the office should be more than 300 square feet.
Sub-brokers are in charge of hiring proactive staff: They must have extensive training on the duties of the industry. The minimal minimum crew must consist of five people.
Sub brokers are responsible for establishing a live internet connection: It must be strong enough to support concurrent online trading. It must also be able to support continuous communication.
Sub-brokers must have a working phone connection: This is necessary for some trades-over-call. It also makes communication easier.
Research Services: one will have to complete the research services as a sub-broker.
---
ICICI Direct Franchise Eligibility Criteria
A few requirements should be adhered to be affiliated with ICICI Direct.
The criteria ensure that the sub-broker franchise partners will be able to maintain the proper functioning. Following the eligibility requirements to hold the franchise:
The minimum age requirement to become a partner is 21 years. One should provide a birth certificate to prove their age during the verification and registration process.
Furthermore, SEBIs are the most important. Because there are no restrictions now, the partners may establish their companies immediately.
The to-be partner must have a good educational qualification. Having an intermediate is enough but having a bachelor's degree makes the candidates more eligible.
There is a requirement for the partners to have a certain experience in the field of trading and stock planning. A minimum of 2 years of experience is required.
---
ICICI Direct Franchise – Pros & Cons
Pros
The brand has a name that is well-known in the market.
At each level, the technical staff provides the finest assistance.
In-depth research report
Dealing with a broad range of products
One of the best security services available in the current market.
With ICICI Direct, you can find the best place to start as a sub-broker. The company's products enable you to present your consumers with options they could never have imagined.
Cons
ICICI Direct has weak offline visibility in contrast to its competitors.
Revenue shares for small ICICI Direct Partners may be on the low side.
To become an Authorised Person one requires to fulfill certain eligibility criteria. The entire cost of registration and accompanying charges might be rather high.
---
ICICI Direct Franchise Registration
It is crucial to meet the eligibility standards set by the ICICI Direct on their official site to become an authorized person and to reap the benefits.
Once you have validated your eligibility, you may begin your registration as an Independent Financial Associate (IFA), Authorised Person, or associate.
You may register on the organization's official page for the ICICI Direct Franchise. To meet the requirements the franchise candidates can level up as well.
---
Earning the potential of an ICICI Direct Partner / ROI
Those who take a franchise with the ICICI direct and invest in the company; they will get lifetime income sourced from it.
As per the revenue model of the sub-broker, the franchises will get a share of the client's trading and the brokerage fees paid. This share is around 50 to 75 percent.
---
ICICI Direct Franchise Referral Program
ICICI Direct has also created a new referral system for ICICI Direct Authorised Persons. Just refer friends, family, acquaintances, or anybody else, looking for a brokerage firm.
You will get Rs. 100 when the person you referred opens an ICICI Direct account, and an extra Rs. 400 when they complete their first transaction.
As a result, the total earning potential for ICICI Direct referral program partners is Rs. 500 for each client advised.
You can earn up to Rs. 2000 for each successful client referral by proposing an NRI to open an account with ICICI Direct and invest or trade.
---
Brokerage Charges were levied on the clients of ICICI Direct Partners
When it comes to consumer pricing, ICICI Direct has put several restrictions and regulations in place. They have produced a list of charges that will be covered.
Customers may not be charged more than what is stipulated in the contract by an ICICI Direct Business Partner. ICICI Direct charges the following fees to its partners:
All stock intraday trading services are priced at 03-0.05%.
All equities delivery trading services are discounted by 55%.
Charge 35-95 per lot for stock option trading services.
All stock futures trading services are available for a fee of 03-0.05%.
The cost of all currency futures trading services is 03-0.05%.
---
ICICI Direct Authorised Person – Products Offered
The following are the items offered by ICICI Direct, which you may also provide as an authorized representative of the company:
Currency, commodities, derivatives, and stocks are all examples of financial instruments. Everything is provided under one roof.
Robo Advisory
The sub-broker offers a bank account, a trading account, and a Demat account for investing and trading activity in a 3-in-1 bundle account.
Several cutting-edge, feature-rich trading platforms
Stock advice, recommendations, and suggestions
Mutual funds
Insurance
Portfolio management
---
ICICI Direct Franchise Conclusion
When it comes to the financial sector's lead sub-broker then, it is fair to say that ICICI Direct is one of the main contenders. A sub-broker may realize that managing an ICICI Direct franchise is a profitable venture.
All of the partnership options offered by ICICI Direct are open to sub-brokers, who may choose whether to pursue it as a business opportunity or a method to earn additional income.
Sub-brokers who provide tailored packages to high-profile clients, benefit from doing so.
---
ICICI Direct Sub Broker or Partner Program FAQs
Here is the list of FAQs related to the ICICI Direct sub-broker:
How can I start an ICICI Direct franchise?
To start an ICICI Direct franchise, you must first become an Authorised Person of the firm. You must apply, show your business strategy, and meet with ICICI Direct executives to discuss it.
If they accept and are persuaded, you must supply the necessary papers and pay the mandatory registration price. After everything is finished, you will be issued the Account ID.
What is the minimum investment amount in ICICI Direct?
You may invest in ICICI Direct with no minimum. To avoid fines of Rs. 750, you must keep a minimum balance of Rs. 5,000 in the account.
How to Work as an ICICI Direct Sub Broker
Regardless of the franchise model, you select, click the "Become Sub Broker" option on the official website page of the organization. To proceed with the operation, close the pop-up form. When the company schedules an appointment for you, discuss revenue sharing, investments, and infrastructure requirements, and then sign the sub-broker agreement.
Is there a partner program at ICICI Direct?
Investment associate is ICICI Direct's alternative broker's business model. The associate's function, in this case, is to give advice and assistance; commercial trading is not part of their responsibilities.
The associate mostly advises on bonds, initial public offerings, mutual funds, or credit products such as personal loans, home loans, and so on.
Does ICICI Direct Franchise provide external support?
Yes, ICICI Direct provides extensive support to its franchisees in a variety of ways. Beginning with franchise setup support, it also provides marketing and training aid.
You also get access to the company's smart analytical tools, which are effective for customer attraction.
Is training provided by ICICI Direct?
Sub-brokers are given extensive training to help them fulfill their tasks as successfully as possible with the right set of facilitators.
You could expect training in client acquisition and online trading platforms, as well as regular seminars and training programs.
How much does an ICICI Direct franchise cost?
There is a range of investment charges depending on what the franchisor requires. This is not a fixed amount, and the Franchisee profits from a wide range.
As a result, the necessary investment will range between INR 25,000 to INR 2 lac. The final total is determined by numerous factors, including the products traded by the sub-broker.
What is the Sub Broker Commission ICICI Direct?
There is a commission of 50 to 75 percent on the ICICI direct sub-broker models. This ratio indicates that the franchisor will keep 50% to 25% of the revenue.
This ratio is ideal since you may keep up to 70% of your earnings.
What is the required amount to qualify as an ICICI direct sub-broker?
The investment might range from Rs. 25,000 to Rs. 2 Lacs. A percentage of the money is reimbursed if the arrangement gets canceled. A fraction is also made aside for infrastructure setup.
How much margin does ICICI Direct provide?
ICICI Direct provides up to four times the exposure or margin. Assume you have a balance of Rs. 50,000 in your trading account, allowing you to use the ICICI Direct Margin Financing Trading option to trade equities worth Rs. 2 lakhs.
---
Become a Sub Broker with ICICI Direct – Just Fill up the form
---
Find detailed review of other Sub Broker Franchise
---