ICICI Direct Sub Broker program was launched in 2003 and they introduced Remisier program in 2012. It serves Tier 1 as well as Tier 2 cities with a total of more than 1050 offices as recorded in the year 2017.
To know more about the business models offered, the cost involved, the potential revenue offered and other relevant details, one can read the following article.
In this Article we will discuss in detail about ICICI Direct Franchise Review & dig deep in ICICI Direct Sub Broker offers, ICICI Direct Franchise commission models, ICICI Direct Partner Initial Investment & other important features.
Summary
Top Business Model
Sub Broker
Revenue Sharing
50% – 75%
Security Deposit
Rs.75,000 – Rs.200,000
Become Sub Broker in
14 Days
Receive Payout in
30 Days
Founder
M K Sharma
Established Year
1994
---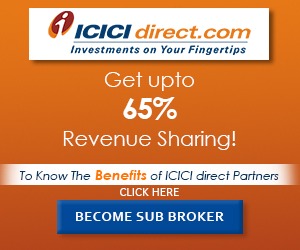 ---
ICICI Direct Franchise Customer Ratings
ICICI Direct Franchise
Experience
3.50
Services
4.00
Products
4.00
Trading Platforms
3.60
Support
3.50
Revenue Sharing Model
3.00
Security Deposit
2.50
Offers
2.50
Market Share
2.50
Overall
3.23
---
Compare Sub Broker Franchise
vs
---
Type of ICICI Direct Franchise
Sub Broker
Investment Associate or Remisier
---
Become a Sub Broker with ICICI Direct – Just Fill up the form
---
ICICI Direct Sub Broker
This kind of partnership is offered to only an experienced candidate who has worked and served clients in financial market. Herein, the sub-brokers is required to enlarge the clientele and also serve the existing client base by assisting them in their trading/investing activities.
The sub-broker can deal in all the asset classes ranging from equity to derivatives, currency, commodities, IPOs, mutual funds etc.
ICICI Investment associate or Remisier
This model is offered to the new-comers/freshers. It does not call for any specific experience in the relevant field. What is expected from an investment associate is linking of new customers with the ICICI Direct network. Thus, an Investment associate does not assist the clients in their trading/investing activities.
---
ICICI Direct Sub Broker Commission or Revenue Sharing Model

Just like the other industry players, this broking house also offers a variable revenue sharing ratio which is further negotiable from case to case.
Typically, at ICICI Direct, the revenue sharing ratio would be determined on the basis of business generated by the sub-broker. However, there are other secondary parameters as well like leads brought in, infrastructure investment, the experience/potential/skill set of candidate and deposit made.
Generally the ratio would range from 30% to 75%. However, this does not represent the minimum and maximum ratio, rather the average ratio. For an investment associate, this may range from 30%. The Sub Broker gets 50% – 75% sharing.
---
Check out Revenue Sharing of other Sub Brokers
---
ICICI Direct Franchise Cost or Security Deposit Amount
For an investment associate, the cost would range from INR 7000 to INR 20,000 which is towards the registration fee. This is the only amount that a candidate needs to deposit i.e. no other deposit or investment is expected unlike in case of a sub-broker.
For a sub-broker, ICICI Direct expects maintaining a front office with internet connectivity to serve the clients. In certain cases, it may also call for certain security deposit wherein it identifies a threat of default. The sub broker required to invest minimum of Rs.75,000 & maximum of Rs.200,000.
---
Here are Security Deposit info of other Stock Broking Franchise
---
ICICI Direct Sub Broker Offers
ICICI Direct, to promote its business relations, provides certain handsome offers. Some of these are:
Low investment cost;
Agreeing to a break-even period;
Varied business models;
Negotiable revenue sharing model;
Free of cost training;
Free of cost DEMAT account to clients;
Flexibility brokerage plans;
---
Check out other companies Sub Broker Offers
---
How to become Sub Broker of ICICI Direct?
Enrollment as a sub-broker is a piece of cake if one fulfils the eligibility criteria set by ICICI Direct and is able to verify the requsite details. The steps are provided below:
1st Step – Provide the requisite details in the lead form available here
2nd Step – Await call from Call centre representative for verification of details and interest in sub-brokership
3rd Step – Await a call from the Sales executive of ICICI Direct for Appointment confirmation
4th Step – Face to face meet with Sales Representative for detailed discussion
5th Step – Furnish the requisite Documents & Initial Investment Cheque
6th Step – Verification of documents by ICICI Direct
7th Step – Activation of account
This may take up 2-4 working days depending upon the movement of parties.
Documents Required for ICICI Direct sub-broker registration –
ID Proof
DOB proof
Address proof
Academic Certificate
Cancelled cheque or Bank statement
Registration certificate with SEBI/Stock exchnage
Passport size photos
Infrastructure proof
PAN Card
Aadhaar Card
---
Why Partner with ICICI Direct?
The advantage of being associated with ICICI Direct are listed below on an illustrative basis:
Brand organization
Large clientele
Part of trusted group
Trading across all asset classes
Attractive revenue model
No heavy initial investment
Brokerage cashback
Allows interaction of sub-brokers helping others to leverage on experience of others
High exposure or limit to clients
---
Support provided by ICICI Direct Partner Program
Provides assistance in acquiring clients;
Trains in marketing of products;
Trains in using the Trading software and other platforms
Assists in setting up initial infrastructure
Customer Support
Provides advisory support
---
Become a Sub Broker with ICICI Direct – Just Fill up the form
---
Find detailed review of other Sub Broker Franchise
---
List of Top ICICI Direct Partners / Business Partners
| | | | |
| --- | --- | --- | --- |
| Company List | Remisiers Name | Trade Name | Remisiers Registration No. |
| ICICI Direct | SUNIL RAMESHCHANDRA PANDYA | SUNIL RAMESHCHANDRA PANDYA | AP0101030102420 |
| ICICI Direct | EKBAL HUSSAIN SHEIKH | DREAMWAY SECURITIES | AP0101030101395 |
| ICICI Direct | PAPIYA SAMAI | CITI SECURITIES AND SERVICES | AP0101030101969 |
| ICICI Direct | FAIYAZ G M SHAIKH | ALERT FINANCIAL CONSULTANCY | AP0101030101511 |
| ICICI Direct | ANURAG JAIN | IGAIN FORTUNE | AP0101030101785 |
| ICICI Direct | HEMANT KUMAR | HEMANT KUMAR | AP0101030101835 |
| ICICI Direct | SANGRAM SINGH | SHIV SHANKAR ENTERPRISES | AP0101030101410 |
| ICICI Direct | S R S TRADERS | THANNERU RAVIKUMAR | AP0101030101444 |
| ICICI Direct | SHIREESH MOHAN SOWANI | YUKTA SECURITIES | AP0101030101769 |
| ICICI Direct | RAFIKUR RAHAMAN | RAFIKUR RAHAMAN | AP0101030101788 |
| ICICI Direct | SARITA S AGARWAL | AGARWAL SECURITIES | AP0101030101786 |
| ICICI Direct | AMAR MAGGO | AMOR CORPORATION | AP0101030101787 |
| ICICI Direct | GARIMA AGARWAL | HARE KRISHNA INVESTMENTS | AP0101030101791 |
| ICICI Direct | MALLIKARJUN BASAVARAJ SINNUR | MALLIKARJUN BASAVARAJ SINNUR | AP0101030101991 |
| ICICI Direct | PRASHANT S HEGDE | PRASHANT S HEGDE | AP0101030101990 |
| ICICI Direct | JIGYASA KAUSHIK | VANSH CAPITAL | AP0101030102194 |
| ICICI Direct | SHANU AGARWAL | INSOL | AP0101030102899 |
| ICICI Direct | KETAN BHANUBHAI JASANI | KETAN BHANUBHAI JASANI | AP0101030102108 |
| ICICI Direct | MADHUSMITA MAHALI | PRACHI SECURITIES | AP0101030102227 |
| ICICI Direct | NIPIN MEHTA | WEALTHPLUS INVESTMENTS | AP0101030102090 |
| ICICI Direct | AMEY SAXENA AND RATUL LAHIRI | PLATINUMONE WEALTH ADVISORS PVT. LTD. | AP0101030102229 |
| ICICI Direct | CHANAKYA BRAHMA | BRABAS SHARE TRADING AND INVESTMENT CENTRE | AP0101030102224 |
| ICICI Direct | KALPAJIT SINGH | SINGHCO INDIA INVESTMENT SECURITIES | AP0101030102456 |
| ICICI Direct | KHWAJA ZEESHAN HAIDER | INVESTMENTS | AP0101030102557 |
| ICICI Direct | PUNIT M DESAI | PAN ENTERPRISES | AP0101030102554 |
| ICICI Direct | GOVARDHAN PERLA SHETTY | GOVARDHAN PERLA SHETTY | AP0101030102546 |
| ICICI Direct | NALINI NARENDRA PANDYA | BALAJIDEV CONSULTANCY | AP0101030102756 |
| ICICI Direct | PARBHAT MARWAHA | MARWAHA INSURANCE | AP0101030103225 |
| ICICI Direct | HEMANT SHARMA | FUTURE INVESTMENT SOLUTIONS | AP0101030102977 |
| ICICI Direct | GIRISH GOPAL | GIRISH GOPAL | AP0101030102895 |
| ICICI Direct | ANJU GARG | GARG TAX CONSULTANTS | AP0101030103179 |
| ICICI Direct | JAYARAM E | JAYARAM E | AP0101030103168 |
| ICICI Direct | ASHOK KUMAR PARICHA | ASHOK FINANCIAL SERVICES | AP0101030103264 |
| ICICI Direct | DULI CHAND GARG | GARG ASSOCIATES | AP0101030103330 |
| ICICI Direct | DURGA SHANKER SHARMA | SHARMA ASSOCIATES | AP0101030103394 |
| ICICI Direct | DEEPIKA RASTOGI | JAISHREE INVESTMENT | AP0101030103464 |
| ICICI Direct | PANKAJ TIWARI | TIWARI TRADERS | AP0101030103550 |
| ICICI Direct | SANJAY MEHTA | SANJAY MEHTA FINANCIAL SERVICES | AP0101030103576 |
| ICICI Direct | J C N SWAMY AND C R BYRAREDDY | BULLS INVESTMENTS ENTERPRISES | AP0101030103746 |
| ICICI Direct | RENU BHATT | AARBEE FINANCIAL | AP0101030103829 |
| ICICI Direct | RASHMI SINGH | GANVO INVESTMENTS | AP0101030104105 |
| ICICI Direct | MANOJ ASOK KUMAR | MANOJ ASOK KUMAR | AP0101030103796 |
| ICICI Direct | BHUDEEP PRASAD SETHI | GLOBAL SECURITIES FINANCIAL SERVICES | AP0101030104074 |
| ICICI Direct | VISHAL NAHATA | NAHATA FINANCIAL SERVICES | AP0101030104120 |
| ICICI Direct | PRASHANT AUDICHYA | ADVANTAGE SECURITIES | AP0101030104047 |
| ICICI Direct | KRISHNA PRASAD | ARGUS FINANCIAL SERVICES | AP0101030104732 |
| ICICI Direct | BABOO LAL SWARNKAR | BABOO LAL SWARNKAR | AP0101030105220 |
| ICICI Direct | GANESAN MURALIDHARAN | GSM FINANCIAL SERVICES | AP0101030106230 |