Karvy Sub Broker Program is existed since 2012 & is growing at a decent pace. Karvy is a renowned name in the broking business and also has a large following of sub-brokers.
Summary
Top Business Model
Sub Broker
Revenue Sharing
60% – 70%
Security Deposit
Rs.50,000
Become Sub Broker in
20 Days
Receive Payout in
33 Days
Founder
C Parthasarathy
Established Year
1983
The sub-brokers usually consider Karvy as a premium brand to be associated with because of its reputation as well as the good offers and support that it provides to its business partners.
Karvy Group is based out of Hyderabad and has been in the finance sector since the very inception of the group. It has a customer base of more than 60 million and is served by 700+ business partners. The Broking House has a presence in more than 300 cities.
---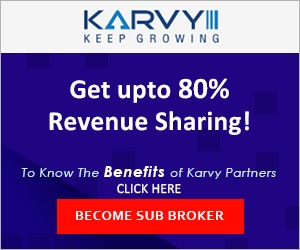 ---
Karvy Franchise Customer Ratings
Karvy Franchise
Criteria
Ratings
Experience
2.1/5
Services
2.9/5
Products
2.8/5
Trading Platforms
3.2/5
Support
2.7/5
Revenue Sharing Model
3.0/5
Security Deposit
2.9/5
Offers
2.8/5
Market Share
3.0/5
Overall
2.8/5
---
Compare Sub Broker Franchise
vs
---
Types of Karvy Sub Broker
Karvy currently offers business partnerships via three different business models. It understands that each business person has a different set of preferences and hence has devised different models for serving different customers:
e-Franchise or a self-set up Sub broker
Remisier
Master Franchise
---
Become a Sub Broker with Karvy – Just Fill up the form
---
Karvy e-Franchise or Karvy Sub broker

This is similar to a typical sub-broker model except that it does not require a physical setup by the sub-broker i.e. a sub broker can operate online. This is a modified version of sub -the broker model that integrates the business with technology.
The revenue-sharing ratio is also similar to the one that is generally followed for a typical sub-broker model. Karvy shares revenue to the extent of 40% to 60%. Apart from this one needs to pay a certain deposit and fee for registration as a sub-broker.
Karvy Remisier
Under remisier model, the customer acts as a referrer and earns a commission on connecting the potential customers with Karvy. For a remisier model, revenue sharing is on the higher side as compared to the industry benchmarks.
The revenue sharing ratio is 60: 40 wherein 60% goes to Karvy and 40% is earned by the remisier. The other details of this model have been discussed in subsequent paragraphs.
---
Karvy Master Franchise
Master Franchise model is one where a person is required to set up more franchises and not customers as in case of a franchise. For a model like this, the revenue is based on the brokerage revenue of the franchises that it acquires or sets up.
Generally, a master franchise gets 5-10% of the revenue earned by each of its franchise or sub-broker.
---
Karvy Sub Broker Commission or Revenue Sharing Model
Karvy has a very competitive pricing policy – the revenue-sharing ratio is in line with the industry standards for all the models. For an e-franchise or sub-broker, the revenue sharing is between 70% to 60%. This range depends upon the product being dealt with.
For equity, the ratio is 60:40 wherein 60 is retained by Karvy and the sub-broker gets 40%. For other segments like commodity etc., the revenue sharing ratio is 70:30. One needs to keep in mind that Karvy does not require sub -brokers to maintain any office space etc.; one can operate from anywhere virtually and hence the sub broker's expenses get reduced to quite an extent.
For a remisier, the revenue sharing ratio is fixed at 60:40 wherein Karvy earns 60% of the brokerage revenue and 40% is paid to the remisier. This is on the higher side as compared to the industry benchmark.
In the case of a master franchise, the person earns 5% to 10% of the revenue earned by the sub-brokers that are appointed to the said master franchise. A master franchise can act as a franchise as well as a master franchise and thus will have two income streams.
The rates mentioned above are negotiable and may vary from case to case depending upon multiple parameters like the revenue projected, city, deposit made, experience etc.
| | | |
| --- | --- | --- |
| | Karvy Commission | Sub broker Commission |
| Karvy e-Franchise/Sub Broker | 60-70% | 30-40% |
| Karvy Remisier | 60% | 40% |
| Karvy Master Franchise | – | 5-10% of commission of franchise |
---
Check out Revenue Sharing of other Sub Brokers
---
Karvy Franchise Cost or Security Deposit Amount
For an e-franchise or Karvy sub-broker model, the security deposit is expected to be around Rs. 25,000 to Rs. 50,000. This is a refundable deposit and is generally either paid off or adjusted against any payables at the end of the agreement period.
This amount is negotiable and can go as high as Rs. 1 lacs to Rs, 2 lacs depending upon the risk factor involved. Apart from this, there would be a certain registration fee that is payable depending upon the various segments in which the sub-broker deals.
In the case of a remisier, the refundable security deposit is around Rs. 10,000 to Rs. 15,000. For a master franchise, the security deposit amount is quite high and starts from Rs. 1 lac onwards. The deposit amount may increase depending upon the volume of business that such a person gets for the company and the risk factor included there in.
| | |
| --- | --- |
| | Karvy Franchise Cost |
| Karvy e-franchise or Sub Broker | Rs.50,000 |
| Karvy Remisier | Rs.10,000 – Rs. 15,000 |
| Karvy Master franchise | Rs. 50,000 |
---
Here are Security Deposit info of other Stock Broking Franchise
---
Karvy Sub Broker Offer
Karvy is currently offering the following promotional offers for its sub-brokers and other business partners:
Low brokerage plans
Flexible revenue sharing ratio
Negotiable security deposit
Waiving off the requirement of setting up office space
Enhanced margin exposure for selected clients
---
Check out other companies Sub Broker Offers
---
How to become Sub Broker of Karvy?
Step 1 – Fill details as mentioned in the form provided here.
*Step 2 – Confirm the details provided on the call when our representative calls you.
Step 3 – Sales team of Karvy will call you to verify the details – fix up an appointment with a such representative.
*Step 4 – Understand the proposal in detail and obtain all the necessary information from a such representative.
Step 5 – Provide the required documents and pay the security deposit amount.
Step 6 – Wait till the Karvy team verifies the documents provided.
*Step 7 – Once the documents are verified, a sub-broker ID is generated using which one can commence the business.
The procedure gets completed in almost 4-5 working days.
Documents Required for Karvy Partner Registration
ID proof Photocopy
address proof Copy
Copy of Aadhar Card
Copy of PAN Card
2 passport size photos
Copy of academic qualification
Copy of DOB proof
A canceled cheque
Details of the workplace and the required documents.
---
Why Partner with Karvy?
A long ago set up finance with a great reputation
Allows flexibility
Attractive plans
Customized solutions
Large product profile
Wealth management services
Personal finance services
---
Support provided by Karvy Partner Program
Waiving off the requirement to set up an office
Assistance in preparing a marketing strategy
Assistance in training the employees on using the software and trading tools
Sets up training for the clients of sub-brokers on market trends
Appoints a relationship manager to develop the market and build strong relationships
Provide online support and customer care support to solve grievances.
---
Become a Sub Broker with Karvy – Just Fill up the form
---
Find detailed review of other Sub Broker Franchise