Axis Direct Sub Broker Program is a budding subsidiary of Axis Direct. Being headquartered in Mumbai, this venture of Axis Bank is involved in providing customers with a range of financial services and products and making trading easier for the population.
Axis Direct provides 3 in 1 Account Opening & supports will great research materials to their clients. The broking house deals in all types of asset classes be it Equity, Commodity, F&O, Mutual Funds & more. They have trading platforms that work across devices & browsers.
Here, we will discuss in detail regarding Axis Direct Franchise initiative, we will dig deep into Axis Direct Sub Broker offers, its Revenue Sharing Model, franchise cost & more.
Summary
Top Business Model
Sub Broker
Revenue Sharing
50% – 60%
Security Deposit
Rs.100,000 – Rs.300,000
Become Sub Broker in
20 Days
Receive Payout in
35 Days
Founder
Arun Tukral
Established Year
2011
---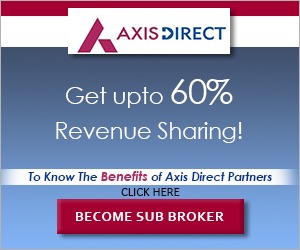 ---
Axis Direct Franchise Customer Ratings
Axis Direct Franchise
Criteria
Ratings
Experience
3.0/5
Services
3.1/5
Products
3.1/5
Trading Platforms
2.9/5
Support
3.2/5
Revenue Sharing Model
3.1/5
Security Deposit
3.0/5
Offers
2.8/5
Market Share
2.4/5
Overall
2.9/5
---
Compare Sub Broker Franchise
vs
---
Types of Axis Securities Sub Broker / Authorized Person
Axis Direct has recently launched its franchise initiative, they currently are working with only one business model i.e.
Sub Brokership or Business Partner
When it comes to trading platforms and brokers in the industry, Axis Direct is one of the biggest names. This is a broker house that has a plethora of products and services to offer to the traders.
If one wants to partner up with Axis Direct, then there is only one way to do so, and that is by joining the Axis Direct sub-broker business model. This model is quite budgeting-friendly when compared to some of the popular choices. There is no master franchiser or remisier program under the Axis Direct business model.
The program of the sub-broker program was first launched in the year 2012 by Axis Direct. The sub-brokers have the responsibility of bringing in more clients to invest in various instruments offered by Axis Direct.
---
Become an Axis Direct Authorized Person – Just Fill up the form
---
Axis Securities Sub Broker or Axis Securities Business Partner

The AixsDirect Business Partner Program was initiated in 2012 by the online trading platform AxisDirect. The role of a Sub broker will be revolving around getting clients to AxisDirect for investing in equities, commodities, mutual funds, etc. by opening a 3 in 1 investment account.
Along with this, the sub broker will also be associated with Axis Bank so as to provide the clients with home loans, auto loans, and various other services.
---
Axis Direct Sub Broker Commission or Revenue Sharing Model
For the sub-broker, the revenue generated will be divided in the ratio of 60:40, i.e., the authorized person will get 60% of the generated revenue and the broker will get to keep 40%.
However, there may be flexibility in the sharing of revenue if the franchise owner is able to increase the sales above the target or if the sub broker invests with a high-security deposit.
| | | |
| --- | --- | --- |
| Business model | Axis Direct Commission | Sub Broker Commission |
| Sub broker/ Business Partner | 40% – 50% | 60% – 50% |
---
Check out Revenue Sharing of other Sub Brokers
---
Axis Direct Franchise Cost or Security Deposit Amount
The sub-broker will have to pay an initial investment fee of Rs.1 Lakh to Rs.3 Lakh which will be refundable during the broker's exit. The membership cost for NSE, BSE, etc. will however be nonrefundable.
The sub broker will also have to bear the price of maintaining a back office, including the rent, phone bills, internet services, etc. The higher the initial investment amount, the more will be revenue sharing.
| | |
| --- | --- |
| Business model | Axis Direct Deposit required |
| Sub broker/ Business Partner | Rs. 1 lakh – Rs.3 lakh |
---
Here is Security Deposit info of other Stock Broking Franchise
---
Axis Direct Authorised Person or Sub Broker Offer
The following offers make Axis Securities a profitable investment:
A range of financial products like equities, commodities, IPFs, SIP, etc.
Availability of trading services across different digital platforms like desktop, mobile, etc.
Ease of portfolio creation and management.
Sound advisory system for mutual funds and portfolio management.
Apart from all of this, services like push notifications, tax management, loans, etc. are also available.
3-in-1 account which gives the benefit of easy fund transfer
---
Check out other companies Sub Broker Offers
---
How to become Sub Broker of Axis Direct?
Enlisted below are the steps one needs to follow to become a sub-broker of Axis Securities:
Fill in the details on the lead form.
Attend a call by the Call Center Executive for verification of interests.
The sales Representative will call to fix an appointment. Give your confirmation for the appointment.
For details and understanding of the franchise, meet the Sales Representative.
Submit the required documents and initial security deposit cheque.
Documents will be checked for verification.
Once the documents have been verified, an Account ID will be provided.
Documents Required for Axis Securities Partner Registration
Educational Qualification Certificate
DOB verification should be 21 years and above
Canceled cheque/Bank statement
2 photos
Rent Agreement for Office Space
PAN card
Aadhar card
Address Proof
---
Why partner with Axis Direct?
A subsidiary of a reputed bank
Different brokerage plans as per sub-broker's needs
Powerful research tools available to the customers
Various awards and accolades in its name
Schemes are designed in a way where the customer benefits the most.
Maintaining a balance between risky and secure investments by the customer.
---
Support Provided By Axis Direct Partner Program
Technological support is provided to the sub-broker by training them for trading at different platforms
Online training support via webinars, online courses, demos, etc.
Marketing support is also available through banners, pamphlets, flexes, etc.
Sound research support and advisory tools likewise advisor
Portfolio and profile management support is also made available by the company.
---
Axis Direct Franchise Eligibility Criteria
There is an eligibility criterion for the sub-broker of Axis Direct. Here are the ones that should know of:
The age of the applicant should be 18 years or more.
They should hold a minimum of a graduation degree.
The broker franchise should have the appropriate SEBI registration.
The partners and sub-broker should have a clean history of employment and trading.
---
Infrastructure Investment by Axis Direct Sub Brokers / Authorized Person
To be an Axis Direct sub-broker or partner, one will have to fulfill some of the infrastructural requirements that are set up by the company under the franchise program
Here are the infrastructure requirements for becoming o a sub-broker with Axis Direct:
One should set up and maintain a trading terminal.
There should be an office space with 5 minimum employees.
There should be proper internet and telephone connections at the office.
The office space should be 300 sq. ft. or more.
---
Axis Direct Franchise Registration
Following are the simple steps that one needs to follow to join the Axis Direct sub-broker program.
Fill up the lead application form.
The call center executive will call the candidate to verify the details
After this one will have to give their nod for an appointment call.
After this, you will have to meet the sales representative and understand the details and every related to the franchise program.
Make sure to submit the documents asked for within the period.
Submit the initial deposit amount.
After the documents are verified one will be given an account ID.
---
Axis Direct Franchise – Pros & Cons
PROS
Unit one only requires submitting a small initial deposit.
There is constant support from the company for the PMS feature provided to the clients.
The trading platform of Axis Direct is one of the best to offer to traders.
There are three accounts offered by Axis Direct; trading account, savings account, and Demat account.
There is a huge range of products and services offered to the clients.
The clients get some of the best trading tools that help in easy trading from anywhere they choose.
Under the sub-broker program, Axis Direct provides a plethora of marketing assistance ranging from flexes to banners to pamphlets.
CONS
The brokerage of Axis Direct is quite high.
The partner's revenue share is quite average.
---
Earning the potential of an Axis Direct Partner / ROI
If one wants to be a partner with the Axis Direct sub-broker program, then there is a requirement to pay an initial investment of INR 3 lakh to 5 lahks. This is the refundable amount that the partner will get the money back when they leave the program.
The authorized person under the Axis Direct program will get a 60 percent share in the trader's transactions. Also, 40 percent of this goes to the broker. The revenue-sharing ratio of Axis Direct stands at 60:40.
However, there is an option where Axis Direct tends to change the revenue sharing ratio, in case of the sub-broker increases the initial deposit or if the franchise owner can grow their sales above the given target in a set time.
---
Axis Direct Franchise Referral Program
There are times when one may not want to join the franchise program offered by Axis Direct. In this case, one can choose the Axis Direct referral program. One can refer the Axis Direct to their friends and family members and get a commission out of it. For every trader you bring in, you get INR 500, and if they trade and the money they spend, you get 10 percent of it as well.
This way you end up earning a bonus of bringing new traders and also get continuous earnings from trader's activity as well.
---
Brokerage Charges were levied on the clients of Axis Direct Partners
Axis Direct sub-broker program as part of the franchise strategy does not ask for any account opening charges. This is a common factor for all business partners. However, there is an annual maintenance charge of INR 750 for one year for the Demat account, but if one has a trading account then the annual maintenance charges are zero. There is a transactional charge of 0.00325% that is levied on each transaction made by the trader.
---
Axis Direct Authorised Person – Products Offered
Following are the products and services that are offered as part of the program:
SIPs, IPFs, stocks, commodities, etc. as part of the financial product range.
Easy to create and manage portfolios.
The traders will have access to a variety of features like push notification, tax management features, loan management, etc.
The traders can trade using any type of devices they deem feasible like mobile phones or desktops.
One can offer management advice for portfolios and mutual funds.
The traders can easily move their funds using the 3-1 account.
---
Axis Direct Franchise Conclusion
Axis Direct has a successful sub-broker program that is recommended by many experts due to its services, range of products, and revenue-sharing model which is quite attractive. One can easily grow and become successful as part of this sub-broker program if one pays enough time and attention to the cause.
---
Axis Direct Sub Broker or Partner Program FAQs
Whenever one thinks of the Axis Direct sub-broker program, there must be multiple questions come to one's mind. Here are some of the frequently asked questions about this program.
Is Axis Direct have multiple Franchise models?
No, there is one Axis Direct franchise program offered by the company to the eligible candidates; the sub-broker business model.
Does Axis Direct have Sub Broker Model?
Yes, there is a sub-broker model offered by Axis Direct as part of the franchising strategy. But one thing to keep in mind is that Axis Direct has only one sub-broker model to offer.
With Axis Direct, what are the different products which you can get to deal with?
Axis Direct has various services and products to offer to the traders like mutual funds, debentures, bonds, currency, IPOs, equity, ETFs, etc. other than these products various banking products like business loans, personal and home loans are also something that sub-brokers can work with.
What is the revenue sharing percentage for a Sub Broker with Axis Direct?
One of the best aspects of the Axis Direct sub-broker program is that they have a high revenue-sharing plan. In this, the sub-brokers can get anywhere from 40 percent to 60 percent of what the traders pay the broker.
Do I need to make any security deposit to become a sub-broker?
The deposit amount to join the Axis Direct sub-broker program can be deemed a bit high when compared with other franchise programs. The minimum deposit is INR 1 lakh to INR 3 lakh. However, you will get the deposit back as it is refundable, as and when the sub-brokering contract is nullified.
How long do I need to wait for the registration process to complete?
The process of registration with Axis Direct for the sub-broker program is pretty fast and efficient. It takes around 3 to 5 days for completing the registration with the needed documents asked by the company; however, if one does not have the required paperwork then the process can take longer due to inevitable delays.
What kind of Marketing support does Axis Direct provide?
They help with all stationary requirements like posters, banners, and pamphlets. They also conduct many seminars, online courses, and webinars for awareness.
Does Axis Direct provide Training Assistance?
Yes, Axis Direct provides training and constant assistance to the sub-brokers. The brokers with Axis Direct will help the sub-brokers understand the tools to use and the products and services that are provided by Axis Direct. The training is provided online through programs.
Is the Axis Direct franchise profitable?
Yes, taking a franchise of Axis Direct can prove to be quite beneficial due to its revenue-sharing design. The company shares about 70 percent of the profit with the sub-brokers allowing them to earn more from each conversion.
Is AxisDirect safe for Investment?
Yes, the trading platform provided by Axis Direct is safe and secure. The traders will get the guarantee of multiple security players that safeguards their data and interest.
---
Start your business with Axis Direct Sub Broker – Just Fill up the form
---
Find detailed review of other Sub Broker Franchise