Axis Direct Sub Broker Program is a budding subsidiary of Axis Direct. Being headquartered in Mumbai, this venture of Axis Bank is involved in providing customers with a range of financial services and products and making trading easier for the population.
Axis Direct provides  3 in 1 Account Opening  & supports will great research materials to their clients. The broking  house deals in all types of asset classes be it Equity, Commodity, F&O, Mutual Funds & more. They have trading platforms which works on across devices & browsers.
Here, we will discuss in details regarding Axis Direct Franchise initiative, we will dig deep into Axis Direct Sub Broker offers, its Revenue Sharing Model, franchise cost & more.
Summary
Top Business Model
Sub Broker
Revenue Sharing
50% – 70%
Security Deposit
Rs.100,000 – Rs.300,000
Become Sub Broker in
20 Days
Receive Payout in
35 Days
Founder
Arun Tukral
Established Year
2011
---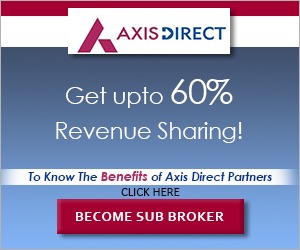 ---
Axis Direct Franchise Customer Ratings
Axis Direct Franchise
Criteria
Ratings
Experience
3.0/5
Services
3.1/5
Products
3.1/5
Trading Platforms
2.9/5
Support
3.2/5
Revenue Sharing Model
3.1/5
Security Deposit
3.0/5
Offers
2.8/5
Market Share
2.4/5
Overall
2.9/5
---
Compare Sub Broker Franchise
vs
---
Types of Axis Securities Sub Broker / Authorized Person
Axis Direct has recently launched its franchise initiative, they currently are working with only one business model i.e.
Sub Brokership or Business Partner
---
Become a Axis Direct Authorized Person – Just Fill up the form
---
Axis Securities Sub Broker or Axis Securities Business Partner

The AixsDirect Business Partner Program initiated in 2012 by the online trading platform AxisDirect. The role of a Sub broker will be revolving around getting clients to AxisDirect for investing in equities, commodities, mutual funds etc. by opening a 3 in 1 investment account.
Along with this, the sub broker will also be associated with Axis Bank so as to provide the clients with home loans, auto loans and various other services.
---
Axis Direct Sub Broker Commission or Revenue Sharing Model
For the sub broker, the revenue generated will be divided in the ratio of 60:40, i.e., the authorized person will get 60% of the generated revenue and the broker will get to keep 40%.
However, there may be flexibility in the sharing of revenue if the franchise owner is able to increase the sales above the target or if the sub broker investing with high security deposit.
| | | |
| --- | --- | --- |
| Business model | Axis Direct Commission | Sub Broker Commission |
| Sub broker/ Business Partner | 40% – 50% | 60% – 50% |
---
Check out Revenue Sharing of other Sub Brokers
---
Axis Direct Franchise Cost or Security Deposit Amount
The sub broker will have to pay an initial investment fee of Rs.1 Lakh to Rs.3 Lakh which will be refundable during broker's exit. The membership cost for NSE, BSE, etc. will however be non refundable.
The sub broker will also have to bear the price of maintaining a back office, including the rent, phone bills, internet services etc. The higher the initial investment amount, more will be the revenue sharing.
| | |
| --- | --- |
| Business model | Axis Direct Deposit required |
| Sub broker/ Business Partner | Rs. 1 lakh – Rs.3 lakh |
---
Here are Security Deposit info of other Stock Broking Franchise
---
Axis Direct Authorised Person or Sub Broker Offer
Following offers make Axis Securities a profitable investment:
A range of financial products like equities, commodities, IPFs,SIP, etc.
Availability of trading services across different digital platforms like desktop, mobile etc.
Ease of portfolio creation and management.
Sound advisory system for mutual funds and portfolio management.
Apart from all of this , services like push notifications,tax management, loans,etc. are also available.
3-in-1 account which gives benefit of easy fund transfer
---
Check out other companies Sub Broker Offers
---
How to become Sub Broker of Axis Direct?
Enlisted below are the steps one needs to follow to become a sub broker of Axis Securities:
Fill in the details on the lead form.
Attend to a call by Call Center Executive for verification of interests.
Sales Representative will call fix an appointment.Give your confirmation for the appointment.
For details and understanding of the franchise, meet the Sales Representative.
Submit the required documents and initial security deposit cheque.
Documents will be checked for verification.
Once the documents have been verified, Account ID will be provided.
Documents Required for Axis Securities Partner Registration
Educational Qualification Certificate
DOB verification-should be 21 years and above
Cancelled cheque/Bank statement
2 photos
Rent Agreement for Office space
PAN card
Aadhar card
Address Proof
---
Why partner with Axis Direct?
A subsidiary of a reputed bank
Different brokerage plans as per sub broker's needs
Powerful research tools available to the customers
Various awards and accolades in its name
Schemes designed in a way where customer benefits the most.
Maintaining balance between risky and secure investments by the customer.
---
Support Provided By Axis Direct Partner Program
Technological support provided to the sub broker by training them for trading at different platforms
Online training support via webinars, online courses, demos etc.
Marketing support also availabe through banners, pamphlets, flexes etc.
Sound research support and advisory tools like wise advisor
Portfolio and profile management support is also made available by the company.
---
Start your business with Axis Direct Sub Broker – Just Fill up the form
---
Find detailed review of other Sub Broker Franchise