Profitmart Sub Broker program is known for franchise broking business. Lets have a detailed Profitmart Sub Broker review. Here in this article we will also go through in detail about Profitmart Franchise offers, Profitmart Partner revenue sharing models & other features.
Summary
Top Business Model
Sub Broker
Revenue Sharing
60% – 80%
Security Deposit
Rs.25,000 – Rs.100,000
Become Sub Broker in
31 Days
Receive Payout in
14 Days
Founder
Rakesh Prakash Sonawane
Established Year
2011
The broking house Profitmart is a new entrant into the franchising business. It has recently stepped into this field. Considering that it the broking house is also a new member of the broking business, it has quickly recognized the need of strengthening its client base and widening its client network.
It has also realized that a rapid development is possible only by having local bases in various cities and parts on the country. Thus, it launched a franchise program for this purpose.
---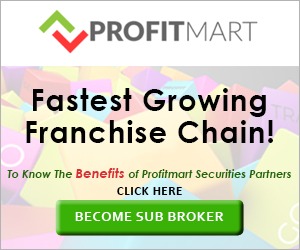 ---
Profitmart Franchise Customer Ratings
Profitmart Franchise
Experience
3.00
Services
3.00
Products
3.00
Trading Platforms
2.30
Support
2.50
Revenue Sharing Model
3.50
Security Deposit
3.00
Offers
2.00
Market Share
1.90
Overall
2.69
---
Compare Sub Broker Franchise
vs
---
Type of Profitmart Franchise
Profitmart offers only one of kind of a business association which is a typical sub-broker or franchise model. Since it is a beginning phase for it, it appears a reasonable step from their side to have only one kind of business model. They may choose to float multiple models in future once the sub-broker business is well set.
---
Become a Sub Broker with Profitmart – Just Fill up the form
---
Profitmart Sub Broker Commission or Revenue Sharing Model

As mentioned above, Profitmart has recognized the dire need of widening its network and hence has opted for sub broker model.
It appreciates that the quick way to spread the network is by having local camps and bases so as to obtain more of local visibility which adds on to the trust by the clients and helps in adding on to the client base.
The broking house also understands the efforts that these sub-brokers put in and the results that they fetch for the main broker and hence it follows a very motivating revenue sharing model.
The revenue sharing ranges from 60% to 80%. In fact in some cases, it also offers 100% revenue sharing for a limited time period.  The revenue sharing ratio is certainly a negotiable one.
---
Check out Revenue Sharing of other Sub Brokers
---
Profitmart Franchise Cost or Security Deposit Amount
The broking house also follows a liberal infrastructure and deposit policy. It does not call for any major infrasturtuce from its sub-brokers thereby demonstrating that it believes in delivering the work and the targets.
Nonetheless, it does require a sub broker to have a workstation and a decent internet connectivity so as to execute the trade orders.
With respect to the deposit, it is a refundable deposit and may range from INR 25,000 to INR 100,000. The deposit again is a negotiable item and may vary depending upon case to case.
---
Here are Security Deposit info of other Stock Broking Franchise
---
Profitmart Sub Broker Offers
While it is new in business, it certainly understands the need of floating offers to attract the sub-broker candidates:
Brokerage cashback
Dynamic brokerage plans
Extended credit period
Reduced margin money requirements
Free DEMAT Accounts
---
Check out other companies Sub Broker Offers
---
How to become Sub Broker of Profitmart?
The steps for associating with Profitmart are provided below:
1st Step – Provide the details in this lead form available on this site
2nd Step – Our representative will connect with you to confirm your interest and your qualifications
3rd Step – The Profitmart representative will connect with you along with our representative to take the matter forward.
4th Step – Meeting with Sales Representative for detailed discussion on the terms and conditions of the arrangement, the ratio, the deposit amount, the products etc.
5th Step – Furnish the requisite Documents & deposit cheque
6th Step – Profitmart will conduct a background check and verify the documents
7th Step – Activation of account
This may take up 5-10 working days depending upon the turnaround of these events.
Documents Required for Profitmart sub-broker registration –
Proof of identity
DOB proof
Address proof
Academic Certificate
Cancelled cheque or Bank statement
Registration certificate with SEBI/Stock exchnage
Passport size photos
Infrastructure proof
PAN Card
Aadhaar Card
---
Why Partner with Profitmart?
New organisation and hence a chance to become an integral part
Encourages business thorugh sub-broking
Attractive revenue ratio
Least security deposit
Assists in setting up of office space
Provides a break even period relaxation
Large product base
---
Support provided by ICICI Direct Partner Program
Financial assistance in needed
Assists in obtaining registration from stock exchanges
Training on marketing and acquiring clients
Training on selling of products
Trading platforms training
Research advisory
---
Become a Sub Broker with Profitmart – Just Fill up the form
---
Find detailed review of other Sub Broker Franchise