Profitmart Sub Broker program is known for franchise broking business. Let's have a detailed Profitmart Sub Broker review. Here in this article, we will also go through in detail about Profitmart Franchise offers, Profitmart Partner revenue sharing models & other features.
Summary
Top Business Model
Sub Broker
Revenue Sharing
40% – 75%
Security Deposit
Rs.20,000 – Rs.50,000
Become Sub Broker in
31 Days
Receive Payout in
14 Days
Founder
Rakesh Prakash Sonawane
Established Year
2011
The broking house Profitmart is a new entrant into the franchising business. It has recently stepped into this field.
Considering that the broking house is also a new member of the broking business, it has quickly recognized the need of strengthening its client base and widening its client network.
It has also realized that rapid development is possible only by having local bases in various cities and parts of the country. Thus, it launched a franchise program for this purpose.
---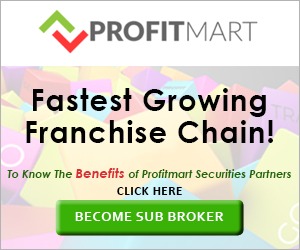 ---
Profitmart Franchise Customer Ratings
Profitmart Franchise
Experience
3.00
Services
3.00
Products
3.00
Trading Platforms
2.30
Support
2.50
Revenue Sharing Model
3.50
Security Deposit
3.00
Offers
2.00
Market Share
1.90
Overall
2.69
---
Compare Sub Broker Franchise
vs
---
Type of Profitmart Franchise
Profitmart offers only one kind of business association which is a typical sub-broker or franchise model. Since it is a beginning phase for it, it appears a reasonable step from their side to have only one kind of business model.
They may choose to float multiple models in the future once the sub-broker business is well set.
Profitmart is considerably a new player in the broker market. Thus, to ensure that they can profitably operate, they only run one business model, namely the sub-broker or the franchise model.
Sub-broker model or the franchise model
With this partnership model, the organization targets a specific crowd. The authorized person or sub-broker can offer all the products of Profitmart to all its clients. The partners also have the authority to provide attractive offers to their customers to retain them long-term.
However, keep note that they do not get any kind of monopoly in regional trading.
---
Become a Sub Broker with Profitmart – Just Fill up the form
---
Profitmart Sub Broker Commission or Revenue Sharing Model

As mentioned above, profitmart has recognized the dire need of widening its network and hence has opted for sub broker model.
It appreciates that the quick way to spread the network is by having local camps and bases so as to obtain more local visibility which adds to the trust of the clients and helps in adding to the client base.
The broking house also understands the efforts that these sub-brokers put in and the results that they fetch for the main broker and hence it follows a very motivating revenue-sharing model.
The revenue sharing ranges from 40% to 75%. In fact, in some cases, it also offers 100% revenue sharing for a limited time period. The revenue-sharing ratio is certainly a negotiable one.
---
Check out Revenue Sharing of other Sub Brokers
---
Profitmart Franchise Cost or Security Deposit Amount
The broking house also follows a liberal infrastructure and deposit policy. It does not call for any major infrastructure from its sub-brokers thereby demonstrating that it believes in delivering the work and the targets.
Nonetheless, it does require a sub-broker to have a workstation and decent internet connectivity so as to execute the trade orders.
With respect to the deposit, it is a refundable deposit and may range from INR 20,000 to INR 50,000. The deposit again is a negotiable item and may vary depending on case to case.
---
Here are Security Deposit info of other Stock Broking Franchise
---
Profitmart Sub Broker Offers
While it is new in business, it certainly understands the need for floating offers to attract sub-broker candidates:
Brokerage cashback
Dynamic brokerage plans
Extended credit period
Reduced margin money requirements
Free DEMAT Accounts
---
Check out other companies Sub Broker Offers
---
How to become a Sub Broker of Profitmart?
The steps for associating with Profitmart are provided below:
1st Step – Provide the details in this lead form available on this site
2nd Step – Our representative will connect with you to confirm your interest and your qualifications
3rd Step – The Profitmart representative will connect with you along with our representative to take the matter forward.
4th Step – Meeting with the Sales Representative for a detailed discussion on the terms and conditions of the arrangement, the ratio, the deposit amount, the products, etc.
5th Step – Furnish the requisite Documents & deposit the cheque
6th Step – Profitmart will conduct a background check and verify the documents
7th Step – Activation of account
This may take up 5-10 working days depending upon the turnaround of these events.
Documents Required for Profitmart sub-broker registration –
Proof of identity
DOB proof
Address proof
Academic Certificate
Canceled cheque or Bank statement
Registration certificate with SEBI/Stock exchange
Passport size photos
Infrastructure proof
PAN Card
Aadhaar Card
---
Why Partner with profitmart?
New organization and hence a chance to become an integral part
Encourages business through sub-broking
Attractive revenue ratio
Least security deposit
Assists in setting up office space
Provides a break-even period of relaxation
Large product base
---
Support provided by ICICI Direct Partner Program
Financial assistance is needed
Assists in obtaining registration from stock exchanges
Training on marketing and acquiring clients
Training on the selling of products
Trading platforms training
Research advisory
---
Profitmart Franchise Eligibility Criteria
The following are the basic eligibility criterion that needed to be met for the applicants to become sub-brokers:
Require a minimum qualification of 10+2 or HSC.
An added benefit can be unlocked if the applicant has prior experience in the financial sector or the BFSI sector.
Possesses basic soft skills such as communication, customer service, and problem-solving skills.
If you do not have a 10+2 qualification, you might need some certificate to prove your skills and experience.
---
Infrastructure Investment by Profitmart Sub Brokers / Authorized Person
The infrastructure needs of the sub-broker are not mandatory; however, to maintain a proper flow of operations, the below-listed things become necessary.
A staff or team of at least three people.
A trading platform that is efficient for all trades.
A reliable and powerful internet connection prevents any type of interruption during any operation.
A functional phone line for frequent contact with customers and workers. To guarantee effective customer service, this is another crucial prerequisite.
Tools for giving clients reports on the extensive study.
There are no restrictions on the office area, but a minimum of 300 square feet is required to be able to provide adequate services with a staff of three.
---
Profitmart Franchise Registration
The process for applying to become a sub-broker at ProfitMart is as follows:
Step 1: Complete the lead form on the website with the necessary data.
Step 2: You will be contacted by a ProfitMart representative to further explore your eligibility and interest.
*Step 3: The ProfitMart representative will then take the necessary procedures to carry on with the remaining processes.
Step 4: A meeting will be organized to go through the terms and conditions, including the deposit amount, the sharing %, the things that are available or desired, etc.
*Step 5: Submit the required documentation and the depository check.
Step 6: The ProfitMart personnel will conduct a thorough background investigation and document verification.
Step 7: Wait for 5-10 days for the account to get activated.
---
Profitmart Franchise – Pros & Cons
The franchise has both pros and cons, and the same are listed below:
PROS:
The Profitmart Franchise has a single business model, ensuring their focus is completely on one thing.
The deposit is low compared to other peers.
A fair percentage for revenue sharing.
They provide their customers with trading software.
Vast product range.
Demat Accounts are free.
CONS:
A single-company model limits expansion significantly.
---
Earning the potential of a Profitmart Partner / ROI
Every sub-broker who puts effort into Profit Mart receives a very enticing and motivating income.
The revenue sharing bracket of the ProfitMart franchise model is between 40%-75%. However, you can take note that this revenue-sharing model is completely negotiable. Sometimes, in exceptional situations, you can also earn 100% revenue.
---
Profitmart Authorised Person – Products Offered
The following offers are available to you, an authorized person, through Profitmart:
The company gives brokerage kickbacks to draw in new customers.
Profitmart requires less money to maintain a margin
than other market brokers.
The company's extended credit duration attracts potential customers.
The brokerage plan is up to you to pick based on your needs and convenience.
The opportunity to create a Demat account is extended to sub-brokers without cost.
---
Brokerage Charges were levied on the clients of Profitmart Partners
The following Profitmart Securities franchise fees must be applied to all non-brokerage services:
Zero fees are required for opening any form of account.
Zero brokerage for trading AMC.
999 as an upfront cost for Demat AMC.
Transaction fees are 0.00325% of overall revenue.
A minimum margin money balance that should be maintained at all times is Rs.10,000.
The following are fees for Profitmart Securities partners:
Equity intraday services are charged at 0.03%.
Equity delivery services are subject to a 30% fee.
Equity futures services are subject to a 0.03% fee.
For currency option services, the price is $50 per lot.
Currency futures services are charged 0.03%.
50 for services related to equity options per lot.
Commodity trading services are charged 0.03%.
---
Profitmart Franchise Conclusion
To summarize, ProfitMart may be regarded as one of India's leading brokerage firms. In just 14 days, it allows a sub-broker to earn up to 100% of the income share with the least amount of security money.
However, the decision over which brokerage firm sub-broker applicants wish to partner with is always their own.
---
Profitmart Sub Broker or Partner Program FAQs
Here are the most common queries of the interested parties:
Who are the sub-brokers?
Sub-brokering is the act of a broker working with an agent to get extra clients. The sub-brokers for a broker bring in new clients, win them over, and convince them to trade and make use of various products and services. Sub-brokers will be compensated with a part of the brokerage costs that clients pay to the brokers.
What kinds of partnerships does ProfitMart offer?
There is just one ProfitMart partnership type available for now, the ProfitMart sub-broker arrangement. The organization's desire for its colleagues and partners to fully concentrate on only one partnership model is the main cause of this disagreement.
Is there any period for receiving the approval for the sub-broker application?
It takes around one week to ten days for the ProfitMart representative to approve the application and activate the sub-broker account.
How much money do I need to invest initially to start the ProfitMart Sub-broker?
This business strategy requires a very small initial investment, which is readily affordable for everyone. The amount that is refundable ranges from Rs.20,000 to Rs.50,000.
What Kinds of Services Does Profit Mart Offer?
Extension of the Credit period
Encouraging Brokerage Cash Backs
ICICI Direct Partner Program
Tactical Brokerage structure
What Makes ProfitMart an ideal organization for the sub-broker franchise?
Provide support to new and bussing businesses.
Additional support to the sub-broking industry and provide opportunities to grow.
Assistance in setting up an office.
The Profitable and flexible revenue sharing compared to peers.
Which documents are required for registration?
The following paperwork must be submitted upon registration:
Aadhar card and PAN card.
Proof of your home address.
Certificates attesting to your educational background.
Your resumes of prior positions.
A canceled bank check with the bank account information.
Three to four passport-size pictures.
What cities and towns in India are home to Profitmart Franchises?
Profitmart's franchise company primarily operates in Central India, the East, and the West of the nation, while it aspires to grow in all other regions as well. There are currently locations for it in Mumbai, Pune, Hyderabad, Bangalore, Ahmedabad, Siliguri, Nasik, Kolkata, Guwahati, Delhi, Kolhapur, Raniganj, Chennai, Baripada, Surat, Kolkata, Ichalkaranji, and Patna.
Is ProfitMart a profitable and safe business model for franchisees?
Profitmart has a proper profit-sharing model, allowing you to earn 40% to 75% commission on the revenue generated. A few times, you also have the chance to earn 100% revenue. With just one month of operation, a sub-broker can create a substantial network in the market.
Does ProfitMart provide a support tool to its sub-brokers?
The professionals in the PofitMart are always ready to provide marketing and training assistance to all their sub-brokers.
---
Become a Sub Broker with Profitmart – Just Fill up the form
---
Find detailed review of other Sub Broker Franchise