JM Financial Sub Broker Program is quite old & well known in the broking business. In this article, we will learn in detail about JM Financial Franchise, its revenue sharing, security deposit, offers & more.
Summary
Top Business Model
Sub Broker
Revenue Sharing
50% – 70%
Security Deposit
Rs.50,000 – Rs.300,000
Become Sub Broker in
20 Days
Receive Payout in
40 Days
Founder
Nimesh Kampani
Established Year
1973
JM Financial is one of India's best financial services groups. JM Financial has been listed as The Outperformers and India's Largest Corporations Fortune India MagazineTop500 on List of Wealth Creators.
They have hugely diversified their business in many other sectors. They maintain a huge client base in any part of India by strategies and transactions.
---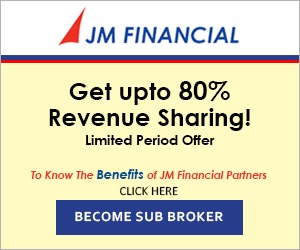 ---
JM Financial Franchise – Customer Ratings
Find the below table to know the Customer Ratings of JM Financial Sub Broker:
Customer Ratings
Experience
2.9/5
Services
2.8/5
Products
2.8/5
Trading Platforms
2.9/5
Support
3.1/5
Revenue Sharing Model
2.9/5
Security Deposit
3.0/5
Offers
2.7/5
Market Share
2.8/5
Overll Ratings
2.9/5
Star Ratings
★★★

★★
JM Financial Capital Sub Broker has good Customer Ratings. It is rated 2.9 out of 5 on the basis of Experience, Services, and Support etc.
But they can still improve a few areas which will make them better.
---
Overview of JM Financial Franchise
Details about JM Financial Franchise are given in the below table:
Overview
Company Type
Public
Broker type
Full Service Broker
Headquarters
Mumbai, Maharashtra
Founder
Nimesh Kampani
Established Year
1973
SB Code Activation Time
20 Days
Payout Time
40 Days
JM Financial Capital is a Public entity company. JM Financial script is listed in NSE and BSE. It is founded by Nimesh Kampani in 1973. Its headquarter is in Mumbai, Maharashtra.
JM Financial Capital provides full service as a broker and enable trade on NCE, BSE, MCX & NCDEX. It takes 20 days for SB Code Activation and 40 Days for Payout.
They have many branches all over India and have more than 80000 clients. They provide good customer support and good quality research tips to their clients.
---
Become a Sub Broker with JM Financial – Just Fill up the form
---
Compare Sub Broker Franchise
vs
---
JM Financial Sub Broker – Business Models
Find below table for details:
Business Models
Master Franchise
Yes
Sub Broker
Yes
Remisier
No
Referral Program
No
JM Financial is an Indian company engaged in the business of stock broking services. The company offers a variety of products, services, and resources to its customers and helps them attain their financial objectives.
JM Financial started its operations in 1973 and has been serving the people of India in many ways through its logically and economically efficient offerings.
JM Financial Services to this significant heights and lengths with the help of its sub-brokers/ Authorized Persons/ Partners. They play a key role in strengthening the organization and offering this wide array of products and services to the end users.
JM Financial runs its partner program in two faces:
Business Affiliate
Independent Financial Advisor
Business Affiliate – By joining JM Financial as a Business Affiliate, you are offered benefits like:
Reputed Brand Name
Expertise
Cutting Edge Technology
Multi-product solutions
Independent Financial Advisor – The second franchise model of JM Financial provides you with aspects like:
In-depth research and expertise
Technology Solutions
Variety of products to offer
Sales and business development ideas
---
JM Financial Franchise Commission / Revenue Sharing
Find below table to know JM Financial Securities Franchise Commission Models and Revenue Sharing Models
Revenue Sharing
Master Franchise
70% – 80%
Sub Broker
50% – 70%
Remisier
NA
Referral Program
NA

For the Franchise of JM Financial Securities, it is mandatory to follow Revenue Sharing Models
For Master Franchise it is required to revenue sharing of a minimum of 70% to 80% depending on the client base.
To become a business partner as a Sub Broker it is required to have revenue sharing of a minimum of 50% to 70% depending on the client base or other factors.
---
Check out Revenue Sharing of other Sub Brokers
---
JM Financial Securities Franchise Cost / Security Deposit
The below Tables gives a good understanding of JM Financial Securities Franchise Cost:
Security Deposit
Master Franchise
Rs.300,000 – Rs.500,000
Sub Broker
Rs.50,000 – Rs.300,000
Remisier
NA
Referral Program
NA
The Franchise Cost or the Security deposit you have to take franchise ownership or sub brokership of JM Financial Securities is elaborated here.
For Master Franchise under of JM Financial Securities, you need a smaller amount that starts from Rs. 300,000 and goes up to Rs. 500,000.
And for joining the business with JM Financial Securities as Sub Broker it is required to deposit a minimum of Rs. 50,000 to Rs. 300,000 depending on the client base
You have to keep this amount as a security deposit to start and carry on. Both the minimum and maximum range of the initial deposit can be negotiated.
---
Here are Security Deposit info of other Stock Broking Franchise
---
JM Financial Partner Infrastructure Requirement
Check the table to know JM Financial Capital Share Partner Infrastructure Requirements:
Infrastructure Requirement
Office Area
Minimum 300 Sq Ft
Employee Strength
Minimum 3
Research Services
Yes
Internet Connection
Yes
Trading Terminals
Yes
Telephone Lines
Yes
To execute the responsibilities and duties as a JM Financial Sub Broker, the individual is required to have access to equipment that will assist in the functioning.
The partners are required to have an office with dimensions of at least 300 sq. ft. from where the work will be processed. Also, you will need assistance from a few employees to manage the work.
Other amenities like high-speed internet connection, trading terminals, active telephone lines, etc., will only aid your functioning.
The JM Financial Capital Share Franchise infrastructure requirement is detailed below.
Office Area premises Minimum of 300 Sq Ft is mandatory
Minimum of 3 employees are required on the office
To provide Research Services that are provided by JM Financial Capital to clients
Internet Connection with high speed and Telephone Lines is mandatory for in the office.
JM Financial provides BlinkTrade Trading Terminals.
---
JM Financial Sub Broker Offers
Find below various The JM Financial Capital Share Sub Broker Offers:
Offers
Zero Deposit
No
10k Initial Deposit
No
Flexible Revenue Sharing
Yes
Flat Revenue Sharing
No
Zero Revenue Sharing with Prepaid
Yes
There are various offers available for the sub-brokers of JM Financial Capital Share which are as follows –
Low investment or zero deposit for the sub-brokers is not allowed.
Rs. 10,000 initial deposit is not required.
There are various plans and schemes available that attract clients.
Free research reports to the clients.
Sharing with prepaid with Zero Revenue is allowed.
Expert advice is available for the clients of the sub-brokers.
They allow flexible Revenue Sharing with clients.
---
Check out other companies Sub Broker Offers
---
JM Financial Securities Franchise Support
The below table consists of various support provided by JM Financial Authorised Person program:
Support
Marketing Support
Yes
Back-Office Support
Yes
Trading Support
Yes
Advisory Support
Yes
Dealing Training
No
Acquisition Training
No
Product Training
No
JM Financial Securities suggests Franchise expand the business. Therefore they provide Marketing Support to Franchise.
They provide business opportunities to others by providing a trading terminal by providing BlinkTrade terminals.
JM Financial franchise program provides Back office support to expand the business of the franchise.
They provide Back Office Support by providing access to the terminal to retrieve the customer.
They provide Advisory Support by providing high-quality research they provide good research.
---
JM Financial Authorised Person – Brokerage Charges to Clients
The table gives proper information of JM Financial Brokerage charges levied to its Franchise Clients:
Brokerage Charges to Clients
Equity Delivery
0.5% – 0.15%
Equity Intraday
0.05% -0.015%
Equity Futures
0.05% -0.015%
Equity Options
Rs.75 – Rs.20 per Lot
Currency Futures
0.05% -0.015%
Currency Options
Rs.75 – Rs.20 per Lot
Commodity
NA
The brokerage of JM Financial depends on the types of trading you undertake. They have different ratios for different kinds of trading.
The Equity Delivery Trading Charges stand between 5% – 0.15%.
The Equity Intraday Trading Charges, Equity Futures Trading Charges, and Currency Futures Trading Charges are 0.05% -0.015%
The Equity Options Trading and Currency Options Trading Charges are between Rs.75 – Rs.20 per Lot
The brokerages charged by the entity are not too high, and every type of investor or trader can trade with the entity. JM Financial Partners can ensure the interest of their clients and the company together in this scenario.
---
JM Financial Partner – Account Opening Charges to Clients
The table gives proper information of JM Financial Account opening charges levied to its Franchise Clients:
Account Opening Charges to Clients
Demat AMC
Rs.650
Trading AMC
Free
Account Opening Charges
Rs.1180
Transaction Charges
0.00325%
Margin Money
Rs.15,000 Minimum
The JM Financial Securities, Demat Account opening charges are required Rs. 650 per annum for the clients for opening the Demat Account. The Trading Account AMC is opened for free.
Charges to open a trading account are as high as Rs.1180
The transaction charges are 0.00325% and the minimum margin amount that the client has to maintain is Rs. 15,000.
---
Benefits of JM Financial Partner Program
As discussed, for doing the above business with JM Financial Securities as Share Franchise or Sub brokership is beneficial.
JM is one of the oldest and leading stock broking markets for financial services.
 It recommends to its customers an enormous range of products and services.
The company is a good alternative for new investors due to its low-risk environment.
 Most of JM's businesses are focused on large investors which ultimately gives small and medium-sized investors less opportunity.
---
JM Financial Franchise Eligibility Criteria
The eligibility for a JM Financial Franchise is led out on the company website itself. So, let's understand them here too:
The person must have attained the age of maturity in India, which is 18 years.
Should have a well-versed knowledge of equity and passion for it.
A credible reputation and experience in the financial services or segment.
Experience of a minimum of 3 years in selling financial products.
---
JM Financial Franchise – Pros & Cons
Just like every coin has two facets, so does every other thing, including the JM Financial Partner Program. They have some amazing and irresistible features, with a hint of some downsides. Let's take a look at them all:
Pros
Absolute support of the business development process
Impressive revenue-sharing rates
Long-standing decades in the market
Multiple business opportunity models
A variety of products and services to offer
Cons
Hefty Initial investment
Not very ideal for small investors
---
JM Financial Franchise Registration
Taking a big step in the career can be overwhelming, so let's break this huge decision of the JM Financial Sub-Broker Program into small-small steps.
To register, you can visit the company's website, provide details, and submit them there.
Read the terms & conditions and accept them.
Once the registration is completed, you will be required to submit the mandatory documents.
The company will verify your documents.
Once your documents are verified successfully, an agreement between the broker and sub-broker will be executed, as you will start as a sub-broker.
---
Earning the potential of a JM Financial Partner / ROI
Along with the offer to propose a variety of products to the clients, the sub-broker gets a handsome portion of the revenue generated through their clients.
The revenue sharing between JM Financial and the sub-broker is between 40-70%. The sharing percentage is quite flexible, and your efforts can achieve higher revenue rates.
Your earnings are highly based on how well you perform for the company. JM Financial is dedicated to its customers and sub-brokers and desires to offer the most profitable opportunities in their way.
---
JM Financial Franchise Referral Program
Currently, JM Financial does not offer a Referral Program to their customers. In a referral program, customers are given the opportunity by referring to new customers and registering them with JM Financial.
When a referral code/ link is used, and the account is opened through the link, the referrer becomes eligible for a reward under the program of the stock broking company.
---
JM Financial Authorised Person – Products Offered
Of course, a Franchise can only sustain itself in the market if they have multiple types of options to appeal to its customers. JM Financial takes care of this requirement for its JM Financial Partners very efficiently.
They have a wide and diverse product portfolio which makes it interesting for the end users and the sub-brokers too. Below are listed the offerings of the company –
Equity
Currency
Commodity
Option
Mutual Funds
IPO
Alongside, the partner can offer services like –
Demat/trading account opening services
Insurance services
PMS Assistance
Trading terminal
Mobile app
Web trading platform.
---
JM Financial Franchise Conclusion
JM Financial is a decades-old, experienced, and innovative financial services company. The entity is engaged in a variety of operations and caters to its customers.
JM Financial Franchise is a substantial part of this stock broking unit. Through this segment, talented and skilled individuals get in contact with JM Financial and take on the role of a sub-broker.
As a sub-broker, the individual works as the company's representative and offers the company's products to the customers. The company ensures to pay well and appreciate the efforts of the sub-brokers in the best manner possible.
They offer attractive revenue rates, an easy setup process, and complete support in operations, training, and back-office support.
---
JM Financial Sub Broker or Partner Program FAQs
Check out the Frequently Asked Questions (FAQs) about the JM Financial Partner Program:
What are the documents required for the JM Financial Sub broker program?
Following is a list of documents that a JM Financial Partner is required to submit to JM Financial:
Identity card – Aadhaar Card, Voter ID Card, or Passport
Pan Card
GST Registration Certificate
Photographs
Franchise Agreement
Address Proof
 How to become a JM Financial Partner or Sub Broker?
Any person interested in pursuing a full-time career as a sub-broker can start with JM Financial and take on this journey. Comply with the eligibility requirements, prepare the documents, and get started with the registration from the following steps:
Fill out the registration form for JM Financial
Give a thorough read to the terms and conditions; click on accept and submit the form.
Submit the requested documents; thereafter, your verification process will start
Once the verification is complete, you will be notified
Execute the sub-broker agreement with signature, and now you start as a JM Financial Partner
In How many days is the JM Financial Franchise setup?
JM Financial Franchise Registration process is quick and does not require a wait time of months. The process is generally covered in 20 days.
Further, your dues are cleared related to the business in about 40 days.
What are the benefits of JM Financial Sub-broker?
JM Financial has a reputation all over the country. The entity is not a newborn; it has been in history for decades now and has earned recognition among investors. Some of the perks of this entity include:
Brand Recognition
Competitive Edge
Well-Established Support System
Lower Risk of Business Failure
Who is the owner of JM Financial?
In the position of Chairman, Mr. Nimesh Kampani is leading JM Financial.
What are the products offered by JM Financial Partners to their customers?
JM Financial provides a variety of items that the JM Financial Partners can extend to their clients like:
Equity & Equity Derivatives
Discretionary PMS
Currency
Commodity
Mutual Funds
Structured Products
What are the financial services offered by JM Financial?
The company has a wide variety of offerings for customers; they offer financial products and strengthen the financial journey of their customers; they also offer some efficient services like Margin trading Facilities, Stock Lending & Borrowing schemes, Depository Services, Equity Public Offerings, etc.
What are the different forms of JM Financial Partner Programs?
The JM Financial Partner Programs include:
Business Affiliate
Independent Financial Distributor
What are some of the research facilities of JM Financial?
Research and advisory have a credible role, and they both form a significant part of how an investor keeps up with the market. JM Financial ensures to provide possible research to the customers so that their every investment decision is made cautiously. These research benefits are listed below:
Institutional Research
Equity Reports
Currency & Commodity Reports
Mutual Fund Research
Information Memo
Newsletters
How can I get in touch with JM Financial as a customer?
There are multiple types of solutions how you can reach out to the company with your doubts:
Ask Me
FAQs
Form Center
Tools & Resources
Updates
Get in Touch
Request a Callback
---
Become a Sub Broker with JM Financial Securities – Just Fill up the form
---
Find detailed review of other Sub Broker Franchise