Sharekhan Sub broker Program is known to be the largest sub broker franchise business in the country. They have more than 3500 sub brokers across the country & growing at a very fast rate.
Summary
Top Business Model
Sub Broker
Revenue Sharing
50% – 70%
Security Deposit
Rs.70,000 – Rs.100,000
Become Sub Broker in
15 Days
Receive Payout in
33 Days
Founder
Jaideep Arora
Established Year
2000
Here we will be discussing in detail regarding Sharekhan Sub brokership review & then we will do in-depth analysis of Sharekhan Sub Broker commission models, Sharekhan Partner Offers, Sharkhan Franchise cost or security deposit amount & other important features.
---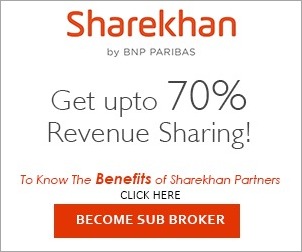 ---
Sharekhan Franchise Customer Ratings
Sharekhan Franchise
Experience
4.00
Services
3.80
Products
3.80
Trading Platforms
3.80
Support
3.40
Revenue Sharing Model
3.60
Security Deposit
3.50
Offers
4.00
Market Share
3.50
Overall
3.71
---
Compare Sub Broker Franchise
vs
---
Types of Sharekhan Franchise
Sharekhan Power Brokers or Sharekhan Sub Broker
Sharekhan Remiseir
Independent Financial Advisor (IFA)
---
Become a Sub Broker with Sharekhan – Just Fill up the form
---
Sharekhan Power Brokers or Sharekhan Sub Broker
Sharekhan Powerbroker is a setup is an actual sharekhan franchise setup. In this setup sharekhan provides all sorts of services to its client & make sure they deliver these services. The broking house Franchise program provides all forms of support to the sub broker to be able to grow their business multiple folds.
Sharekhan Remiseir
Sharekhan Remiseir set-up is similar to any other remiseir business where the client act as an agent of the company. The objective of the remiseir is to acquire clients for sharekhan & get their revenue share.
Sharekhan Independent Financial Advisor (IFA)
Sharekhan IFA is a program where a Partner acts as a sub broker of sharekhan only for mutual fund distribution. They also work on commission model where they et certain part of revenue as commission.
---
Sharekhan Sub Broker Commission or Revenue Sharing Model
Sharekhan Franchise program works on a flexible commission model. In this case the revenue sharing differs from client to client based on following grounds:
Amount of Security Deposit
Volume of Revenue Generation
The Sub brokers revenue sharing ranges from 50% & goes to as high as 70%. If the franchise owner is depositing a higher security deposit then he/she can negotiate upto 70% commission or revenue cut.
Again, if a Sharekhan partner is generating very good business then he/she can negotiate of revenue sharing upto 70%.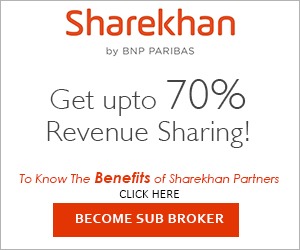 ---
Check out Revenue Sharing of other Sub Brokers
---
Sharekhan Franchise Cost or Security Deposit Amount

Sharekhan Security Deposit amount or initial investment amount, one can all any of the two. To become a sub broker of sharekhan one needs to deposit an initial investment amount of minimum Rs.70,000.
This initial investment amount is completely refundable. This amount is refunded back to a partner once the goes out of sharekhan's franchise system.
Sharekhan Franchise cost or Sharekhan Franchise price ranges from INR 70,000 to upto Rs.1 Lakh. The higher the initial investment amount higher is the revenue sharing.
---
Here are Security Deposit info of other Stock Broking Franchise
---
Sharekhan Sub Broker Offers
Sharekhan being one of the largest broking franchise business offers great deal to its clients. Here is the list of offers provided by sharkhan:
Low initial Investment amount of Rs.70,000
Very High revenue sharing of upto 70%
Fast & online KYC process for sub broker clients
Free Demat account to sub broker clients
Zero Margin account opening for sub broker clients
Trading Platforms available for across devices & browsers
Allows investment in multiple asset classes
---
Check out other companies Sub Broker Offers
---
How to become Sub Broker of Sharekhan?
Here is the process listed for becoming a sharekhan Sub Broker.
1st Step – Fill the lead Form
2nd Step – Call Centre executive with call back
3rd Step – Post appointment fix, Sales representative will call
4th Step – Sales representative will give all details & understanding of the franchise
5th Step -Submission of required documents & security deposit cheque
6th Step – Documents will be sent for verification
7th Step – Post verification of documents, Account ID will be provided
This entire process takes 3 to 5 days to complete.
---
List of Documents needed for Sharekhan Franchise Registration
Degree Certificates for verification of Educational Qualification
DOB Verification – Must be 21 years plus
Cancelled Cheque or Bank Statement
2 Photos
Rent Agreement of office premises
PAN Card
Aadhaar Card
Address Proof
---
Why Partner with Sharekhan?
Sharekhan is definitely one of the largest brand in stock market space. Let's understand the reason behind Sharekhan's success in Sub Brokership program.
Largest Brand in Stock Market & known to everyone
Full-fledged marketing support like flex, banners etc.
Award winning Advisory & Stock Recommendations
Regular Training sessions for Sub Brokers
Client Acquisition Support
Fast account opening process for clients
Free Demat Account Opening
Zero Margin amount for Client
Trading across platforms like Mobile, Desktop & Tablet
Flexible Commission Structure upto 70%
Low Initial Investment amount of Rs.75,000
High Exposure or limits to Clients
---
Support provided by Sharekhan Partner Program
24*7 Customer Support
Marketing Support across the board
Training Support related to stock market
Advisory & Stock Tips Support
Online Demat account opening support
Dealer Support
Relationship Manager Support
---
Become a Sub Broker with Sharekhan – Just Fill up the form
---
Find detailed review of other Sub Broker Franchise
---
List of Top Sharekhan Partners / Business Partners
| | | | |
| --- | --- | --- | --- |
| Company List | Remisiers Name | Trade Name | Remisiers Registration No. |
| Sharekhan | Ms. Monica C. Zaveri | Monica C. Zaveri | R/0748/02177/18/03/2004 |
| Sharekhan | Ms. Rupa V. Shah | Rupa V. Shah | R/0748/02664/07/05/2004 |
| Sharekhan | Ms. Manisha A Darji | Manisha A Darji | R/0748/02670/07/05/2004 |
| Sharekhan | Ms. Mamta Garg | Mamta Garg | R/0748/03329/15/07/2004 |
| Sharekhan | Ms. Prema Prabhakar | Prema Prabhakar | R/0748/03330/15/07/2004 |
| Sharekhan | Ms. Dhrupal Nagarsheth | Dhrupal Nagarsheth | R/0748/04103/19/10/2004 |
| Sharekhan | Ms. Hemlataben M. Desai | Hemlataben M. Desai | R/0748/04782/19/01/2005 |
| Sharekhan | Ms.Sangita Sinolia | Sangita Sinolia | R/0748/05531/31/03/2005 |
| Sharekhan | Tirlochan Kaur | Tirlochan Kaur | R/0748/07122/17/08/2005 |
| Sharekhan | Parthasarathy Thiruvenkatasamy | Parthasarathy Thiruvenkatasamy | R/0748/07512/17/09/2005 |
| Sharekhan | Onkarnath Khandelwal | Onkarnath Khandelwal | R/0748/07605/21/09/2005 |
| Sharekhan | Jain Yuvraj Jawanmal | Jain Yuvraj Jawanmal | R/0748/08294/17/11/2005 |
| Sharekhan | Gopakumar Pillai | Gopakumar Pillai | R/0748/08298/17/11/2005 |
| Sharekhan | Venugopal D. | Venugopal D. | R/0748/08305/17/11/2005 |
| Sharekhan | Jitendra Rindani | Jitendra Rindani | R/0748/08630/29/11/2005 |
| Sharekhan | Ocean Fiscal Services | Ocean Fiscal Services | R/0748/08795/12/12/2005 |
| Sharekhan | Anita Babu Iyer | Anita Babu Iyer | R/0748/09006/06/01/2006 |
| Sharekhan | Sarla Jain | Sarla Jain | R/0748/09320/25/01/2006 |
| Sharekhan | Alpha Associates | Alpha Associates | R/0748/09978/17/03/2006 |
| Sharekhan | Ashok L. Gala | Ashok L. Gala | R/0748/10099/04/04/2006 |
| Sharekhan | Vijay Kumar | Vijay Kumar | R/0748/10417/21/04/2006 |
| Sharekhan | Kantilal K. Nahata | Kantilal K. Nahata | R/0748/10671/23/05/2006 |
| Sharekhan | Thomas Mathew | Thomas Mathew | R/0748/11291/04/07/2006 |
| Sharekhan | Joginderlal Arora | Joginderlal Arora | R/0748/11293/04/07/2006 |
| Sharekhan | Patel P. Ambalal | Patel P. Ambalal | R/0748/11910/11/09/2006 |
| Sharekhan | Jasmine J. Shroff | Jasmine J. Shroff | R/0748/11952/11/09/2006 |
| Sharekhan | Shubhan Foods | Shubhan Foods | R/0748/11953/11/09/2006 |
| Sharekhan | Shubhan Foods | Shubhan Foods | R/0748/11953/11/09/2006 |
| Sharekhan | S. Iftikhar Ahmed | S. Iftikhar Ahmed | R/0748/12067/18/09/2006 |
| Sharekhan | Vijaya S. Patil | Vijaya S. Patil | R/0748/12303/23/10/2006 |
| Sharekhan | Sunita Somani | Sunita Somani | R/0748/12354/23/10/2006 |
| Sharekhan | Professional | Professional | R/0748/12728/23/11/2006 |
| Sharekhan | Rajesh Jain | Rajesh Jain | R/0748/12952/12/12/2006 |
| Sharekhan | Rajesh Jain | Rajesh Jain | R/0748/12952/12/12/2006 |
| Sharekhan | Amol L. Kamble | Amol L. Kamble | R/0748/12976/12/12/2006 |
| Sharekhan | Chadalawada Anuradha | Chadalawada Anuradha | R/0748/13430/29/01/2007 |
| Sharekhan | Kamalsingh S. Thakur | Kamalsingh S. Thakur | R/0748/13588/08/02/2007 |
| Sharekhan | Jayesh Shah | Jayesh Shah | R/0748/13635/08/02/2007 |
| Sharekhan | Santosh M. Phadke | Santosh M. Phadke | R/0748/13641/08/02/2007 |
| Sharekhan | Malvika G. Vazalwar | Malvika G. Vazalwar | R/0748/13934/27/02/2007 |