Sharekhan Sub broker Program is known to be the largest sub broker franchise business in the country. They have more than 3500 sub brokers across the country & growing at a very fast rate.
Summary
Top Business Model
Sub Broker
Revenue Sharing
60% – 70%
Security Deposit
Rs.50,000 – Rs.100,000
Become Sub Broker in
15 Days
Receive Payout in
33 Days
Founder
Shripal Morakhia
Established Year
2000
Here we will be discussing in detail regarding Sharekhan Sub brokership review & then we will do an in-depth analysis of Sharekhan Sub Broker commission models, Sharekhan Partner Offers, Sharkhan Franchise cost or security deposit amount & other important features.
---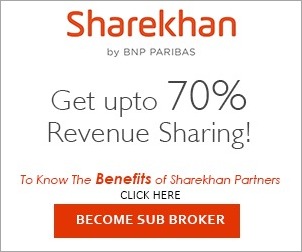 ---
Sharekhan Franchise Customer Ratings
Sharekhan Franchise
Experience
4.00
Services
3.80
Products
3.80
Trading Platforms
3.80
Support
3.40
Revenue Sharing Model
3.60
Security Deposit
3.50
Offers
4.00
Market Share
3.50
Overall
3.71
---
Compare Sub Broker Franchise
vs
---
Types of Sharekhan Franchise
Sharekhan has been in operation for decades; from all processes taking place in person with physical documents to the era of digitalization, the entity played its vital role and always stayed up top.
Soon after the incorporation and attaining a stable position in the market, the company started its sub-broker program to give an opportunity to new finance enthusiasts and become a part of the Sharekhan team.
To become Sharekhan Partner, you can take the following routes:
Sharekhan Power Brokers or Sharekhan Sub Broker
Sharekhan Remiseir
Independent Financial Advisor (IFA)
---
Become a Sub Broker with Sharekhan – Just Fill up the form
---
Sharekhan Power Brokers or Sharekhan Sub Broker
Sharekhan Powerbroker is a setup is an actual sharekhan franchise setup. In this setup, sharekhan provides all sorts of services to its client & make sure they deliver these services. The broking house Franchise program provides all forms of support to the sub-broker to be able to grow their business multiple folds.
Some benefits of this partner program of Sharekhan are:
Initial Business Development Support
Training
Advisory and robust trading platforms
Sharekhan Remiseir
Sharekhan Remiseir set-up is similar to any other remiseir business where the client acts as an agent of the company. The objective of the remiseir is to acquire clients for sharekhan & get their revenue share.
As a Remisier, you can earn by referring new clients who are interested in investing with Sharekhan.
The only task is to introduce clients to Sharekhan
No infrastructure requirements
Easy to do
Sharekhan Independent Financial Advisor (IFA)
Sharekhan IFA is a program where a Partner acts as a sub-broker of sharekhan only for mutual fund distribution. They also work on a commission model where a certain part of the revenue is a commission.
If you decide to become an independent financial advisor with Sharekhan, you get the following advantages:
Access to their latest technology and platforms
Marketing and research support
Web-based tools for servicing the clients
---
Sharekhan Sub Broker Commission or Revenue Sharing Model
Sharekhan Franchise program works on a flexible commission model. In this case, the revenue sharing differs from client to client based on the following grounds:
Amount of Security Deposit
The volume of Revenue Generation
The Sub broker's revenue sharing ranges from 50% & goes to as high as 70%. If the franchise owner is depositing a higher security deposit then he/she can negotiate up to 70% commission or revenue cut.
Again, if a Sharekhan partner is generating very good business then he/she can negotiate a revenue sharing up to 70%.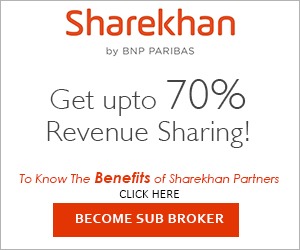 ---
Check out the Revenue Sharing of other Sub Brokers
---
Sharekhan Franchise Cost or Security Deposit Amount

Sharekhan Security Deposit amount or initial investment amount, one can all any of the two. To become a sub-broker of sharekhan one needs to deposit an initial investment amount of a minimum of Rs.50,000.
This initial investment amount is completely refundable. This amount is refunded back to a partner once the goes out of sharekhan's franchise system.
Sharekhan Franchise cost or Sharekhan Franchise price ranges from INR 50,000 to up to Rs.1 Lakh. The higher the initial investment amount higher the revenue sharing.
---
Here are Security Deposit info of other Stock Broking Franchise
---
Sharekhan Sub Broker Offers
Sharekhan is one of the largest broking franchise businesses that offer a great deal to its clients. Here is the list of offers provided by sharkhan:
Low initial investment amount of Rs.50,000
Very High revenue sharing of up to 70%
Fast & online KYC process for sub-broker clients
Free Demat account to sub broker clients
Zero Margin account opening for sub-broker clients
Trading Platforms available across devices & browsers
Allows investment in multiple asset classes
---
Check out other companies Sub Broker Offers
---
How to become Sub Broker of Sharekhan?
Here is the process listed for becoming a sharekhan Sub Broker.
1st Step – Fill out the Lead Form
2nd Step – Call Centre executive with call back
3rd Step – Post appointment fix, a Sales representative will call
4th Step – A sales representative will give all details & understanding of the franchise
5th Step -Submission of required documents & security deposit cheque
6th Step – Documents will be sent for verification
7th Step – Post verification of documents, Account ID will be provided
This entire process takes 3 to 5 days to complete.
---
List of Documents needed for Sharekhan Franchise Registration
Degree Certificates for verification of Educational Qualification
DOB Verification – Must be 21 years plus
Canceled Cheque or Bank Statement
2 Photos
Rent Agreement of office premises
PAN Card
Aadhaar Card
Address Proof
---
Why Partner with Sharekhan?
Sharekhan is definitely one of the largest brands in the stock market space. Let's understand the reason behind Sharekhan's success in the Sub Brokership program.
Largest Brand in Stock Market & known to everyone
Full-fledged marketing support like flex, banners, etc.
Award-winning Advisory & Stock Recommendations
Regular Training sessions for Sub Brokers
Client Acquisition Support
Fast account opening process for clients
Free Demat Account Opening
Zero Margin amount for Client
Trading across platforms like Mobile, Desktop & Tablet
Flexible Commission Structure of up to 70%
Low Initial Investment amount of Rs.75,000
High Exposure or limits to Clients
---
Support provided by Sharekhan Partner Program
24*7 Customer Support
Marketing Support across the board
Training Support related to the stock market
Advisory & Stock Tips Support
Online Demat account opening support
Dealer Support
Relationship Manager Support
---
Infrastructure Investment by Sharekhan Sub Brokers / Authorized Person
Sharekhan Sub Broker program can do wonders for the candidates, but they have to take the first step and set up a working space from where all company operations can be executed.
A decent office space with the necessary equipment and services that will facilitate you with the operation necessities is required to start a Sharekhan franchise.
Further, the sub-broker will have to make an initial deposit of about Rs. 70,000 to Rs. 1,00,000. Also, with the office set-up cost, the amount might reach up to Rs. 2,00,000 in total.
---
Sharekhan Franchise Eligibility Criteria
Let's check the eligibility of the individuals applying for the Sharekhan Franchise:
At the very basic, the individual shall be of at least 18 years.
The candidate willing to register themselves as a sub-broker will need registration with the stock exchange as a sub-broker.
Sharekhan required its applicants for the partner program to have a graduate degree.
Further, the aspiring candidate for Sharekhan Franchise shall also have experience in the financial market.
---
Sharekhan Franchise – Pros & Cons
Pros
Sharekhan is a reputed brand and does not require any introduction.
The revenue-sharing model allows the Sharekhan Partner to earn as high as 70% of the revenue.
The range of products and services in the Sharekhan channel is wide
Latest tools, technology, dedicated trading platform, and much more.
Cons
The initial investment required with Sharekhan is relatively high compared to others.
---
Sharekhan Franchise Registration
In the era of technology and everything available online, people want that things sub-broker registrations should also be online. So, Sharekhan has developed an online lead form that allows the candidates to make the initial registration online itself.
Once the registration is completed online, the representative of the company will call you and help in setting up your business and give you each and every bit of detail related to the Sharekhan Sub Broker Program.
Thereafter, you just submit your documents, make the initial deposit and investment, and you are good to start.
---
Earning the potential of a Sharekhan Partner / ROI
The earnings of a Sharekhan Franchise depend upon the type of sub-broker program. Sharekhan itself offers a handsome revenue-sharing proportion to the franchise so that they have plenty of opportunities to earn and stay motivated.
Sharekhan Business Partners can earn up to 70% of the share out of the revenue. The ratio is among the highest in the market.
---
Sharekhan Franchise Referral Program
Sharekhan has designed a referral program where the customers of the company, without any special registration or extra effort, can make more earnings.
They just have to refer Sharekhan to their contacts through the link or other manner as prescribed on the trading platform. And once your referral opens an account with Sharekhan, you become entitled to a reward.
---
Brokerage Charges were levied on the clients of Sharekhan Partners
Sharekhan follows a creative means of levying the brokerage charges. Let's discuss each aspect in brief:
For Equity Delivery, the charges are 0.30% of the market rate or a minimum of 10 paise per share
For Equity Intraday Trading, the entity levies 0.03% on the market rate or a minimum of 3 paise per share
On Equity – Options brokerage and Commodity – Options brokerage, Rs. 60 per lot is charged
For Currency – Options brokerage, the charges are Rs. 20 per lot
For Futures trading across Equity, Commodity & Currency, the brokerage is 0.03% per transaction value
---
Sharekhan Authorised Person – Products Offered
The product portfolio and offerings of Sharekhan are vast and include largely every security available in the Indian Market.
As a Sharekhan Authorised Person, the individual gets to offer a wide range to the customers, and they can choose whatever security is ideal for them:
Equity Trading
Derivative Trading
Currency Trading
Mutual Fund & SIP
Bonds
IPO
Portfolio Management Services
Also, with research and advisory tools, it's a fulfilling sharebroker in the market.
---
Sharekhan Franchise Conclusion
Sharekhan has a set position among the top 10 stock brokers operating in India. Sharekhan's efforts are taking it toward a more progressive and profitable path. They have access to the latest technological advancements, market research tools, advisory solutions, and much more.
The company has a variety of offerings to cater to the requirements of its end customers and also customize the tools to suit them.
With new offers and features for its sub-brokers, it keeps the excitement on top always. They offer a high revenue sharing a percentage of up to 70% with the sub-brokers.
---
Sharekhan Sub Broker or Partner Program FAQs
Below is the list of FAQs that will help you understand more about the Sharekhan Franchise.
What are the documents required for registration with Sharekhan Franchise?
Following is the list of the documents you will be required to submit to start your Sharekhan franchise:
Identity proof
Address proof
Registration certificate
Experience certificates
Academic qualification certificates
Security deposit cheque
Proof of investments
Is Sharekhan Franchise Profitable?
Yes, the Sharekhan Franchise is highly profitable. The program offers you uncountable avenues to earn and make good money for yourself along with the company.
What is Sharekhan Franchise?
Sharekhan Franchise is a sub-broker program launched by Sharekhan where individuals looking to set up a business in the stock broking sector can take on this career and make a living for themselves.
How do I get a Sharekhan franchise?
For starters, you can register yourself directly from the online website. In the lead form, you just have to provide the basic details about yourself, and the journey will commence.
How can I become a sub-broker in Sharekhan?
Sharekhan has developed a Sharekhan Franchise program where you can register online and become a sub-broker for Sharekhan. This way, you can set up your own business and work on your conditions.
Are there multiple types of Sharekhan Franchise programs?
Yes, Sharekhan offers multiple types of franchise models. You can choose from the following:
Sub broker/Power Brokers
Independent Financial Advisor
Remisier
What is the initial deposit for Sharekhan Franchise?
The initial deposit required with Sharekhan Franchise range between Rs. 50,000 to Rs. 1,00,000.
What is the revenue sharing of the Sharekhan Franchise?
When you associate with Sharekhan Franchise, you share about 60%-70% of the revenue generated through your client map. This revenue sharing is among the highest proportions offered in the industry.
What are the advantages of the Sharekhan Sub Broker Program?
Sharekhan is a reputed, popular, and successful stock broking company. It has wide products and service range to offer to clients. Some of the best features of this entity for its sub-brokers are:
Reputed Brand
Latest Technology
Ethical Business Practices
Comprehensive Training
Research and Marketing Support
How many Sharekhan Business Partners are there currently?
Presently, under the Sharekhan Franchise program, over 3000 partners are working. They operate from different parts of the country, offering financial solutions to customers.
---
Become a Sub Broker with Sharekhan – Just Fill up the form
---
Find a detailed review of other Sub Broker Franchise
---
List of Top Sharekhan Partners / Business Partners
| | | | |
| --- | --- | --- | --- |
| Company List | Remisiers Name | Trade Name | Remisiers Registration No. |
| Sharekhan | Ms. Monica C. Zaveri | Monica C. Zaveri | R/0748/02177/18/03/2004 |
| Sharekhan | Ms. Rupa V. Shah | Rupa V. Shah | R/0748/02664/07/05/2004 |
| Sharekhan | Ms. Manisha A Darji | Manisha A Darji | R/0748/02670/07/05/2004 |
| Sharekhan | Ms. Mamta Garg | Mamta Garg | R/0748/03329/15/07/2004 |
| Sharekhan | Ms. Prema Prabhakar | Prema Prabhakar | R/0748/03330/15/07/2004 |
| Sharekhan | Ms. Dhrupal Nagarsheth | Dhrupal Nagarsheth | R/0748/04103/19/10/2004 |
| Sharekhan | Ms. Hemlataben M. Desai | Hemlataben M. Desai | R/0748/04782/19/01/2005 |
| Sharekhan | Ms.Sangita Sinolia | Sangita Sinolia | R/0748/05531/31/03/2005 |
| Sharekhan | Tirlochan Kaur | Tirlochan Kaur | R/0748/07122/17/08/2005 |
| Sharekhan | Parthasarathy Thiruvenkatasamy | Parthasarathy Thiruvenkatasamy | R/0748/07512/17/09/2005 |
| Sharekhan | Onkarnath Khandelwal | Onkarnath Khandelwal | R/0748/07605/21/09/2005 |
| Sharekhan | Jain Yuvraj Jawanmal | Jain Yuvraj Jawanmal | R/0748/08294/17/11/2005 |
| Sharekhan | Gopakumar Pillai | Gopakumar Pillai | R/0748/08298/17/11/2005 |
| Sharekhan | Venugopal D. | Venugopal D. | R/0748/08305/17/11/2005 |
| Sharekhan | Jitendra Rindani | Jitendra Rindani | R/0748/08630/29/11/2005 |
| Sharekhan | Ocean Fiscal Services | Ocean Fiscal Services | R/0748/08795/12/12/2005 |
| Sharekhan | Anita Babu Iyer | Anita Babu Iyer | R/0748/09006/06/01/2006 |
| Sharekhan | Sarla Jain | Sarla Jain | R/0748/09320/25/01/2006 |
| Sharekhan | Alpha Associates | Alpha Associates | R/0748/09978/17/03/2006 |
| Sharekhan | Ashok L. Gala | Ashok L. Gala | R/0748/10099/04/04/2006 |
| Sharekhan | Vijay Kumar | Vijay Kumar | R/0748/10417/21/04/2006 |
| Sharekhan | Kantilal K. Nahata | Kantilal K. Nahata | R/0748/10671/23/05/2006 |
| Sharekhan | Thomas Mathew | Thomas Mathew | R/0748/11291/04/07/2006 |
| Sharekhan | Joginderlal Arora | Joginderlal Arora | R/0748/11293/04/07/2006 |
| Sharekhan | Patel P. Ambalal | Patel P. Ambalal | R/0748/11910/11/09/2006 |
| Sharekhan | Jasmine J. Shroff | Jasmine J. Shroff | R/0748/11952/11/09/2006 |
| Sharekhan | Shubhan Foods | Shubhan Foods | R/0748/11953/11/09/2006 |
| Sharekhan | Shubhan Foods | Shubhan Foods | R/0748/11953/11/09/2006 |
| Sharekhan | S. Iftikhar Ahmed | S. Iftikhar Ahmed | R/0748/12067/18/09/2006 |
| Sharekhan | Vijaya S. Patil | Vijaya S. Patil | R/0748/12303/23/10/2006 |
| Sharekhan | Sunita Somani | Sunita Somani | R/0748/12354/23/10/2006 |
| Sharekhan | Professional | Professional | R/0748/12728/23/11/2006 |
| Sharekhan | Rajesh Jain | Rajesh Jain | R/0748/12952/12/12/2006 |
| Sharekhan | Rajesh Jain | Rajesh Jain | R/0748/12952/12/12/2006 |
| Sharekhan | Amol L. Kamble | Amol L. Kamble | R/0748/12976/12/12/2006 |
| Sharekhan | Chadalawada Anuradha | Chadalawada Anuradha | R/0748/13430/29/01/2007 |
| Sharekhan | Kamalsingh S. Thakur | Kamalsingh S. Thakur | R/0748/13588/08/02/2007 |
| Sharekhan | Jayesh Shah | Jayesh Shah | R/0748/13635/08/02/2007 |
| Sharekhan | Santosh M. Phadke | Santosh M. Phadke | R/0748/13641/08/02/2007 |
| Sharekhan | Malvika G. Vazalwar | Malvika G. Vazalwar | R/0748/13934/27/02/2007 |