Asit C Mehta Sub Broker Program is a well-known broking franchise in the country. The broking house along with its sub brokers has served more than 10,000 investors, dealing with them on a regular basis and has been successful in becoming one of the best sub-brokers situated in Mumbai.
In the following article, we will go through all the details of Asit C Mehta Franchise.
This article covers all of the offers, brokerage charges, benefits, and such other programs that are enclosed by Asit C Mehta.
Summary
Top Business Model
Sub Broker
Revenue Sharing
60% – 75%
Security Deposit
Rs.50,000 – Rs.200,000
Become Sub Broker in
28 Days
Receive Payout in
45 Days
Founder
Asit C Mehta
Established Year
1986
---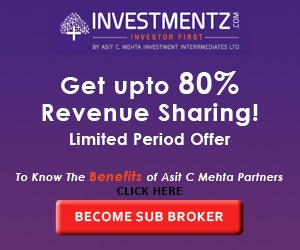 ---
Asit C Mehta Sub Broker – Customer Rating
Below are the Customer Ratings:
Customer Ratings
Experience
3.1/5
Services
3.0/5
Products
2.9/5
Trading Platforms
3.0/5
Support
3.3/5
Revenue Sharing Model
3.1/5
Security Deposit
3.2/5
Offers
2.9/5
Market Share
3.0/5
Overll Ratings
3.0/5
Star Ratings
★★★☆☆
The company serves as one of the most reliable share broking companies that one could find in the vicinity of Mumbai. The Customer Rating of Asit C Mehta Sub Broker is on a bar more than average.
It provides excellent customer services, experience, security deposit, support, and revenue sharing model, and taking all these into overall consideration, the average rating of the company is around 3 points out of 5 which is good.
---
Become a Sub Broker with Asit C Mehta – Just Fill up the form
---
Compare Sub Broker Franchise
vs
---
About Asit C Mehta Sub Broker Franchise
Overview
Company Type
Public
Broker type
Full Service Broker
Headquarters
Mumbai, Maharashtra
Founder
Asit C Mehta
Established Year
1986
SB Code Activation Time
28 Days
Payout Time
45 Days
Asit C Mehta Sub Broker is a public company that provides full brokerage service to all its customers. It was founded and established by Asit C Mehta in the year 1986 and has its headquarters in Mumbai, Maharashtra.
The Sub Broker activation time for Asit C Mehta Sub Broker is 28 days and the payout time does not delay more than 45 days.
---
Asit C Mehta Sub Broker – Business Models
Business Models
Master Franchise
No
Sub Broker
Yes
Remisier
Yes
Referral Program
No
There are two types of Franchise available for Asit C Mehta Sub-brokers:
---
Asit C Mehta Sub Broker / Authorised Person Model

It is a business where Asit C Mehta provides other multiple sub-brokers its franchise and allows them to work under the company name.
This model provides for monopoly business which means that more than one sub-broker which belongs to the same company can run the work in the same place.
Asit C Mehta Remisier / Partner Model
The Remisier of Asit C Mehta Sub Broker is actually an agent that provides good leads to the broker party and the agent gets some percentage of the revenue once the leads are converted.
---
Asit C Mehta Sub Broker Commission or Revenue Sharing
The below Tables provides details about Asit C Mehta Franchise Commission:
Revenue Sharing
Master Franchise
NA
Sub Broker
60% – 75%
Remisier
10% – 25%
Referral Program
NA
Asit C Mehta is considered one of the best broker franchises in Mumbai and hence it provides its sub-brokers with valid and accurate Revenue Sharing agendas. The revenue sharing of the sub-brokers of Asit C Mehta is based on the amount of:
A security deposit of the Sub-brokers
Revenue generation
The commission for the sub-brokers working under Asit C Mehta has charges ranging from 60% to 75%, depending on the amount of security deposit that was kept with the company.
The Remisier who are working for and under Asit C Mehta have a commission starting from 10% of the leads provided by them and the commission can go up to 25% depending on the leads that they provide and how they are converted.
---
Check out Revenue Sharing of other Sub Brokers
---
Asit C Mehta Franchise Cost / Security Deposit
Find the table to know about Asit C Mehta Sub Broker Security Deposit:
Security Deposit
Master Franchise
NA
Sub Broker
Rs.50,000 – Rs.200,000
Remisier
Rs.10,000 – Rs.30,000
Referral Program
NA
The Security Deposit or Franchise Cost that you need to preserve for gaining ownership or sub-brokership of Asit C Mehta is deliberated below.
For the Sub-broker business model, you will need to invest at least Rs. 50,000 and you can go as high as Rs. 200,000. Note that this initial business investment is fully refundable and will be returned back to you, once you decide to dissolve the business.
As for the Remisier model, one needs to provide a minimum of Rs. 10,000 to become a partner with Asit C Mehta Sub brokers. The maximum bar is set up to Rs. 30,000.
These amounts have to be kept as security deposit under Asit C Mehta and you will be required to carry on the business of share broking under the company's name.
---
Here are Security Deposit info of other Stock Broking Franchise
---
Asit C Mehta Partner Infrastructure Requirement
The below tables give a good understanding of Asit C Mehta's Partner Requirements:
Infrastructure Requirement
Office Area
Minimum 150 Sq Ft
Employee Strength
Minimum 2
Research Services
Yes
Internet Connection
Yes
Trading Terminals
Yes
Telephone Lines
Yes
The requirements of Infrastructure you need to have in order to become a partner of Asit C Mehta are mentioned in detail below:
You should have at least 150 sq. Feet office area to work in.
You must have a minimum of 2 employees working under your firm.
You should have a positive environment that allows research services with a good and smooth working internet facility.
The Telephone lines should be clear and well maintained in order to work with the firm and lastly, there should be the provision of trading terminals.
These are the most basic and important rules for starting work with any company and hence we here at Asit C Mehta are expecting the same basic fulfilments from you.
---
Asit C Mehta Sub broker Offers
Various Offers for Asit C Mehta Franchise are listed below:
Offers
Zero Deposit
No
10k Initial Deposit
Yes
Flexible Revenue Sharing
Yes
Flat Revenue Sharing
No
Zero Revenue Sharing with Prepaid
No
We here at Asit C Mehta brokers, provide the sub-brokers with the best offers so that no one feels de-motivated or left behind in any manner. Below mentioned are some of the Offers provided by the company:
The company allows you up to 10,000 initial deposits along with flexible revenue sharing.
However, it does not provide the sub-brokers with the facility of zero deposits, flat revenue sharing, and zero revenue sharing with prepaid.
---
Check out other companies Sub Broker Offers
---
Asit C Mehta Franchise Support
Find the table below related to Asir C Mehta Authorised Person Support:
Support
Marketing Support
Yes
Back-Office Support
Yes
Trading Support
Yes
Advisory Support
Yes
Dealing Training
Yes
Acquisition Training
Yes
Product Training
No
Asit C Mehta provides the sub-brokers with facilities such as:
Marketing support
Back-office support
Trading support
Advisory support
Dealing training
Acquisition
It does not, however, offer product training.
---
Asit C Mehta Authorised Person – Brokerage charges to Clients
The below table gives a good understanding of the Brokerage Charges levied by Asit C Mehta to thier Sub broker's clients:
Brokerage Charges to Clients
Equity Delivery
0.20% – 0.55%
Equity Intraday
0.02% – 0.05%
Equity Futures
0.02% – 0.05%
Equity Options
Rs.70 – Rs.100 per lot
Currency Futures
0.02% – 0.05%
Currency Options
Rs.70 – Rs.100 per lot
Commodity
0.02% – 0.05%
The Brokerage charges by Asit C Mehta given to its sub-brokers are usually at par with the market rates.
They charge 0.20%-0.55% to equity delivery and 0.02%-0.05% to equity intraday, commodity, currency futures, and equity futures. They offer Rs. 70 to Rs. 100 per lot for equity and currency options.
---
Asit C Mehta Partner – Account Opening Charges to Clients
Find below the Account opening charges levied by Asit C Mehta to their Sub broker's clients:
Account Opening Charges to Clients
Demat AMC
Free
Trading AMC
Free
Account Opening Charges
Rs.400 – Rs.700
Transaction Charges
0.00325%
Margin Money
Zero Margin
The charges incurred by the clients under Asit C Mehta are quite less and reasonable when compared to other brokers in the market.
We here at Asit C Mehta offer you free Demat AMC and Trading AMC.  However, the account opening charges vary between Rs. 400 to Rs. 700. The Transactions charges are 0.00325% and zero margin money is required.
---
Benefits of Becoming an A C Mehta Partner
Apart from great incentives and fine revenue returns, there is a lot of reasons why you should consider working with A C Mehta, these include:
An opportunity to work with an experienced and renowned brand.
Quick online account opening process for the clients
Free Demat Account opening
Great and effective marketing support
Client Acquisition support
Flexible Revenue sharing
Back-office support
Zero Margin money for clients.
---
Become a Sub Broker with Asit C Mehta – Just Fill up the form
---
Find detailed review of other Sub Broker Franchise
---
List of Top Asit C Mehta  Partners / Business Partners
| | | | |
| --- | --- | --- | --- |
| Company List | Remisiers Name | Trade Name | Remisiers Registration No. |
| Asit C Mehta | C.B.Alamelu Sudha | Arulmurugan Shares | R/0003/02037/18/03/2004 |
| Asit C Mehta | Mr. Rakesh Ashiwinbhai Panchmatia | Rakesh Ashiwinbhai Panchmatia | R/0003/01605/30/01/2004 |
| Asit C Mehta | Ritaben R. Doshi | Doshi Ritaben Rajnikant | R/0003/07932/15/10/2005 |
| Asit C Mehta | Shree Krishana Finstock | Shree Krishana Finstock | R/0003/07484/17/09/2005 |