Tradebulls Sub Broker Program is rapidly expanding its franchise network. This article is about understanding the Tradebulls sub-broker business model, Tradebulls sub-broker revenue sharing model, investment, deposits and other details.
Summary
Top Business Model
Sub Broker
Revenue Sharing
55% – 70%
Security Deposit
Rs.60,000 – Rs.150,000
Become Sub Broker in
20-30 Days
Receive Payout in
1 month
Founder
Dinesh Thakkar
Established Year
2009
Tradebulls was set up in 2009 and within a decade it has expanded its presence in over 9 cities and is currently having a workforce of 1000+ employees.
They have over 1500 broking franchise & more than 1 lakh active retail client base.
---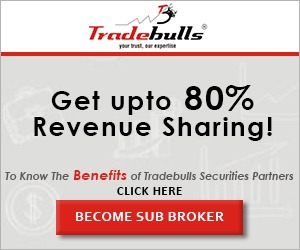 ---
Tradebulls Franchise Customer Ratings
Tradebulls Franchise
Criteria
Ratings
Experience
2.5/5
Services
3.2/5
Products
3.0/5
Trading Platforms
3.2/5
Support
3.1/5
Revenue Sharing Model
4.0/5
Security Deposit
4.0/5
Offers
3.5/5
Market Share
2.5/5
Overall
3.2/5
---
Compare Sub Broker Franchise
vs
---
Types of Tradebulls Sub Broker
---
Become a Sub Broker with Tradebulls – Just Fill up the form
---
Tradebulls Sub Broker

Tradebulls is a growing company and hence it values the contributions that any sub-broker makes to its business. It supports and motivates the entrepreneur spirit.
It demonstrates this support by sharing revenue to the extent of 80% with the sub-brokers which can be among the highest in this industry.
In return, it demands a deposit of Rs.25,000 and a decent set of clients and revenue. This combination of high revenue sharing and low deposit is quite an attraction.
The subsequent paras discuss the features of this model in detail.
---
Tradebulls Remisier
Tradebulls also offers a remisier model wherein a customer of Tradebulls can earn commission by referring his/her friends and families to Tradebulls for business.
A remisier, thus, gets to leverage on his/her social circle and can earn extra income from such references. Other features of this model also have been discussed below.
---
Tradebulls Sub Broker Commission or Revenue Sharing Model
Tradebulls has been set up on 2009 and has achieved a good repute within a small span of 9 years. It seeks to expand the horizons further and for expanding its reach, it relies on the sub-brokers who can act as face of this company in their own local cities and towns.
Since its a comparative new set-up, it is giving some early bird or early association benefits by way of high revenue sharing ratio – the ratio that it generally offers is 80% i.e. the sub-broker receives 80% of the brokerage revenue that is paid by its customers and 20% is passed on to Tradebulls.
This rate may further increase depending upon the revenue generated – in case the revenue from sub-broker is exceptional, he is rewarded with 90% of revenue as well.
For the remisier model, Tradebulls pays a commission to an extent of 30% of revenue generated from the customers referred to in by the remisier.
---
Check out Revenue Sharing of other Sub Brokers
---
Tradebulls Franchise Cost or Security Deposit Amount
Tradebulls follows a policy of fixed security deposit of Rs. 25,000 i.e. the amount of deposit does not vary depending upon factors like the revenue generated or revenue sharing ratio etc. This is usually followed by other broking companies but Tradebulls does not follow this policy.
The deposit amount is fixed at Rs. 25,000 which is quite low compared to the industry standards. Further, this amount is refundable – it is repaid when the sub-brokership agreement/contract is terminated.
For remisier, the security deposit is fixed Rs. 10,000. This amount is also refundable.
---
Here are Security Deposit info of other Stock Broking Franchise
---
Tradebulls Sub Broker Offer
Tradebulls, being a comparatively new entrant , has following offers for its sub-brokers to encourage them to partner with Tradebulls at an early stage:
High revenue sharing ratio
Low security deposit
Super-quick sub-broker ID generation process
Online account opening services
Free DEMAT account – i.e. no annual maintenance charges
Brokerage cashback/reversal of up to Rs. 1 lac
Premium advisory calls
---
Check out other companies Sub Broker Offers
---
How to become Sub Broker of Tradebulls?
1st Step – Provide the details in the lead form available herein.
2nd Step – Confirm your basic details and your interest upon receiving a call from our representative
3rd Step – Schedule an appointment with Tradebulls Sales Representative upon receiving call from them.
4th Step – Discuss in detail the proposal and the offers with the sales team of Tradebulls.
5th Step – Provide the required documents (as listed below) for verification and pay the security deposit
6th Step – Tradebulls team will verify the documents and provide confirmation
7th Step – Once verification is completed, a sub-broker ID is generated.
The procedure gets completed in almost 4-5 days.
Documents Required for Tradebulls Sub Broker Registration
ID proof
Address proof
Date of birth proof
Academic qualification proof
Aadhar Card
PAN card
2 passport size photographs
Cancelled bank cheque
Details of office space and documents like Rent Agreement etc.
---
Why Partner with Tradebulls?
Fastest growing broking company
Provides attractive offers
Award winning advisory services
Strong research team
Quick account opening services
---
Support provided by Tradebulls Sub Broker Program
Tradebulls provides the following kinds of services to its sub-brokers:
Tradebulls assigns a dedicated relationship manager to a sub-broker to assist in acquiring new clients and maintaining relation with existing clients
Sets up trading terminal at sub-broker premises
Provides marketing support to sub-broker like the marketing material and marketing strategy
Customer care for the sub-brokers and their clients
Organizes technical and conceptual workshops for sub brokers and their clients
---
Become a Sub Broker with Tradebulls – Just Fill up the form
---
Find detailed review of other Sub Broker Franchise