Tradebulls Sub Broker Program is rapidly expanding its franchise network. This article is about understanding the Tradebulls sub-broker business model, Tradebulls sub-broker revenue sharing model, investment, deposits and other details.
Summary
Top Business Model
Sub Broker
Revenue Sharing
70% – 90%
Security Deposit
Rs.25,000 – Rs.1,00,000
Become Sub Broker in
20-30 Days
Receive Payout in
1 month
Founder
Dinesh Thakkar
Established Year
2009
Tradebulls was set up in 2009 and within a decade it has expanded its presence in over 9 cities and is currently having a workforce of 1000+ employees.
They have over 1500 broking franchise & more than 1 lakh active retail client base.
---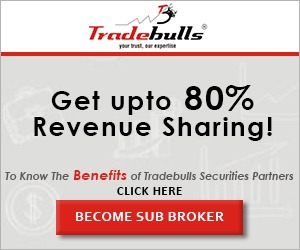 ---
Tradebulls Franchise Customer Ratings
Tradebulls Franchise
Criteria
Ratings
Experience
2.5/5
Services
3.2/5
Products
3.0/5
Trading Platforms
3.2/5
Support
3.1/5
Revenue Sharing Model
4.0/5
Security Deposit
4.0/5
Offers
3.5/5
Market Share
2.5/5
Overall
3.2/5
---
Compare Sub Broker Franchise
vs
---
Types of Tradebulls Sub Broker
Set up over a decade ago, Tradebulls Securities is built on a strong foundation and is climbing up and up in the ranks of the top stock broking companies in India.
The entity offers a wide array of products and services to consumers. They get solutions to all their financial services demands under one roof.
Tradebulls is working continuously to enlarge its area of operations and emerge more popularly. The entity has even started its sub-broker program to structure itself on a larger canvas.
Under the sub-broker program, any individual passionate about the financial market and excellent at selling products can come along and become a Tradebulls Partner.
You must now be wondering about the perks that the company has to attract you. Tradebulls itself has listed some of the advantages that are offered to the partners; here they are:
Complete Business development support
Easy Documentation and registration process
Relationship Manager support
Reputed Stock broking company
Back-office support
High growth avenues for the partner
---
Become a Sub Broker with Tradebulls – Just Fill up the form
---
Tradebulls Sub Broker

Tradebulls is a growing company and hence it values the contributions that any sub-broker makes to its business. It supports and motivates the entrepreneur spirit.
It demonstrates this support by sharing revenue to the extent of 80% with the sub-brokers which can be among the highest in this industry.
In return, it demands a deposit of Rs.25,000 and a decent set of clients and revenue. This combination of high revenue sharing and low deposit is quite an attraction.
The subsequent paras discuss the features of this model in detail.
---
Tradebulls Remisier
Tradebulls also offers a remisier model wherein a customer of Tradebulls can earn commission by referring his/her friends and families to Tradebulls for business.
A remisier, thus, gets to leverage on his/her social circle and can earn extra income from such references. Other features of this model also have been discussed below.
---
Tradebulls Sub Broker Commission or Revenue Sharing Model
Tradebulls has been set up on 2009 and has achieved a good repute within a small span of 9 years. It seeks to expand the horizons further and for expanding its reach, it relies on the sub-brokers who can act as face of this company in their own local cities and towns.
Since its a comparative new set-up, it is giving some early bird or early association benefits by way of high revenue sharing ratio – the ratio that it generally offers is 80% i.e. the sub-broker receives 80% of the brokerage revenue that is paid by its customers and 20% is passed on to Tradebulls.
This rate may further increase depending upon the revenue generated – in case the revenue from sub-broker is exceptional, he is rewarded with 90% of revenue as well.
For the remisier model, Tradebulls pays a commission to an extent of 30% of revenue generated from the customers referred to in by the remisier.
---
Check out Revenue Sharing of other Sub Brokers
---
Tradebulls Franchise Cost or Security Deposit Amount
Tradebulls follows a policy of fixed security deposit of Rs. 25,000 i.e. the amount of deposit does not vary depending upon factors like the revenue generated or revenue sharing ratio etc.
This is usually followed by other broking companies but Tradebulls does not follow this policy.
The deposit amount is fixed at Rs. 25,000 which is quite low compared to the industry standards. Further, this amount is refundable – it is repaid when the sub-brokership agreement/contract is terminated.
For remisier, the security deposit is fixed Rs. 10,000. This amount is also refundable.
---
Here are Security Deposit info of other Stock Broking Franchise
---
Tradebulls Sub Broker Offer
Tradebulls, being a comparatively new entrant , has following offers for its sub-brokers to encourage them to partner with Tradebulls at an early stage:
High revenue sharing ratio
Low security deposit
Super-quick sub-broker ID generation process
Online account opening services
Free DEMAT account – i.e. no annual maintenance charges
Brokerage cashback/reversal of up to Rs. 1 lac
Premium advisory calls
---
Check out other companies Sub Broker Offers
---
How to become Sub Broker of Tradebulls?
1st Step – Provide the details in the lead form available herein.
2nd Step – Confirm your basic details and your interest upon receiving a call from our representative
3rd Step – Schedule an appointment with Tradebulls Sales Representative upon receiving call from them.
4th Step – Discuss in detail the proposal and the offers with the sales team of Tradebulls.
5th Step – Provide the required documents (as listed below) for verification and pay the security deposit
6th Step – Tradebulls team will verify the documents and provide confirmation
7th Step – Once verification is completed, a sub-broker ID is generated.
The procedure gets completed in almost 4-5 days.
Documents Required for Tradebulls Sub Broker Registration
ID proof
Address proof
Date of birth proof
Academic qualification proof
Aadhar Card
PAN card
2 passport size photographs
Cancelled bank cheque
Details of office space and documents like Rent Agreement etc.
---
Why Partner with Tradebulls?
Fastest growing broking company
Provides attractive offers
Award winning advisory services
Strong research team
Quick account opening services
---
Support provided by Tradebulls Sub Broker Program
Tradebulls provides the following kinds of services to its sub-brokers:
Tradebulls assigns a dedicated relationship manager to a sub-broker to assist in acquiring new clients and maintaining relation with existing clients
Sets up trading terminal at sub-broker premises
Provides marketing support to sub-broker like the marketing material and marketing strategy
Customer care for the sub-brokers and their clients
Organizes technical and conceptual workshops for sub brokers and their clients
---
Infrastructure Investment by Tradebulls Sub Brokers / Authorized Person
When you set up a sub-broker business with Tradebulls Securities, you are expected to have some infrastructure to operate.
You will be required to have an office space where you can meet your prospective clients and maintain all the records in one place. The office should be maintained properly and should have amenities like computers, internet connection, trading terminals, etc.
The office space for this purpose shall be at least 300 sq. ft. Also, the Tradebulls Sub-broker will need to recruit a few employees for assistance.
---
Tradebulls Franchise Eligibility Criteria
Before you can get all the benefits of the Tradebulls partner program, you first have to ensure your eligibility for the program. How will you check it? We have listed below all the criteria that you need to comply with.
You have to be of 18 years or above to start as a Tradebulls Franchise.
On the education page, you shall be a graduate.
You will need a minimum of 2 years of experience in the financial industry
You should be aware of the stock market and its aspects
The company expects the sub-brokers to have a good grasp of the communication skills
---
Tradebulls Franchise – Pros & Cons
Tradebulls Partners are undoubtedly exposed to some of the best facilities and features, bringing more and more prosperity to their business.
Now, we will be looking into these amazing features along with the downsides of this partner program:
Pros
High percentage revenue sharing
High Brand Value
Easy and quick registration and processing steps
Marketing, back-office, and relationship manager support
Flexible revenue sharing
Training through seminars
Easy payment and tracking process
Cons
Weaker offline presence as compared to online presence
Lower ranking among the top stock brokers
---
 Tradebulls Franchise Registration
When you are ready and have set your eyes on your goal of becoming a Tradebulls Sub-broker, you can begin the registration process and soon take off this ride.
Now the registration form is available online, and you can start there.
You have to fill in simple information like your Full name, Mobile number, Email ID, Select state, and Select city.
Further, you will have to authorize Tradebulls to contact you and then click on SUBMIT.
The Tradebulls representative will get in touch with you and have an open conversation, put forth all your queries, and confirm your interest.
Provide your documents like Pan Card, ID Card, Residential Address Proof, photographs, GST Details, and other documents.
Submit the initial deposit with the entity.
You will be guided by the executives of the company throughout.
---
Earning the potential of a Tradebulls Partner / ROI
Tradebulls Business Partners are proffered some high-level earning aspects that can help them flourish in their individual careers.
Their revenue sharing with Tradebulls can range anywhere between 70-90%, which truly is very high in the industry.
As you can see, the revenue is not a fixed percentage; it is a range that can be enhanced to a high percentage with time, depending on the partners' hard work.
Tradebulls partnership is a good earning opportunity for any starter or experienced individual. They are brought the best setup and management offers. They get research support and complete support from a dedicated relationship manager.
---
Tradebulls Franchise Referral Program
Tradebulls Securities has not designed a Refer and Earn program yet. In the refer and earn program, the customers who refer Tradebulls to their friends and family would get rewards. This reward can be in the form of a cash prize, gift vouchers, free trades, or another form.
Refer and Earn accelerates the participation of customers on trading platforms. They feel more appreciated.
---
Brokerage Charges were levied on the clients of Tradebulls Partners
Let's find out the brokerage charges charged to the clients of Tradebulls Business Partner:
Equity Intraday charges and Equity Futures charges – 0.02%
Equity Delivery charges – 0.20%
Equity Options – Rs.40 per Lot
Currency Futures and Currency Options charges – Rs.20 per Lot
Commodity Trading – 0.15% / Rs 50 per lot
Tradebulls Securities brokerage charges are competitive and offer low rates, providing plenty of chances for the customers to earn from the trades.
---
Tradebulls Authorised Person – Products Offered
Under the umbrella of Tradebulls Securities, customers can trade in securities like:
Equity & Derivatives
Commodity Derivatives
Currency Trading
IPO
Mutual Fund
Further offerings of Tradebulls Securities are:
News
Economic Calendar
Portfolio Optimizer
Investmentz Bucket
Margin Calculator
There are so many other benefits that you get access to with Tradebulls Securities.
---
Tradebulls Franchise Conclusion
Tradebulls Securities offers its customers to deal in a wide range of securities, including equities, currency, commodities, etc. Tradebulls was set up in 2009, and in all these years, have accomplished high growth in varied dimensions.
They offer a wide range of products and services. The platforms brought by the entity are highly efficient and useful.
For partners, the company has developed some exciting features which attract more and more new applicants to the stock broking house.
The registration process of the company is easy and convenient for the candidates. There are ample opportunities for the partners to Earn and establish a successful career.
---
Tradebulls Sub Broker or Partner Program FAQs
Here is the list of FAQs related to the Tradebulls Partner:
What is the Tradebulls securities sub-broker program?
You can join the Tradebulls team as a sub-broker very effortless. The eligibility criteria are very basic. You can register online, and the process does not even take too long to be completed.
In how many days is registration completed?
Once you have registered online for the Tradebulls Sub-Broker program, the entire will take about 20-30 days to be completed successfully. This will include your document verification, initial deposit submission, partner account opening, etc.
What are the products and services of Tradebulls?
The products of Tradebulls are:
Target, Portfolio Optimizer, Investmentz Bucket, and DIY Screen.
Services of Tradebulls are:
Equity & Derivatives Trading, Commodity Trading, Currency Trading, IPO, Mutual Fund, and Trading Online.
Does Tradebulls provide any knowledge platform or facility?
Yes, Tradebulls does not just offer extensive trading opportunities but also extends its services to enrich your knowledge about the stock market basic from their knowledge hub section. Here, you are offered aspects like:
Learn Basic of Capital market
Stock Market Modules
Share Market Basics
IPO Basics
Trading Account Basics
Basics of Intraday Trading
Online Share Trading Basics
Mutual Fund
Commodities
Currency Trading
Derivatives Trading
What are the research features of Tradebulls Securities?
Research Facilities provided by Tradebulls Securities are the following:
Daily Research Report
Daily Call Evaluation
Weekly Research Report
What are the benefits for Tradebulls partners?
Let's enlist the benefits for partners of Tradebulls:
Complete Business Development and Marketing Support
Quick Documentation and processing
Relationship Manager
Robust Back-office support
High growth potential
What is the revenue sharing of Tradebulls with its Partners?
Tradebulls offer an attractive and impressive revenue-sharing model for the partners. With Tradebulls, they can retain up to 70%-90% of the revenue generated through their connections.
---
Become a Sub Broker with Tradebulls – Just Fill up the form
---
Find detailed review of other Sub Broker Franchise