Sushil Finance Sub Broker Pragram is one of the most renowned franchise broking in the country. Lets have a comprehensive Sushil Finance Franchise Review.
In this reivew we will discuss on various aspects like Sushil Finance Sub Broker Offers, Sushil Finance Franchise Revenue Sharing Models & other important features of Sushil Finance Partner Program.
Summary
Top Business Model
Sub Broker
Revenue Sharing
60% – 75%
Security Deposit
Rs.50,000 Onwards
Become Sub Broker in
35 Days
Receive Payout in
30 Days
Founder
Satish Kumar Arya
Established Year
1995
The Sushil Finance has been into broking business since late 80s. However, it started the business partnership and association programmes in 2009 only. Within a span of 9 years, it has set up more than 600+ associations in more than 200 cities.
One of the many highlights of this broking company is that it offers multiple models of business association. It appreciates that every individual will have a different risk appetite and functional bandwidth and hence rolled out 4 different model.
---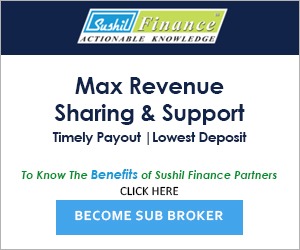 ---
Sushil Finance Franchise Customer Ratings
Sushil Finance Franchise
Experience
3.50
Services
3.20
Products
3.00
Trading Platforms
2.50
Support
2.70
Revenue Sharing Model
3.50
Security Deposit
3.20
Offers
2.00
Market Share
2.00
Overall
2.84
---
Compare Sub Broker Franchise
vs
---
Type of Sushil Finance Franchise
Centre partner
Resident partner
Managing Partner
Introducing partner
---
Become a Sub Broker with Sushil Finance – Just Fill up the form
---
Sushil Finance Center partner
This business model refers to a typical sub-brokership model. The candidate is expected to have sufficient enough experience to handle the front office and the operations appropriately.
Sushil Finance Resident partner
The resident partner model is suitable for those who want to be a sub-broker but do not have enough funds to set up office or are not ready to take that risk/efforts.
In this model, the candidate can reside or be physical present in the office of Sushil Finance and under the trade activities from their trading terminal.
Sushil Finance Managing partner
This model is a modified version of the first model. Herein the role played by the sub-broker is limited to the level of taking trade order from clients and communicating the same to main brokers.
Thus, a managing partner does not himself undertake trade activities for Sushil Finance. Though all other activities like – pitching clients, making client base, assisting clients in understanding the business and then taking their trade orders, would fall under the scope of managing partner only.
Sushil Finance Introducing partner
As evident from the name, this model requires the candidate to merely identify the potential clients and then help the company in converting such leads into clients. Thus, their scope would include identifying the opportunities, pitch for them and then take efforts to convert these.
---
Sushil Finance Sub Broker Commission or Revenue Sharing Model

Considering that each of the model has different scope of work, it is obvious that the revenue ratio would also differ for each such business model. This is based on the principle that larger the scope, more the functionality and then higher returns to reward the extra efforts taken.
For a centre partner, the ratio ranges from 60-% to 75% depending upon various relevant factors like the existing client base, the projected trade volume etc.
For a resident partner, the ratio range is lesser vis-à-vis the centre partner as the latter has an additional element of maintaining front office and supervising those operations. The ratio may range from 20% to 35%.
The next business model i.e. managing partner would fetch even a further reduced ratio as his functions are restricted to collection of trade order. The managing partner does not undertake the trade activities but does all other functions as that of centre partner. The return in this case ranges from 20% to 40% depending upon various relevant parameters.
The other model i.e. introducing partner has even lesser functions to be performed and accordingly the revenue ratio also dips down in this case. The ratio may range from 10% to 25% depending upon the potential customers identified and the conversion of such opportunities.
Needless to say, all these ratios are dependent on multiple factors and are also negotiable.
---
Check out Revenue Sharing of other Sub Brokers
---
Sushil Finance Franchise Cost or Security Deposit Amount
The investment amount for the first model i.e. centre partner is the highest amongst all other models as this model encompasses the most functions and has lesser control of the main broker.
To cover this risk of lesser control, the security deposit amount is higher. Though, it is in line with what other major market players charge. The investment amount herein is Rs.50,000 onwards which is a refundable security deposit.
Apart from the deposit, the broker also mandates maintaining a decent office infrastructure with certain sets of workstation units and internet connectivity.
For the other two model i.e. Resident Partner & Managing Partner, there is a deposit requirement of INR 50,000. This deposit is a refundable deposit and upon termination of the arrangement the same is refunded back to the sub-broker.
Since the resident partner is seated in the office of the main-broker, it need not maintain any specific office infrastructure and space.
Lastly, for the introduction partner, there is no requirement of any deposit or investment.
---
Here are Security Deposit info of other Stock Broking Franchise
---
Sushil Finance Sub Broker Offers
Sushil Finance has been launching a lot innovative offers to widen its network and make the existing one strong. Some of these offers are:
Assistance in setting up the infra
Financial assistance in specific cases
Break even period
Offers on brokerage
Reduced deposits
Payment of deposits in instalments
Flexibility brokerage plans
---
Check out other companies Sub Broker Offers
---
How to become Sub Broker of Sushil Finance?
The procedure for enrolling herein is very simple. The same has been explained in the following steps. Though the steps appear to be very high in number, these are not much tedious ones. Let us have a look:
1st Step – Fill up the lead form available on this website
2nd Step – Our representative will analyse your details and connect with you to verify the details and confirm your interest.
3rd Step – Our representative will connect with the sales executive of Sushil Finance and brief them about your interest. The sales executive will then connect with you and verify the same
4th Step – Sales executive will arrange for a meeting with you to discuss in length the models available, the terms and conditions, the negotiations etc.
5th Step – Submission of the documents and proof of investment/deposit
6th Step – Verification of documents by the main-broker
7th Step – Account Activation
This may take up 7-10 working days depending upon the completion of each event.
Documents Required for Sushil Finance sub broker registration –
Identity Proof
Proof of address
Proof of date of birth
Academic certificates
Proof of registration with the relevant stock exchnages
Cancelled cheque or Bank statement
Passport size photos
PAN Card
---
Why Partner with Sushil Finance?
The pros of associating with Sushil Finance are listed below:
A growing organization and hence more exposure
Provides financial support as well as commercial support
Large clientele
Large product profile
Varied models to choose from
---
Support provided by Sushil Finance Partner Program
Financial support
Assistance in obtaining registration from the stock exchnages
Training on how to market the product
Assistance in acquiring clients
Assistance in maintaining client relations
Allows a break even period
Access to research and advisory team
Sharing the research reports
Sharing tips to be forwarded to clients
---
Become a Sub Broker with Sushil Finance – Just Fill up the form
---
Find detailed review of other Sub Broker Franchise
---
List of Top Sushil Finance Partners/ Business Partners
| | | | |
| --- | --- | --- | --- |
| Company List | Remisiers Name | Trade Name | Remisiers Registration No. |
| Sushil Finance | Dineshbhai Chhaganbhai Ahir | Dineshbhai Chhaganbhai Ahir | — |
| Sushil Finance | Jinesh Anantrai Turakhia | Jinesh Anantrai Turakhia | R/0636/35229/05/02/2010 |
| Sushil Finance | Jyoti Keswani | Jyoti Keswani | R/0636/01566/12/01/2004 |
| Sushil Finance | Mr. Albert R. Panakkal | A. Panakkal | R/0636/04396/30/11/2004 |
| Sushil Finance | Techstream | Techstream | R/0636/22663/02/07/2008 |