Choice Broking Sub Broker Program has been one of the later entrants in the market. It has been at the top of the list of SME market makers. They have concentrated on such an area and have reaped quite benefits from it. It has varied service portfolios like wealth management, investment advisor, portfolio management, raising funds, etc.
Choice Broking is well known in the sub-broker business for its transparent way of doing business. They ensure that all the details are made clear to the sub broker before entering into the agreement.
They do not have any hidden charges or deposits. It is also known to be vividly supportive towards its sub-brokers and encourager of a small business entrepreneurs.
Summary
Top Business Model
Sub Broker
Revenue Sharing
50% – 80%
Security Deposit
 Rs.15,000 to Rs.25,000
Become Sub Broker in
40 Days
Receive Payout in
20 Days
Founder
Kamal Poddar
Established Year
2010
---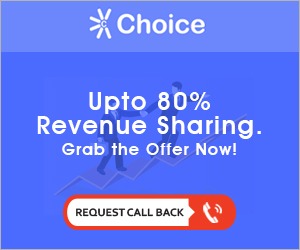 ---
Choice Broking Franchise Customer Ratings
Choice Broking Franchise
Criteria
Ratings
Experience
2.5/5
Services
2.3/5
Products
2.2/5
Trading Platforms
2.6/5
Support
2.4/5
Revenue Sharing Model
2.6/5
Security Deposit
2.2/5
Offers
2.4/5
Market Share
2.4/5
Overall
2.4/5
---
Compare Sub Broker Franchise
vs
---
Types of Choice Broking Sub Broker/ Authorized Person

Choice Broking, similar to its name, provides choices to the potential partners to choose to become a full-fledged sub broker with their own client base or to be a referrer i.e. a remisier and earn by referring customers to Choice Broking.
Choice Broking is another successful financial services company that has built a plethora of products and services to offer to its customers. They deal in Equity Broking, Wealth Management, Insurance, loans, etc.
And expand its operations all over the country, the company started its sub-broker program where new, thrilled, and talented individuals can establish a good career.
Under the Choice Broking partner program, currently, there is only one type of sub-broker plan out of which the interested parties can extract maximum benefits. Following are some of the highly beneficial features of the Choice Broking Sub-broker Program.
Comprehensive business initiative opportunity
Highest Revenue Sharing
Lifetime income source
Marketing & Sales Support
Complete training and assistance
The two models are widely prevalent business models in this industry.
Models offered:
Sub broker – build up own client base and trade on their behalf
Remisier – Refer and earn
---
Become a Choice Broking Authorized Person – Just Fill up the form
---
Choice Broking Sub broker or Choice Broking Authorised person
Choice Broking sub-broker is the most opted model among the two models offered. Under this model, the partner will have to set up his or her own office and build up own customer base.
The sub broker gets to leverage the brand and the trading tool and registrations obtained by Choice Broking. The revenue in this model ranges from 50% to 80% and may also hike up to 90%.
Choice Broking Remisier
This model is mostly accepted by people as an extra source of income. People with large network circles generally opt for such models. The register need not be set up in any office etc.
The register can work remotely – his profile requires him to merely connect a potential trader with the Choice Broking firm and then all the functions are taken over by Choice Broking.
For this referring function, the remisier earns a commission to the tune of 15% to 30% depending upon the revenue generated from clients referred.
---
Choice Broking Franchise Commission or Revenue Sharing Model
Choice Broking Franchise Program has a competitive revenue-sharing ratio. The ratios generally acceptable in the broking industry are reflected appropriately in their remuneration. The sub-broker gets to retain brokerage revenue of 50% to 80%.
In cases where the deposit amount is high or the revenue generated is substantial, the sub-broker can bargain and negotiate on such a ratio and can earn himself a higher ratio of 85% to 90% as well.
There are other factors also involved like the credit period that the customers are given, the margin money utilized, the credibility of sub broker, etc.
For a remisier, the revenue ratio ranges from 15% to 30%. 30% is the maximum revenue sharing ratio in the case of a remisier. The remisier earns a limited portion as the role of remisier is also very limited. Its role ends with the introduction of two parties.
The ratio in this case is dependent on parameters like brokerage revenue that your referee gets, the activeness in trading of such referee, etc.
| | | |
| --- | --- | --- |
| Business model | Choice Broking Commission | Sub Broker Commission |
| Sub broker/ Authorised partner | 20% – 50% | 50% – 80% |
| Remisier | 70%- 85% | 15% – 30% |
---
Check out Revenue Sharing of other Sub Brokers
---
Choice Broking Franchise Cost or Security Deposit Amount
Choice Broking sub-broker has to pay a security deposit ranging from INR 50,000 to INR 2 lacs. This deposit may vary from person to person depending upon the risk that such sub-broker carries with its client base.
The deposit amount is refundable in nature and is refunded at the end of the tenure of the agreement. This is useful for the broking company to cover up any defaults that the sub broker might commit. The choice of broking sub broker is also required to make infrastructure investments.
In the case of a remisier, the security deposit amount ranges from INR 15,000 to INR 30,000. The remisier need not make any investment in infrastructure.
| | |
| --- | --- |
| Business model | Chioice Broking Deposit required |
| Sub broker/ Authorised person | Rs. 50,000 onwards |
| Remisier | Rs. 15,000 to Rs. 25,000 |
---
Here are Security Deposit info of other Stock Broking Franchise
---
Choice Broking Authorized Person or Sub Broker Offer
Choice Broking has the following offers for its sub-broker program:
Flexible revenue sharing ratio
Waiving registration fee
Free advisory calls for a month
Increased margin money
Less infrastructure investment requirements
---
How to become Choice Broking Sub Broker?
Fill in the form available here with the correct details
Our representative will call you to check the correctness of the details and to confirm your interest
A representative from Choice Broking Franchise will call you to set up a meeting
Discuss the proposal with Choice Broking Authorised Person Team. Understand all terms and conditions, and negotiate if required.
Submit your documents to Choice Broking Team for verification and record purposes. Also, provide the cheque/DD for the deposit and registration fee
Choice Broking will verify the documents and proceed to finalize the agreement
Execute the agreement and thereafter Choice Broking will generate a business code for you and also undertake registration with the stock exchange.
The procedure gets completed in almost 6-10 days.
Documents Required for Choice Broking Partner Registration
Self-attested copy of PAN card
Self-attested copy of Aadhar Card
5 passport size photographs
Self attested copy of DOB proof
Self-attested copy of passing certificates
Copy of registration with the stock exchange
Receipt of deposit made
---
Check out other companies Sub Broker Offers
---
Why Partner with Choice Broking?
Time-bound sharing
Zero account opening charge
Centralized back office
Online & mobile trading platform
Quick account opening
---
Support provided by Choice Broking Partner Program
Provides business development support
Provides a marketing support system
No minimum requirement for office space
Training to get onboarded
Provides management consulting services
---
Infrastructure Investment by Choice Broking Sub Brokers / Authorized Person
Over 24000 franchisees of choice broking are operating in various states and cities of India. They are offering a variety of services to their customers and keeping the flag of reputation high for the entity.
Choice Broking Sub-brokers execute their operations from a suitable office that is equipped with the necessary facilities.
Any partner is required to set up their office space in a decent location, and the office should have basic infrastructures like carpet floor, table chairs, and electricity. Further, for operations, they will need computer systems, internet connection, telephone connection, etc.
---
Choice Broking Franchise Eligibility Criteria
To ensure the quality of the entity is not shaken even a bit, Choice Broking has set up some eligibility parameters for the candidates keen to become a Choice Broking Partner.
On showing your interest in becoming a sub-broker, the stock broking house will illustrate to you all these requirements. Let's take a look at these parameters:
To start as a Choice Broking Franchise, the individual must have attained the age of 18 years or above; then, only you can start.
Another condition is nationality; the candidate is required to be an Indian citizen to start this business.
The candidate shall have completed the basic education required to act as a sub-broker and cater to the customers.
Prior experience in the financial market or sector will be a rewarding compliment to your abilities.
---
Choice Broking Franchise – Pros & Cons
Choice Broking has been in business for decades now and does not live in dark shadows. The entity's operations and success is known to all. But now is the time to see if it fits well in the role of a Franchisor or not. Some of the highly valued and boasted perks and conflicting drawbacks have been presented below for your convenience.
Pros
Easy onboarding process
Highest Revenue Sharing
Training and assistance
Marketing support
Back-office support
Cons
The Required initial investment is high
Only one form of the sub-broker program is available.
---
Choice Broking Franchise Registration
The next thing to know after making up your mind to become a Choice Broking Sub-broker is how to start. Where to make the registration, from whom to ask your queries, and who will guide you, so, let's answer all these questions:
The journey of this adventure starts where this dream first came into your sight, which in most cases is the Choice Broking Website. Register from the website.
On the website, go to the partners' page and fill in your details in the lead form – BECOME A SUB BROKER. Here, you have to give basic information like Name, Mobile number, Email, and Search Nearest City Branch.
Once you have filled in the field, click on SEND OTP.
Now you just have to wait. The Choice Broking representative will call you. Confirm your interest and clear your dilemma.
Now, the executive will take you through the process of becoming a Choice Broking Franchise.
In an in-person meeting with the executive, you will be asked to provide the necessary documents and security deposit.
After submission, the company will process the documents and verify the same.
Once it is verified, your account will be opened, and you can start your operations. 
---
Earning the potential of a Choice Broking Partner / ROI
One of the most important reasons why one would start any business is earnings.
By associating with Choice Broking Business Partner Program, the entity will share the revenue generated from the clients you added with the firm. This revenue is repetitive and will be shared with you every time your client trade through the trading platforms of Choice Broking.
The revenue sharing proportions of this company range between 50%-80%, where one portion goes to the sub-broker, and the other remains with Choice Broking.
As you see, the revenue sharing percentage is flexible, and it is increased according to your potential and the quality of your clients. With growth, you can go up to 90% of the revenue.
---
Choice Broking Franchise Referral Program
Now, let's talk about a buzzing topic that excites even the end customers while trading with Choice Broking. It is the REFER AND EARN. Here, the clients of Choice Broking Partner can earn by referring to new clients.
All they have to do is share their unique link from where the referred person can open their account with Choice Broking.
When the account is opened, and the referred individual place their trade, you will get up to Rs. 100 as a reward, and the referred client too will get up to Rs. 100.
---
Brokerage Charges were levied on the clients of Choice Broking Partners
Choice Broking Partner clients are required to pay the following sum as the brokerage charges:
The Minimum Brokerage is on a transaction basis
For Equity Delivery, Commodity Options, Equity Intraday, Equity Futures, and Currency Futures Currency Options, Choice Broking charges 0.03% brokerage.
For Equity Options, Rs. 20 per lot is levied on trading.
---
The Choice Broking Authorised Person – Products Offered
Choice Broking Authorized Partners are given a variety of products and services to offer to their customers. They can trade in these products and earn a good income for themselves:
The name of the products are as follows –
Equity
IPO
Futures
Options
Commodity
Mutual Funds
Bonds and FDs
---
Choice Broking Franchise Conclusion
Choice Broking Franchise is a set of opportunities that will bring prosperity to you and offer you unexpected possibilities. The company was established in 1992 and is still intact in its foundation.
You can offer many types of products to the customers to keep them attracted. You get to earn a very high share of revenue with the entity.
The assistance provided by Choice broking for their sub-brokers is also extensive. Initial training through webinars and conferences, sales & marketing support, dedicated platforms, WhatsApp & Telegram Channels, and so much more.
---
Choice Broking Sub Broker or Partner Program FAQs
Following are the FAQs related to Choice Broking Franchises:
What is the per-account incentive of the Choice Broking Franchise?
The sub-broker can earn up to Rs. 1100 per account as an incentive.
What are the support provisions for Choice Broking Sub-brokers?
Choice Broking partners are given support from their setting up to their regular operations in the following way:
Local Relationship Manager Assistance
Advanced Software to Manage Business
Marketing & Sales Support
Dedicated WhatsApp & Telegram Channels
Training through Webinars & Conferences
Cutting-edge Trading Platforms (App & Web)
What are the qualities of the Choice Broking Authorized Person Program?
Some of the best features of a Choice Broking Franchise are:
Transparent & Growth-oriented Business Model
Local Relationship Manager Assistance
Sales & Marketing Support
Whatsapp & Telegram Channels
What are the products of Choice Broking?
The following products are provided by Choice Broking for their customers to trade and invest in:
Equity
Commodity & Currency Broking
Mutual Fund Distribution
Insurance
Retail Loans
How many Choice Broking Franchises are there currently?
Presently, more than 24,000 franchises are connected with the Choice Broking Sub-broker program.
Is the registration for Choice Broking Franchise available online?
Yes, anyone who is interested in opening their franchise with Choice Broking can visit the website and register by following very simple steps.
What is the referral program incentive for the customers?
On referring to a new client, the referrer will receive a sum of up to Rs. 100 once the account has been opened by the referee and one trade has been completed.
When was Choice Broking incorporated?
In 1992, the cornerstone of Choice Broking was set, and it started its operations. Since then, the company has attained success in many dimensions.
What is the revenue sharing of Choice Broking Sub-Broker?
As a Choice Broking Sub-Broker, you can earn up to 50-80% of the revenue generated through your clients. This revenue sharing is flexible, and it can even go up to 90%.
Does Choice Broking provide training to the partners?
Yes, Choice Broking Sub-broker is offered initial training through webinars and conferences. They are supported entirely by the company to ensure smooth functioning.
---
Start your business with Choice Broking Sub Broker – Just Fill up the form
---
Find detailed review of other Sub Broker Franchise