Bonanza Portfolio Sub Broker Program is doing good in the market with about 500 odd broking franchises. Let's get into a detailed review of the Bonanza Portfolio Franchise along with its deep understanding of its Revenue Sharing Models, Authorised Person offers business partner cost & more.
Bonanza Portfolio Ltd has lived up to its name in the true sense and has become a Financial Powerhouse. Since its inception in 1994, it has had a sprint-racing journey and has expanded with tremendous speed. Today, it is the fastest-growing financial services provider with 5 mega group companies under its umbrella.
Summary
Top Business Model
Sub Broker
Revenue Sharing
65% – 80%
Security Deposit
Rs.75,000 – Rs.200,000
Become Sub Broker in
20-30 Days
Receive Payout in
1 month
Founder
Shiv Kumar Goel
Established Year
1994
Backed by a strong & experienced leadership team and constant effort to excel, Bonanza has grown its arms all across the country with more than 1784 outlets in over 560 cities.
Living up to the customers' expectations, Bonanza offers a buffet of Financial Services in its platter ranging from Equity Stock broking to Advisory Services, Mutual Funds, Insurance as well as multiple Depository services.
Bonanza believes in the power of Technology and hence it offers an integrated platform where customers can trade online as well as offline.
The Broking house has collaborated with nearly all the Stock Exchanges of the country namely NSE, BSE, NSDL, MCX ICEX , CDSL and NCDEX.
---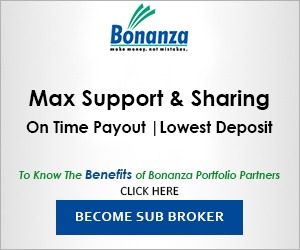 ---
Bonanza Portfolio Sub Broker Customer Ratings:
Bonanza Portfolio Franchise
Experience
2.90
Services
2.80
Products
2.90
Trading Platforms
3.00
Support
3.10
Revenue Sharing Model
2.80
Security Deposit
3.10
Offers
3.00
Market Share
2.20
Overall
2.87
---
Compare Sub Broker Franchise
vs
---
Types of Bonanza Sub Broker Business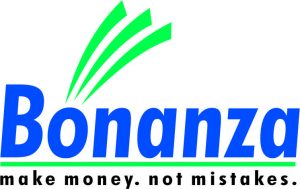 With Bonanza, you can have a very flexible and tailor-made partnering Business Model. You can work as a Business Associate or a Franchise or Sub Broking Partner as per your business and growth requirements.
In each of the models, the Bonanza Portfolio team will support you completely till the time you understand the business and run it on your own.
---
Become a Sub Broker with Bonanza Portfolio – Just fill up the form
---
Bonanza Portfolio Sub Broker or Bonanza Portfolio Franchise
Bonanza Portfolio Franchise Program started in the year 2006 & the broking house has expanded to around 500 franchise outlets across the country. The Bonanza Portfolio Sub Brokership provides a lot of flexibility to the owner of the franchise. The company is not providing multiple models but they customize based on requirements.
If a client has a requirement for a Franchise, then he gets a customized plan for the franchise, if the client has a requirement for remisier then the same can be customized as well. Based on the past experience of the client they provide revenue-sharing models & not on the security deposit requirement.
The broking house generally looks for clients having good experience in the Stock market industry. Clients with no experience in this stock market are asked to 1st understand the market via Trading for a year & then start a franchise or Remisier.
---
Bonanza Portfolio Sub Broker Commission or Revenue Sharing Model
Bonanza offers a dual-earning opportunity to its partners. You get paid a commission for each New Account opened and also a share of the brokerage revenue generated when the client trades.
So every time a new customer enrolls through you, you get the commission for Account Opening, and simultaneously, whenever he trades, you get a share of the earned brokerage. You can earn in the range of 20%-70% of the revenue generated with Bonanza Portfolio. The range is very high because you can opt for any type of model like a franchise model or remisier model.
| | | |
| --- | --- | --- |
| Business model | Bonanza Portfolio Commission | Sub Broker Commission |
| Sub broker/ Business Partner | 30% – 80% | 70% – 20% |
---
Check out Revenue Sharing of other Sub Brokers
---
Bonanza Portfolio Franchise cost or Security Deposit
Unlike most other Financial Services companies, Bonanza Portfolio Ltd will not ask you to deposit a Security amount to safeguard its investments and strategies. Instead, they will check your credentials thoroughly and your intention to get into the business will be gauged before signing off on a deal.
One of the prerequisites to tie up with Bonanza Portfolio Sub Broker is to have an existing DSA setup of other financial services and products. This means that you need to have an office space and a team of people working for you who could sell your products and grow your business.
| | |
| --- | --- |
| Business model | Bonanza Portfolio Deposit required |
| Sub broker/ Business Partner | NIL |
---
Here are Security Deposit info of other Stock Broking Franchise
---
Bonanza Portfolio Sub Broker Offers
Bonanza Portfolio's motto is "Together we grow, together we achieve". Hence this company would leave no stone unturned to ensure you turn around to be successful in your business; only then they would be profitable. Bonanza Portfolio Authorised Person has multiple service offerings for its partners, however big or small they are:
The biggest advantage of the Bonanza Portfolio Franchise is that it is a reputed and Award winning brand, known by all. Bonanza is a well-known player in the retail broking sector.
An array of products and services to sell:

Equity & Derivatives
Wealth Management
Commodity
investment Banking
Portfolio Management Services
E-Broking
Depository Services
Loans
Real Estate
Healthcare
Mutual Funds and IPO

A dedicated back-end Operations team is available for support 24*7
Strong market research team that gives you insights into the market and speculations. You don't need to worry, the experienced team of researchers will cull out valuable information time and again and give you tips to trade effectively
Bonanza arranges regular Training and Seminars for its Business Partners to groom them.
Bonanza also has an exclusive HNI and NRI Desk which is available for completion in case of sensitive client handling
High-end World class technology support has also devised the platform to trade online as well as offline
---
Check out other companies Sub Broker Offers
---
How to become a Bonanza Portfolio Sub Broker?
If you are already running a financial services business with a team of people and have a flair to sell. If you have the niche to add more to your kitty and expand your horizon. Then Bonanza offers you the relevant platform to grow and Sky is the limit with Bonanza.
The company follows a motto – you grow, we grow. As partners, you can leverage Bonanza's expertise and efficiency and scale up to an unimaginable level. All you need to do is Signup an online form below and send in your details as to why you would want to be a partner.
Someone from the team Bonanza will contact you and understand further details, post which further documentation will be done if selected. An interview or interaction may also be conducted with the Marketing team to check more about your reason and requirements for tying up with Bonanza.
Documents required for Bonanza Portfolio Sub broker Registration:
General documents are required for registering yourself as a Sub Broker or Partner with Bonanza:
Passport size photographs (4-5)
One ID proof which could be either your Adhaar Card or Pan Card, Passport, or Driving License as well
Age proof- you can submit either a PAN card or passport for this.
Address proof like Passport, Driving License, Adhaar Card, any utility bill of the house, etc.
You need to also show your business-related documents as proof of Infrastructure
A canceled cheque for bank details
Registration certificate of SEBI / Stock Exchange.
---
Why Partner with Bonanza Portfolio?
Bonanza Portfolio offers personalized and tailor-made services to its customers
This company is ranked as one of the top 5 Stock Broking houses in India
The business expands upto 1784 outlets in over 560 cities, thus giving our partners a very approachable access
Bonanza has been Awarded as 'Major Volume Driver' by BSE for several years in 2004-05, 2006-07 & then again in 2007-08
And a lot of other benefits are being provided by Bonanza Portfolio, so join and grow.
---
Start your business with Bonanza Portfolio Sub Broker – Just Fill up the form
---
Find detailed review of other Sub Broker Franchise
---
List of Top Bonanza Portfolio Partners/ Business Partners
| | | | |
| --- | --- | --- | --- |
| Company List | Remisiers Name | Trade Name | Remisiers Registration No. |
| Bonanza Portfolio | M/s. Rajendra Investments | Rajendra Investments | R/0235/01054/04/11/2003 |
| Bonanza Portfolio | Lokesh Goyal | Lokesh Goyal | R/0235/02731/13/05/2004 |
| Bonanza Portfolio | Chetan Ravilal Shah | Chetan Ravilal Shah | R/0235/02732/13/05/2004 |
| Bonanza Portfolio | Jatin Chunilal Shah | Jatin Chunilal Shah | R/0235/02733/13/05/2004 |
| Bonanza Portfolio | M/s. Bihani Associates & Fin. Con. (Pfirm) | Bihani Associates & Fin. Con. (Pfirm | R/0235/03282/15/07/2004 |
| Bonanza Portfolio | M/s. B. I Securities (Pfirm) | B. I Securities (Pfirm) | R/0235/03583/28/08/2004 |
| Bonanza Portfolio | M/s.Gee Capital Services (P. Firm) | Gee Capital Services (P. Firm) | R/0235/05585/31/03/2005 |