Narnolia sub broker program is a popular and a competitive broking franchise program. It has gained popularity over a period of recent years. The program gets its boost from the trust and the strong advisory services that this company provides.
Summary
Top Business Model
Sub Broker
Revenue Sharing
75% – 85%
Security Deposit
Rs.15,000 to Rs.25,000
Become Sub Broker in
31 Days
Receive Payout in
30 Days
Founder
Mr. Krishna N Narnolia
Established Year
1993
Lets have a detailed review of Narnolia Franchise along with in-depth understanding of Narnolia Authorized Person Commission Sharing Model, Narnolia Sub Broker Security Deposit & more.
Narnolia has been into the broking business since last decades almost. It is quite well known for its services in relation to fund management, portfolio management, investment advisory etc. The company was set up by Mr. Krishna N Narnolia and has achieved multiple milestones since then.
---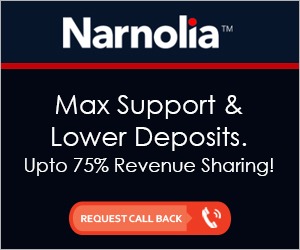 ---
Narnolia Franchise Customer Ratings
Narnolia Franchise
Criteria
Ratings
Experience
2.5/5
Services
2.6/5
Products
2.4/5
Trading Platforms
2.6/5
Support
2.7/5
Revenue Sharing Model
2.3/5
Security Deposit
2.4/5
Offers
2.7/5
Market Share
2.5/5
Overall
2.5/5
---
Compare Sub Broker Franchise
vs
---
Types of Narnolia Sub Broker/ Authorized Person

Narnolia has two types of business partnerships available.
The two models are most popular ones and have been kept in line with that which the industry follows in general.
The two business partnership models are:
Business partner – this refers to the basic sub broker or authorized person model
Preferred partner – this refers to the remisier model
---
Become a Narnolia Authorized Person – Just Fill up the form
---
Narnolia Sub broker or Narnolia Authorised person
As mentioned above, this is a simple sub broker or franchise model. Narnolia has a very subjective way of deciding the revenue sharing ratio and is based on number of factors including the bargaining power of the sub broker. The ratio varies from 50% to 70%. The factors that affect this ratio are deposits made, revenue generated etc.
The deposit generally ranges from Rs. 1 lac to 2 lacs. This may vary depending upon the credibility of AP, the revenue projected and the also on the segments in which the authorized person deals.
---
Narnolia Remisier
Herein, one being a customer of Narnolia simply needs to continue adding more clients to Narnolia. This helps the company as well as the customer to reap benefits and build up trust over each other. Under this model, the deposit is not high and may be limited to Rs. 20,000 to Rs. 50,0000. Further, the revenue sharing ratio is also limited to 15% to 25%.
---
Narnolia Authorised Person or Sub Broker Commission or Revenue Sharing Model
For an authorized person or sub broker model, Narnolia shares the revenue at the rate of 50% to 80%. This ratio is not fixed and will vary upon how much revenue is generated and also the quality and consistency of revenue.
The revenue ratio can also vary over time to time – the authorized person can request for a revision in ratio over a period of time. Considering the ratio range above, the same seems to be as per the industry benchmark however an exceptional performer can request for a higher ratio than this.
For a remisier model, the revenue sharing ratio ranges from 15% to 25%. This is so because under this model, the remisier playes a very limited role of introducing potential clients and thereafter it is the company who takes efforts to convert the potential client into client and then undertake trading activities for them. This range is also in line with the industry's range.
| | | |
| --- | --- | --- |
| Business model | Narnolia Commission | Sub Broker Commission |
| Sub broker/ Authorised partner | 30% – 50% | 50% – 70% |
| Remisier | 75% – 85% | 15%-25% |
---
Check out Revenue Sharing of other Sub Brokers
---
Narnolia Franchise Cost or Security Deposit Amount
Narnolia, in accordance with industry practices, prescribes certain security deposit for both the models The security deposit amount is required to adjust the defaults if any committed by the partners. Such default is corrected from the security deposit amount paid by the sub broker or remisier.
For a narnolia sub broker the deposit amount starts from Rs. 50,000 and may go up as high as Rs. 2 lacs. this is not the outer limit – as the revenue and the risk expand, the company may ask for additional security deposit. This deposit is refunded to the broker when the agreement is terminated.
Apart from this, the narnolia franchise is required to pay certain registration fee which is around Rs. 2,000 for each of the capital market segments. This is payable to stock exchange and not to the stock broker.
For a remisier, a lesser deposit is required which ranges from Rs. 15,000 to Rs. 25,000. This is also paid back to the remisier when the agreement and the arrangement is terminated. In case the remisier wishes, the same can also be adjusted against the brokerage payable by him.
| | |
| --- | --- |
| Business model | Narnolia Deposit required |
| Sub broker/ Authorised person | Rs. 50,000 onwards |
| Remisier | Rs. 15,000 to Rs. 25,000 |
---
Here are Security Deposit info of other Stock Broking Franchise
---
Narnolia Authorized Person or Sub Broker Offer
Narnolia is currently launched the following offers for its AP or sub brokers:
High revenue sharing ratio
Waiver of part of security deposit
Customized packages for clients
Free advisory calls to the clients of AP or sub brokers
Investment advisory tips
---
Check out other companies Sub Broker Offers
---
How to become Narnolia Sub Broker?
Please provide the details in  the lead form herein on this website.
Await for a call from Our representative. Upon receiving call, confirm your interest and the details provided in form.
Wait for a meeting with Narnolia sales team.
Meet Narnolia sales team and discuss in depth the proposal in terms of the role, the revenue sharing ratio, deposit amount, support provided etc.
Submit the documents to Narnolia representative to enable them to undertake verification of documents. Also ensure that deposit amount and registration fee are paid to Narnolia and to stock exchange.
Wait for Narnolia team to confirm on the documents.
Once verifying documents, Narnolia will draft and agreement. This agreement is to be signed by both parties.
Narnolia will then undertake the process of registering you with stock exchange as an AP (if not already done by you).
The procedure gets completed in almost 7-10 days.
Documents Required for Narnolia Partner Registration
PAN card Copy
Copy of Aadhar card
DOB proof Copy
Copy of academic certificates
Cancelled blank cheque
Passport size photograph
Proof of sufficient infrastructure and office space to operate
---
Why Partner with Narnolia?
Narnolia is very transparent with its charging and hence there will be no hidden costs etc.
Stock broker has a very strong advisory team
The Broking house very strong presence in eastern part of India
Narnolia encourages the small business and hence is partner
It has a very good employee base and renowned professionals are on board with it
---
Support provided by Narnolia Partner Program
Business set up support
Marketing support
High advanced tools
Training support to staff
Workshop for AP customer
---
Start your business with Narnolia Sub Broker – Just Fill up the form
---
Find detailed review of other Sub Broker Franchise
---
List of Top Narnolia Partners/ Business Partners
| | | | |
| --- | --- | --- | --- |
| Company List | Remisiers Name | Trade Name | Remisiers Registration No. |
| Narnolia | Aditya Khemka | Aditya Khemka | R/3051/36090/30/03/2010 |
| Narnolia | Ajay Kumar Singhi | Ajay Kumar Singhi | R/3051/25760/05/12/2008 |
| Narnolia | BiplabDas | Biplab Das | R/3051/27539/10/02/2009 |
| Narnolia | Biswajit Kumar Dey | Biswajit Kumar Dey | R/3051/36798/06/05/2010 |
| Narnolia | Biswanath Ghosh | Biswanath Ghosh | R/3051/22367/18/06/2008 |
| Narnolia | Brajesh Shrama | Brajesh Shrama | R/3051/26240/18/12/2008 |
| Narnolia | Bris Bhushan Tiwar | Brij Bhushan Tiwari | R/3051/27540/10/02/2009 |
| Narnolia | Chanchal Biswas | Chanchal Biswas | R/3051/20492/05/03/2008 |
| Narnolia | Chandan Kumar Ghosh | Chandan Kumar Ghosh | R/3051/19940/15/02/2008 |
| Narnolia | Chiranjib Majumder | Chiranjib Majumder | R/3051/28872/21/04/2009 |
| Narnolia | Debasish Das | Debasish Das | R/3051/28418/20/03/2009 |
| Narnolia | Debraj Mallick | Debraj Mallick | R/3051/27231/27/01/2009 |
| Narnolia | Deepak Sharma | Deepak Sharma | R/3051/35529/24/02/2010 |
| Narnolia | Dharmendra Kumar Agarwal | Dharmendra Kumar Agarwal | R/3051/26413/26/12/2008 |
| Narnolia | Dinesh Bagaria | Dinesh Bagaria | R/3051/36149/30/03/2010 |
| Narnolia | Dipesh Deb | Dipesh Deb | R/3051/28871/21/04/2009 |
| Narnolia | Dipti Naha | Dipti Naha | R/3051/35791/15/03/2010 |
| Narnolia | Gaurav Chandak | Gaurav Chandak | R/3051/36681/29/04/2010 |
| Narnolia | Ghulam Sarwar Ansari | Ghulam Sarwar Ansari | R/3051/22138/05/06/2008 |
| Narnolia | Gopal Sarawagi | Gopaal Sarawagi | R/3051/24834/15/10/2008 |
| Narnolia | Ritesh Sharma | Ritesh Sharma | R/3051/27208/27/01/2009 |
| Narnolia | Sabyasachi Mukherjee | Sabyasachi Mukherjee | R/3051/27210/27/01/2009 |
| Narnolia | Soma Gope | Soma Gope | R/3051/36871/12/05/2010 |
| Narnolia | Soma Mukherjee Ghosh | Soma Mukherjee Ghosh | R/3051/30380/16/07/2009 |
| Narnolia | Somnath Roy | Somnath Roy | R/3051/28526/26/03/2009 |
| Narnolia | Somnath Sarkar | Somnath Sarkar | R/3051/33325/19/11/2009 |
| Narnolia | Tapas Dutta | Tapas Dutta | R/3051/35790/15/03/2010 |
| Narnolia | Tarak Santra | Tarak Santra | R/3051/36146/30/03/2010 |
| Narnolia | Tarannum Nasir Khan | Tarannum Nasir Khan | R/3051/36397/15/04/2010 |
| Narnolia | Umesh Kedia | Umesh Kedia | R/3051/31117/17/08/2009 |
| Narnolia | Vikas Kumar Agarwal | Vikas Kumar Agarwal | R/3051/29428/29/05/2009 |
| Narnolia | Vishwajit Kumar | Vishwajit Kumar | R/3051/22766/04/07/2008 |