FYERS Sub Broker program is more like a referral program or Remisier program. The Referer just have to refer a client & then he/she ripe the benefit of that referral for lifetime. In this article, we will discuss in detail about the FYERS Franchise, its revenue sharing model, its referral cost & more.
Summary
Top Business Model
Referral Program
Revenue Sharing
20%
Security Deposit
Zero
Become Sub Broker in
30 Days
Receive Payout in
30 Days
Founder
Tejas Khoday, Shreyas Khodey & Yashas Khodey
Established Year
2015
FYERS stands for Focus Your Energy and Reform the Self. And that's the philosophy that this bunch of young passionate entrepreneurs had in mind when they started FYERS.
FYERS was founded by a a group of youngsters who had an expansive experience in Stock market and trading and who knew the tricks of the trade.
However, they could see a lot of latency and setback in the way traditional India trades. Hence, they wanted to innovate and explore better and faster methods of trading, unique experiences and platforms driven.
In Aug 2015 they registered with NSE as a trading member using their in-house technology and in less than a year, in May 2016, they launched a unique in-house trading platform.
Their objective is to empower young India to trade better and wiser. They are also the first ones to launch the Free Investment program with no joining fee or security deposit.
---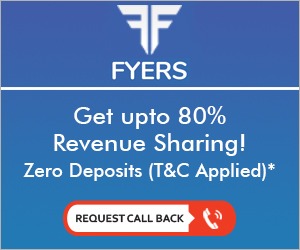 ---
FYERS Sub Broker Customer Ratings
FYERS Franchise
Experience
2.20
Services
2.10
Products
2.30
Trading Platforms
2.20
Support
2.10
Revenue Sharing Model
2.10
Security Deposit
2.20
Offers
2.30
Market Share
2.00
Overall
2.17
---
Compare Sub Broker Franchise
vs
---
Type of FYERS Sub Broker Business Models
FYERS has a very simple sub brokership model which is Fyers Referral Program.
FYERS Referral Program or FYERS Sub Broker
---
Start your business with FYERS Authorised Person – Just Fill up the form
---
FYERS Sub Broker or FYERS Franchise or FYERS Referral Program

With FYERS, you can yourself join as a trader and invite other traders to also actively trade with them. This is called the refer and earn scheme. In FYERS, they follow the Referral model of business for Sub Brokership.
Once you register with them as a Sub Broker, you can then add more and more people to your chain or network and can earn out of what they trade. So even if you don't trade, you still get income generated from their trades. This becomes a lifetime recurring income for the Sub Broker.
---
FYERS Sub Broker Commission or Revenue Sharing Model
There is no such specific and Commission or Revenue model or slab that FYERS has designed for the Sub Brokers. Sky is the limit of your earnings with FYERS. The more clients you will have in your referrals list and the more they trade, the more you will earn.
You earn 20% of the total revenues generated by your referrals for the lifetime. Imagine if you had 100 clients and they were to generate 2 crore of business every month, what is the kind of income that you would be making, just by referring them once.
| | | |
| --- | --- | --- |
| Business model | FYERS Commission | Sub Broker / Referrer Commission |
| Referral Program | 80% | 20% |
---
Check out Revenue Sharing of other Sub Brokers
---
FYERS Franchise Cost or Security Deposit Amount
FYERS is a discount broker and hence, there is no security Deposit or initial deposit amount that one has to pay to register with them. You just need to open up a Trading account with them and get started with the referral program.
| | |
| --- | --- |
| Business model | FYERS Deposit required |
| Sub broker/ Business Partner | Zero |
---
Here are Security Deposit info of other Stock Broking Franchise
---
FYERS Sub Broker Offers
FYERS offers some unique benefits to its traders so that they can trade peacefully without being under pressure and stress. Following are some of the benefits that they bring on the plate for their customers:
The biggest advantage with FYERS is their zero or minimal brokerage charges. They provide a 30 day challenge wherein if the customer wins in that challenge, they get to trade for free. For others as well, they have such schemes, which saves their brokerage up to 95% as compared to other Stock broking houses. For all Equity Delivery Thematic Investments, they offer Zero Brokerage.
Robust Technology based systems and platforms for trading efficiently
They are the custodians of max historical data of the stock broking industry, which means that they could analyze trends and patterns very easily and share insights
A dedicated Customer Support desk, which is there to support the clients as well as the Sub Brokers, incase of any challenges and issues using the system to trade.
---
How to become Sub Broker of FYERS?
If you are interested in earning a recurring income on a monthly basis by increasing your client base, FYERs Securities is the company for you. All you need to have is a sound background and knowledge about the stock broking industry and a strong business acumen to earn.
First you need to open up the Trading Account & the Demat account with FYERS
The next step is to submit all your KYC documents as per the checklist provided by them
Once you provide all your documents along with the account opening form, a FYERS executive will perform an IPV with you through a web camera or in person.
IPV is basically In Person Verification, which is a mandatory activity to be done while opening up a trading account. This mandate was issued in the year 2008 by SEBI. As per SEBI (Stock Exchange Board of India) one can conduct the IPV either in person or through a web camera.
Once the IPV is done, the documents and Account opening form goes for processing, post which your Trading account is opened.
The entire process may take around 4-5 working days.
Documents Required for FYERS Sub- Broker Registration:
These days' basic KYC documents are required for everything from purchasing a Mobile to Opting for a home loan. Similarly, some KYC documents are required to enroll with FYERS Securities as a Sub Broker.
Identity Proof, you could either submit your Adhaar Card or Pan Card or Driving License or Passport
For Age proof, you can submit either your PAN card or Passport
For Address proof, either of these documents can be furnished: Passport, Adhaar Card, Voter's ID, Driving License or any utility bill
Bank details can be furnished through your cancelled cheque
Passport size photographs
---
Check out other companies Sub Broker Offers
---
Why Partner with FYERS?
FYERS, being a growing company, has an advantage of experimenting and exploring new ideas and methods of trading which would lead you to a successful trading experience as well.
The Partnering with them will give you an edge over the others not only as a saving for your pocket, but also to have hassle free transactions through their innovative trading platforms.
By collaborating with FYERS, you can join in their awareness campaign wherein their endeavor is to make the country aware of alternate ways of investment.
You could be the brand ambassador of FYERS propagating trading in stock market not as a risky proposition but as a wise business decision.
There is a need to change the country in the way they think about investing in the Stock Market and you and FYERS together can bring about the change.
---
Start your business with FYERS Sub Broker – Just Fill up the form
---
Find detailed review of other Sub Broker Franchise