FYERS Sub Broker program is more like a referral program or Remisier program. The Referer just have to refer a client & then he/she ripe the benefit of that referral for lifetime.
In this article, we will discuss in detail about the FYERS Franchise, its revenue sharing model, its referral cost & more.
Summary
Top Business Model
Referral Program
Revenue Sharing
30% – 70%
Security Deposit
Zero
Become Sub Broker in
30 Days
Receive Payout in
30 Days
Founder
Tejas Khoday, Shreyas Khodey & Yashas Khodey
Established Year
2015
FYERS stands for Focus Your Energy and Reform the Self. And that's the philosophy that this bunch of young passionate entrepreneurs had in mind when they started FYERS.
FYERS was founded by a a group of youngsters who had an expansive experience in Stock market and trading and who knew the tricks of the trade.
However, they could see a lot of latency and setback in the way traditional India trades. Hence, they wanted to innovate and explore better and faster methods of trading, unique experiences and platforms driven.
In Aug 2015 they registered with NSE as a trading member using their in-house technology and in less than a year, in May 2016, they launched a unique in-house trading platform.
Their objective is to empower young India to trade better and wiser. They are also the first ones to launch the Free Investment program with no joining fee or security deposit.
---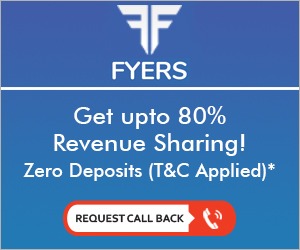 ---
FYERS Sub Broker Customer Ratings
FYERS Franchise
Experience
2.20
Services
2.10
Products
2.30
Trading Platforms
2.20
Support
2.10
Revenue Sharing Model
2.10
Security Deposit
2.20
Offers
2.30
Market Share
2.00
Overall
2.17
---
Compare Sub Broker Franchise
vs
---
Type of FYERS Sub Broker Business Models
FYERS has a very simple sub brokership model which is Fyers Referral Program.
FYERS Referral Program or FYERS Sub Broker
---
Start your business with FYERS Authorised Person – Just Fill up the form
---
FYERS Sub Broker or FYERS Franchise or FYERS Referral Program

With FYERS, you can join as a trader and invite other traders to also actively trade with them. This is called the refer and earn scheme. In FYERS, they follow the Referral model of business for Sub Brokership.
Once you register with them as a Sub Broker, you can then add more and more people to your chain or network and can earn out of what they trade.
So even if you don't trade, you still get income generated from their trades. This becomes a lifetime recurring income for the Sub Broker.
The program is quite straightforward. All you need to do is partner up with FYERS, invite new traders to join the organization and create an entire network of traders. In layman's terms, the entire model is called the refer-and-earn scheme.
The first step is to register as a sub-broker and then continue to add more and more people to the network. This program allows you to earn an income even without getting into trading directly. The program is a perfect solution to have as a recurring income source.
---
FYERS Sub Broker Commission or Revenue Sharing Model
There is no such specific Commission or Revenue model or slab that FYERS has designed for the Sub Brokers. Sky is the limit of your earnings with FYERS. The more clients you will have in your referrals list and the more they trade, the more you will earn.
You earn 30% – 70% of the total revenues generated by your referrals for the lifetime. Imagine if you had 100 clients and they were to generate 2 crores of business every month, what is the kind of income that you would be making, just by referring them once?
| | | |
| --- | --- | --- |
| Business model | FYERS Commission | Sub Broker / Referrer Commission |
| Referral Program | 80% | 30% – 70% |
---
Check out Revenue Sharing of other Sub Brokers
---
FYERS Franchise Cost or Security Deposit Amount
FYERS is a discount broker and hence, there is no security Deposit or initial deposit amount that one has to pay to register with them. You just need to open up a Trading account with them and get started with the referral program.
| | |
| --- | --- |
| Business model | FYERS Deposit required |
| Sub broker/ Business Partner | Zero |
---
Here is Security Deposit info of other Stock Broking Franchise
---
FYERS Sub Broker Offers
FYERS offers some unique benefits to its traders so that they can trade peacefully without being under pressure and stress. Following are some of the benefits that they bring to the plate for their customers:
The biggest advantage of FYERS is their zero or minimal brokerage charges. They provide a 30-day challenge wherein if the customer wins that challenge, they get to trade for free. For others as well, they have such schemes, which save their brokerage up to 95% as compared to other Stock broking houses. For all Equity Delivery Thematic Investments, they offer Zero Brokerage.
Robust Technology based systems and platforms for trading efficiently
They are the custodians of max historical data of the stock broking industry, which means that they could analyze trends and patterns very easily and share insights
A dedicated Customer Support desk, which is there to support the clients as well as the Sub Brokers, in case of any challenges and issues using the system to trade.
---
How to become Sub Broker of FYERS?
If you are interested in earning a recurring income on a monthly basis by increasing your client base, FYERs Securities is the company for you.
All you need to have is a sound background and knowledge about the stock broking industry and a strong business acumen to earn.
First, you need to open up the Trading Account & the Demat account with FYERS
The next step is to submit all your KYC documents as per the checklist provided by them
Once you provide all your documents along with the account opening form, an FYERS executive will perform an IPV with you through a web camera or in person.
IPV is basically In Person Verification, which is a mandatory activity to be done while opening up a trading account. This mandate was issued in the year 2008 by SEBI. As per SEBI (Stock Exchange Board of India), one can conduct the IPV either in person or through a web camera.
Once the IPV is done, the documents and Account opening form goes for processing, post which your Trading account is opened.
The entire process may take around 4-5 working days.
Documents Required for FYERS Sub- Broker Registration:
These days' basic KYC documents are required for everything from purchasing a Mobile to Opting for a home loan. Similarly, some KYC documents are required to enroll with FYERS Securities as a Sub Broker.
For Identity Proof, you could either submit your Adhaar Card or Pan Card or Driving License or Passport
For Age proof, you can submit either your PAN card or Passport
For Address proof, either of these documents can be furnished: Passport, Adhaar Card, Voter's ID, Driving License, or any utility bill
Bank details can be furnished through your canceled cheque
Passport size photographs
---
Check out other companies Sub Broker Offers
---
Why Partner with FYERS?
FYERS, being a growing company, has the advantage of experimenting and exploring new ideas and methods of trading which would lead you to a successful trading experience as well.
Partnering with them will give you an edge over the others not only in saving for your pocket but also to have hassle-free transactions through their innovative trading platforms.
By collaborating with FYERS, you can join in their awareness campaign wherein their endeavor is to make the country aware of alternate ways of investment.
You could be the brand ambassador of FYERS propagating trading in the stock market not as a risky proposition but as a wise business decision.
There is a need to change the country in the way they think about investing in the Stock Market and you and FYERS together can bring about the change.
---
Fyers Franchise – Pros & Cons
PROS
Free account opening
No additional fees for equity delivery trading: It does not cost anything to cash and carry trades.
Flat commission rates: Irrespective of the trading volume, FYERS charges a flat commission of Rs.20 on every trading activity.
Easy setup: The setup and downloading of the trading platform do not require additional costs.
There is complete transparency in the cost structure: No hidden charges.
Recurring revenue: Earn a revenue of 20% for each referral.
A single account: One account for operating multiple activities.
CONS
Compared to the peers in the market, the exchange transaction cost can seem a bit on the higher end.
---
Infrastructure Investment by Fyers Sub Brokers / Authorized Person
FYERS does not have any strict infrastructure requirements. You can execute your duties as a sub-broker with a 300 sq. ft. office and basic infrastructures such as strong internet connectivity and telephone connection.
Having hardware like laptops/desktops, printers, and scanners will help increase the efficiency of the work.
---
Fyers Franchise Eligibility Criteria
Though the franchiser does not have any infrastructure requirements, they do have a few eligibility criteria to become a sub-broker under them. The requirements are listed below:
Educational background: you should at least have an intermediate degree. The franchiser prefers partners with a bachelor's degree, which will help with the financial market activities.
Experience: The franchiser is inclined to accept partners who have a minimum of 2 years of experience in the same field that is in financial services.
Age: to qualify for enrolling in the partner program, you should be 21 years and above.
Certifications: Holding certain certificates can be an added advantage. It will be even more helpful if you have a certificate granted by the SEBI.
---
Fyers Franchise Referral Program
If you have a trading account with FYERS, you can join the organization's referral program. The entire working of the program is easy and just like any referral scheme. You refer to people and earn an income every time they trade.
The referral program allows you to earn a 20% share in trading activities.
---
Fyers Franchise Registration
Registration procedure for FYERS Franchisee is not a particularly challenging task. With just an account, you, as a franchisee, can offer all the services the organization provides.
You also will not have to bear any costs; the customer is responsible for the brokerage fees and other taxes.
To begin the process, proceed with filling out the form provided on the official website. Once all the paperwork and KYC registration are completed, submit everything successfully.
The organization will get in touch to confirm the registration, and without any other delays, you can start your duties as an FYERS Franchise.
---
Earning the potential of a Fyers Partner / ROI
If you are looking for an additional source of income without making a hefty initial investment, entering into the world of sub-brokership is the best option.
With the program, you can earn a handsome sum of money for every new customer joining the FYER network using your referral link.
Also, it does not just end there. For every transaction made by the customers who have joined through your internal network, you will earn a 20% commission.
Therefore, the more referral you can get, the more income you can generate. Overall, the FYERS commission is 80% of the total revenue, and the referral is 20%.
---
Brokerage Charges were levied on the clients of Fyers Partners
Now that the concept of the referral program and the commission is discussed, the next topic to touch on is what brokerage fees the partner's clients/customers pay for trading. The same is discussed below:
20 for every Equity Options and Currency Options order executed.
There are no additional fees for equity delivery trading activities.
20 or 0.1% per Equity Futures, Equity intraday, Commodity trading, and currency future order executed.
---
Fyers Authorised Person – Products Offered
An authorized person under FYERS has almost similar responsibilities to that of any business partner. While registering with Fyers, simply choose the option to become an authorized person.
All the terms and conditions mentioned in the contract concerning income, commission, and duties will be strictly followed by the organization.
Becoming an authorized person under the organization will allow you to work with many market professionals and trade in the exchange.
---
FYERS Franchise Conclusion
FYERS is one of the most affordable online stock brokers in India, with cutting-edge trading technology allowing all of its clients and customers to trade easily and swiftly.
Apart from the technology, the customers get to trade at the lowest brokerage fees, and the partners do not need to make any initial investment.
All that is required is a Demat and trading account, and you are set to begin your journey as a sub-broker or a trader with FYERS.
---
FYERS Sub Broker or Partner Program FAQs
It is always good to ask questions before committing to anything. As you decide to start your journey with FYERS, find answers to your queries below:
Does FYERS support a Sub Broker Model?
Yes, FYERS does have a sound sub-broker program. Apart from becoming a member of the FYERS team, you will also receive multiple perks when partnering up with the company.
Does FYERS support multiple Franchise models?
No, the franchise model is not available with the FYERS business model. But if you want to partner with the company, then opt for the sub-broker model. The program is also called the business partner model and AP.
 Is FYERS Partner Program without any fees and investment?
There is no such offering from the broker's end when it comes to the partner or remisier program. When it comes to the sub-broker business model, the stockbroker does not require any collateral, and the franchisee is just responsible for the registration cost.
What is the cost of opening an FYERS Franchise Cost?
The investment is made under the security deposit. However, it does not apply to sub-brokers. Thus, there is no franchisee cost to be paid. The sub-broker will have to simply bear the office setup cost and the purchase of some hardware like laptops and printers.
Does FYERS provide any kind of Training Assistance?
Yes, the stock brokerage firm provides some training. The procedure takes place in their trading platform and does not require any additional costs.
What is a revenue sharing in the FYERS partner model?
Due to the lack of any information on the revenue sharing on the company's end, it cannot be exactly pinpointed what the revenue sharing is. However, the sub-broker's share is 30%, which may be increased to 40% after the effects work.
Does FYERS Franchise provide marketing and operational assistance?
Client acquisition, back-office support, and centralized customer care support are all available from the stockbroker. This is to guarantee that the stockbroker and the sub-broker have an open and cooperative relationship.
What are the various offers provided by the FYERS program?
Some of these offers are listed below:
Referral Program
No Security Deposit
Low initial investment requirements
High-tech and efficient trading platforms
Flexible revenue-sharing model
Trustworthy Wealth Management Advisory
What all documents are required for the FYERS partner program?
Proof of your age (Passport, school certificate, or PAN card)
Proof of your identity (Aadhaar card, PAN card, driving license, passport, or any Govt ID card)
Proof of address (Aadhar card, voter ID, passport, Driving license, or electricity bill.)
A canceled bank cheque for the bank account details
3 or 4 photographs of passport size.
What are the FYERS Trading Platforms?
It provides its clients with three trading platforms: a trading terminal, a mobile trading app, and a web trading platform.
FYERS One, the trading terminal.
FYERS Markets, the Mobile Trading Application
FYERS Web trading platform.
---
Start your business with FYERS Sub Broker – Just Fill up the form
---
Find detailed review of other Sub Broker Franchise