Just Trade sub broker program is quite a new program and has been launched just a few years back. The program has swept good result in market since the beginning as it is a part of a big renowned finance company.
Summary
Top Business Model
Sub Broker
Revenue Sharing
40% – 70%
Security Deposit
Rs.50,000 onwards
Become Sub Broker in
33 Days
Receive Payout in
26 Days
Founder
K.K. Bajaj
Established Year
2008
This article discusses more about Just Trade Franchise and partnership program like the revenue sharing ratio, the investment amount, the support provided etc.
Just Trade is a broking company of Bajaj Capital Group and has been in existence since a decade now. It aims at services like wealth creation for professionals, entrepreneurs, investors etc. It intends to be updated with the technology and high end speed tool to assist the clients with a smooth trading experience.
---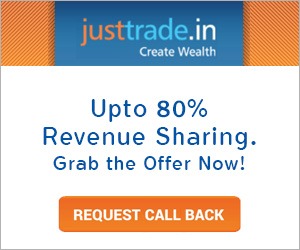 ---
Just Trade Franchise Customer Ratings
Just Trade Franchise
Criteria
Ratings
Experience
2.2/5
Services
2.3/5
Products
2.0/5
Trading Platforms
2.2/5
Support
2.3/5
Revenue Sharing Model
2.5/5
Security Deposit
2.3/5
Offers
2.4/5
Market Share
2.2/5
Overall
2.3/5
---
Compare Sub Broker Franchise
vs
---
Types of Just Trade Sub Broker/ Authorized Person

Just Trade has only sub broker model or the AP model as a partnership model. It currently does not have a remisier or a master frnachise model but we can expect that these models may soon be launched and offered. The sub broker model is a widely used and also a preferred model as it has clearly defined roles and returns.
---
Become a Just Trade Authorized Person – Just Fill up the form
---
Just Trade Sub broker or Just Trade Authorized person
The sub broker generally receives revenue in the ratio of 50% to 80% which is very much in line with the industry benchmark. The sub broker may have to evaluate the factors that can help him to get high revenue sharing ratio.
One must bargain so as to get the best deal. The factors that generally are considered for deciding ratio are discussed in the next heading.
---
Just Trade Franchise Commission or Revenue Sharing Model
Just Trade has a very simple way of deciding the revenue sharing ratio. The ratio that is retained by the sub broker generally ranges from 40% to 70% and can even go upto 80 to 90% in case of exceptional performance by the sub  broker.
Under this model, the sub broker will have to set up his own office, his own workstation and can use the trading terminal of Just trade. Thus, the sub broker will have to himself create a client base and the brokerage earned from such clients will be divided between the sub broker and Just Trade.
Sub Broker generally gets 50% to 80% of such brokerage revenue. But in cases where sub broker is unable to perform and Just Trade lends substantial assistance, then the ratio may go down for the sub broker as it is the broking company who has done some functions and hence will keep higher return.
| | | |
| --- | --- | --- |
| Business model | Just Trade Commission | Sub Broker Commission |
| Sub broker/ Authorised partner | 20% – 60% | 40% – 80% |
---
Check out Revenue Sharing of other Sub Brokers
---
Just Trade Franchise Cost or Security Deposit Amount
The sub broker is required to pay certain deposit with Just Trade which is in form of security deposit and will be retained by the company till the end of agreement tenure. This amount is retained by the company to cover up for any default that the sub broker or AP commits.
The deposit amount varies depending upon the revenue base of the sub broker. The higher the revenue base, the more riskier the sub broker's business is and hence the deposit amount increases. This deposit is refunded back to the sub broker at the end of the contract. The deposit amount ranges from INR 50,000 to INR 2 lacs.
Apart from this, the sub broker also needs to make certain investments like the office space, work stations, employees, training expenses etc.
| | |
| --- | --- |
| Business model | Just Trade Deposit required |
| Sub broker/ Authorised person | Rs. 50,000 onwards |
---
Here are Security Deposit info of other Stock Broking Franchise
---
Just Trade Authorized Person or Sub Broker Offer
Offers made by Just Trade for the sub brokers:
Being an online platform it offers a lightning fast speed for all the online service
A sound advisory structure
A robust research system which helps investors make an informed decision
Flexible brokerage
Various online tools like wealth creations.
---
How to become Just Trade Sub Broker?
Entere the details in lead form over here.
Our executive will call you to confirm the details. Please ensure that the call is properly attended to.
Our representative will connect you with Just Trade representative.
 Set up a meeting with Just trade representative. Discuss all the terms and conditions of the arrangement in detail.
Furnish documents to Just Trade representative. Also give a DD or a cheque to pay the deposit amount and collect receipt of the same from the representative.
Just Trade compliance team will verify your documents and then update you.
Sign the agreement and then the balance will be taken care of by the Just Trade compliance team.
Just Trade will send this agreement to the stock exchange and get you registered as AP in the segment that you have opted for.
The procedure gets completed in almost 4-7 days.
Documents Required for Just Trade Partner Registration
PAN card Copy
Aadhar card Copy
1 copy of DOB proof
3 copies of academic certificates
Cancelled blank cheque
5 Passport size photograph
Proof of payment of security deposit
Proof of registration with stock exchange (if already registered)
---
Check out other companies Sub Broker Offers
---
Why Partner with Just Trade?
Here are some of the reasons which make investing in just trade a real catch
Low security cost and less rigid revenue sharing
Widespread across the country.
Various services like advice over emails,phone etc.
Tax calculator, current market scenario and trends, expense sheet all available at zero cost.
Online as well as offline service provided.
Powerful research analysis.
---
Support provided by Just Trade Partner Program
Technical support provided by the company.
Training for both online trading and software demo to the sub broker for easy operation of the online services
Basic back office support
Marketing support
client acquisition support
---
Start your business with Just Trade Sub Broker – Just Fill up the form
---
Find detailed review of other Sub Broker Franchise