Globe Capital Sub Broker program is known for its fast pace growth in Delhi, NCR region. The broking house has its base in New Delhi and has been successfully serving its customer over 20 years now. Globe Capital is a public company that provides full brokerage services to its partners and customers.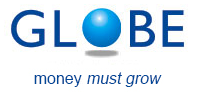 In this article, we will be discussing some important factors of Globe Capital Sub Broker. Our agenda is to go over all the details regarding the offers, benefits, revenue sharing, cost and other programs covered by Globe Capital Franchise.
---
Globe Capital Franchise – Customer Ratings
Find below table to know Customer Ratings of Globe Capital Sub Broker:
Customer Ratings
Experience
2.5/5
Services
2.6/5
Products
2.7/5
Trading Platforms
2.3/5
Support
2.6/5
Revenue Sharing Model
2.5/5
Security Deposit
2.5/5
Offers
2.6/5
Market Share
2.2/5
Overall Ratings
2.5/5
Star Ratings
★★★☆☆
Being one of the oldest and the most reliable share broking company to exist in Delhi, Globe Capital has been able to generate quite a few good numbers of positive customer impressions. The Customer Rating of Globe Capital Share Sub Broker is better than just average.
The people who have worked with the company have claimed that the company presents good customer services, security deposits, experience, revenue sharing model, support, etc.
Keeping in mind all these things and on creating an overall sheet, we find that the average rating that the company got is around 3 points out of 5 which proves its excellence.
---
Overview of Globe Capital Franchise / Sub Broker
Details about Globe Capital Franchise is given in the below table:
Overview
Company Type
Public
Broker type
Full Service Broker
Headquarters
New Delhi, Delhi
Founder
Rajeev Kalra
Established Year
1999
SB Code Activation Time
21 Days
Payout Time
31 Days
Globe Capital is a public company that presents full brokerage service to all its customers. It was established by Rajeev Kalra in the year 1999 and has its headquarters in New Delhi.
The Sub Broker Activation time required for Globe Capital Sub Broker is 21 days and their payout time is 31 days.
---
Become a Sub Broker with Globe Capital – Just Fill up the form
---
Compare Sub Broker Franchise
vs
---
Globe Capital Sub Broker – Business Models
Find below table for details:
Business Models
Master Franchise
Yes
Sub Broker
Yes
Remisier
No
Referral Program
No
There are two types of business franchise available for brokers working under Globe Capital, they are:
Master Franchise
Sub Broker
---
Globe Capital Master Franchise Model
In a way, the Master Franchise is like the Sub Broker business. Here the only difference is that the master franchise is the owner of a particular location and in that location, no one else other than the master franchise can work.
Globe Capital Sub Broker / Authorised Person Model
In this model, the Globe Capital offers other various sub-brokers its franchise and the brokers are at the liberty to work under the company name.
This model allows for a monopoly business wherein more than one particular sub-broker belonging to the same company can work at the same place with other sub-broker of the same company.
---
Globe Capital Sub broker Commission / Revenue Sharing
Find below table to know Globe Capital Securities Franchise Commission Models and Revenue Sharing Models:
Revenue Sharing
Master Franchise
70% – 80%
Sub Broker
55% – 70%
Remisier
NA
Referral Program
NA
Considered as one of the best broker franchise in Delhi, Globe Capital offers great and accurate Revenue Sharing opportunities.  The Revenue received by the sub-brokers working under Globe capital is calculated on the basis of the following terms:
Master Franchise
Sub Broker
The commission received by the brokers of Globe Capital have their revenue sharing charges ranging between 70%-80% depending on the amount of security deposit that they have kept with the company.
As for the Sub broker business model, the sub brokers are allowed starting from 55% of the leads and can range maximum up to 70% of the leads that they provide the company with and the converts.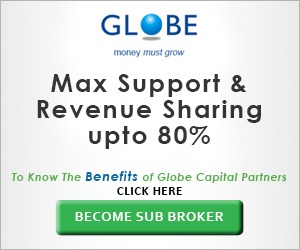 ---
Globe Capital Franchise Cost / Security Deposit
Below Tables gives a good understanding of Globe Capital Securities Franchise Cost:
Security Deposit
Master Franchise
Rs.100,000 – Rs.300,000
Sub Broker
Rs.50,000 – Rs.100,000
Remisier
NA
Referral Program
NA
For the Master Franchise Business model, you will be required to procure an amount starting from just Rs.100,000 and the maximum amount that you can procure is Rs.300,000.
Here, it is very important to keep in mind that this initial business investment is just a seat blockade and the whole amount will be refunded to you once the partnership is over.
For the Sub broker model, one needs to provide a minimum of Rs.50, 000 at the beginning of their partnership with Globe Capital. One can go as high as Rs.100,000.
It is very important to keep in mind that the higher the amount of security deposit with the company is, the higher is the rate of revenue which will be generated in the end.
---
Know everything about other Sub Broker Franchise:
---
Globe Capital Partner Infrastructure Requirement
Check the table to know Globe Capital Capital Share Partner Infrastructure Requirement:
Infrastructure Requirement
Office Area
Minimum 200 Sq Ft
Employee Strength
Minimum 2
Research Services
Yes
Internet Connection
Yes
Trading Terminals
Yes
Telephone Lines
No
It is mandatory to have the below mentioned infrastructure if you plan on becoming a broker under Globe Capital. These are pretty much the most basic rules that any company asks for before inviting brokers to work under them.
Hence, the fulfillments of the following rules are compulsory and important:
You should be in possession of at least 200 sq. Feet office area that you are working in.
You should have at least 2 employees working for and under you.
It is mandatory to do Research services.
You should have an active and smooth running internet connectivity which is pretty basic.
You should have Trading Terminals.
It is not mandatory for your office area to have some telephone lines.
---
Globe Capital Sub Broker Offers
Find below various The Globe Capital Capital Share Sub Broker Offers:
Offers
Zero Deposit
No
10k Initial Deposit
No
Flexible Revenue Sharing
Yes
Flat Revenue Sharing
No
Zero Revenue Sharing with Prepaid
Yes
The offers provided by Globe Capital are considered one of the very basic and the best among its competitor. The people working in Globe Capital feel that it is very important to provide each and everyone with enough opportunities.
Here are some of the offers allowed by the company:
The company allows you to have flexible revenue sharing.
It also allows for Zero revenue sharing with prepaid.
However, it does not allow the sub-brokers the facility of zero deposits and flat revenue sharing.
---
Get details about other Sub Broker Offers:
---
Globe Capital Franchise Support
Below table consist of various support provided by Globe Capital Authorised Person program:
Support
Marketing Support
Yes
Back-Office Support
Yes
Trading Support
Yes
Advisory Support
No
Dealing Training
Yes
Acquisition Training
No
Product Training
No
Some of the support facilities provided to the sub brokers by Globe Capital are:
Marketing support
Back-office support
Trading support
Dealing training
It does not provide facilities like advisory support, acquisition training and product training.
---
Globe Capital Authorised Person – Brokerage Charges to Clients
The table gives proper information of Globe Capital Brokerage charges levied to its Franchise Clients:
Brokerage Charges to Clients
Equity Delivery
0.20%
Equity Intraday
0.03%
Equity Futures
0.03%
Equity Options
Rs.50 per lot
Currency Futures
0.03%
Currency Options
Rs.20 per lot
Commodity
NA
The brokerage Charges given by Globe Capital to its sub-brokers are usually as per the normal market rates. They charge 0.20% to equity delivery, 0.03% to equity intraday, equity futures and currency futures.
They offer Rs 50 per lot to equity options and Rs 20 per lot to currency options.
---
Globe Capital Partner – Account Opening Charges to Clients
The table gives proper information of Globe Capital Account opening charges levied to its Franchise Clients:
Account Opening Charges to Clients
Demat AMC
Rs.450
Trading AMC
Free
Account Opening Charges
Rs.750
Transaction Charges
0.00335%
Margin Money
Rs.0 – Rs.200,000
The charges acquired by the clients working under Globe Capital are very reasonable and valid. They charge Rs 450 for Demat AMC and provide free Trading AMC.
The account opening charge is Rs 750 and the transaction charges run up to 0.00335%; and the margin extending from Rs.0 & goes upto Rs.200,000.
---
Benefits of Globe Capital Partner Program
Apart from great incentives for clients and fine revenue returns, there are a lot of reasons why you should consider working with Globe Capital, these include:
An opportunity to work with an experienced and renowned brand.
Quick online account opening process for the clients
Great and effective marketing support
Client Acquisition support
Flexible Revenue sharing
Back-office support
Zero Revenue Sharing with prepaid.
---
Become a Sub Broker with Globe Capital – Just Fill up the form
---
Get details about other Stock Broking Franchise:
---