Elite Wealth Sub Broker Program is not famous but has a good reputation in the market. Elite Wealth is one of the recent entrants in the stock market and is comparatively a small company.
However, it has a good reputation and goodwill in the market. It provides premium services like wealth management, portfolio management, investment advisory, corporate financing, etc.
Summary
Top Business Model
Sub Broker
Revenue Sharing
50% – 75%
Security Deposit
Rs.15,000 to Rs.30,000
Become Sub Broker in
35 Days
Receive Payout in
20 Days
Founder
Ravinder Prakash Seth
Established Year
1990
Elite Wealth has also been in the sub-broking market for quite some time now. It encourages the growth of small entrepreneurs. It believes that with this kind of business, it will be a win-win situation for the sub-broker as well as the broking company.
The sub-broker gets to leverage the goodwill, repute, processes, and business of the broking company and the broking company gets to increase its client base through such sub brokers.
It assists the sub brokers in even setting up their offices and workplaces. They even have a program called 6 pillar support. The same has been discussed later in this article.
---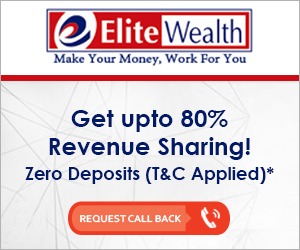 ---
Elite Wealth Franchise Customer Ratings
Elite Wealth Franchise
Criteria
Ratings
Experience
2.6/5
Services
2.7/5
Products
2.4/5
Trading Platforms
2.7/5
Support
2.8/5
Revenue Sharing Model
2.8/5
Security Deposit
2.4/5
Offers
2.8/5
Market Share
2.2/5
Overall
2.6/5
---
Compare Sub Broker Franchise
vs
---
Types of Elite Wealth Sub Broker/ Authorized Person

Elite Wealth has three models of association.
The two of these models are very basic and common, however, the third model is quite interesting and an innovative offering. The models are:
Business associate or sub-broker
Introducer or remisier
Financial Centre – This is a step-up version of business associates. Herein, the financial center leads multiple financial planners and investment advisors to serve the clients
---
Become a Elite Wealth Authorized Person – Just Fill up the form
---
Elite Wealth Sub broker or Elite Wealth Authorised person
Under this model, one needs to have marketing people to fetch customers and equity advisors to assist the customers in selecting their trade strategy.
The Elite Wealth Sub Broker is like a broking company's branch. A sub broker gets quite a lot of support from Elite Wealth like research tools, trading tools, marketing material, etc.
The Elite Wealth Authorised Person generally gets to retain brokerage to the extent of 50% to 80% and is expected to make a certain security deposit along with investment in infrastructure. These have been discussed in subsequent paras in detail.
Elite Wealth Remisier
Elite Wealth Remisier or introducer has a limited role of introducing their network with Elite Wealth and thereafter earn some commission on the brokerage revenue that such network pays to the broking company.
As a remisier, one gets remunerated with 15% to 20% of the brokerage revenue. The introducer is not required to make any investment or deposit with the company.
Elite Wealth Financial Centre
This model is more relevant for people who wish to get into the business of serving clients with advisory services. This is not limited to booking but is a step ahead with all the advisory and planning services being offered apart from trading and investing.
Herein, the person is surely required to make infrastructure investments and to hire good resources to make this venture work. Hereunder, the remuneration is similar to the sub broker. The only difference is the services offered.
---
Elite Wealth Franchise Commission or Revenue Sharing Model
Elite Wealth sub-broker or authorized person earns revenue in the ratio of 50% to 80%. The balance is then passed on to the broking company i.e. Elite Wealth. This ratio is at par with what the other competitors offer.
There is a range of the ratio as the ratio cannot be fixed. It is a flexible ratio and the same is decided depending upon multiple quantitative and qualitative factors like revenue base, margin money utilized, credit period, credit default, frequency of trade, etc.
For the financial center also the revenue sharing ratio is on the same lines. In this case, the revenue that is shared includes not only the brokerage but also the advisory fee, planning commission, portfolio management fee, etc. The revenue sharing can go as high as 90% also, provided the center performs on an exceptional level.
In the case of a remisier, the ratio varies from 20% to 30%. The 30% is also the higher limit and is not given away easily. One must look into all the relevant factors and then bargain for a ratio.
| | | |
| --- | --- | --- |
| Business model | Elite Wealth Commission | Sub Broker Commission |
| Sub broker/ Authorised partner | 10% – 50% | 50% – 90% |
| Remisier | 70% – 80% | 20%-30% |
| Financial Centre | 10% – 50% | 50% – 90% |
---
Check out Revenue Sharing of other Sub Brokers
---
Elite Wealth Franchise Cost or Security Deposit Amount
Elite Wealth has prescribed a minimum security deposit of Rs. 1 lacs for a sub-broker model and Rs. 5 lacs for a Financial Centre model. A remisier need not pay such a high deposit; the deposit for a remisier may be in the range of Rs. 15,000 to Rs. 30,000. This is a security deposit and is refunded at the end of the tenure. This deposit is mandatory and cannot be waived.
In addition to the deposit, Elite Wealth Franchise Program has certain specifications on the infrastructure that the sub-broker and the Financial Centre are supposed to maintain. For instance, an elite wealth sub broker is expected to have an office space of at least 300 sq ft at a decent and commercial location.
Also, the sub-broker should have the capacity to manage its working capital requirement till the time it starts generating sales – the working capital requirement is approximately Rs. 2 to 3 lacs. With respect to infrastructure, the requirement is to have a minimum of 2 computers, internet connectivity, scanner, printer, and voice recording system.
Similar requirements have been provided for a Financial Centre as always except that in their case, the working capital requirement is 3 to 3.5 lacs instead of 2-3 lacs as in the case of sub brokers.
| | |
| --- | --- |
| Business model | Elite Wealth Deposit required |
| Sub broker/ Authorised person | Rs. 1 lac onwards |
| Remisier | Rs. 15,000 to Rs. 30,000 |
| Financial Centre | Rs. 5 lac onwards |
---
Here are Security Deposit info of other Stock Broking Franchise
---
Elite Wealth Authorized Person or Sub Broker Offer
Negotiable revenue sharing ratio
Credit period extended
Customized plans for sub-broker clients
Free research and advisory services for sub broker clients
Increased margin money for sub-broker clients
---
Check out other companies Sub Broker Offers
---
How to become Elite Wealth Sub Broker?
1 – Fill up the form that comes up here
2 – Our representative will call to confirm your interest in the opportunity
3 – Elite Wealth executive will connect to discuss the proposal
4 – Meet the Elite Wealth Franchise executive and discuss all terms and conditions of the agreement and Ensure that all the details are well understood and clarified
5 – Submit the documents to Elite Wealth Authorized Person Team and pay the deposit amount via cheque or DD and Ensure that you keep a receipt of the same with you
6 – Elite Wealth executive will verify the documents and then draft an agreement
7 – Execute that agreement and then the Elite Wealth team will get you registered with the stock exchange as an AP
The procedure might take almost 7-10 days.
Documents Required for Eilte Wealth Partner Registration
The following documents should be attested by a notary or a practicing CA:
PAN Card Copy
Xerox of Aadhar card
educational certificates Copy
Copy of address proof
Copy of address proof (i.e. the office set up for the business purpose)
4 passport-size photo
A recommendation letter/experience certificate
---
Why Partner with Elite Wealth?
It gives online access for serving clients on real-time basis
Paperless and hence hassle-free work which makes the business quicker
Allows flexibility in the brokerage plans
Has a good research and analysis team
Vast product profile
---
Support provided by Elite Wealth Partner Program
Appoints a dedicated relationship manager
Keeps organizing events to help the sub brokers interact with each other
Back office & customer service support
Research support
Technology support
Sales & marketing support
Training support
---
Start your business with Elite Wealth Sub Broker – Just Fill up the form
---
Find detailed review of other Sub Broker Franchise