Parasram Holdings Sub Broker Program is a well known broking franchise in the country. The Broking house has more than 500 franchise outlets across the country. Here we will discuss in detail about Parasram holdings franchise, its revenue sharing models, franchise cost, offers & more.
Summary
Top Business Model
Sub Broker
Revenue Sharing
60% – 80%
Security Deposit
Rs.50,000 – Rs.200,000
Become Sub Broker in
34 Days
Receive Payout in
25 Days
Founder
Anshu Aggarwal
Established Year
1994
Shri Parasram Holdings Pvt Ltd is a part of the Parasram Group, which is a renowned name in the financial services industry since its inception in 1994.
It is amongst the top Stock broking houses of the country and is registered with major Stock Exchanges like National Stock Exchange CM Segment, National Stock Exchange – FO Segment, Bombay Stock Exchange and NCDEX and MCX as well.
The Parasram Group has a nationwide presence in over 350 locations in more than 160 cities in India. Its endeavor is to become the largest Stock broking companies of the country.
Over the years, Shri Parasram Holdings has been able to acquire and retain over 130,000 customer base, which include corporate & Retail clients as well as High Net Worth Individuals & NRIs.
With a strong Management team, the goal of this entity is to help people make the right investment, the right way. They are known for their 'Customer First' approach. Their customer centricity and values have taken them so much ahead in the business and got them their credit worthiness today.
---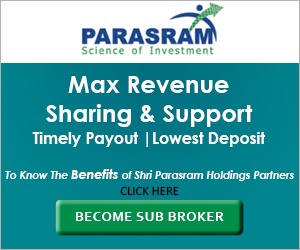 ---
Shri Parasram Holdings Sub Broker Customer Ratings
Parasram Holdings Franchise
Experience
2.70
Services
2.80
Products
2.70
Trading Platforms
2.90
Support
3.00
Revenue Sharing Model
2.70
Security Deposit
2.80
Offers
2.70
Market Share
3.00
Overall
2.81
---
Compare Sub Broker Franchise
vs
---
Types of Shri Parasram Holdings Sub Broker Business Models
The broking house has only 1 franchise model –
Sub Broker / Authorised Person / Business Partner Model
---
Start your business with Parasram Holdings Authorised Person – Just Fill up the form
---
Parasram Holdings Sub Broker or Parasram Holdings Franchise
Becoming an Associate or a Sub Broker with Shri Parasram Holdings is a very simple and hassle free task. If you have the zeal to trade efficiently, add more clients to your business circle and help them trade while growing your own trading portfolio, the Shri Parasram Holdings is a good option for you.
With Parasram group, you have the benefit of being dealing with a seasoned Market player, efficient Trading tools and also great back office support to ensure a hassle free trade always.
The margins or the revenue sharing model with Parasram depends upon your Initial investment and also the scale of business you do with them; the higher your business the higher the profit margins.
---
Parasram Holdings Sub Broker Commission or Revenue Sharing Model
The Broking house provides flexible Revenue Sharing model based of  major factors:
Revenue generated by Sub Broker
Security Deposit
Past Experience or Clients onboarded by Sub Broker
Parasram holdings evaluate the revenue generation of each sub broker and based on the same it changes the sub broker commission after 3 or 6 months performance. In this case, the revenue sharing ranges between 60% – 80%.
The Broking house also provides revenue sharing based on the amount of security deposit bring in by the sub broker. Based on this criteria revenue sharing ranges from 60% – 70% max.
Past Experience of the Sub Broker or Clients onboarding is also a major driver of Revenue Sharing model. Here again the range is between 60% – 80%.
| | | |
| --- | --- | --- |
| Business model | Parasram Holdings Commission | Referrer Commission |
| Referral Program | 20% – 40% | 80% – 60% |
---
Check out Revenue Sharing of other Sub Brokers
---
Shri Parasram Holdings Franchise cost or Security Deposit
With Shri Parasram Holdings, there is no Trading Account Opening fee. One can open up a trading account and start trading right away provided he is registered with SEBI and has completed the required KYC procedures.
For opening a Demat account also, one can opt from any of the two options. In the first option, you can open a Demat account free of charge and then pay annual maintenance fee of Rs.350 to the account and via the other option, you can pay a fee of Rs.885 and enjoy no annual maintenance for the first 10 years for account opening.
The Franchise Cost or Security deposit ranges between Rs.50,000 to Rs.200,000. This amount is refundable once the agreement is closed. At Rs.50,000 security deposit, the sub broker gets 60% revenue sharing, at Rs.1 Lakh the sub broker gets 65% & at Rs.2 Lakh the sub broker gets 70% revenue sharing.
| | |
| --- | --- |
| Business model | Parasram Holdings Deposit required |
| Sub Broker / Broking Franchise | Rs.50,000 – Rs.200,000 |
---
Here are Security Deposit info of other Stock Broking Franchise
---
Shri Parasram Holdings Sub Broker Offers
Association with Shri Parasram Holding Pvt Ltd, would provide you an array of offerings that would enhance your business and help grow in multifolds.
The diverse range of product line that the company has gives you an opportunity to market yourself better and opens various business avenues. Their products are not restricted to only stock market, but they also offer various other financial products like IPOs, Mutual Funds, Fixed Deposits and Bonds
The strong and tenured team of analysts do extensive research and provide you business insights on what to invest and where. You get a free download of extensive research information at your disbursal on a regular basis.
This is amongst one of very few stock broking companies in India that do not charge a security deposit or Account Opening charge and the trading transaction charges are also on the lower price as compared to other players.
The robust Infrastructure of the company can be leveraged for enhancing your business too
The well designed and formulated portfolio tracker which provides a customized market research and shares trends on real-time basis.
---
How to become a Shri Parasram Holding Sub broker?
Parasram Group, since it has a long drawn reputation in the industry, ensures some basic criteria before aligning someone as a Broker or Partner. The only pre-requisites are:
that you should be an Individual or Organization with a proven Track record in the financial industry with a decent clientele; such that you don't struggle through with the association
That you should have a designated office space with the required amenities or infrastructure to run the business
That you should meet the qualifications as listed by the SEBI or other exchanges in India
Documents required for Parasram Holdings Sub broker / Authorised Person registration
Basic documents required for sub-broker registration are:
ID proof: either of the following- Passport / PAN Card / Adhaar Card / Voter ID / Driving License / Govt ID card
Anyone Address Proof: Passport / Adhaar Card / Voter ID / Driving License / Govt ID card
Age Proof: Passport / PAN Card
Academic Qualification certificate – latest achieved degree copy
Cancelled cheque or Bank Statement for bank details
Photographs
Proof of Infrastructure
Registration certificate with SEBI / Stock exchange
---
Check out other companies Sub Broker Offers
---
Why Partner with Shri Parasram Holdings?
Reliability and Tenure in the Industry. The fact that the Parasram Group is a reliable and trusted name in the Financial Industry, you wouldn't face challenges in convincing clients to trade through them. Trust is an important factor that people look at while trading in Stock market.
Business Accumen. Their Business support team with strong business acumen and expertise in the field will help you enhance and grow your business seamlessly. Extensive research and markets statistics will be shared with you at periodic intervals to help to decide faster and effectively.
Diverse range of products. This is a critical factor through which you can attract your customers and penetrate further in the market. Most players deal with only one product line, but with Parasram, you can have your clients invest in multiple portfolios with lesser risk.
Detail end-to-end Training and support. Their trainers will train you on their products & trading platforms so that you can be well versed with its functionality.
---
Start your business with Parasram Holdings Sub Broker – Just Fill up the form
---
Find detailed review of other Sub Broker Franchise