IDBI Direct Sub Broker Program is one of the well known stock broking banking franchise in the country. Here in this article, we will do a detailed IDBI Direct Franchise Review along with in-depth analysis of IDBI Direct Sub Brokers Offers, IDBI Direct Revenue Sharing Model & other features of IDBI Direct Business Partner Program.
IDBI Direct is a part of the IDBI Group. IDBI Group entered into broking business in 1993.
The broking business serves equity, currency, commodities, derivatives etc. It has base in more than 24 cities of the country. Let us now look into the franchise model that IDBI offers.
Summary
Top Business Model
Sub Broker
Revenue Sharing
40% to 70%
Security Deposit
Rs.50,000 – Rs.300,000
Become Sub Broker in
31 Days
Receive Payout in
21 Days
Founder
Mr. Rakesh Sharma
Established Year
1993
---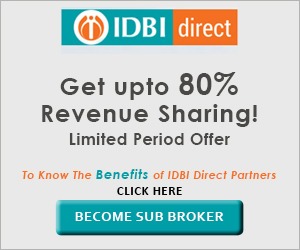 ---
IDBI Direct Franchise Customer Ratings
IDBI Direct Franchise
Experience
2.70
Services
2.80
Products
2.90
Trading Platforms
2.70
Support
2.60
Revenue Sharing Model
3.00
Security Deposit
3.00
Offers
2.00
Market Share
1.90
Overall
2.62
---
Compare Sub Broker Franchise
vs
---
Type of IDBI Direct Franchise
Business Associate or Sub Broker
Online Remisier
---
Become a Sub Broker with IDBI Direct – Just Fill up the form
---
IDBI Direct Business associate or Sub Broker

This kind of partnership is offered to only an experienced candidate who has worked and served clients in financial market.
Herein, the sub-brokers is required to enlarge the clientele and also serve the existing client base by assisting them in their trading/investing activities.
The sub-broker can deal in all the asset classes ranging from equity to derivatives, currency, commodities, IPOs, mutual funds etc.
---
IDBI Direct Online Remisier
This model is offered to the new-comers/freshers. It does not call for any specific experience in the relevant field.
What is expected from an online remisier is linking of new customers with the IDBI Direct network. Thus, an Investment associate does not assist the clients in their trading/investing activities.
---
IDBI Direct Sub Broker Commission or Revenue Sharing Model
The revenue sharing ratio for a franchise and sub-broker ranges from 40% to 70%.
This ratio is dependent on various factor just like other companies. However, there is one specific point in here – the ratio is also linked to security deposit that the candidate provides to IDBI direct.
For a remiser the ratio is 50:50 which is inline with the prevalent industry rates.
---
Check out Revenue Sharing of other Sub Brokers
---
IDBI Direct Franchise Cost or Security Deposit Amount
For a sub-broker/franchise, the deposit ranges from Rs.50,000 till Rs.300,000.
This depends upon case to case on parameters like the city of the sub-broker, the experience, the client base, the revenue projected etc. For a remmiser, the investment amount is only INR 5000.
---
Here are Security Deposit info of other Stock Broking Franchise
---
IDBI Direct Sub Broker Offers
The following are the ongoing offers from IDBI Direct for sub-brokers:
Flexible business models;
Flexible brokerage rates
Low investment cost;
Cashback on brokerage
Extended credit period
Reduced margin money
---
Check out other companies Sub Broker Offers
---
How to become Sub Broker of IDBI Direct?
Registering with IDBI Direct is a plain and simple procedure. The steps are listed below:
1st Step – Fill in the lead form available here
2nd Step – Have a telephone call with our Call center representative for verification of details and interest in sub-brokership
3rd Step – Attend con call with the Sales Executive of IDBI Direct for Appointment confirmation
4th Step – Attend a meeting with Sales Representative for a detailed discussion
5th Step – Submit requisite Documents & Initial Investment Cheque
6th Step – Verification of documents and background check by IDBI Direct
7th Step – Activation of account
This may take up to 5-10 working days depending upon the case.
Documents Required for IDBI Direct sub-broker registration –
ID Proof
DOB proof
Address proof
Academic Certificate
Canceled cheque or Bank statement
Registration certificate with SEBI/Stock exchange
Passport size photos
Infrastructure proof
PAN Card
Aadhaar Card
---
Why Partner with IDBI Direct?
Key highlights of being associated with IDBI Direct are listed below:
Part of IDBI Group
Brand organization
Large clientele
Product Profile
Fewer deposits
Attractive revenue model
---
Support provided by IDBI Direct Partner Program
Training on the trading platforms
Marketing assistance
Access to research reports
Advisory support
Assists in setting up initial infrastructure
Customer Support
---
Find a detailed review of other Sub Broker Franchise