SMC Sub Broker has been in the broking business for quite a long time and is one of the well know franchise broking houses. It was also a trend follower when it comes to the franchise/sub-broking business. As of date, it has around 3000+ franchise firms.
Summary
Top Business Model
Sub Broker
Revenue Sharing
30% – 60%
Security Deposit
Rs.50,000 – Rs.100,000
Become Sub Broker in
2-3 Weeks
Receive Payout in
30-45 Days
Founder
S C Aggarwal
Established Year
1994
It is one of those institutes which recognizes the importance of creating self-identity and hence it co-promotes the franchisee as well in all the ways possible. For a detailed understanding of the offerings of this broker, please refer to the paras below.
Here is the detailed SMC Franchise review & dig deep into SMC Sub broker offers, SMC franchise revenue sharing model, SMC Partner security deposit requirement & other important features of SMC Franchise.
---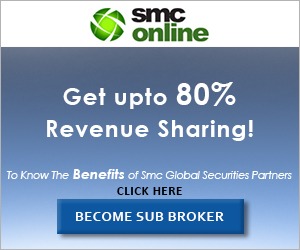 ---
SMC Franchise Customer Ratings
SMC Franchise
Experience
3.00
Services
3.00
Products
3.00
Trading Platforms
3.00
Support
3.20
Revenue Sharing Model
3.80
Security Deposit
3.50
Offers
3.50
Market Share
2.80
Overall
3.20
---
Compare Sub Broker Franchise
vs
---
Type of SMC Franchise
SMC does not have any fancy business models. It offers only a single business model which is based on the very basic concept of sub-broking.
However, the unique feature herein is the co-promotion that a sub-broker gets which enhances its identity and position in the market.
The other typical feature of SMC is that it mandates a minimum of one year of experience by the candidate that wishes to be associated with SMC. Though, in exceptional cases, it also gives a chance to freshers.
SMC Global offers partner programs to aspiring candidates with enshrined features like a regular training program, extensive product offerings, and technology and research support.
The entity was founded over three decades ago and provided excellent product offerings and unmatchable trading tools. This financial services company deals with varied classes of assets.
On the sub-broker front, SMC Global has designed some sub-broker programs through which candidates can join the organization and get handsome income:
Sub-Broker/ Authorized Person
SMC Distributor
Sub-Broker/ Authorized Person: Let's take a brief look at some of the benefits of this SMC Partner program:
Reputed Brand in the market
Award-Winning
Multiple products to offer
Robust Marketing support
SMC Distributor: This is an innovative program to make for earning, and it comes with various benefits like:
Large client base
Diverse products for distribution
Competitive brokerage rates
PAN India Presence
---
Become a Sub Broker with SMC – Just Fill up the form
---
SMC Sub Broker Commission or Revenue Sharing Model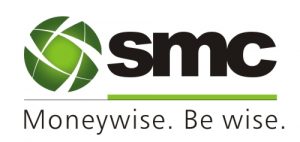 SMC has a very competitive revenue-sharing model. The revenue ratio fits well within the industry benchmarks and is in line with the major market players falling under its category. The average ratio is somewhere around 30% to 60%.
One should note that it does not have a fixed ratio slab, rather it operates on a dynamic ratio which is negotiable.
The negotiation part is dependent on case to case basis and varies with facts like existing client base, experience, margin money, existing infrastructure, etc.
---
Check out Revenue Sharing of other Sub Brokers
---
SMC Franchise Cost or Security Deposit Amount
SMC has not prescribed any minimum margin money, however, in a general scenario, it calls for a certain deposit amount which may range from 50,000. This is the deposit that SMC retains to cover any default of the sub-broker. Further, SMC also calls out for certain initial investment which includes a decent front office space, workstations, and telephone connections.
---
Here are Security Deposit info of other Stock Broking Franchise
---
SMC Sub Broker Offers
SMC appreciates the contribution that sub-brokers make to its business and growth and hence ensures that the sub-brokers are rewarded with the appropriate offers like:
A dynamic revenue sharing ratio;
Waving off initial margin money;
Assistance in setting up the front office;
Offers on DEMAT/Trading account;
Reduced brokerage charges;
Increased credit limits;
Higher credit period etc.
---
Check out other companies Sub Broker Offers
---
How to become a Sub Broker of SMC?
The following simple procedure is required to be adopted for registering with SMC as a sub-broker:
1st Step – Provide the requisite details in the lead form available here
2nd Step – Await verification call from customer executive
3rd Step – Await an appointment call from the Sales representative executive of SMC
4th Step – Meet & greet with Sales Representative for discussing the opportunity, the demands, the expectations, negotiations, and finalization of terms
5th Step – Providing requisite documents and completing the initial infrastructure requirement
6th Step – Document verification by SMC
7th Step – Account Activation
The turnaround of this procedure ranges from 3-8 days.
Documents Required for SMC sub-broker registration –
ID Proof
DOB proof
Address proof
Academic Certificate
Canceled cheque or Bank statement
Registration certificate with SEBI/Stock exchange
Passport size photos
Infrastructure proof
PAN Card
Aadhaar Card
---
Why Partner with SMC?
The following features make SMC a worthy business partner:
Co-promotes the sub-broker along with its own promotion;
Access to research report;
Provides opportunities to interact with the research team;
Hires quality staff and hence a better work culture;
Dynamic revenue ratio and hence performance-based remuneration system;
Extended cooperation even with respect to business and financial issues;
Marketing training;
Provides increased trading limit;
Advisory services
---
Support provided by SMC Franchise
Brand building;
Training the staff;
Assistance in setting up initial infrastructure;
Training to capture market;
Advisory access;
Client acquisition and retention support etc.
---
Infrastructure Investment by SMC Sub Brokers / Authorized Person
Before becoming a full-time sub-broker for SMC, you will need to establish some basic infrastructure from where you will perform your function. When you become an SMC Sub-broker, you shall be expected to uphold the reputation of the stockbroker house and uplift it higher with consistent efforts.
To function, you will first need an office space which will become your working space and maintain professionalism. The office area should be at least 250 sq ft.
Alongside, to run your office efficiently, you need some assistance. For this assistance, there should be a minimum of two employees.
Further, simple amenities like computer systems, internet connection, telephone connection, sitting arrangements, etc. will be necessary.
As a sub-broker, you will also need a trading terminal for your smooth working.
---
SMC Franchise Eligibility Criteria
Before starting SMC Franchise, you should ensure your eligibility for the program.
To start, the candidates must be at least 18 years or above.
They should have completed their education, like 10+2, or graduated.
1-2 years of experience in the sale of financial products. It can be in the form of a broker, sub-broker, distributor, etc.
Ready to make an investment of minimum of Rs. 3-5 lakhs.
---
SMC Franchise – Pros & Cons
SMC Partner can be a wide canvas of opportunities, but it's not mandatorily necessary that it must suit every individual as it is.
So, one should analyze the aspects in the long term, consult the right person, and then take on this journey. To help you with the analysis, below, we have listed the pros and cons of the SMC Sub-broker plan.
Pros
A reputed and successful brand
Have experience of over 30 years
Wide range of offerings
Research and Marketing support
Technology advancements
Cons
Offers fewer forms of the sub-broker program, so there are limited choices for interested candidates.
No referral programs for the customers
---
SMC Franchise Registration
After gaining all the insights and knowledge, and wondering where you can start this adventure, do not worry; taking this big decision and the process to start can feel overwhelming.
So, if you are interested in becoming SMC Sub-broker, you will need to understand the following steps:
The initial registration form to become an SMC partner is provided on the website itself. It is a very simple form and asks for very basic information like your Full Name, Mobile No., Email ID, State, and City.
Once you have added the details, click on Sign up, and it's done.
Now the SMC representative will call you from the help desk. You can ask any queries to the executive and clear all your doubts.
Now, the representative will ask for the necessary documents like your PAN Card, Aadhar Card, Educational Proof, Residential Proof, and so on.
After the document submission, you will have to submit the cheque and registration amount.
Once this process is completed, your code will be generated.
The entity will guide you throughout on how to start and set up the business.
---
Earning the potential of an SMC Partner / ROI
In the words of SMC Global itself, they ensure that the sub-broker gets high earning possibilities, and with revenue sharing ranging between 30-60%, they keep their word.
The sub-broker are exposed to a variety of opportunities and are provided the utmost support and motivation to keep going forward.
The entity offers its full support from the beginning and maintains a close relationship with each of the sub-brokers. They provide innovative tools and assistance on every level.
---
SMC Franchise Referral Program
Referral Program is a rewarding feature for the customers who refer the entity to new investors. And in this area, too, SMC stands different from other stock brokers.
Other entities offer you reward worth Rs. 100 or 200, but with SMC, you get rewarded with Gift Vouchers worth up to Rs. 1000 from Amazon.
All you have to do is refer a friend, and on the successful account opening, you and your friend both will become eligible for this reward.
---
Brokerage Charges were levied on the clients of SMC Partners
To open an account with SMC Global, the SMC Partner will have to first pursue the client to spend Rs. 499 in the form of a Demat account opening.
Thereafter, on trading with SMC, these clients will be subject to the following brokerage charges. On Equity Delivery Trading, the clients are required to pay a brokerage of 0.3%.
While for trading in Equity Intraday, Equity Futures, Currency Futures, Commodity Futures, and Commodity Options, the charges levied are 0.03%.
When trading in Equity Options, the clients will be subject to a brokerage of Rs. 70 per lot, and the charges are Rs. 20 per lot for Currency Options.
---
SMC Authorised Person – Products Offered
On trading with SMC Global, the customers are really offered the entire world of securities. They can invest and trade across any segment from the simple trading platforms of the entity and deal in these securities from their homes.
To name some of the products that the SMC Authorized Person can extend to their clients are:
Equity
Commodity
Currency
Derivatives
Mutual Funds
The services offered by the entity are even more appealing to the customers:
Insurance Distribution
Investment Banking
Wealth management services
Research Services
Algo Trader
---
SMC Franchise Conclusion
SMC Franchise is a prospective business opportunity for individuals looking for a shift from their full-time jobs as sub-brokers, mutual fund distributors, insurance advisors, financial planners, and so on.
They can easily join hands with SMC and become a part of this reputed Brand having PAN India Presence. The company offers a wide variety of products and services.
The entity has a vast experience of decades in the industry, and it gradually started to offer every kind of financial product and service under one roof.
The brokerage charges are reasonable, the trading platforms and tools are intact and strong, and the trading is uncomplicated, hence making it a full package for the customers.
---
SMC Sub Broker or Partner Program FAQs
Now its time to go through some of the most asked questions related to the SMC Partner program:
What are the SMC Partner business models?
Under SMC Global, an individual can start as a sub-broker in the following ways:
Sub-broker/ Authorized Person
SMC Distributor
Refer & Earn
Does SMC offer a referral program?
Yes, the entity has designed a referral program where the customers can refer their friends who are interested in investing with SMC Global and earn rewards of up to Rs. 1000 in the form of Amazon Gift Vouchers.
What is the revenue-sharing structure for the SMC franchise?
SMC Franchise can earn an appealing and high level of income with this program. The revenue sharing can range anywhere between 30-60% of the revenue generated through your clients.
What are the products offered through SMC Sub-brokers?
With SMC Global, investors and traders can deal across all major market segments:
Equity
Derivatives
Commodity
Interest Derivatives
Currency Futures
Is it necessary to register with SEBI to register as an SMC sub-broker?
Yes, to act as an Authorized Person or sub-broker, you will need registration with SEBI and the respective stock exchanges.
Does SMC Global provide training and support to SMC Authorized Person?
SMC has been driven to assist its sub-brokers in every way from the very beginning of this journey. They offer:
Regular Training Program
Marketing Support
Technology Support
Seminar and webinars
Promotional Activities
Are research reports provided to the SMC Partners?
Yes, SMC Global extends its research tools and other innovative trading tools to its sub-brokers to help them function efficiently.
What are the eligibility criteria for the SMC Sub-brokers?
The candidate should have attained the age of 18 years or above.
The candidate should have experience of 1-2 years in financial product selling.
They should be able to make the necessary initial investment.
What is the minimum office space requirement with the SMC Partner program?
To set up a franchise with SMC Global, you will need an office space in a prime location of the town or city having a minimum of 250-500 sq. ft. area for working. Along with this, you will need a working telephone line connection with a voice logger and workstation for your operations.
What is the marketing support offered to SMC sub-brokers?
SMC Business Partners are given marketing support via their website, marketing collaterals, seminars, events, etc.
---
Become a Sub Broker with SMC – Just Fill up the form
---
Find detailed review of other Sub Broker Franchise
---
List of Top SMC Partners / Business Partners
| | | | |
| --- | --- | --- | --- |
| Company List | Remisiers Name | Trade Name | Remisiers Registration No. |
| SMC | Mr. Rohit Gupta | Rohit Gupta | R/0470/06085/09/05/2005 |
| SMC | Mr. Soni Shrikant Laxminarayan | Shree Markets Consultancy Services | R/0470/03901/29/09/2004 |
| SMC | Mrs. Krishna Goel | Goel Bansal & Co. | R/0470/06403/08/06/2005 |
| SMC | Ms. Kiran Singh | Shree Om Sai Investments | R/0470/03316/15/07/2004 |
| SMC | Ms. Sudha A. Kankani | Mayur Securities | R/0470/06404/08/06/2005 |