Angel Broking Sub Broker program is one of the largest broking franchises in the country with over 10,000+ sub brokers ecosystems.
Here, in this article, we will go through a detailed Angel Broking Franchise review & we will also do an in-depth analysis of Angel Broking Sub Broker Offers, Angel Broking Franchise Revenue Sharing Models, Angel Broking Partner Security Deposit requirements & other important features.
Summary
Top Business Model
Sub Broker
Revenue Sharing
50% – 70%
Security Deposit
Rs.10,000 – Rs.3,00,000
Become Sub Broker in
7 Days
Receive Payout in
15 Days
Founder
Dinesh Thakkar
Established Year
1987
---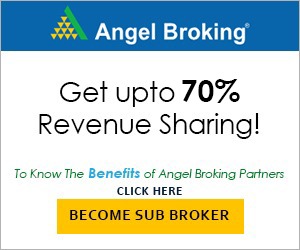 ---
Angel Broking Franchise Customer Ratings
Angel Broking Franchise
Experience
4.00
Services
4.00
Products
4.00
Trading Platforms
3.50
Support
3.50
Revenue Sharing Model
3.80
Security Deposit
3.80
Offers
4.20
Market Share
4.50
Overall
3.92
---
Compare Sub Broker Franchise
vs
---
Type of Angel Broking Franchise
Sub Brokership or Business Partner
Master Franchise
Remiseir
Angel Broking Authorized Person or Sub-Broker
In this franchise model, no franchise fees are needed and the security deposit made with the organization is refundable. The security deposit required to be invested with angel broking is Rs. 10,000.
The organization is also prepared to provide training and operational support to the franchisee member. The training process is specifically supervised by relationship managers.
Angel One Remisier
This strategy or model is based on a basic agent model. The ideology remains the same, the agent will receive a commission every time a customer opens a trading or Demat account with angel broking.
The commission breakup is between 30% to 50%. Another benefit that comes with this model is its straightforward onboarding procedure and the low initial investment.
Angel One Master Franchisee
Unlike the angel broking remisier, the master franchisee model requires a significant initial investment along with a sound infrastructure.
One benefit, however in this model is that the sub-broker has the opportunity to earn a commission of up to 80% of the revenue earned by the customers.
---
Become a Sub Broker with Angel Broking – Just Fill up the form
---
Angel One Commission or Revenue Sharing Model
Angel Broking is one of the largest broking franchises in the country and always has a very decent set of models for their sub-broking clients. The Commission model of the Angel Broking franchise varies on the following factors.
The volume of KYC generated on a monthly basis
Revenue generation on a monthly basis
If the volume of KYC is high & revenue generation is extremely large. In such cases, the revenue sharing can go up to the 80:20 model.

Here, the Angel Broking sub-broker will get 80% of the revenue & Angel Broking will get 20% of the revenue. This model only works if the client is generating high volume on a continuous basis.
Another Revenue sharing model depends on the security deposit amount. If the security deposit is as high as INR 1 lakh, in such case the model is 70:30.
If the deposit is INR 10,000, then it is 60:40 as well. It also depends on the negotiation skill of the sub-broker. In some cases, with INR 10,000 some partners get a 70:30 brokerage model.
---
Check out the Revenue Sharing of other Sub Brokers
---
Angel Broking Franchise Cost or Security Deposit Amount
Angel Broking Franchise Cost or Security deposit or Initial investment amount. To become Angel Broking Partner, one needs to pay a minimum-security deposit amount of INR 10,000.
This Initial investment amount is completely refundable once the client dissolves its business with Angel Broking.
This security deposit amount ranges from INR 10,000 to INR 3 lakh. On the basis of this amount revenue sharing is decided by Angel Broking. Higher security deposit generally means a high revenue share percentage for the sub-broker.
---
Here are Security Deposit info of other Stock Broking Franchise
---
Angel Broking Sub Broker Offers
Angel Broking provides a lot of offers to its franchise owners. Here is the list of offers provided by Angel Broking.
Flexible Revenue Sharing options
Performance-based revenue sharing option
Low Initial investment at INR 10,000
Client acquisition in just 5 minutes
Free Demat account for client acquisition
Flat 20% brokerage cashback
Trading for multiple asset classes
Trading across devices & browsers
---
Check out other companies Sub Broker Offers
---
How to become Sub Broker of Angel Broking?
The process of becoming a sub-broker is very simple with Angel Broking. Check the step-wise process here.
1st Step – Fill up the lead form
2nd Step – Receive a call from a Call center executive for interest verification
3rd Step – Receive a call from the Sales Representative for Appointment confirmation
4th Step – Meeting with the Sales Representative for detailed information
5th Step – Submission of Documents & Initial Investment Cheque
6th Step – Documents will be sent for verification
7th Step – Post verification, Account ID will be provided
This entire process can get completed in just 3 days.
Documents Required for Angel Broking Partner Registration 
Educational Qualification Certificate
DOB verification – must be 21 years or more
Canceled cheque or Bank statement
2 photos
Rent Agreement of Office Space
PAN Card
Aadhaar Card
Address Proof
---
Why Partner with Angel One?
Here are the various reasons to become an Angel Broking partner.
Massive Experience & Powerful Brand
Trading Platforms come in all Devices & Browsers
Offers various types of revenue-sharing models
Low-Security Deposit requirement i.e. INR 10,000
CRMS platform which provides all types of information to sub-brokers
Online & quick account opening process
High exposure or limit to clients
Marketing Support
Client acquisition support
---
Support provided by Angel One Partner Program
24*7 Customer Support
Marketing support like Banners, Flex, Posters, Visiting Cards, etc.
Training support related to stock market
Stock Market Advisory & Recommendation Support
Digital Marketing support for client acquisition
Online account opening support
---
Infrastructure Investment in Angel Broking Sub Brokers / Authorized Person
When it comes to recruiting sub-brokers, all brokerage firms comply with specific infrastructural criteria. To receive a legal trading license with angel broking, the sub-broker will need to comply with certain requirements.
Similarly, the franchisee member will also need to fulfill certain infrastructure requirements as well:
The member should have a team or staff of a minimum of 3 people.
A trading terminal also must have proper infrastructure.
To ensure strong customer service, it is important to have reliable internet connections.
The operating office should be at least 300 sq. ft.
---
Angel Broking Franchise Eligibility Criteria
Just like any other organization, to become part of the Angel Broking franchisee model the members need to meet certain criteria.
You must register with SEBI.
The candidate must be over 18 years and hold a high school diploma.
Experience in the stock market and financial products is an added advantage. Also, any type of certification in the financial markets can help in building a positive reputation.
You must be an excellent communicator because your whole job revolves around offering services to clients.
Before bringing you on board, Angel Broking looks for an exceptional and spotless track record.
---
Angel Broking Franchise – Pros & Cons
Except for a few downsides, there are several benefits to participating in Angel Broking as an Angel Broking Partner.
Pros
The organization is a known name in the market.
Trading platforms are accessible via all devices and web browsers.
Provides several revenue-sharing prospects.
The refundable security deposit is merely INR 10,000.
CRMS platform that provides sub-brokers with various types of information
Accounts may be opened fast and easily online.
The client is exposed to a large market.
Marketing support and customer acquisition
Cons
Only one source of income: Your primary source of income as an Angel Broking Partner is brokerage commission.
---
Angel Broking Franchise Registration
The procedure of becoming an Angel Broking Sub Broker is quite simple. Check out the complete technique here.
Fill out the lead form.
You will receive a call from a customer center executive to confirm your inquiry.
Wait for a call from the Sales Representative to confirm the appointment.
Meet with a Sales Representative to obtain further information
Submission of Documents and Initial Investment Cheque
Documents will then be forwarded for verification.
Account ID will be provided after verification.
The full registration procedure might be completed in three days.
---
Earning the potential of an Angel Broking Partner / ROI
The Angel Broking Business Partner franchise business model is known for its features and best services in the country. Even, this franchisee model has helped them to spread their branches further.
The partners associated with this sub-broker model receive compensation depending on the trading volume of the customers. Angel Broking now employs over 11,000 Authorised Persons throughout India.
---
Angel Broking Franchise Referral Program
The Angel Broking Authorised Person referral program is a no-risk business opportunity. You as a partner of this organization need not make any additional investment, unlike other sub-brokers or franchisee models.
There are various vouchers or referral amounts available for each recommendation in the Angel Broking Referral Program, sans any investment.
---
Brokerage Charges were levied on the clients of Angel Broking Partners
The Angel Broking Partner charges a minimal fee to customers known as a brokerage. The intraday equity cost is Rs. 20 per completed order or 0.25%.
Angel Broking Authorized Person charges, for equity and currency options, range between Rs. 20 per lot or 0.25%. Fees for commodity, currency, and stock futures trading range between Rs. 20 and 0.25% per executed order.
The customers are free of any brokerage costs on delivery transactions, as well as the first year is free of any annual maintenance charges.
To summarise, Angel Broking only charges a flat brokerage fee to its clients.
---
Angel Broking Authorised Person – Products Offered
Full-service broker, Angel Broking, provides a wide range of investing options. They have everything. Some of their services and products are:
Margin trading,
Commodities,
Derivatives,
Currency trading, and
Stock trading.
They also dealt with debt instruments. Corporate bonds, tax-free bonds, sovereign bonds, NCDs, and many other choices are available.
Because Angel Broking provides many products under a singer umbrella, the entire user journey of a client and customer becomes quite simple.
---
Angel Broking Franchise App
The brokerage organization has developed an application called Angel Broking Partner App, a firm management tool, for authorized persons. An app is a vital tool for maintaining a strong digital ecosystem to generate better client leads and has a higher success rate.
This app is also helpful for the clients to have proper customer relations with the customers.
---
NXT a Franchisee Platform
The platform used by Angel Broking Sub-broker is called NXT. This is a high-end solution for customer management and digital marketing.
The software is developed in a way that supports both mobile and desktop devices. You may use this application to track all elements of your clients' connections with you, such as engagement, performance, and lead creation.
As a partner, you may use these platforms to advance your company by engaging as an Angel Broking business consultant.
---
Angel Broking Franchise Conclusion
In line with all the data provided above, it is safe to say that Angel Broking provides one of the best commissions and remuneration to its clients.
With low initial investment and enticing income-sharing offers, the organization has successfully built a chain of franchisees.
To summarise, an authorized person can earn up to a commission of 50%-70%. A franchisee can anticipate a commission of 70%-80% and as a remisier, 20%-30%. As the number of clients increases, so will the revenue figures.
For any ambitious person looking to open a franchise, an angel-broking sub-broker franchisee is a very reputable place to begin the journey.
---
Angel Broking Sub Broker or Partner Program FAQs
Here is the list of FAQs related to the Angel Broking Program:
What costs are associated with owning an Angel Broking Franchise?
The cost of an Angel Broking Franchise varies depending on where you want to operate and is quite adjustable. The franchise model has an initial cost of between INR 10,000 and INR 300,000, while the master franchise may cost up to INR 350,000.
How much money does Anger Broking payout?
There is a small risk that you may encounter some issues when you initially enter the system, which takes about 2 months. However, issues will be resolved as soon as your data is confirmed and processed. After that, you may expect regular monthly payments.
What function does the sub-broker perform in Angel Broking?
Angel Broking's sub-brokers are quite active. They present themselves, identify clients, explain things to them, and assist with the Angel Broking registration procedure.
If the client demands it, they will aid them in trading after that. Then handle all of the client's brokerage needs, as well as much more.
How does Angel Broking generate revenue?
Angel Broking, like all other brokerage firms, charges its clients for brokerage. The firm's revenue is distributed among the sub-brokers based on how well they operate and how much brokerage they earn.
What documents are necessary to become an angel broking partner?
Partnering with angel broking as a registered authorized person is similar to being a full-time employee. The paperwork needed to complete the procedure is as follows:
Address verification: Aadhaar card, electricity or telephone bill, driver's license, passport, or bank statement.
Few photographs, minimum four.
Reference Letter from a certified CA.
An affidavit on paper with Rs. 10 stamps in case of any mistakes in the name.
What different sub-broker offers does Angel Broking have?
Angel Broking franchisees provide access to a wide range of services. The extensive list of offers is as follows:
Revenue sharing possibilities that are flexible • Income sharing options based on performance
Flat 20% cashback on brokerage costs.
Initial client acquisition costs INR 10,000 and takes 5 minutes.
Demat account is free for new customers.
Complete platform and browser trading
Trading across asset classes.
Does the Angel Broking franchise offer assistance?
First and foremost, the stockbroker provides research and counseling assistance to all of its sub-brokers.
Secondly, CRMS support is also provided to the franchisee, including a marketing dashboard, margin limits/exposure, configurable leverages, company growth, trading platforms, and other services.
Does Angel Broking offer support for training?
The master franchise and sub-broker business structures both require franchisee training. Angel Broking assists with training through seminars, workshops, webinars, and other relevant activities.
The broker also provides support with trading platforms, efficient marketing strategies, and other services.
Angel Broking Partner Program: Is It Free?
No, this company does have a partner program, but there is a fee involved with it. You must spend between Rs. 10,000 and Rs. 25,000 to participate in the business partner program.
When compared to other firm tactics, this expense is rather fair.
How can I modify my sub-broker in Angel Trading?
If you want to change your current sub-broker to the Angel Broking model, please send an email to support@angelbroking.com. They will analyze your request, assess if the change is possible or permissible, and notify you whether it is or is not.
---
Become a Sub Broker with Angel Broking – Just Fill up the form
---
Find a detailed review of other Sub Broker Franchise
---
Important Articles