Angel Broking Sub Broker program is one of the largest broking franchise in the country with over 10,000+ sub brokers ecosystem.
Here, in this article we will go through detailed Angel Broking Franchise review & we will also do an in-depth analysis of Angel Broking Sub Broker Offers, Angel Broking Franchise Revenue Sharing Models, Angel Broking Partner Security Deposit requirement & other important features.
Summary
Top Business Model
Sub Broker
Revenue Sharing
50% – 70%
Security Deposit
Rs.50,000 – Rs.150,000
Become Sub Broker in
7 Days
Receive Payout in
15 Days
Founder
Dinesh Thakkar
Established Year
1987
---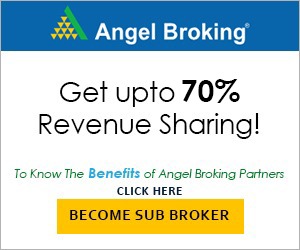 ---
Angel Broking Franchise Customer Ratings
Angel Broking Franchise
Experience
4.00
Services
4.00
Products
4.00
Trading Platforms
3.50
Support
3.50
Revenue Sharing Model
3.80
Security Deposit
3.80
Offers
4.20
Market Share
4.50
Overall
3.92
---
Compare Sub Broker Franchise
vs
---
Type of Angel Broking Franchise
Sub Brokership or Business Partner
Master Franchise
Remiseir
---
Become a Sub Broker with Angel Broking – Just Fill up the form
---
Angel Broking Sub Broker or Angel Broking Business Partner
A Sub Broker or a business partner is a business where Angel Broking provides its franchise to its partner. In this case there is no monopoly of the sub broker i.e. in one location multiple sub broker can run their business.
Angel Broking Master Franchise
A Master Franchise is similar to Sub broker business. In this case, the major difference is all master franchise acts as an owner of a particular location & no other sub broker can work in that particular location.
Angel Broking Remiseir
A Remiseir is a neither a sub broker nor a master franchise. A remiseir is an agent of Angel Broking who provides hot leads to Angel Broking & once leads are converted, the remiseir gets certain percentage cut of the revenue. In Angel Broking's case it varies from 20% – 30%.
---
Angel Broking Sub Broker Commission or Revenue Sharing Model
Angel Broking being one of the largest broking franchise in the country always has a very decent set of models for their sub broking clients. The Commission model of Angel Broking franchise varies on the following factors.
Volume of KYC generated on monthly basis
Revenue generation on monthly basis
If the volume of KYC is high & revenue generation is extremely large. In such cases, the revenue sharing can go upto 80:20 model.

Here, the Angel Broking sub broker will get 80% of the revenue & Angel Broking will get 20% of the revenue. This model only works if the client is generating high volume on continuous basis.
Another Revenue sharing model depends on the security deposit amount. If the security deposit is as high as INR 1 lakh, in such case the model is 70:30.
If the deposit is INR 50,000, then it is 60:40 aswell. It also depends on the negotiation skill of the sub broker. In some cases, with INR 50,000 some partners get 70:30 brokerage model.
---
Check out Revenue Sharing of other Sub Brokers
---
Angel Broking Franchise Cost or Security Deposit Amount
Angel Broking Franchise Cost or Security deposit or Initial investment amount. To become Angel Broking Partner, one needs to pay a minimum-security deposit amount of INR 50,000. This Initial investment amount is completely refundable once the client dissolves its business with Angel Broking.
This security deposit amount ranges from INR 50,000 to INR 3 lakh. On the basis of this amount revenue sharing is decided by Angel Broking. Higher security deposit generally means high revenue share percentage for the sub broker.
---
Here are Security Deposit info of other Stock Broking Franchise
---
Angel Broking Sub Broker Offers
Angel Broking provides a great deal of offers to its franchise owners. Here is the list of offers provided by Angel Broking.
Flexible Revenue Sharing options
Performance based revenue sharing option
Low Initial investment at INR 50,000
Client acquisition in just 5 minutes
Free Demat account for client acquisition
Flat 20% brokerage cashback
Trading for multiple asset classes
Trading across devices & browsers
---
Check out other companies Sub Broker Offers
---
How to become Sub Broker of Angel Broking?
Process of becoming a sub broker is very simple with Angel Broking. Check the step wise process here.
1st Step – Fill up the lead form
2nd Step – Receive a call from Call centre executive for interest verification
3rd Step – Receive a call from the Sales Representative for Appointment confirmation
4th Step – Meeting with Sales Representative for detailed information
5th Step – Submission of Documents & Initial Investment Cheque
6th Step – Documents will be send for verification
7th Step – Post verification, Account ID will be provided
This entire process can get completed in just 3 days.
Documents Required for Angel Broking Partner Registration 
Educational Qualification Certificate
DOB verification – must be 21 years or more
Cancelled cheque or Bank statement
2 photos
Rent Agreement of office Space
PAN Card
Aadhaar Card
Address Proof
---
Why Partner with Angel Broking?
Here are the various reasons to become Angel Broking partner.
Massive Experience & Powerful Brand
Trading Platforms comes in all Devices & Browsers
Offers various type of revenue sharing models
Low Security Deposit requirement i.e. INR 50,000
CRMS platform which provides all types of information to sub brokers
Online & quick account opening process
High exposure or limit to clients
Marketing Support
Client acquisition support
---
Support provided by Angel Broking Partner Program
24*7 Customer Support
Marketing support like Banners, Flex, Posters, Visiting Cards etc
Training support related to stock market
Stock Market Advisory & Recommendation Support
Digital Marketing support for client acquisition
Online account opening support
---
Become a Sub Broker with Angel Broking – Just Fill up the form
---
Find detailed review of other Sub Broker Franchise
---
Important Articles