Alice Blue Sub Broker or Alice Blue Partner Program is a newbie in the franchise business.
It is well known for the support that it lends to its sub brokers in setting up their business and growing in terms of volume. This article discusses about the business models available and the commercial aspects of all such models.
Alice Blue, currently headquartered in Bengaluru, was initially set up in Chennai when it started its operations in the year 2009.
It is members with almost all the regulatory bodies and hence a complete product profile to cater to its customers.
Summary
Top Business Model
Sub Broker
Revenue Sharing
50% – 75%
Security Deposit
Minimum of Rs.10,000
Become Sub Broker in
45 Days
Receive Payout in
28 Days
Founder
Sidhavelayutham M
Established Year
2006
---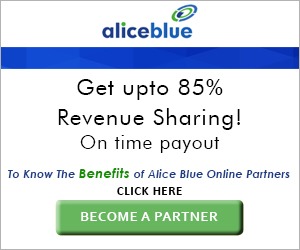 ---
Alice Blue Franchise Customer Ratings
Alice Blue Franchise
Criteria
Ratings
Experience
2.1/5
Services
2.5/5
Products
2.4/5
Trading Platforms
2.6/5
Support
2.8/5
Revenue Sharing Model
2.5/5
Security Deposit
2.4/5
Offers
2.8/5
Market Share
1.9/5
Overall
2.4/5
---
Compare Sub Broker Franchise
vs
---
Types of Alice Blue Sub Broker
Considering that it is a discount broker, the models available would be different from the partner model provided in case of full service broker. The business models in the instant case are:
Authorised person (AP)/franchisee
Referrer/remisier
---
Become a Sub Broker with Alice Sub broker – Just Fill up the form
---
Alice Blue Sub broker/ Authorised person
Authorised person model is similar to the franchise model. Alice Blue has devised 4 different kinds of plan under this model wherein the revenue sharing ratio, the security deposit amount and the benefits available are different.
The 4 categories are general, harvest, frequent and eventual. The revenue sharing ratio ranges from 70% from 85% and the deposit ranges from Rs. 10,000 to Rs. 50,000.
---
Alice Blue referrer
Alice Blue also has a referral policy wherein a person can refer the potential clients to Alice Blue and upon their conversion, the referrer earns a referral bonus.
The referrer need not undertake trading on behalf of such clients – it merely needs to connect the two parties. The referral bonus ranges from 20% to 50%.
---
Alice Blue Sub Broker Commission or Revenue Sharing Model

For an authorized person, the revenue sharing ratio depends upon which category the person falls into. There are 4 categories – A. General, B. Harvest, C. Frequent and D. Eventual.
In the first category the ratio is 70:30, in the second category ratio is 75:25 and in third & fourth category the ratio is 80: 20 and 85:15. This is presented in the table below as well.
| | |
| --- | --- |
| Plan/Category | Revenue sharing ratio |
| General | 70:30 |
| Harvest | 75:25 |
| Frequent | 80:20 |
| Eventual | 85:15 |
For a remisier model also, Alice Blue has provided the different slabs based on which the commission rate differs.
If the brokerage from all the referrals is upto Rs. 25,000 then one earns 20% of such brokerage, if brokerage is between Rs. 25,000 to Rs. 50,000 then 30% – so on and so forth.
The complete details have been provided in the table below.
| | |
| --- | --- |
| Brokerage from referrals | Commission % to remisier |
| NIL – Rs. 25,000 | 20% |
| Rs. 25,000 – Rs. 50,000 | 30% |
| Rs. 50,000 – Rs. 75,000 | 40% |
| Above Rs. 75,000 | 50% |
---
Check out Revenue Sharing of other Sub Brokers
---
Alice Blue Franchise Cost or Security Deposit Amount
Just like the revenue sharing ratio is divided into categories, the deposit amount is also fixed separately for each of the categories. Typically, the deposit amount starts from Rs. 10,000 and goes upto Rs. 50,000. Apart from this payment, one needs to make other investment like the office space setting up.
Also one needs to pay the registration fee for each of the product segment in which the sub broker/franchise/authorized person deals. In the table below, the details of security deposit payable under each category.
| | | |
| --- | --- | --- |
| Plan/Category | Deposit by monthly deduction | Advance security deposit |
| General | Rs. 25,000 | Nil |
| Harvest | Rs. 10,000 | Rs. 15,000 |
| Frequent | Rs. 25,000 | Rs. 25,000 |
| Eventual | Rs. 50,000 | Rs. 50,000 |
For a remisier model, the deposit amount is minimal of Rs. 10,000.
---
Here are Security Deposit info of other Stock Broking Franchise
---
Alice Blue Sub Broker Offer
Alice Blue being a discount broker has floated following offers for its sub broker customers:
Low security deposit
Different category of plans to chose from
Low brokerage rates for the customers
Allows flexible plans
Provides a break even period
---
Check out other companies Sub Broker Offers
---
How to become Sub Broker of Alice Blue?
Fill up the lead form herein on this website.
Our representative will call you – please confirm the details shared and your interest.
We will fix up an appointment with Alice Blue sales team.
Ensure that the proposal is discussed in detail during the meeting and all the aspects are well understood..
Provide copies of documents required and make the payment of necessary fee and deposit.
Alice blue Team will verify the documents provided.
Upon verification, Alice Blue Team will generate sub broker ID.
The procedure gets completed in almost 7-10 days.
Documents Required for Alice Blue Partner Registration
Proof of registration with SEBI/NSE/BSE
Copy of Aadhar Card
Copy of PAN card
Address & ID proof
DOB proof
Details of office and workspace set up and documents like rent agreement etc.
2 passport size photographs
copy of cancelled cheque
Copy of academic degree and qualification certificate
---
Why Partner with Alice Blue?
A discount broker and hence popular among the traders
Great analytical tools
Allos flexible brokerage plans
Wide spread network
Large product profile
---
Support provided by Alice Blue Partner Program
Alice Blue provides the following types of support for its sub brokers:
Assistance in setting up the market
Training sessions on how to operate the tools and systems
Marketing assistance
Financial assistance in form of subvention etc.
Waiver of additional deposit in some situations
---
Become a Partner of Alice Blue – Just Fill up the form
---
Find detailed review of other Sub Broker Franchise