Alice Blue Sub Broker or Alice Blue Partner Program is a newbie in the franchise business.
It is well known for the support that it lends to its sub-brokers in setting up its business and growing in terms of volume. This article discusses about the business models available and the commercial aspects of all such models.
Alice Blue, currently headquartered in Bengaluru, was initially set up in Chennai when it started its operations in the year 2009.
It is members with almost all the regulatory bodies and hence a complete product profile to cater to its customers.
Summary
Top Business Model
Sub Broker
Revenue Sharing
50% – 75%
Security Deposit
Minimum of Rs.10,000
Become Sub Broker in
45 Days
Receive Payout in
28 Days
Founder
Sidhavelayutham M
Established Year
2006
---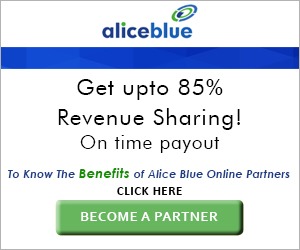 ---
Alice Blue Franchise Customer Ratings
Alice Blue Franchise
Criteria
Ratings
Experience
2.1/5
Services
2.5/5
Products
2.4/5
Trading Platforms
2.6/5
Support
2.8/5
Revenue Sharing Model
2.5/5
Security Deposit
2.4/5
Offers
2.8/5
Market Share
1.9/5
Overall
2.4/5
---
Compare Sub Broker Franchise
vs
---
Types of Alice Blue Sub Broker
When it comes to the franchise model, there is only one that Alice Blue relies on. The sub-broker model is the business model that is, used to capitalize on the broker business.
Considering that it is a discount broker, the models available would be different from the partner model provided in the case of a full-service broker. The business models in the instant case are:
Authorized person (AP)/franchisee
Referrer/register
---
Become a Sub Broker with Alice Sub broker – Just Fill up the form
---
Alice Blue Sub broker/ Authorised person
The authorized person model is similar to the franchise model. Alice Blue has devised 4 different kinds of plans under this model wherein the revenue sharing ratio, the security deposit amount, and the benefits available are different.
The 4 categories are general, harvest, frequent, and eventual. The revenue sharing ratio ranges from 70% to 85% and the deposit ranges from Rs. 10,000 to Rs. 50,000.
The sub-broker plan is a well-designed and strategized program by Alice Blue. One of the major factors that stand out about this program is that it allows the sub-brokers to manage the clients and end users with well-defined laws and policies.
It gives them enough freedom and also allows better distribution of responsibilities. The sub-brokers can function as a broker as they access the trading terminals, assist client trade, and can trade on their behalf as well.
---
Alice Blue referrer
Alice Blue also has a referral policy wherein a person can refer potential clients to Alice Blue and upon their conversion, the referrer earns a referral bonus.
The referrer need not undertake trading on behalf of such clients – it merely needs to connect the two parties. The referral bonus ranges from 20% to 50%.
---
Alice Blue Sub Broker Commission or Revenue Sharing Model

For an authorized person, the revenue-sharing ratio depends upon which category the person falls into. There are 4 categories – A. General, B. Harvest, C. Frequent, and D. Eventual.
In the first category, the ratio is 70:30, in the second category ratio is 75:25, and in the third & fourth categories the ratio is 80: 20 and 85:15. This is presented in the table below as well.
| | |
| --- | --- |
| Plan/Category | Revenue sharing ratio |
| General | 70:30 |
| Harvest | 75:25 |
| Frequent | 80:20 |
| Eventual | 85:15 |
For a remisier model also, Alice Blue has provided the different slabs based on which the commission rate differs.
If the brokerage from all the referrals is up to Rs. 25,000 then one earns 20% of such brokerage, if the brokerage is between Rs. 25,000 to Rs. 50,000 then 30% – so on and so forth.
The complete details have been provided in the table below.
| | |
| --- | --- |
| Brokerage from referrals | Commission % to remisier |
| NIL – Rs. 25,000 | 20% |
| Rs. 25,000 – Rs. 50,000 | 30% |
| Rs. 50,000 – Rs. 75,000 | 40% |
| Above Rs. 75,000 | 50% |
---
Check out Revenue Sharing of other Sub Brokers
---
Alice Blue Franchise Cost or Security Deposit Amount
Just like the revenue sharing ratio is divided into categories, the deposit amount is also fixed separately for each of the categories. Typically, the deposit amount starts from Rs. 10,000 and goes up to Rs. 50,000.
Apart from this payment, one needs to make other investments like the office space setting up.
Also one needs to pay the registration fee for each of the product segments in which the sub-broker/franchise/authorized person deals. In the table below, the details of the security deposit payable under each category.
| | | |
| --- | --- | --- |
| Plan/Category | Deposit by monthly deduction | Advance security deposit |
| General | Rs. 25,000 | Nil |
| Harvest | Rs. 10,000 | Rs. 15,000 |
| Frequent | Rs. 25,000 | Rs. 25,000 |
| Eventual | Rs. 50,000 | Rs. 50,000 |
For a remisier model, the deposit amount is minimum of Rs. 10,000.
---
Here are Security Deposit info of other Stock Broking Franchise
---
Alice Blue Sub Broker Offer
Alice Blue is a discount broker has floated the following offers for its sub-broker customers:
Low-security deposit
Different categories of plans to choose from
Low brokerage rates for the customers
Allows flexible plans
Provides a break-even period
---
Check out other companies Sub Broker Offers
---
How to become Sub Broker of Alice Blue?
Fill up the lead form herein on this website.
Our representative will call you – please confirm the details shared and your interest.
We will fix up an appointment with the Alice Blue sales team.
Ensure that the proposal is discussed in detail during the meeting and that all the aspects are well understood..
Provide copies of the documents required and make the payment of the necessary fee and deposit.
Alice blue Team will verify the documents provided.
Upon verification, Alice Blue Team will generate sub broker ID.
The procedure gets completed in almost 7-10 days.
Documents Required for Alice Blue Partner Registration
Proof of registration with SEBI/NSE/BSE
Copy of Aadhar Card
Copy of PAN card
Address & ID proof
DOB proof
Details of office and workspace set up and documents like rent agreement etc.
2 passport-size photographs
copy of canceled cheque
Copy of academic degree and qualification certificate
---
Why Partner with Alice Blue?
A discount broker and hence popular among the traders
Great analytical tools
Allos flexible brokerage plans
Wide spread network
Large product profile
---
Support provided by Alice Blue Partner Program
Alice Blue provides the following types of support for its sub brokers:
Assistance in setting up the market
Training sessions on how to operate the tools and systems
Marketing assistance
Financial assistance in form of subvention etc.
Waiver of additional deposit in some situations
---
Alice Blue Franchise – Pros & Cons
PROS
The profit-sharing plan of the sub-broker is one of the best in the market as it can go up to 60 percent.
The brokerage plans are flexible.
There is a large variety of products to choose from.
One can access some of the best analytical tools.
There is constant help and support in form of marketing products and collaterals etc.
The network of the company is pretty wide for better functioning.
CONS
There is a need to deposit a minimum amount of INR 10,000 to join the program.
---
Infrastructure Investment by Alice Blue Sub Brokers / Authorized Person
There is an infrastructural need that the sub-brokers need to fulfill if they want to register and work successfully with Alice Blue Online:
Area of the office: the sub-broker must have a minimum 100 sq. ft. office set up. It will ensure that the clients can easily visit the sub-broker and have a place to sit and talk.
Employees: There should be 2 full-time workers in the sub-broker office.
Internet connection: it is a must for the office to have strong and reliable internet connectivity at all times for easy trading.
Trading terminals: there should be a trading terminal installed in the office space so that if needed trading can be done from the office itself.
---
Alice Blue Franchise Eligibility Criteria
One will have to meet eligibility criteria to be able to register for the sub-broker program with Alice Blue.
Age: anyone who is applying for the sub-broker program should be 18 years and above and should be less than 65 years
Experience: one should have financial industry experience of at least 2 years. It is better to have trading and other stock market knowledge so that one can guide and help the clients.
Education: the sub-broker applicants should have passed 10+2.
---
Alice Blue Franchise Registration
Following are the steps that one needs to follow to register for the sub-broker platform.
Visit the official website of Alice Blue and fill in the application.
After this, an officer will call you, and you will have to provide the needed details.
Officer will help decide on a date for the Alice Blue sales team appointment.
Attend the meeting and discuss the sub-broker arrangement in detail. Make sure to clear all the doubts and understand every benefit and procedure.
Now, submit all the documents required as per policy and submit the minimum initial deposit.
A dedicated team will verify all the details and documents.
After the final verification and document submission, you will be given a sub-broker ID.
The registration process from start to end can take up to 10 days.
---
Alice Blue Franchise Referral Program
Another very attractive benefit when it comes to the Alice Blue franchise system is that anybody who is a registered person can refer to other people. The referred person, when trades on the platform, as per the referral policy the one who referred will get a benefit of 20 to 50 percent.
---
Earning the potential of an Alice Blue Partner / ROI
The sub-brokers are eligible for regular incentives as well, other than the mentioned benefits. Here are 5 types of incentives:
Trading Revenue Incentive: under this incentives plan, the sub-brokers will get 60 percent of the brokerage paid by the clients.
Clients Traded Incentive: one can earn some incentive when the clients that you bring trade using Alice blue. You will get INR 100 when 6 to 24 clients trade. You will get INR 150 when more than 24 clients trade.
Client Referral Sharing Incentive: if the client that you refer refers Alice Blue to their friend, then the sub-broker will get a 50 percent lifelong brokerage sharing benefit.
Partner Referral Sharing Incentive: if you bring on board a sub-broker by referring the sub-broker online program, then you will get a 10 percent lifelong sharing benefit from their net income.
Mutual Funds Revenue Sharing: one will get INR 10 when one of the clients dies Mutual fund investment in Alice Blue.
---
Brokerage Charges were levied on the clients of Alice Blue Partners
One of the things that the sub-brokers need to keep in mind about the revenue and brokerage of Alice Blue is that they are a discount broker. That means the fees asked by the broker firm are quite low compared to other full-service broker firms.
Despite the transactions, there is a fixed rate that is charged per order. The fixed rate that is charged for most segments is INR 10.
The only exception to this is commodity trading charges. The fixed rate for commodity trading is INR 100. As a sub-broker one can also go for a value charge of 0.01 percent of the transacted amount.
---
Alice Blue Franchise Conclusion
Hopefully, now the readers have a clear understanding of how the Alice Blue Online Sub-broker program works.
This online franchise program is one of the best-known options out there, which is known for bets revenue sharing plans, easy registration, complete autonomy in handling the clients, and also constant support and guidance.
Joining the program can be a great way to join a reputed firm and also have good earnings.
---
Alice Blue Sub-broker or Partner Program FAQs
Here are some frequently asked questions by most of the interested parties:
Who is a Sub Broker?
When a broker hires an agent to bring on more clients, it is called sub-brokering. The sub-brokers work for a broker to bring in more clients, convert them, and convince them to trade and use various products and services. The sub-brokers in return will get a percentage of the brokerage paid by the clients to the brokers.
How to Become Alice Blue Sub Broker?
Go to the Alice Blue page and select the 'Become Sub Broker' option on the page itself as a pop-up form. Ten fill up the application with the needed details, after which you will be contacted by the broker.
Is Alice Blue having multiple Franchise models?
No, there is simply one franchise model 'sub-broker model' to sign up for.
Does Alice Blue have Partner Program?
No, Alice Blue broker does not have a partner program designed particularly for investors. However, the sub-broker program itself is quite different and unique as compared to some of the bigger names in the market.
What is the Alice Blue Franchise Cost or Security Deposit Amount required to start a franchise?
The minimum deposit required is INR 10,000 and the maximum deposit amount is INR 50,000. One will also have other investments required to start their sub-broker franchise setup.
What is the Alice Blue Sub-broker Commission or Revenue Sharing Model?
The revenue-sharing ratio for the authorized person tends to change from category to category here are 4 common categories and their corresponding revenue-sharing ratio:
Category A- 70:30
Category B- 70:30
Category C- 80:20
Category D- 85:15
What are the different Alice Blue Sub-broker Offers?
Following are the offers that are given to the sub-broker clients of the Alice Blue broker program:
Low-security deposit
Different groups and plans to pick from
Minimum brokerage rates for the clients
Flexible plans and programs
Break-even period
What are the Documents Required for Alice Blue Partner Registration?
The following are the required documents for registering for the Alice Blue sub-broker program:
SEBI/NSE/BSE registration certificate
Copy of canceled cheque for bank details
Aadhar Card copy
PAN card copy
2 photographs (passport size)
Address proof
ID proof
Date of birth or age proof
Office address and set up proof like rent agreement etc.
qualification certificate and degrees copy
Does Alice Blue provide Training Assistance?
Yes, there is training provided under the Alice Blue sub-broker program. This helps the new sub-brokers to understand the ropes of the work and how to maintain the standards as per the Alice Blue regulations and policies. One will get a deeper understanding of the services and products that the company offers and how to deal with customers.
Does Alice Blue Franchise provide Support?
Yes, there is extensive support provided to the sub-brokers, in the field of product, customer support, and marketing. This helps the sub-broker to grow and add more value to the brand. This also helps the sub-brokers to grow over time with constant support.
---
Become a Partner of Alice Blue – Just Fill up the form
---
Find detailed review of other Sub Broker Franchise