Edelweiss Sub Broker Program stands mammoth strong and unique with 20 years of experience in the industry. They are ahead in the race when it comes to providing financial services to their sub brokers.
Let's have a detailed understanding of Edelweiss Sub Broker Review. We will do an in-depth analysis of Edelweiss Sub Broker offers Edelweiss partner revenue sharing models, Edelweiss sub broker initial investment amount & other important features.
Summary
Top Business Model
Sub Broker
Revenue Sharing
50% – 70%
Security Deposit
Rs.100,000 – Rs.200,000
Become Sub Broker in
14 Days
Receive Payout in
31 Days
Founder
Rashesh Shah
Established Year
2008
---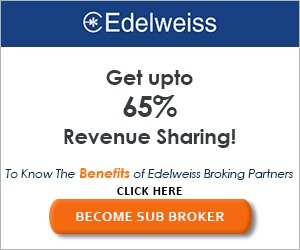 ---
Edelweiss Sub Broker Customer Ratings
Edelweiss Sub Broker
Experience
3.60
Services
3.30
Products
3.50
Trading Platforms
3.30
Support
3.40
Revenue Sharing Model
3.50
Security Deposit
3.20
Offers
3.50
Market Share
3.10
Overall
3.38
---
Compare Sub Broker Franchise
vs
---
Types of Edelweiss Sub Broker Business
Alliance
Master Franchisee
Sub Broker or Associate Partner
Edelweiss Broking offers three different Edelweiss Partner models, including:
Remisier or Edelweiss Elliance
Once the franchisee has registered with Edelweiss, they may recommend customers online and persuade them to create a Demat account with an Edelweiss sub-broker to get paid for the referrals.
This model operates on a spectrum of revenue sharing from 10% to 30% dependent on the revenue produced by Edelweiss Elliance's clients.
Edelweiss Master Franchise
The operation of the Edelweiss Master Franchise Model is similar to that of other master franchises. A monopoly is imposed in a certain area by the Master Franchise. In most cases, a specific town or small city.
Regarding commission sharing, Edelweiss Master Franchise uses a range of 70% to 80%. The Master Franchise has an Rs. 3 Lakh Minimum Investment requirement. In this case, a physical office must already be set up by the Master Franchise.
Edelweiss Associate Partner or Sub Broker
The Edelweiss Sub Broker model is a fundamental franchising concept in which the Sub Broker attracts clients and also delivers various services to them.
According to the Edelweiss Partner Model, revenue share ranges from 50% to 70%, depending on the negotiation, income growth, or Security Deposit. Any Edelweiss Franchise requires office space, and the security deposit ranges from Rs.50,000 to Rs.2 Lakh.
---
Become a Sub Broker with Edelweiss – Just Fill up the form
---
Edelweiss Sub Broker Commission or Revenue Sharing Model
Edelweiss sub-broker or associate partner model has a very exciting revenue sharing ratio, ranging from 50:50 to as high as 70:30. This revenue sharing ratio is decided based on the amount of business the franchisee or sub broker brings for the company.
In the case of the Edelweiss Master Franchise, the revenue sharing has a very small range but it is highest among other models. The revenue sharing here ranges between 70%-80%. This depends on Investment Amount, Revenue Generation & also on the Number of clients with the Master Franchise.
In Edelweiss Alliance, the revenue sharing is the lowest because the alliance only has to provide clients to edelweiss, the rest of everything is taken care of by Edelweiss. The Commission here ranges from 110%-30% based on revenue & client sourced by the Alliance Partner.
| | | |
| --- | --- | --- |
| | Edelweiss Commission | Partner Commission |
| Edelweiss Sub Broker | 50% – 30% | 50% – 70% |
| Edelweiss Master Franchise | 30%-20% | 70%-80% |
| Edelweiss Remisier | 90%-70%% | 10%-30% |
---
Check out Revenue Sharing of other Sub Brokers
---
Edelweiss Franchise cost or Security Deposit Amount
Edelweiss Sub Broker Model or Associate Partner Model requires an initial investment amount that ranges from Rs.50,000 to Rs.2 Lakh. This entire amount is refundable post exit of Sub Broker. In this model, the Edelweiss Franchise Owner needs to have an office space & also a very good understanding of stock market trading.
Edelweiss Master Franchise model is an expensive model where the Franchise cost is in the range of Rs.3 Lakh to Rs.5 Lakh. The higher range generally gets better revenue sharing.
Also, in some cases, if the master franchise has a massive volume of clients, he can get better revenue sharing at a low initial investment.  The Master Franchise needs to have a decent size office space. The Master Franchise must have at least 3 years of experience in the Stock market.
Edelweiss Elliance is a low cost model where the Security Deposit amount is zero. The office space is also not required.
| | |
| --- | --- |
| | Edelweiss Franchise Cost |
| Edelweiss Sub Broker | Rs.50,000 – Rs.2 Lakh |
| Edelweiss Master Franchise | Rs.3 Lakh – Rs.5 Lakh |
| Edelweiss Elliance | Zero |
---
Here are Security Deposit info of other Stock Broking Franchise
---
Edelweiss Sub broker offers
This company has been always the pioneer of innovations in the financial services industry:
Edelweiss uses the software Omnesys for the trading they do;
They have a unique offer for their sub-brokers in the form of 90 days of training which bears 0 costs. The sub-brokers are trained about the process, software used, platforms to be utilized, and of course, trading;
Marketing support. This includes all kinds of collaterals, posters, leaflets, flex, banners et cetera;
The sub-broker can look forward to any kind of technical support along with customer care facility access ;
Management support is provided to the sub-brokers
---
Check out other companies Sub Broker Offers
---
How to become a Sub Broker of Edelweiss?
Edelweiss has a very easy and simplified procedure for enrolling into a business partnership. The procedure has been discussed below:
1st Step – You just got to fill out the registration form
2nd Step – The representative will be connecting with you for further discussion to figure out your requirements and plans. This will happen shortly (3-4 working days) after you fill out the registration form
3rd Step – Edelweiss sales executive will get in touch with the aim of getting a brief about your plans and requirements. This will help you to choose whether to go ahead with the sub-broker model. If yes, a meeting will be scheduled.
4th Step – Once the meeting is scheduled, you meet the salesperson from Edelweiss personally for a more detailed discussion on the same.
5th Step – Documents submission along with deposit the minimum amount/ security deposit
6th Step – Edelweiss will be verifying the documents submitted by you
7th Step – Once, the document verification is done, you will get a confirmation of the activation for your registration with the Edelweiss sub-broker model
This may take up to 7-10 working days.
Documents Required for Edelweiss sub-broker registration
Identity Proof
Date of Birth proof
Address proof
Academic qualification Certificate
Canceled cheque or Bank statement
Registration certificate with SEBI/Stock exchange
Passport size photos
Infrastructure proof
PAN Card
Aadhaar Card
---
Why Partner with Edelweiss ?
1. The Game Of Name
The brand name in itself speaks a million words about the company. They have been a receiver of multiple excellence and innovations awards including the best-managed midcap company in the country (India). Thus, partnering with Edelweiss is a pride and an experience altogether.
2. Multiple benefits under one roof
Yes, most important of all, Edelweiss provides its clients with multiple services under the umbrella. The services range from Stock Investment, Currency, Commodity, Structured Products, Mutual Funds, ESOP Funding, LAP, LAS Investment, and Housing loans to fixed income and much more.
3. Reliability is the key
Edelweiss believes in being reliable to its clients and thus provides research analysis training in the following:
Investment Ideas
Trading and Intraday Calls
Live Market Commentary
Thematic Research
4. Grow Together
Edelweiss believes in growing its sub-brokers' business along with its own. It provides all the support for understanding and even managing the business.
---
Support provided by Edelweiss to sub-brokers
90 days of free technical and process training;
Customer care support;
Technical support;
Marketing and branding support;
Support for the clients based on site:
Management support:
Online product management for Elliance franchisee or sub-broker;
---
Infrastructure Investment by Edelweiss Sub Brokers / Authorized Person
There are various requirements that you must meet if you want to cooperate with the Edelweiss Sub Broker Infra Requirement. The infrastructural needs for partnerships are what we refer to them as.
The employee strength, which should have a minimum of 3 employees, comes first on this list. Second on this list is the office space, which needs to be at least 200 square feet.
In addition, you must have a trading terminal, a reliable internet connection, phone lines, and other auxiliary research services to participate in the Edelweiss Partner Requirement.
---
Edelweiss Franchise Eligibility Criteria
Meeting the following requirements is crucial for anybody interested in owning an Edelweiss Franchise:
Be well-versed in financial services, and have a solid history and reputation in the industry.
He or she ought to have a minimum of two years experience in any of the following positions: stockbroker, main broker, remisier, MF distributor, insurance adviser, etc.
He or she has to be knowledgeable about the most recent revisions to the guidelines established by the exchanges, stockbroking authorities, and other pertinent parties from time to time.
Registration with SEBI or another governing authority.
A business location with an office that is at least 250 square feet large.
Staff in the office to assist potential customers.
An investible surplus of Rs.2 Lakh.
---
Edelweiss Franchise – Pros & Cons
PROS
One of the major brokers, Edelweiss has been around for more than ten years. It has gained a positive image with the public and, thanks to Edelweiss Partners and its offices, has extended to many regions of the nation.
With Edelweiss, you may earn up to 55 to 70 percent of your income and work as a full-time Edelweiss Partner.
CONS
A minimum initial investment of Rs. 2 lahks is needed for the franchise concept. The person must own or pass the NISM certification test.
It is necessary to have prior experience working with financial products.
To start your franchise, you must meet a certain building standard.
---
Edelweiss Franchise Registration
You may quickly apply to become an Edelweiss Sub Broker and start doing business with this prestigious organization. The procedure will start on the Edelweiss website, where you may easily register for it.
Within 12 to 15 working days after the registration is complete, you will get the franchise code.
Do not wait any longer if you want to launch a franchise; speak with Edelweiss and begin your adventure right away. You may start the registration process online from anywhere, and it takes only a few minutes.
---
Earning the potential of an Edelweiss Partner / ROI
With an investment of about Rs. 50,000, the income sharing for Edelweiss partners would begin at 40% and may increase to 50% of the total revenue earned by his clients.
As a result, the Edelweiss Franchise Returns would be favorable, and you would begin to make money once your revenue share was equivalent to your initial investment.
In Edelweiss, it has been noted that it often takes all of the partners just three months to break even and begin making money.
---
Edelweiss Franchise Referral Program
A referral scheme is also offered by Edelweiss. Edelweiss Authorised Person can suggest friends, coworkers, family members, or anyone else who is interested in trading and investing under this program.
An Rs. 500 Amazon gift card will be given to the referral. To qualify, the person must open an Edelweiss account and begin trading within 30 days of the account's activation.
Then, as a margin requirement, they must deposit Rs. 25,000 into the account. Upon meeting all of these requirements, the referrer will be given the coupon.
An Rs. 500 Amazon gift card is now offered as compensation for recommending individuals to Edelweiss.
---
Brokerage Charges were levied on the clients of Edelweiss Partners
Franchise owners receive a minimum of 60% of the revenue share and a maximum of 70%.
The revenue sharing for the Edelweiss Partner would begin at 40% and might go as high as 50% of the whole income earned by his customers.
The revenue share for Elliance ranges from 30% to 50%.
Therefore, if all of your clients pay a total of Rs. 1 lakh in brokerage each month, you may expect to make between Rs. 60,000 and Rs. 70,000 as a franchisee.
You may make between Rs. 40,000 and Rs. 50,000 as a partner and between Rs. 30,000 and Rs. 50,000 as an elliance.
---
Edelweiss Authorised Person – Products Offered
There are several benefits to becoming an Edelweiss Partner.
You may provide a variety of financial solutions to your clients and help them prosper while also earning a consistent income for yourself. You may provide a wide range of services to your clients, including stocks, derivatives, commodities, and access to IPOs.
---
Edelweiss Franchise Conclusion
Edelweiss Franchise is one of the country's fastest-growing franchise enterprises. Sub-brokers can select from a variety of business models based on their initial investment capacity and income development goals. However, the sub-broker should thoroughly examine the business models before making a decision.
To summarise, becoming an Edelweiss Partner may be a rewarding experience. You may get a large revenue share with a small investment.
Aside from monetary benefits, you may provide consumers with a variety of unique items to help you establish a large and loyal clientele.
---
Edelweiss Sub Broker or Partner Program FAQs
Here is the list of FAQs related to the Edelweiss Franchise:
How do I apply for an Edelweiss franchise?
You must apply for a franchise owner business model with Edelweiss by visiting their website. Then you must fill out the form with the necessary information and submit the necessary documents.
Once your application has been approved, you must pay the franchise fee and set up your infrastructure to begin the fantastic adventure.
Can we rely on Edelweiss?
Edelweiss is one of the stockbroking industry's oldest brokerage firms. With over 2500 franchisees around the country, it is one of the most trusted and renowned institutions.
What exactly is Edelweiss Partners?
Edelweiss partners are classified into three categories: franchise owners, Partners, and Elliance.
Is there a referral scheme for Edelweiss?
Yes, Edelweiss has a referral program. If you are a client, you may suggest others and earn benefits if they establish an account.
What is Elliance?
Edelweiss' Elliance program is a one-of-a-kind cooperation opportunity. This concept involves little investment and pays out a lot of money when you recommend clients to the business.
What are the requirements for joining Edelweiss Elliance?
To become an Elliance, you must be a graduate with a strong reputation in the financial markets and an understanding of the same.
Is there a referral scheme for Edelweiss?
Yes, Edelweiss has a referral program. If you are a client, you may suggest others and earn benefits if they establish an account.
What is Elliance?
Edelweiss' Elliance program is a one-of-a-kind cooperation opportunity. This concept involves little investment and pays out a lot of money when you recommend clients to the business.
What are the requirements for joining Edelweiss Elliance?
To become an Elliance, you must be a graduate with a strong reputation in the financial markets and an understanding of the same.
Does Edelweiss offer training?
Yes, franchisees can contact the company's call center whenever they want. Aside from that, when a franchisee joins their brand, they receive 90 days of board training.
The support of a franchise relationship manager is also given.
---
Speak to Edelweiss Franchise Manager – Just Fill up the form
---
Find detailed review of other Sub Broker Franchise
---
List of Top Edelweiss Partners / Business Partners
| | | | |
| --- | --- | --- | --- |
| Company List | Remisiers Name | Trade Name | Remisiers Registration No. |
| Edelweiss | EDELCAP SECURITIES LTD. | EDELCAP SECURITIES LTD. | AP0101210103405 |
| Edelweiss | NIMISH SANGHAVI | NIMISH SANGHAVI | AP0101210108931 |
| Edelweiss | EDEL INVESTMENTS LIMITED | EDEL INVESTMENTS LIMITED | AP0101210154097 |
| Edelweiss | EDELWEISS CAPITAL MARKETS LIMITED | EDELWEISS CAPITAL MARKETS LIMITED | AP0101210154251 |
| Edelweiss | ECAP EQUITIES LIMITED | ECAP EQUITIES LIMITED | AP0101210154327 |