Geojit Finance Sub Broker Program is known for its exponential sub broker franchise growth in 2017. In this article, we will go through in-depth analysis of Geojit Finance Franchise Cost, Geojit Finance Sub Broker commission & more.
Geojit finance is a fast growing financing services providing company. It has its offices located both in India and in Middle East. The broking house is based out of Mumbai.
Summary
Top Business Model
Sub Broker
Revenue Sharing
50% – 70%
Security Deposit
Rs.50,000 – Rs.150,000
Become Sub Broker in
35 Days
Receive Payout in
20 Days
Founder
Balakrishnan A
Established Year
2000
---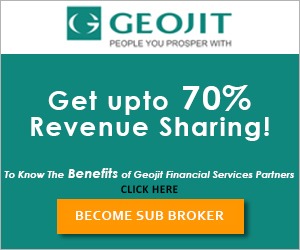 ---
Geojit Finance Franchise Customer Ratings
Geojit Finance Franchise
Criteria
Ratings
Experience
3.1/5
Services
2.9/5
Products
3.0/5
Trading Platforms
3.2/5
Support
3.1/5
Revenue Sharing Model
3.0/5
Security Deposit
2.9/5
Offers
2.8/5
Market Share
3.0/5
Overall
3.0/5
---
Compare Sub Broker Franchise
vs
---
Types of Geojit Finance Sub Broker
Sub broker or AP
Remisier
---
Become a Sub Broker with Geojit Finance – Just Fill up the form
---
Geojit Finance Sub Broker

Geojit is well known for being very satisfactory for its partners. The sub broker or partner will have to invest to set up an office and will have to handle a social circle. Geojit Finance Partner Program has a brokerage sharing starting with 60:40 & requires a security deposit in the range of Rs.50,000 – Rs.100,000.
Geojit Finance offers various facilities to the sub brokers, these offers are discussed in detail below.
---
Geojit Finance Remisier
Being a remisier will not cost one much. It will just involve bringing potential client and customers to the company. The Geojit Finance Remisier Model will require only Rs.25,000 security deposit & commission sharing is 25:75.
---
Geojit Finance Sub Broker Commission or Revenue Sharing Model
Geojit employs a flexible revenue sharing model for sub brokers. The share of revenue generated that goes to the sub broker will depend on how much is the sub broker making in a month, which displays one's business skills.
If a sub broker is making upto 2 lac per month then sub broker will get 60% of it and the geojit finance will get to keep the rest 40%. If amount generated goes up between 2-5 lakh, then the ratio becomes be 60:40 and if more than 5 lacs it may go upto 70:30.
However for a remisier, ratio is 25:75 only. The broking house will get 75% of the generated income.
| | | |
| --- | --- | --- |
| | Geojit Finance Commission | Sub Broker Commission |
| Geojit Finance Sub Broker | 30%-50% | 70%-50% |
| Geojit Finance Remisier | 60% | 40% |
---
Check out Revenue Sharing of other Sub Brokers
---
Geojit Finance Franchise Cost or Security Deposit Amount
The initial investment of Rs.50,000 has to be made by the sub broker, but, the total security deposit demanded by the company is Rs.1.5 lacs. Also for NSE and other related registrations a total of non refundable investment of around Rs.15000 will have to be done by the sub broker.
Other cost will include electricity bills, broadband connection, technological infrastructure,etc. Geojit may sometimes bear 50% cost of the investment in cases if the partner is generating a good revenue.
For Remisier program the security deposit requires is Rs.25,000 only.
| | |
| --- | --- |
| | Geojit Finance Franchise Cost |
| Geojit Finance Sub Broker | Rs.50,000 – Rs.1.5 Lakh |
| Geojit Finance Remisier | Rs.25,000 |
---
Here are Security Deposit info of other Stock Broking Franchise
---
Geojit Finance Sub Broker Offer
Geojit Franchise makes an enticing opportunity to invest in because of the underlying reasons
A whole range of financial services like equity,commodity, mutual funds, IPO, custody accounts
Online services : various online payment gateways
Flexible revenue sharing models
Spread across the country
Training and investment to the partners whenever necessary
---
Check out other companies Sub Broker Offers
---
How to become Sub Broker of Geojit Finance?
Step 1 – Fill in your details in the lead form.
Step 2 – Verify your interests by receiving a call from Call Centre.
Step 3 – Fix an appointment with Sales Representative when there is a call from them.
Step 4 – Make sure to get detailed information by meeting uo with sales representative.
Step 5 – Submit the initial security deposit amount and all the documents required for verification.
Step 6 – The documents will be verified.
Step 7 – After verification, an account ID will be provided.
The procedure gets completed in almost 7-10 days.
Documents Required for Geojit Finance Partner Registration
Educational degree certificate
DOB verification- 21 years and above
2 photograohs
Cancelled bank cheque
Rent Agreement for Office space
Aadhar card
PAN card
Address Proof
---
Why Partner with Geojit Finance?
First company to go for online payment and multiple gateways, to launch through mobile phone etc.
Esteemed personalities are shareholders of this company
An experienced player in the field of trading
Low brokerage tariffs
Excellent research and technological facilities like emails,newsletters,reports
---
Support provided by Geojit Finance Partner Program
The company assigns relationship manager to a particular Franchise for training them for client acquisition and business skills.
There is also back office support provided by the company where the company may contribute 50% to the investment.
There is a provision of emergency help to the sub broker in case sub broker encounters a new challenge or unfamiliar situation.
The personnel are also trained for handling online services.
The company also provides marketing support for events organised by the sub broker.
---
Become a Sub Broker with Geojit Finance – Just Fill up the form
---
Find detailed review of other Sub Broker Franchise
---
List of Top Geojit Finance Partners / Business Partners
| | | | |
| --- | --- | --- | --- |
| Company List | Remisiers Name | Trade Name | Remisiers Registration No. |
| Geojit Finance | Mr. Alexander K.K | Alexander K.K | R/0328/00650/30/12/2002 |
| Geojit Finance | Mr. G.Giri Shankar | G.Giri Shankar | R/0328/00815/12/05/2003 |
| Geojit Finance | Mr. Jimmy P. | Jimmy P. | R/0328/00745/28/02/2003 |
| Geojit Finance | Mr. Jimmy Sebastian | Jimmy Sebastian | R/0328/00646/30/12/2002 |
| Geojit Finance | Mr. O. M. Paul | O. M. Paul | R/0328/00604/21/10/2002 |
| Geojit Finance | Mr. Pradeep P. S | Pradeep P. S | R/0328/00907/16/09/2003 |
| Geojit Finance | Mr. Pratheesh K. Philip | Pratheesh K. Philip | R/0328/00607/21/10/2002 |
| Geojit Finance | Mr. Renganatha Raja M. | Renganatha Raja M. | R/0328/00647/30/12/2002 |
| Geojit Finance | Mr. S.B. Shivayogappa | S.B. Shivayogappa | R/0328/01658/30/01/2004 |
| Geojit Finance | Mr. Suresh N. M. | Suresh N. M. | R/0328/04149/25/10/2004 |
| Geojit Finance | Ms. Pragna K. Shah | Pragna K. Shah | R/0328/00904/16/09/2003 |
| Geojit Finance | Ms. Sasi Kelath | Sasi Kelath | R/0328/01657/30/01/2004 |