Geojit Finance Sub Broker Program is known for its exponential sub broker franchise growth in 2017. In this article, we will go through an in-depth analysis of Geojit Finance Franchise Cost, Geojit Finance Sub Broker commission & more.
Geojit finance is a fast-growing financing service-providing company. It has offices located both in India and in the Middle East. The broking house is based out of Mumbai.
Summary
Top Business Model
Sub Broker
Revenue Sharing
50% – 70%
Security Deposit
Rs.50,000 – Rs.150,000
Become Sub Broker in
35 Days
Receive Payout in
20 Days
Founder
C. J. George & A. P. Kurian
Established Year
1986
---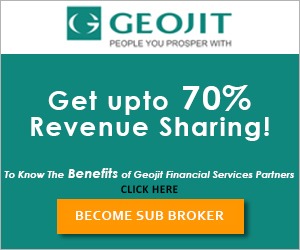 ---
Geojit Finance Franchise Customer Ratings
Geojit Finance Franchise
Criteria
Ratings
Experience
3.1/5
Services
2.9/5
Products
3.0/5
Trading Platforms
3.2/5
Support
3.1/5
Revenue Sharing Model
3.0/5
Security Deposit
2.9/5
Offers
2.8/5
Market Share
3.0/5
Overall
3.0/5
---
Compare Sub Broker Franchise
vs
---
Types of Geojit Finance Sub Broker
Geojit is an Indian company engaged in the business of stock broking. The company was established in Kochi, Kerala. It started its operations in 2000 and, with time, extended its operations in different areas.
In case you are wondering how you can join this organization and become its partner, you have come to the right place. Today, we will talk in detail about the Franchise program of Geojit.
The company has multiple sub-broker plans, and you can find your perfect match easily.
Master Franchise
Sub broker or AP
Remisier
All these programs come with their own potential and benefits; let's take a look at them one by one.
---
Become a Sub Broker with Geojit Finance – Just Fill up the form
---
Master Franchise
Under this program, you set up your own business. The company follows a monopoly business model, which means your franchise will be unique in the area.
A reputed brand in the country
Revenue share of up to 80%
Monopoly in the region
Geojit Finance Sub Broker

Geojit is well known for being very satisfactory for its partners. The sub-broker or partner will have to invest to set up an office and will have to handle a social circle. Geojit Finance Partner Program has a brokerage sharing starting with 60:40 & requires a security deposit in the range of Rs.50,000 – Rs.100,000.
Geojit Finance offers various facilities to the sub brokers, these offers are discussed in detail below.
You can simply sell the products of Geojit Finance to the customers and make attractive earnings.
High revenue-sharing ratio
Convenient and hassle-free setup
Wide Range of Products
---
Geojit Finance Remisier
Being a remisier will not cost one much. It will just involve bringing potential clients and customers to the company. The Geojit Finance Remisier Model will require only a Rs.25,000 security deposit & commission sharing is 25:75.
It is a very easy setup where you propagate the features of Geojit Finance and its varied offerings and refer these clients to the company.
Low investment requirement
Easy earning opportunities
Requires less involvement
---
Geojit Finance Sub Broker Commission or Revenue Sharing Model
Geojit employs a flexible revenue-sharing model for sub-brokers. The share of revenue generated that goes to the sub-broker will depend on how much the sub-broker makes in a month, which displays one's business skills.
If a sub-broker is making up to 2 lac per month then the sub-broker will get 60% of it and the geojit finance will get to keep the rest 40%. If the amount generated goes up between 2-5 lakh, then the ratio becomes 60:40, and if more than 5 lacs it may go up to 70:30.
However, for a remisier, the ratio is 25:75 only. The broking house will get 75% of the generated income.
| | | |
| --- | --- | --- |
| | Geojit Finance Commission | Sub Broker Commission |
| Geojit Finance Sub Broker | 30%-50% | 70%-50% |
| Geojit Finance Remisier | 60% | 40% |
---
Check out Revenue Sharing of other Sub Brokers
---
Geojit Finance Franchise Cost or Security Deposit Amount
The initial investment of Rs.50,000 has to be made by the sub-broker, but, the total security deposit demanded by the company is Rs.1.5 lacs. Also for NSE and other related registrations a total of nonrefundable investment of around Rs.15000 will have to be done by the sub-broker.
Other costs will include electricity bills, broadband connection, technological infrastructure,etc. Geojit may sometimes bear 50% cost of the investment in cases if the partner is generating good revenue.
For Remisier program the security deposit requires is Rs.25,000 only.
| | |
| --- | --- |
| | Geojit Finance Franchise Cost |
| Geojit Finance Sub Broker | Rs.50,000 – Rs.1.5 Lakh |
| Geojit Finance Remisier | Rs.25,000 |
---
Here are Security Deposit info of other Stock Broking Franchise
---
Geojit Finance Sub Broker Offer
Geojit Franchise makes an enticing opportunity to invest in because of the underlying reasons
A whole range of financial services like equity, commodity, mutual funds, IPO, custody accounts
Online services: various online payment gateways
Flexible revenue-sharing models
Spread across the country
Training and investment to the partners whenever necessary
---
Check out other companies Sub Broker Offers
---
How to become Sub Broker of Geojit Finance?
Step 1 – Fill in your details in the lead form.
Step 2 – Verify your interests by receiving a call from Call Centre.
*Step 3 – Fix an appointment with Sales Representative when there is a call from them.
Step 4 – Make sure to get detailed information by meeting up with a sales representative.
*Step 5 – Submit the initial security deposit amount and all the documents required for verification.
Step 6 – The documents will be verified.
Step 7 – After verification, an account ID will be provided.
The procedure gets completed in almost 7-10 days.
Documents Required for Geojit Finance Partner Registration
Educational degree certificate
DOB verification- 21 years and above
2 photographs
Canceled bank cheque
Rent Agreement for Office Space
Aadhar card
PAN card
Address Proof
---
Why Partner with Geojit Finance?
The first company to go for online payment and multiple gateways, to launch through mobile phone,s etc.
Esteemed personalities are shareholders of this company
An experienced player in the field of trading
Low brokerage tariffs
Excellent research and technological facilities like emails, newsletters, reports
---
Support provided by Geojit Finance Partner Program
The company assigns relationship managers to a particular Franchise for training them in client acquisition and business skills.
There is also back office support provided by the company where the company may contribute 50% to the investment.
There is a provision of emergency help to the sub broker in case sub broker encounters a new challenge or unfamiliar situation.
The personnel is also trained for handling online services.
The company also provides marketing support for events organized by the sub-broker.
---
Infrastructure Investment by Geojit Sub Brokers / Authorized Person
When you start any new business, you need to make some requisite investment in the creation of a basic structure from where you will operate. You need a permanent office in the case of the Geojit Master Franchise too.
To start as a Geojit Sub Broker, you will require an office space of at least 200 square feet area. It can be higher than this, depending on your capacity.
Now, to operate and have efficient work, you will need assistance in the form of employees, which is a minimum of three employees in this case.
In the office space, you will have to incorporate necessities like computer systems, internet connection, telephone connection, trading terminal, etc.
---
Geojit Franchise Eligibility Criteria
If you are driven to establish your Geojit Franchise, first check and ensure that you are eligible to go ahead and there are no obstacles for you:
The very basic and first requirement will be age. You must be of 18 years or above.
On education grounds, the applicant is required to have passed at least 10+2 from a recognized board.
To ensure that the applicant is familiar with the stock market, they require the applicants to have experience of at least 2 to 3 years in the industry.
Another qualification requirement is NISM Certification, which acts as proof that you have the necessary knowledge of the trading market.
---
Geojit Franchise – Pros & Cons
Though a Geojit Partner has presented the most suitable tools and opportunities, it is better to be well-versed on the factual grounds with the advantages and disadvantages of this partnership:
Pros
With the Geojit Franchise, the partners can offer a wide range of investment opportunities to their clients
The partner program offers attractive revenue sharing for the partners
Comprehensive Business Development Support
Technical support
Robust and uncomplicated trading platform
Cons
High initial investment requirement
---
Geojit Franchise Registration
The process of Franchise Registration for Geojit Sub Brokership starts online from the company website itself. You provide very few basic details through the lead form provided on the website page, and your adventure ignites.
In the lead form, you are required to provide information like your Name, Email ID, Mobile Number, State, City, and Pin Code, and then a unique code will be shown; you will have to enter the code and click on Submit.
You will provide the necessary documents and undertake the agreement for starting your franchise with Geojit Franchise.
Once everything is completed successfully, your business code will be generated, and you can start.
---
Earning the potential of a Geojit Partner / ROI
With Geojit Business Partner Program, an individual can earn up to Rs. 1 lakh per month. The partners get ample opportunities to earn by introducing new clients to the company.
Geojit Finance provides full training and support in laying out the foundation for your business. They further give you marketing and branding support to spread the word about the new establishment.
The earning opportunities as a Geojit business partner are immense, and with your potential and expertise, you can explore all the options.
---
Geojit Franchise Referral Program
If you also have a large contact list of individuals who would be interested in investing in securities with Geojit Finance, then start to participate in the referral program immediately.
You can take part in this program from anywhere and can start anytime. All you have to do is refer Geojit to your friends, family, and other finds, and when they open their Demat and trading account with Geojit, you will be rewarded with some percentage of the revenue on the account opening.
It is very interesting and easy at the same time. It does not require any mandatory infrastructure to start from.
---
Brokerage Charges were levied on the clients of Geojit Partners
From the start, Geojit Partner can attract prospective clients with the Free account opening feature of Geojit. The broker firm offers various brokerage plans to the customers to pick from. Let's simplify these brokerages for you:
When you make the trade in Equity Delivery, you are charged brokerage at the rate of 0.30%
For Equity Intraday, the brokerage rate is 0.03%
The rate is 0.01% in the case of Equity Futures and Currency Futures
For Equity Options and Currency Options, the rate is Rs. 50 per lot
---
Geojit Authorised Person – Products Offered
Geojit Partner can offer a variety of products to its customers. They can trade in these securities anytime and hold them for as long as they desire. They earn good profits on these securities.
There are a variety of helpful tools as well which can assist in investing and trading, like Equity Research and Mutual Fund Recommendations, multiple client support, etc.
Below are the products and service Geojit Finance offers:
Equity
Derivatives
Currency Futures
Commodities
Margin Trading
DP Services
Portfolio Management Services
Smartfolios – Basket of Stocks
Global Investment
Mutual Fund
---
Geojit Franchise Conclusion
Geojit Finance is a long-standing stock broking company. The company has a wide product portfolio and offers comprehensive services to ease the process of investing and trading for investors and traders.
Geojit offers a lot to its partners as well. The Geojit Authorized Person gets opportunities to earn and build a strong business for themselves. They are under the shadow of a well-established brand with expert industry experience.
The revenue sharing offered by the entity is also competitive and satisfies its partners. They have multiple partner models, so the partners can easily pick the one that suits them.
---
Geojit Sub Broker or Partner Program FAQs
Here are listed some of the FAQs related to the Geojit Franchise. These questions will answer most of your queries:
How to become a Geojit Sub-Broker/Authorized Person?
To become a Geojit Partner/Sub-broker, you will have to follow the below given easy steps. The entire process generally takes just 7 to 10 days:
From the website, fill out the lead form.
You will receive a call from a Geojit executive to answer the call.
Arrange a meeting once you have cleared your intention and are good to start.
In the meeting, discuss the partner program and understand how it works.
Provide you documents for verification and submit the security deposit sum
Once all the documents are verified, your ID will be generated.
What are the documents required to start Geojit Franchise?
During the registration process, an applicant is required to submit some documents, which are listed below:
Identity Proof – Aadhar Card/ PAN Card/ Driving License
Address Proof – Electricity Bill/ Aadhar Card/ Rent Agreement
Education Certificate
Registration Certificate by SEBI
Photographs
Is Geojit Partner Program a good choice?
If you are looking to start your business as a Sub-Broker, then Geojit Finance is one of the best choices in the market. The company will provide you with all the necessary help and support in the setup and while you operate in the market. You can easily reach out to the company, whose representative will assist you in every situation.
What are the products offered by Geojit Finance?
The customers of Geojit Finance can deal in securities like Equity, Derivatives, Currency Futures, Commodities, Margin Trading, DP Services, Portfolio Management Services, Smartfolios – Basket of Stocks, Global Investment, Mutual Funds, etc.
What are the benefits for Geojit customers?
When you trade with Geojit Finance, you get to trade in multiple securities, and the company has designed some innovative tools to make this trading journey even more fruitful for you like:
Multiple client support through branches across different parts of the country
In-depth Equity Research and Mutual Fund Recommendations
Great deals for NRI investors
Convenient and speedy facility through online trading platforms
How much can a Geojit Partner earn in a month?
Earning under a sub-broking partner program largely depends on the capacity of the partner itself. The number of unique clients they add with the entity, their trading nature, and quantum. A Geojit Partner can earn up to Rs. 1 lakh monthly.
Is there a referral program of Geojit Finance for partners?
Yes, individuals who are influencers, homemakers, or just looking for some side earnings can take part in the Geojit Referral Program and earn money very easily. This setup does not require any type of infrastructure or strict working hours; you can work anytime and from anywhere.
What is the support provided to Geojit Partners?
Geojit Partners are assisted by the company's dedicated team, who look after the operation and ensure the partners' success. The partners get:
Marketing & Branding support
High incentive
Opportunity to become an entrepreneur
What are the partner programs proposed by Geojit Finance?
Geojit has designed different types of Partner Programs, and interested applicants can choose from these as per their suitability. The Geojit Partner Programs are:
Master Franchise
Sub Broker / Authorised Person
Remisier
Who should join the Geojit Finance Referral Program?
Any person with good networking skills is suitable for the Referral Partner Program of Geojit. It is easy to start, and the partners can work flexibly, earning money from their comfort.
---
Become a Sub Broker with Geojit Finance – Just Fill up the form
---
Find detailed review of other Sub Broker Franchise
---
List of Top Geojit Finance Partners / Business Partners
| | | | |
| --- | --- | --- | --- |
| Company List | Remisiers Name | Trade Name | Remisiers Registration No. |
| Geojit Finance | Mr. Alexander K.K | Alexander K.K | R/0328/00650/30/12/2002 |
| Geojit Finance | Mr. G.Giri Shankar | G.Giri Shankar | R/0328/00815/12/05/2003 |
| Geojit Finance | Mr. Jimmy P. | Jimmy P. | R/0328/00745/28/02/2003 |
| Geojit Finance | Mr. Jimmy Sebastian | Jimmy Sebastian | R/0328/00646/30/12/2002 |
| Geojit Finance | Mr. O. M. Paul | O. M. Paul | R/0328/00604/21/10/2002 |
| Geojit Finance | Mr. Pradeep P. S | Pradeep P. S | R/0328/00907/16/09/2003 |
| Geojit Finance | Mr. Pratheesh K. Philip | Pratheesh K. Philip | R/0328/00607/21/10/2002 |
| Geojit Finance | Mr. Renganatha Raja M. | Renganatha Raja M. | R/0328/00647/30/12/2002 |
| Geojit Finance | Mr. S.B. Shivayogappa | S.B. Shivayogappa | R/0328/01658/30/01/2004 |
| Geojit Finance | Mr. Suresh N. M. | Suresh N. M. | R/0328/04149/25/10/2004 |
| Geojit Finance | Ms. Pragna K. Shah | Pragna K. Shah | R/0328/00904/16/09/2003 |
| Geojit Finance | Ms. Sasi Kelath | Sasi Kelath | R/0328/01657/30/01/2004 |