Eureka securities Sub Broker was set with the goal of helping their client to achieve their financial goal in 1992 in Kolkata. With their ethical and intellectual team of 130 employees, they are good enough to satisfy the need of 70,000 customers throughout the country.
Here is an article in which you will find all the details of Eureka securities Franchise which will cover all the benefits, offers, and other programs covered by Eureka securities.
Summary
Top Business Model
Sub Broker
Revenue Sharing
60% – 75%
Security Deposit
Rs.50,000 – Rs.200,000
Become Sub Broker in
28 Days
Receive Payout in
31 Days
Founder
Ramesh Kumar Somani
Established Year
1992
---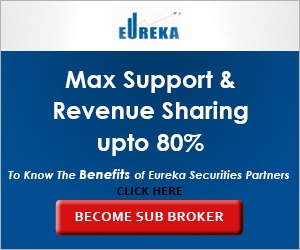 ---
Eureka Securities Sub Broker – Customer Ratings
Customer Ratings
Experience
2.5/5
Services
2.6/5
Products
2.7/5
Trading Platforms
2.3/5
Support
2.4/5
Revenue Sharing Model
2.5/5
Security Deposit
2.5/5
Offers
2.6/5
Market Share
2.3/5
Overll Ratings
2.5/5
Star Ratings

★★★☆☆
Eureka Securities is a very reliable company that offers their customer tailor-made financial solutions to all their needs.
Eureka Securities Franchise maintains outstanding customer experience, services, products, revenue sharing models, and provides offers taking all the ratings into account the overall rating of the company is 2.5 points out of 5 points.
---
Become a Sub Broker with Eureka Securities – Just Fill up the form
---
Compare Sub Broker Franchise
vs
---
About Eureka Securities Franchise
Find below table for the Eureka Securities Franchise overview:
Overview
Company Type
Private
Broker type
Full Service Broker
Headquarters
Kolkata, West Bengal
Founder
Ramesh Kumar Somani
Established Year
1992
SB Code Activation Time
28 Days
Payout Time
31 Days
Eureka Securities was founded in the year 1992 by Ramesh Kumar Somani and since it is continuing its business with the aim to provide simplified investment solutions to its valuable clients. The company is a private entity and offers full service of a broker. It is situated in Kolkata, West Bengal.

It started when the chairman Mr. Paras Ram Somani registered himself as a member of the Calcutta Stock Exchange in the year 1960, as technology advanced Eureka grew drastically and took no longer to acquire the membership of NSE.
Growing trust helped them retain their rich clientele which includes retail investors, Banks, financial institutions, HNIs, and NRIs.  This allows the client to invest in a wide range of products according to their needs and they are satisfied with their services.
Eureka securities sub-broker activation time is 28 days and the payout time is 31 days.
---
Eureka Securities Sub Broker – Business Models
Find below the various business models of the Eureka Securities Franchise:
Business Models
Master Franchise
No
Sub Broker
Yes
Remisier
Yes
Referral Program
No
There are two different business models available with Eureka Securities which are
Sub broker Model
Remisier Model
---
Eureka Securities Sub Broker / Authorised Person Model
Eureka Securities sub-broker model is one of the basic models which are present in the industry, in this model the company gives multiple sub-brokers chances to work under their name.
There are many sub-brokers of the same company working under one roof as it is not a monopoly business. This model mainly depends on the company's client base.
Eureka Securities Remisier / Partner Model
Eureka Securities' remisier model is one in which a remisier is an agent who is appointed by the company, and the company receives a commission for each transaction.
He is a direct employee and is paid on a fixed monthly basis; this helps him to earn attractive commissions and increase the client base.
---
Eureka Securities Sub Broker Commission / Revenue Sharing
The below table gives you detail about Eureka Securities Franchise Revenue Sharing:
Revenue Sharing
Master Franchise
NA
Sub Broker
60% – 75%
Remisier
10% – 30%
Referral Program
NA
The franchise commission or the revenue sharing of the sub-brokers of Eureka securities depends on the amount of the
A security deposit of sub broker
Revenue from remisier
For the sub-broker of Eureka Securities commission ranges from 60% to 75%depending on the amount of security deposit with the company.
On the other hand commission from remisier ranges from 10% to 30% depending on the amount of commission.
---
Check out Revenue Sharing of other Sub Brokers
---
Eureka Securities Franchise Cost / Security Deposit
Find detailed table of Eureka Securities Sub broker security deposit:
Security Deposit
Master Franchise
NA
Sub Broker
Rs.50,000 – Rs.200,000
Remisier
Rs.10,000 – Rs.30,000
Referral Program
NA
For the sub-brokership under Eureka Securities, you need to invest Rs.50,000 up to Rs.200,000, and for a remisier you need a minimal amount of Rs.10,000 to Rs.30,000 to carry on under Eureka Securities.
---
Here are Security Deposit info of other Stock Broking Franchise
---
Eureka Securities Partner Infrastructure Requirement
Find the table regarding Eureka Securities Sub broker requirements:
Infrastructure Requirement
Office Area
Minimum 200 Sq Ft
Employee Strength
Minimum 2
Research Services
Yes
Internet Connection
Yes
Trading Terminals
Yes
Telephone Lines
Yes
Eureka Securities' infrastructure requirements are as follows:
The office area should be at least 200 square feet, less than this will not be considered.
The number of employees should be 2 or more than that.
The franchise must have research services for their client benefit
Internet connection and telephone lines also should be there for better communication.
The franchise should have trading terminals as this is a mandatory requirement.
---
Eureka Securities Sub Broker Offers
Various offers of Eureka Securities Franchise are listed below:
Offers
Zero Deposit
No
10k Initial Deposit
Yes
Flexible Revenue Sharing
Yes
Flat Revenue Sharing
No
Zero Revenue Sharing with Prepaid
Yes
Find below the Eureka Securities sub broker offers
There is a flexible revenue-sharing option which is very crucial sometimes.
There is a requirement of a 10k initial deposit.
A prepaid option is also offered by the broking house from time to time
---
Check out other companies Sub Broker Offers
---
Eureka Securities Franchise Support
Find below the table about Eureka Securities Partner Support:
Support
Marketing Support
Yes
Back-Office Support
Yes
Trading Support
Yes
Advisory Support
Yes
Dealing Training
No
Acquisition Training
No
Product Training
Yes
The various support provided by Eureka Securities share franchise
There is marketing support available along with trading support.
They also provide back-office support to its franchise.
Eureka Securities provide advice to the franchise.
They also give product training to their franchise.
---
Eureka Securities Authorised Person – Brokerage Charges to Clients
Find below the table about Brokerage Charges levied by Sub brokers to their clients:
Brokerage Charges to Clients
Equity Delivery
0.30%
Equity Intraday
0.03%
Equity Futures
0.03%
Equity Options
Rs.50 per lot
Currency Futures
0.03%
Currency Options
Rs.20 per lot
Commodity
0.03%
Eureka Securities brokerage charges a quite nominal charge of 0.3% for equity delivery.
Then they charge 0.3% for equity intraday, equity futures, and currency futures and also for the commodity. The charge for the equity option is Rs 50 per lot, and for the currency option, it is Rs 20 per lot.
---
Eureka Securities Partner – Account Opening Charges to Clients
Find detailed account opening charges levied on Eureka Securities Sub broker's clients:
Account Opening Charges to Clients
Demat AMC
Free
Trading AMC
Free
Account Opening Charges
Rs.400
Transaction Charges
0.00300%
Margin Money
Rs.15,000 Minimum
The Eureka Securities opening charges are free for the Demat account, and the trading account is also open for free.
The transaction charges are 0.00300%, and the minimum margin money that a client has to maintain is Rs.15,000.
---
Benefits of Eureka Securities Partner Program
The advantages of the Eureka Securities Sub Broker program are:
They have a strong background since it was founded back in the year 1992 and by moving ahead in this incredible journey they have crossed several successful milestones in this industry.
They are super flexible as they provide a tailor-made financial solution to all the needs of the clients; service to their clients has always been their top priority.
Eureka Securities use super-edge technology to meet the requirements of their clients, with the growing market all the needs and commodities are kept in note.
They maintain high-level transparency.
---
Become a Sub Broker with Eureka Securities – Get a Call from Franchise Manager!
---
Find detailed review of other Sub Broker Franchise