Monarch Networth Capital Sub Broker Program is a well established sub broker franchise in India. In this article, we will discuss in detail about Monarch Networth Capital Franchise, its revenue sharing model, its franchise cost & more.
Summary
Top Business Model
Sub Broker
Revenue Sharing
60% – 75%
Security Deposit
Rs.40,000 – Rs.150,000
Become Sub Broker in
15 Days
Receive Payout in
31 Days
Founder
Mr. R Sankaran
Established Year
1993
The Monarch Networth Capital Ltd is a joint venture of two strategic Financial Service providers Monarch Group of Companies and Networth Stock Broking Ltd.
The two decades of wealthy experience in the financial services industry has made this company stronger and most preferred amongst the customers.
With the wide range of products and services offered by Monarch Capital, like Stock broking, Mutual Funds, Insurance etc, one does need to look out for more investment options at all.
From 2011 till today, the company has scaled up in almost all fronts. Fronts like Technology strengthening, tie ups with various Stock Exchanges and also geographical presence are major achievements.
Monarch Capital has more than 87 Branches across India. The broking house has around 660 skilled employees and they also have a strong Network of around 1000+ Business Associates. Since inception, they have managed to register and retain more than 220,000 clients till date.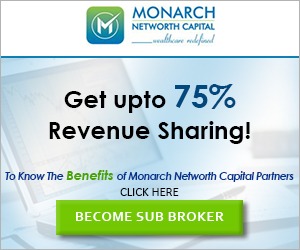 ---
Monarch Networth Capital Sub Broker Customer Ratings
Monarch Networth Capital Franchise
Experience
2.80
Services
2.90
Products
3.00
Trading Platforms
2.80
Support
2.80
Revenue Sharing Model
2.70
Security Deposit
2.90
Offers
2.70
Market Share
2.80
Overall
2.82
---
Compare Sub Broker Franchise
vs
---
Types of Monarch Networth Capital Sub Broker Business

The Broking house follows only one Franchise Model –
Sub Brokership or Broking Franchise Model
---
Start your business with Monarch Networth Authorised Person – Just Fill up the form
---
Monarch Networth Capital Sub Broker or Monarch Capital Franchise
With Monarch Networth Capital Ltd, they follow only one business model for Sub Brokership i.e. the Franchise Model. The concept is that you don't need to work for someone else, they will help you setup your own business and help you stabilize it as well.
With a minimum investment, you can join as a Sub Broker and work for yourself as an entrepreneur. This business model is extremely useful for anyone who has a good experience in stock market & has very good network of friends & relatives.
---
Monarch Networth Capital Commission or Revenue Sharing Model
Monarch Networth Capital offers a very diverse Revenue Sharing model, which ranges from 60% to 75% percent of the brokerage depending upon the business generated by the Sub Broker.
They also have some periodic Incentives, which they keep launching time and again to lure the Sub brokers to earn more and more. All Payouts are on Monthly basis and per trade basis.
| | | |
| --- | --- | --- |
| Business model | Monarch Capital Commission | Referrer Commission |
| Referral Program | 25% – 40% | 75% – 60% |
---
Check out Revenue Sharing of other Sub Brokers
---
Monarch Networth Capital Franchise Cost or Security Deposit Amount
The Monarch Capital Sub Broker Model needs to submit a Minimum Security deposit of Rs.75000 to Rs.200,000 which is completely refundable and Interest free. If the Sub Broker ever plans to exit from the association, the Security deposit is refunded in full without any deductions.
This amount is charged as an access to their portal plus use of various technology driven applications, which can serve their business. Moreover, there is immense amount of Support that the Monarch Networth Capital team will extend to the Sub Brokers to stabilize their business.
Apart from this, there is no other expectation or Prerequisite that the team has demanded for. There is no requirement of a dedicated office space or minimum infrastructure to run the business. It is on sole discretion of the Business Partner what and how he wants to setup his business on.
| | |
| --- | --- |
| Business model | Monarch Capital Deposit required |
| Sub Broker / Broking Franchise | Rs.75,000 – Rs.200,000 |
---
Here are Security Deposit info of other Stock Broking Franchise
---
Monarch Networth Capital Sub Broker offers
The association with Monarch Networth Capital Sub Broker Program definitely brings in lot of perks for the Sub Brokers which is an advantage over other companies.
Some of the benefits Monarch offers are:
The two-decade strong presence in the Stock Broking field itself is the biggest asset it brings on the platter for its Sub Brokers. This gives a reassurance that nothing would go wrong with the association and that they are experienced and skilled to handle all obstacles for you.
Their "Client First" approach makes them a leader in the industry and that's something customers would vouch for. Convincing people to invest or trade with them is not a difficult task as compared to other Stock broking companies.
The Research team religiously works on market strategies and trends and equips you with latest techniques and tricks to trade
Their technology offerings are also top notch and user friendly which Sub Brokers can use for their advantage
The company invests a lot in Training and Upskilling their Business Partners. There are regular training workshops arranged for Product training as well as technical sessions
The Monarch Networth Capital Franchise holds a lot of Seminars and workshops. This also supports in a lot of branding and publicity.
---
How to become a Monarch Networth Capital Sub Broker?
If you have a zeal to startup and expand your business in multifolds, Monarch Networth Capital Franchise can help you complete this dream.
All you need to do is fill up a form here with your credentials like Name & Contact details; and the team will contact you soon with further instructions.
You will need to then submit your documents and get started once the Security deposit is paid.
Documents required for Monarch Networth Capital Sub-broker Registration:
These days' basic KYC documents are required for everything from purchasing a SIM card to Opting for a home loan. Similarly, some KYC documents are required to enroll with Monarch Networth Capital Ltd as a Sub Broker.
Identity Proof could be either your Adhaar Card or Pan Card or Driving License or Passport
For Age proof, you can submit either your PAN card or Passport
For Address proof provide anyone: Passport, Adhaar Card, Voter's ID, Driving License or any utility bill
Academic qualification will be your highest degree copy
Registration certificate with SEBI
Bank details can be furnished through your cancelled cheque
---
Check out other companies Sub Broker Offers
---
Why Partner with Monarch Networth Capital?
They have strong 24 years' experience and industry presence. It is the most critical aspect why one should choose Monarch Networth Capital Ltd.
The Broking house provides varied range of products and services. It gives the Sub broker an opportunity to offer his clients with multiple solutions to his needs
Technological support and services is also an added advantage to Sub brokers to function seamlessly without any hitch
Live back office support is provided to both Sub brokers as well as customers
Their irresistible Revenue sharing model and great incentives structure are a lucrative factor for Sub brokers. This help them perform better every month and earn maximum.
---
Start your business with Monarch Networth Sub Broker – Just Fill up the form
---
Find detailed review of other Sub Broker Franchise
---
List of Top Monarch Networth Capital Partners/ Business Partners
| | | | |
| --- | --- | --- | --- |
| Company List | Remisiers Name | Trade Name | Remisiers Registration No. |
| Monarch Networth Capital | Broadway Securities | Broadway Securities | R/0197/08094/31/10/2005 |
| Monarch Networth Capital | Chevuri R. Reddy | Venkata K.D.K. Kothuri | R/0197/08199/08/11/2005 |
| Monarch Networth Capital | K – Ventures | K – Ventures | R/0197/07300/03/09/2005 |
| Monarch Networth Capital | M. V. S. Vital Kumar | M. V. S. Vital Kumar | R/0197/06605/08/07/2005 |
| Monarch Networth Capital | Manisha S. Rajput | Manisha S. Rajput | R/0197/06613/08/07/2005 |
| Monarch Networth Capital | Manoj Kumbhat | Manoj Kumbhat | R/0197/07976/15/10/2005 |
| Monarch Networth Capital | Mr. Prashant Mistry | Prashant Mistry | R/0197/00736/28/02/2003 |
| Monarch Networth Capital | Mr. Raj K. Bhartiya | Raj K. Bhartiya | R/0197/04545/07/01/2005 |
| Monarch Networth Capital | Namita A. Jain | Namita A. Jain | R/0197/07659/28/09/2005 |
| Monarch Networth Capital | Rajeshwari Securities | Rajeswari Securities | R/0197/07419/03/09/2005 |
| Monarch Networth Capital | Ramaswamy Narayanaswamy | Ramaswamy Narayanaswamy | R/0197/06848/29/07/2005 |
| Monarch Networth Capital | Rushikesh L. K. Satoskar | Rushikesh L. K. Satoskar | R/0197/06959/03/09/2005 |
| Monarch Networth Capital | Safe Investments | Safe Investments | R/0197/09033/06/01/2006 |
| Monarch Networth Capital | Servulo Joseph Barros | Servulo Joseph Barros | R/0197/08412/18/11/2005 |
| Monarch Networth Capital | Sri Sai Securities | Sri Sai Securities | R/0197/08323/17/11/2005 |
| Monarch Networth Capital | Subbiah Palaniappan | Subbiah Palaniappan | R/0197/07281/03/09/2005 |
| Monarch Networth Capital | Sunil H. Gandhi | Sunil H. Gandhi | R/0197/06831/29/07/2005 |
| Monarch Networth Capital | Swarup A. Jamsandekar | Swarup A. Jamsandekar | R/0197/08083/20/10/2005 |
| Monarch Networth Capital | Triple A Securities | Triple A Securities | R/0197/01637/30/01/2004 |
| Monarch Networth Capital | Venkata R.K.P. Kurapati | Venkata R.K.P. Kurapati | R/0197/08320/17/11/2005 |
| Monarch Networth Capital | Vishnu Kumar Devada | Vishnu Kumar Devada | R/0197/08410/18/11/2005 |