Achiievers Equities Sub Broker program is newly launched Broking Franchise. They call it as Sub Broker or Authorised Person Model. Lets have a detailed review of Achiievers Equities Franchise, their Revenue Sharing Model, Authorised Person Security Deposit & more.
The Achiievers Equities Ltd, earlier known as "Loknath Enterprise" started its operations in the year 1999. It started under the guidance and leadership of Mr. Suman Chakravarthy who is their Managing Director. They are the ones who revolutionized the Stock Broking Industry by bring in the "Make Money Differently" concept.
Achiievers' goal is to become a leading financial services provider of the country. The wide range of products offered ensure that they encompass every sphere of a person's life. They have come up with unique products that meet the needs to all types of customers.
In the last seventeen years of being in business this company has expanded in multiple; in terms of their innovation and technology and also in terms of their customer base.
Summary
Top Business Model
Sub Broker
Revenue Sharing
50% – 72%
Security Deposit
Rs.Zero – Rs.100,000
Become Sub Broker in
31 Days
Receive Payout in
14 Days
Founder
Suman Chakrvarty
Established Year
1999
---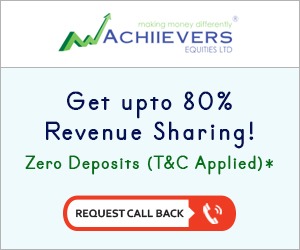 ---
Achiievers Equities Sub Broker Customer Ratings
Achiievers Equities Franchise
Experience
2.50
Services
2.40
Products
2.60
Trading Platforms
2.50
Support
2.30
Revenue Sharing Model
2.40
Security Deposit
2.60
Offers
2.70
Market Share
2.30
Overall
2.47
---
Compare Sub Broker Franchise
vs
---
Types of Achiievers Equities Sub Broker Business Models

Achiievers equities is running only 1 business model i.e. Sub Broker or Authorised Person Model.
---
Become a Sub Broker with Achiievers Equities – Just fill up the form
---
Achiievers Equities Sub Broker or Achiievers Equities Franchise
Achievers Equities operates with a model of Sub Broker or Authorized person only. Once you register yourself as a Sub Broker or Authorized person, you get access to their Online Trading tool and can then register clients under your portfolio.
Whatever they trade will then yield a certain percentage of Brokerage or commission for you. As a sub broker, you can offer a vast range of financial products to your customers. For your clients, you can become a one-stop-shop for all their financial needs.
---
Achiievers Equities Sub Broker Commission or Revenue Sharing Model
Achiievers Equities have a Zero Brokerage policy which means your client will have substantial savings on each trade. Moreover, they have the same pricing for all exchanges be it Equity, F&O, Commodity or Currency. There are three distinct plans through which you can operate your trading for yourself as well for your clients:
Achiievers Equities Franchise Model provides flexible 50% – 80% revenue sharing to their sub brokers. The model is flexible depending on the Security deposit & the revenue generation of the client.
The high revenue generation leads to high revenue sharing for the authorised person. High Security deposit also leads to high commission sharing for the sub brokers.
| | | |
| --- | --- | --- |
| Business model | Achiievers Equities Commission | Sub Broker Commission |
| Sub broker/ Business Partner | 20% – 70% | 80% – 30% |
---
Check out Revenue Sharing of other Sub Brokers
---
Achiievers Equities Franchise cost or Security Deposit
There is no prerequisite of Depositing a minimum amount as security deposit or Guarantee with Achiievers Equities, which is very unlike most of the competitors.
They just check your credentials to ensure that they are providing the agency to a correct individual who has the potential and backup to take the business further.
For negotiation in Revenue Sharing, Achiievers Equities ask for Security deposit between Rs.50,ooo to Rs.100,000. For Zero Security Deposit, the clients get 30% Revenue Sharing, For 50,000 clients get 60% & for Rs.100,000 the sub broker can get upto 80% revenue sharing.
| | |
| --- | --- |
| Business model | Achiievers Equities Deposit required |
| Sub broker/ Business Partner | Rs.Zero – Rs.100,000 |
---
Here are Security Deposit info of other Stock Broking Franchise
---
Achiievers Sub Broker Offers
With Achiievers, you get lots of advantages while trading
Achiievers Equities Ltd is a known entity today offering the lowest pricing in the industry. With complete transparency and ethical behavior, it has been able to retain customers despite having cutthroat competition.
The strong and robust Research and development team continuously researches market trends and gives us insights about where to invest and when. You can rely on their foolproof analysis completely.
Online Investment, Mobile Trading and desktop trading are options that Achiievers Equities has already provided to all its customers for seamless hassle free trade.
Their online brokerage calculator is a great tool to showcase the brokerage charge on a realtime basis before eve executing the trade.
Their User-friendly Trading portal gives you access to all major Stock exchanges of the country and place orders as well.
The dedicated backend support team is available throughout via phone, Email, chat or social media messaging.
---
Check out other companies Sub Broker Offers
---
How to become a Sub Broker of Achiievers Equities?
If you have been a trader and want to make it big by helping others trade as well; Achiievers Equities is the option you should consider.
To enroll, all you need to do is open up a Trading Account and a Demat Account with the selected subscription Plan for trading.
Online application form can be filled for becoming a Partner or Sub Broker and then we will connect you with Achiievers Securities Sub Brokerhip department.
Once that is done, the team will check your credentials and call you back for an interaction.
Post the interaction and submitting all relevant documents, you would be accredited as Sub Broker with Achiievers Equitied Ltd.
Documents required for Achiievers Equities sub broker registration:
Basic documents required for sub-broker registration with Achiievers Equities are:
ID proof: either of the following- Passport / PAN Card / Adhaar Card / Voter ID / Driving License / Govt ID card
Address Proof: either of the following can be given: Passport / Adhaar Card / Voter ID / Driving License / Govt ID card
Age Proof: Passport / PAN Card
Academic Qualification certificate – latest achieved degree copy
Cancelled cheque or Bank Statement for bank details
Photographs
Proof of Infrastructure
Registration certificate with SEBI / Stock exchange
---
Why Partner with Achiievers Equities Ltd?
Achiievers Equities Ltd is a brand to collaborate with as it supports new budding entrepreneurs at possible level.
Zero Brokerage is an added advantage to trade with Achiievers Equities Ltd. Fixed Trading plans also add a lot of comfort to trading experience as you can trade unlimited without being worried about the brokerage charges.
Technology readiness is also a key factor to collaborate with them. User friendly tools and extensive market research enables us to have hassle free faster trades.
Over and above all this, they also have a free look period of 60 days. In case of any issues with the service or the products offered, you can get a completed refund back of the account opening fee.
The key factor in the company's success is the word-of-mouth publicity of this company.
You would find a lot of happy customers using their service and hence it has been able to sustain its position in the industry till now.
---
Start your business with Achiievers Equities Sub Broker – Just Fill up the form
---
Find detailed review of other Sub Broker Franchise