RK Global Sub Broker Program is growing very fast & has more than 250 franchise outlets in the country. Let us discuss in detail the RK Global Franchise and what benefits or services they offer to their Sub brokers; what are the different types of Sub Broker models they have and what is the Revenue sharing percentage that one can expect.
Summary
Top Business Model
Sub Broker
Revenue Sharing
60% – 80%
Security Deposit
Rs.50,000 – Rs.200,000
Become Sub Broker in
31 Days
Receive Payout in
25 Days
Founder
Shri Ramesh Kumar Bhagchandka
Established Year
1995
The RK Global started its journey in the year 1995 in New Delhi under the leadership of Shri Ramesh Kumar Bhagchandka, son of late Shri Lakhi Prasad Bhagchandka.
This is one of the discount Brokers of India, which has grown significantly in last two decades and has been able to build a customer base of more than 90,000 happy customers. It operates its services from 150 cities of India spread across 24 States.
---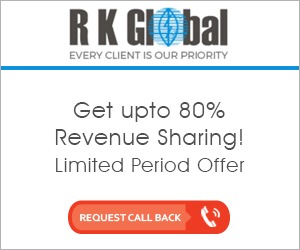 ---
RK Global Sub Broker Customer Ratings
RK Global Franchise
Experience
2.90
Services
2.70
Products
2.90
Trading Platforms
2.80
Support
3.00
Revenue Sharing Model
2.80
Security Deposit
2.90
Offers
2.90
Market Share
2.80
Overall
2.86
---
Compare Sub Broker Franchise
vs
---
Types of RK Global Sub Broker Business Models

With RK Global, there is typically 2 Business Models that they operate at:
Sub Broker
Online Franchise
---
Start your business with RK Global Authorised Person – Just Fill up the form
---
RK Global Sub Broker or RK Global Authorised Person
Anyone who has a sound financial background with minimum 1-2 years' experience in the financial services industry can register as a Sub Broker with RK Global.
This is a basic Sub Broker Model wherein the Sub Broke would have access to RK Globals Trading platforms and he would in turn build clients and trade for them as well using the platform.
The Sub Broker would be on a Revenue sharing model. The more the clientele you have in your existing business, the better are your chances to grow with this model.
---
RK Global Franchise or RK Global Business Partner
The Online Franchise, on the contrary, is someone who doesn't need to have an Office setup or an existing business to be associated with RK Global. This is a model where you can build clients online and trade for them as well.
This is more of an online-based model; however, there is a revenue model attached in this as well where the Franchise will get a certain share of business that he has generated for R K Global Securities.
---
RK Global Sub broker or Franchise Commission or Revenue Sharing Model
RK Global's Sub Broker Model has a unique revenue sharing percentage which ranges from 60% to 80% as well. The total number of customers acquired & Security Deposit, will decide the share the company will shell out as a profit margin for its Sub Brokers.
Hence the more the customers you acquire and the more they trade with RK Global, the higher benefits we get from each trade.
While RK Global Online Franchise model has a revenue sharing of 40% – 60% to the Franchise Owner. Again, the logic of high revenue sharing depends on Revenue Generation by the client.
| | | |
| --- | --- | --- |
| Business model | RK Global Commission | Sub Broker Commission |
| Sub Broker Model | 20% – 40% | 80% – 60% |
| Online Franchise Model | 40% – 60% | 60% – 40% |
---
Check out Revenue Sharing of other Sub Brokers
---
R K Global Franchise cost or Security Deposit
R K Global's Sub Broker model demands a minimum startup capital of Rs.1-2 lakhs as a security deposit plus they need to be competent to invest in the infrastructure and manpower.
However, this is not a prerequisite in the Online Franchise Model. There one can directly startup only by bearing the segment wise registration and account opening charges.
| | |
| --- | --- |
| Business model | Parasram Holdings Deposit required |
| Sub Broker Model | Rs.100,000 – Rs.200,000 |
| Online Franchise Model | Zero |
---
Here are Security Deposit info of other Stock Broking Franchise
---
RK Global Sub Broker or Franchise Offers
Wide range of products across all segments to offer clients – one-stop-shop for all financial needs. With R K global, you can trade on all segments together – NSE, BSE, MCX, NCDEX, MCX-SX, NSDL.
Robust and user friendly Trading Platform, which enables smooth trading transactions and analytics as well. This platform executes faster trades smoothly and also provides charting facility. This trading tool you can access on your laptop or computer as well as mobile.
Extensive research about trends and market analytics; they share the same with all clients as well as Sub Brokers. They send you market related important updates on a daily, weekly and monthly basis, which can help you make informed decisions. R K Global also has a team which could help you with specialized sector related queries through their chat facility
R K Global has a very strong and supportive Back office team which offer host of features 24X7. It also allows the Sub broker to track their clients' portfolios and ledger balances on a daily basis.
24X7 Customer Service helpdesk ca handle all types of customer queries and help faster resolution
The RK Global team also ensures that all training and marketing support is provided. All sorts of Sales and Marketing Support is being provided by the team.
---
How to become RK Global Sub Broker?
If you want to become an RK Global Sub Broker, you first need to register yourself here and open up a Trading Account with them.
You need to provide all your KYC documents and also proof of having the business as that's the prerequisite for the Sub Broker channel.
For the Online Franchise, you don't need to have a business setup or a dedicated office space, but you do need to have an active & Stable Internet connection.
Once you have submitted all the required documents and provided the details in application form as well, they would have an inspection conducted of the same.
Once the inspection is 100% to the satisfaction, only then they would proceed with the Sub Brokership.
Documents required to become a Sub-Broker with RK Global
Identity proof: this could be either PAN card, Driving license, Adhaar Card, Passport etc.
Age proof: You can submit your PAN card or Passport
Anyone Address proof Required: adhaar card, passport, driving license, voter id or any utility bill
Proof of Business and related documents
Registration Certificate from SEBI
Passport size photographs
---
Check out other companies Sub Broker Offers
---
Why Partner with RK Global?
RK Global is a renowned  name in the financial services industry in the form of a discount broker.
The services offered by them are very adaptable by the Sub Brokers and helps them enhance their business.
Technology assimilation is also a very strong aspect when dealing with RK Global. Their Trading Platform as well as their BI enabled Research and analytics are very useful.
24X7 dedicated helpdesk is also a great help for the Sub brokers as well as direct customers.
Overall, one can leverage from their experience and expertise and flourish in their business.
---
Start your business with RK Global Sub Broker – Just Fill up the form
---
Find detailed review of other Sub Broker Franchise
---
List of Top RK Global Partners/ Business Partners
| | | | |
| --- | --- | --- | --- |
| Company List | Remisiers Name | Trade Name | Remisiers Registration No. |
| RK GLOBAL | Anita Roy Chowdhury | Anita Roy Chowdhury | R/3191/20311/26/02/2008 |
| RK GLOBAL | Apurba Kumar Sarkar | Apurba Kumar Sarkar | R/3191/19779/06/02/2008 |
| RK GLOBAL | Ashis Dey | Ashis Dey | R/3191/21412/25/04/2008 |
| RK GLOBAL | Ashoke Chakraborty | Ashoke Chakraborty | R/3191/21146/15/04/2008 |
| RK GLOBAL | Dolon Saha | Dolon Saha | R/3191/20630/14/03/2008 |
| RK GLOBAL | Ram Narayan Singh | Ram Narayan Singh | R/3191/20876/27/03/2008 |
| RK GLOBAL | Ratan Kumar Chatterjee | Ratan Kumar Chatterjee | R/3191/22545/23/06/2008 |
| RK GLOBAL | Shrabani Ghosh | Shrabani Ghosh | R/3191/20535/05/03/2008 |
| RK GLOBAL | Somen Acharya | Somen Acharya | R/3191/36514/26/04/2010 |
| RK GLOBAL | Sri Gouranga Kumar Mitra | Sri Gouranga Kumar Mitra | R/3191/20217/21/02/2008 |
| RK GLOBAL | Subhasree Sarkar | Subhasree Sarkar | R/3191/20536/05/03/2008 |
| RK GLOBAL | Tribhuwan Agarwal | Tribhuwan Agarwal | R/3191/20491/05/03/2008 |
| RK GLOBAL | Umasankar Chatterjee | Umasankar Chatterjee | R/3191/19678/05/02/2008 |