Alankit Assignments Sub broker program has thousands of clients who have entrusted their investments. The company is one of the best investment trading platforms in Delhi.
Here in this article, we will give you a review of the Alankit assignments franchise and an analysis of their sub-broker offers, security deposit requirements, and revenue-sharing models.
Summary
Top Business Model
Sub Broker
Revenue Sharing
55% – 75%
Security Deposit
Rs.50,000 – Rs.150,000
Become Sub Broker in
26 Days
Receive Payout in
33 Days
Founder
Alok Kumar Agarwal
Established Year
1995
---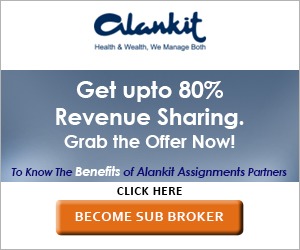 ---
Alankit Assignments Sub Broker – Customer Ratings
Customer Ratings
Experience
2.3/5
Services
2.4/5
Products
2.5/5
Trading Platforms
2.4/5
Support
2.6/5
Revenue Sharing Model
2.4/5
Security Deposit
2.3/5
Offers
2.6/5
Market Share
2.3/5
Overll Ratings
2.4/5
Star Ratings
★★★☆☆
Alankit assignments franchise has received a customer experience rating of 2.4. This is on the above-average performance in sub-broking services. The products and services, and the usability of the trading platform are rated average by the customers.
The overall rating of the company is 3 stars which makes it slightly above average in terms of franchise customer ratings.
---
Become a Sub Broker with Alankit Assignments – Just Fill up the form
---
Compare Sub Broker Franchise
vs
---
About Alankit Assignments Franchise
The below table will provide an overview of the Alankit Assignments Franchise:
Overview
Company Type
Private
Broker type
Full-Service Broker
Headquarters
New Delhi, Delhi
Founder
Alok Kumar Agarwal
Established Year
1995
SB Code Activation Time
26 Days
Payout Time
33 Days
Alankit assignments is a private brokerage firm whose headquarter is in New Delhi. Alok Kumar Agarwal founded the company; It is a full-service firm established in 1993. The company's business has grown multifold with the help of its partners and dedication to hard work.

The company is a member of NSE and has been stock brokering since its inception. The company has catered to the different asset classes available in the major stock exchanges.
The franchise SB code activation time is 26 days and the payout time is 33 days.
---
Alankit Assignments Sub Broker – Business Models
Business Models
Master Franchise
No
Sub Broker
Yes
Remisier
No
Referral Program
No
Alankit assignments have a presence only in the sub-broker business. It does not have business in Master Franchise services.
---
Alankit Assignments Sub Broker Model: 
Alankit Assignment's sub-broker business model is one of the most followed business models in the industry. Under this model, Alankit assignments provide offers to multiple sub-brokers to operate under the same name.
This model enables the company to increase scale without having to invest a lot of money on infrastructure or human resources.
This also allows the sub-brokers to leverage the brand name of Alankit assignments to attract customers mainly when they are new to the industry. They will then pay a royalty to Alankit assignments for the use of the brand name.
---
Alankit Assignments Sub Broker Commission / Revenue Sharing
The below tables represents Alankit Assignments Franchise Revenue Sharing:
Revenue Sharing
Master Franchise
NA
Sub Broker
55% – 75%
Remisier
NA
Referral Program
NA
The Alankit Assignments franchise commission or revenue sharing arrangement depends on the amount of franchise cost or the security deposit of the sub-brokers.
The sub-broker will get a revenue share of 55% – 75%. Alankit assignments franchise revenue sharing depends on several factors such as security deposit, sub-broker experience, monthly revenue generation, etc.
Alankit assignments have excellent franchise revenue-sharing models for their sub-broking clients.
The more the number of customers and revenue generation potential of the sub-broker, the more he will get in the share of the revenues. Talented sub-brokers can negotiate with Alankit assignments for a better deal also.
---
Check out Revenue Sharing of other Sub Brokers
---
Alankit Assignments Franchise Cost / Security Deposit
The below tables provides details about Alankit Assignments Sub Broker Initial Deposit:
Security Deposit
Master Franchise
NA
Sub Broker
Rs.50,000 – Rs.150,000
Remisier
NA
Referral Program
NA
The security deposit required for becoming a sub-broker with Alankit assignments is Rs 50,000 to Rs 1,50,000. Alankit Assignments sub-broker security deposit is required if you want to take franchise ownership of Alankit assignments.
You have to keep this amount as a security deposit to start and work on the share broking business under Alankit assignment's name. Alankit assignments franchise cost is lower than that of other brokerage services.
---
Here is Security Deposit info of other Stock Broking Franchise
---
Alankit Assignments Partner Infrastructure Requirement
Find the table for better info on Alankit Assignments Franchise requirements:
Infrastructure Requirement
Office Area
Minimum 100 Sq Ft
Employee Strength
Minimum 1
Research Services
No
Internet Connection
No
Trading Terminals
Yes
Telephone Lines
No
Sub brokers are expected to make investments in the infrastructure. The main infrastructure is the workplace in which the sub-broker meets the clients.
The basic infrastructure requirements are
Office with minimum 100 sq. ft area
Minimum 1 employee
Alankit Assignments sub-broker infrastructure requirements mandate that the office should be located in a decent locality that is covered with internet connectivity, telephone lines, and sufficient workstations.
Alankit assignments franchise mandatory requirements need to be fulfilled for obtaining licenses. The amount required for infrastructure is less for sub-brokers compared to that of master brokers. They can invest a little amount of money and can start their business efficiently.
The office area should be a minimum of 100 sq. Ft. There should be trading terminals present in the office. The main factors that influence the infrastructure cost are the locality, city of residence, client size, etc.
---
Alankit Assignments Sub Broker Offers
Get details about Alankit Assignments Franchise Offers:
Offers
Zero Deposit
No
10k Initial Deposit
No
Flexible Revenue Sharing
Yes
Flat Revenue Sharing
No
Zero Revenue Sharing with Prepaid
No
Alankit Assignments sub-broker offers also include flexible revenue-sharing arrangements. If the sub-broker proves that he is capable of bringing in more business, then he will get a larger share of the revenues.
Alankit assignments franchise offers an attractive proposition for the sub-brokers.
Flexible revenue-sharing options
---
Check out other companies Sub Broker Offers
---
Alankit Assignments Franchise Support
The below tables provides details on Alankit Assignments Authorised person support:
Support
Marketing Support
Yes
Back-Office Support
Yes
Trading Support
Yes
Advisory Support
Yes
Dealing Training
No
Acquisition Training
No
Product Training
No
The following support is provided by Alankit assignments Franchise:
Marketing support like banners, flex posters, visiting cards, etc.
24 X 7 back-office support
Training support related to trading
Stock market advisory and recommendation support
These support services help the sub-broker to focus on the main business and not on the ancillary activities. This enables the sub-broker to earn more money quickly utilizing their time effectively.
---
Alankit Assignments Authorised Person – Brokerage Charges to Clients
Find below tables for more details on Brokerage Charges levied by Alankit Assignments to its sub-broker clients:
Brokerage Charges to Clients
Equity Delivery
0.20% – 0.50%
Equity Intraday
0.02% – 0.05%
Equity Futures
0.02% – 0.05%
Equity Options
Rs.75 per lot
Currency Futures
0.02% – 0.05%
Currency Options
Rs.30 per lot
Commodity
0.02% – 0.05%
Find below the table of Alankit assignments brokerage charges provided to clients:
The charges for Equity Delivery are 0.20% – 0.50%.
Equity Intraday services charges are 0.02% – 0.05%.
Charges for Equity Futures are 0.02% – 0.05%.
The charge for Equity Options is Rs.75 per lot.
Currency Futures charges are 0.02% – 0.05%.
The charge for Currency Options is Rs.30 per lot.
Charges for Commodity trading services are 0.02% – 0.05%.
---
Alankit Assignments Partner – Account Opening Charges to Clients
Interesting tables about Account Opening Charges levied by Alankit Assignments Franchise clients:
Account Opening Charges to Clients
Demat AMC
Rs.250
Trading AMC
Free
Account Opening Charges
Rs.500
Transaction Charges
0.00325%
Margin Money
Rs.20,000 Minimum
Find below Alankit's assignments account opening charges to clients
The charge to open Demat AMC is Rs.250
Trading AMC charges to open the Trading Account is Free
The charges to open savings Account Opening Charges of 500
Transaction Charges are 0.00325%
Margin Money is Rs.20,000 Minimum
---
Benefits of Alankit Assignments Partner Program
The following are the benefits of Alankit's assignments
Well-known brand in the industry
A flexible revenue sharing model is an attractive proposition
The account opening process is hassle-free and done quickly
Extensive marketing and training support provided by the company
Friendly staff helps in setting up the sub-broker services without any hassles
---
Become a Sub Broker with Alankit Assignments – Just Fill up the form
---
Find detailed review of other Sub Broker Franchise
---