Find 1st of its kind Comparison of SBICAP Securities Franchise vs SMC Global Franchise. In this comparison, you will find a detailed view of all the features of respecting sub broker or franchise brands.
SBICAP Securities & SMC Global are both Broking houses & provides sub brokership to their partners. Both of them have varied Business Models which we will discuss here.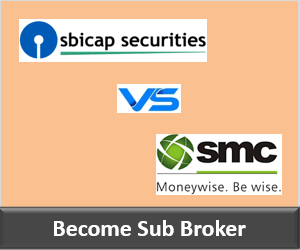 ---
Compare Sub Broker Franchise
vs
---
In this comparison, we will dig deep into all the aspects of both broking franchise brands. The major aspects that we will discuss are:
Overview
Customer Ratings
Business Models
Security Deposit or Initial Investment
Revenue Sharing or Commission
Infrastructure Requirement
Offers
Support
Brokerage Charges to Clients
Other Charges & Margin to Clients
With this detailed comparison we will have clear understanding of which Sub Brokership is better: SBICAP Securities Sub Broker Program or SMC Global Sub Broker Program.
---
Start this amazing comparison between SBICAP Securities Sub Broker & SMC Sub Broker:
SBI Securities Franchise vs SMC Global Franchise – An Overview

Overview
SBICAP Securities Franchise
SMC Global Franchise
Company Type
Public
Public
Broker type
Full Service Broker
Full Service Broker
Headquarters
Mumbai, India
Delhi, India
Founder
Smt. Varsha Purandare
S C Aggarwal
Established Year
2006
1994
SB Code Activation Time
3-4 Weeks
2-3 Weeks
Payout Time
31 Days
30-45 Days

Customer Ratings of SBI Securities Sub Broker & SMC Global Sub Broker

Customer Ratings
SBICAP Securities Franchise
SMC Global Franchise
Experience
3.4/5
3.2/5
Services
3.0/5
3.1/5
Products
2.8/5
3.5/5
Trading Platforms
2.7/5
3.3/5
Support
2.8/5
2.5/5
Revenue Sharing Model
2.9/5
3.1/5
Security Deposit
2.8/5
2.9/5
Offers
2.7/5
3.0/5
Market Share
2.2/5
3.4/5
Overll Ratings
2.8/5
3.2
Star Ratings
★★★☆☆
★★★☆☆

Compare Business Models of SBI Securities Franchise & SMC Global Franchise

Business Models
SBICAP Securities Franchise
SMC Global Franchise
Master Franchise
R
S
Sub Broker
R
R
Remisier
S
S
Referral Program
S
S

SBI Securities Franchise vs SMC Global Franchise Security Deposit Comparison

Security Deposit
SBICAP Securities Franchise
SMC Global Franchise
Master Franchise
400000 – 1000000
NA
Sub Broker
1.5 Lakhs – 2.5 Lakhs
Rs. 50,000 – 100,000
Remisier
NA
NA
Referral Program
NA
NA

SMC Global Franchise vs SBI Securities Franchise Revenue Sharing Comparison

Revenue Sharing
SBICAP Securities Franchise
SMC Global Franchise
Master Franchise
55% – 75%
NA
Sub Broker
55% – 70%
65% – 75%
Remisier
NA
NA
Referral Program
NA
NA

SMC Global Sub Broker vs SBICAP Securities Sub Broker Infra Requirement

Infrastructure Requirement
SBICAP Securities Franchise
SMC Global Franchise
Office Area
Minimum 200 Sq Ft
Minimum 250 Sq Ft
Employee Strength
Minimum 3
Minimum 2
Research Services
S
S
Internet Connection
R
R
Trading Terminals
R
R
Telephone Lines
R
R

Compare SBICAP Securities Partner & SMC Global Partner Offers

Offers
SBICAP Securities Franchise
SMC Global Franchise
Zero Deposit
S
S
10k Initial Deposit
R
R
Flexible Revenue Sharing
R
R
Flat Revenue Sharing
S
S
Zero Revenue Sharing with Prepaid
S
S

SMC Global Authorised Person vs SBICAP Securities Authorised Person Support

Support
SBICAP Securities Franchise
SMC Global Franchise
Marketing Support
R
S
Back-Office Support
R
R
Trading Support
R
R
Advisory Support
S
S
Dealing Training
S
S
Acquisition Training
R
S
Product Training
R
R

Compare Brokerage Charges of SBICAP Securities Franchise & SMC Global Franchise

Brokerage Charges to Clients
SBICAP Securities Franchise
SMC Global Franchise
Equity Delivery
0.50%
0.20% – 0.40%
Equity Intraday
0.0005
0.03% – 0.04%
Equity Futures
0.0005
0.03% – 0.04%
Equity Options
Rs.100 per Lot
Rs.70 per Lot
Currency Futures
0.0005
0.03% – 0.04%
Currency Options
Rs.100 per Lot
Rs.20 per Lot
Commodity
0.0005
0.03% – 0.04%

SBICAP Securities Partners & SMC Global Partners Charges Comparison

Charges to Clients
SBICAP Securities Franchise
SMC Global Franchise
Demat AMC
Free or Rs.400 per Annum
Rs.300 per Annum
Trading AMC
Zero
Zero
Account Opening Charges
Rs.699 per Annum
Rs. 1000
Transaction Charges
0.003250%
0.003250%
Margin Money
Rs.10,000
Rs.10,000
---
Start with Zero Deposit Today – Become a Sub Broker
---
Find Stock Broking Franchise Comparison
Most Read Articles