Belonging to the widely popular fraternity of stock brokers, 123 Capitals has a wide number of 123 Capital Sub Broker under its hood, sprawling across the country. Investing with the 123 Capitals Franchise arm is your chance of making it big too.
Summary
Top Business Model
Sub Broker
Revenue Sharing
50% – 65%
Security Deposit
Rs.100,000 – Rs.200,000
Become Sub Broker in
21 days
Receive Payout in
30 Days
Founder
M. Chakkaravarthy, M. Abimanyu
Established Year
2013
Wide range of financial service providers, 123 Capitals is bringing it to the top of the industry, with the little yet valuable experience it managed to acquire.
Every such criterion needed for investment with 123 Capitals Franchise, has been included here. You will find the revenue sharing model, eligibility, infrastructure, brokerage plans, charges, and moreover business model of the company.
---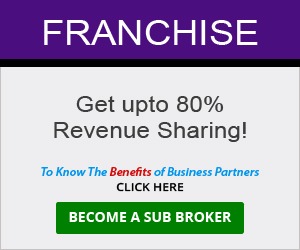 ---
123 Capitals Franchise – Customer Ratings
Experiences matter and know how the customers have rated 123 Capitals Sub Broker:
Customer Ratings
Experience
3.10 / 5
Services
3.30 / 5
Products
3.10 / 5
Trading Platforms
2.90 / 5
Support
3.10 / 5
Revenue Sharing Model
3.00 / 5
Security Deposit
2.80 / 5
Offers
2.90 / 5
Market Share
3.10 / 5
Overall Ratings
3.03 / 5
Star Ratings

★★★☆☆
For a company that is fairly new to the industry, with little experience, an overall 3.30-star rating is great. Customers call out for its services to be the best, in all terms, which has the highest rating of 3.30 stars.
Speaking of the 123 Capitals sub brokers, they seem fairly satisfied with the revenue-sharing model, which has been given the third highest rating, 3.00 stars. The offers provided are good, but with a below the 3-star threshold, can be improved.
---
Overview of 123 Capitals Franchise / Sub Broker
Speaking of the company details, here is what you must know about 123 Capitals Franchise:
123 Capitals Overview
Company Type
Private
Broker type
Full Service Broker
Headquarters
ERODE, TN
Founder
M. Chakkaravarthy, M. Abimanyu
Established Year
2013
SB Code Activation Time
21 days
Payout Time
30 Days
Built-in the year 2013, 123 Capitals is a privately owned stock market house, kickstarted by the founders M. Chakkaravarthy, M. Abimanyu. It is a full-service stock broker, having its personal network of sub-brokers and agents.
Sub brokers who wish to get associated with the company need to know the time they would require to become a 123 Capitals sub-broker. The sub-broker code activation time is given out as 21 days, while the payout time has be designated to as 30 days.
---
Become a Sub Broker with 123 Capitals – Just Fill up the form
---
Compare Sub Broker Franchise
vs
---
123 Capitals Sub Broker – Business Models
Here are the ways in which you can choose to get associated with the company:
Business Models
Master Franchise
Yes
Sub Broker
Yes
Remisier
No
Referral Program
No
123 Capitals actually has 2 sub brokers programs on board with it, which provide a wide range of benefits and revenue models. The two 123 Capitals Sub Brokers programs are:
---
123 Capitals Master Franchise Model
An individual or a company can become the master franchisee of the company. Such an individual or the business will be imposed with the duty of regulating and taking care of the sub-brokers and franchise activities of a particular territory.
123 Capitals Sub Broker / Authorised Person Model
This partnership is basically taken up by small companies, where the job of selling the products and services is delegated to the sub-broker. A broking house would generally hand over its work to the sub-broker, letting them trade the same with their client base. The amount bought in by the sub broker is then distributed among the sub-broker and company as per the agreed terms.
---
123 Capitals Sub broker Commission / Revenue Sharing
Profit earning capacity granted by the firm, the 123 Capitals revenue sharing models is discussed below:
Revenue Sharing
Master Franchise
70% – 75%
Sub Broker
50% – 65%
Remisier
NA
Referral Program
NA
The amount of security deposit is demanded by the company, and based on the amount deposited, a final 123 Capitals revenue sharing model is agreed upon. The minimum and maximum percentage of revenue a Master franchise business can grant is 70% to 75%.
On the contrary, a lower amount of profit is granted to the sub broker business model. The company getting into a pact of sub-broker with the 123 Capitals is likely to earn revenue between 50% to 65%. The final fixed percentage is dependent upon the amount of security deposited.
---
Check out Revenue Sharing of other Sub Brokers
---
123 Capitals Franchise Cost / Security Deposit
Security deposit is required to be done in order to avail of a business model. Find the attachment of 123 Capitals Franchise cost details:
Security Deposit
Master Franchise
Rs.300,000 – Rs.500,000
Sub Broker
Rs.100,000 – Rs.200,000
Remisier
NA
Referral Program
NA
The master franchise enthusiast can deposit anywhere near Rs.300,000 – Rs.500,000, with the stock broking company, whereas sub brokers need to pay a deposit of between Rs.100,000 – Rs.200,000. Proportionately the revenue sharing ratio will as well be determined.
---
Here are Security Deposit info of other Stock Broking Franchise
---
123 Capitals Partner Infrastructure Requirement
In order to be able to sign up for the business models, one has to contain these 123 Capitals Partner Infrastructure Requirements.
Infrastructure Requirement
Office Area
Minimum 300 Sq Ft
Employee Strength
Minimum 7
Research Services
Yes
Internet Connection
Yes
Trading Terminals
Yes
Telephone Lines
Yes
Eligibility criteria go into the selection process of 123 Capitals Franchise programs, to find out what the company asks for.
You will not be delegated with the program until and unless you own an office area of a Minimum of 300 Sq Ft and an employee strength of a minimum of 7.
One also needs to have access to Research Services.
Having internet connections, probably of high speed, trading terminals and also telephone lines is a must.
---
123 Capitals Sub Broker Offers
Getting associated with the 123 Capitals has its own set of perks:
Offers
Zero Deposit
No
10k Initial Deposit
No
Flexible Revenue Sharing
Yes
Flat Revenue Sharing
No
Zero Revenue Sharing with Prepaid
No
Doors of 123 Capital offers will be open to you when you decide to be a sub broker:
Revenue-sharing models for both business models aren't rigid. You may negotiate with the company in terms of the sharing ratio and percentage.
The sharing ratios are quite high in all terms, as compared to its peers.
The company will as well provide you with a wide range of support systems, which you will be benefited from.
---
Check out other companies Sub Broker Offers
---
123 Capitals Franchise Support
Apart from being endorsed by the business, there are also wide range of 123 Capitals authorized person programs, for successful execution.
Support
Marketing Support
Yes
Back-Office Support
Yes
Trading Support
Yes
Advisory Support
Yes
Dealing Training
Yes
Acquisition Training
No
Product Training
Yes
Individuals or businesses who opt for the master franchise or sub-broker program with get a wide range of support from the company the company provides a pretty good amount of marketing support, alongside back-office support. Trading support and advisory support is as well provided by the company experts and can be availed.
Sub brokers can also apply for the way clients dealing needs to be done, and 123 Capitals will assist them duly. Information about the products presently included in the company and also the new ones will be provided by the company, followed by training on the dealings.
---
123 Capitals Authorised Person – Brokerage Charges to Clients
Franchise clients will be levied with 123 Capitals brokerage as follows.
Brokerage Charges to Clients
Equity Delivery
0.30%
Equity Intraday
0.03%
Equity Futures
0.03%
Equity Options
Rs.30 per Lot
Currency Futures
0.03%
Currency Options
Rs.20 per Lot
Commodity
0.03%
The fixed sum of charges to be levied as 123 Capitals brokerage plans are:
Charge of Equity Intraday, Futures, and Currency Futures, options, stand at 0.03% each.
Equity delivery will charge the clients a percentage of 0.30%
On the other end, the Equity options holders will have to pay 30 per Lot and the Currency Options holders will have to pay a fee of Rs.20 per Lot.
---
123 Capitals Partner – Account Opening Charges to Clients
Find below, the 123 Capitals account opening charges to clients:
Account Opening Charges to Clients
Demat AMC
Percentage of Transaction
Trading AMC
Free or Rs.300 per Annum
Account Opening Charges
Rs.300
Transaction Charges
0.00295%
Margin Money
Minimum Rs.15,000
People, who opt to open an account with 123 Capitals will have to pay a sum of Rs.300 followed by which a demat AMC, and trading AMC is as well to be paid. The demat account holders will be asked to pay a percentage of the transaction as the AMC, where the trading AMC is flexible, in between Free and Rs.300 per Annum.
A minimum amount of Rs.15,000 is as well to be deposited by the account holders, to be able to start trading. And the holders will have to pay 0.00295% as transaction charges.
---
Benefits of 123 Capitals Partner Program
123 Capitals Partner Program is highly beneficial for the clients of the company and also the sub brokers.
They provide almost all the support and advisory facilities to the sub-brokers, making it easy for the business to excel in the arena.
No minimum contract charges are imposed, including no special penny stock brokerage fee.
Calculators, platforms, and a host of other benefits are provided by the company to the account holders.
The brokerage plans are low and so there is no upfront commitment fee.
---
Become a Sub Broker with 123 Capitals – Just Fill up the form
---
Find detailed review of other Sub Broker Franchise
---
Important Articles