Transforming and evolving is the criteria, meant to be followed by all the stock brokers to emerge as a notable player. Aadhar Securities Franchise scheme is used by the company as a basis to transform into a leading company in the stock broking industry. Aadhar Securities Sub Broker facilities are offered with a wide range of facilities.
Summary
Top Business Model
Sub Broker
Revenue Sharing
50% – 75%
Security Deposit
Rs.50,000 – Rs.100,000
Become Sub Broker in
20 Days
Receive Payout in
35 Days
Founder
Alok Lodha, Arjun Khanna
Established Year
1994
Summarizing the company, the business model of Aadhar Securities Franchise is of high quality. This can be highly aspired from the top stock broking firms like Aadhaar Securities. If you feel it might be the right time for you to pursue investment or business with the company, the article will be highly knowledgeable for you.
---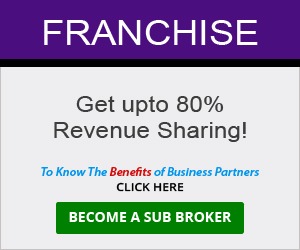 ---
Aadhar Securities Franchise – Customer Ratings
Expectations are something everyone wants fulfilled. But, how do you know what to expect from the services of Aadhar Securities Sub Broker and also the customers. So, all the aspects taking into account, here is what the present and previous customers think of the company's services.
Customer Ratings
Experience
2.5/5
Services
2.6/5
Products
2.7/5
Trading Platforms
2.3/5
Support
2.4/5
Revenue Sharing Model
2.5/5
Security Deposit
2.5/5
Offers
2.6/5
Market Share
2.3/5
Overall Ratings
2.5/5
Star Ratings
★★★☆☆
Identify your expectations, or for an instance, see if your expectations have the possibility of being fulfilled through the Aadhar Securities Customer Rating. Consider the broking house average, as the overall rating reads 2.5 stars, while you can consider its products to be the best part about it.
---
Overview of Aadhar Securities Franchise / Sub Broker
Founders, Alok Lodha and Arjun Khanna's contribution has resulted to be a remarkable stature for the company. This has been further expanded by launching the Aadhar Securities Franchise programs, paced to reached heights from the New Delhi headquarters.
Aadhar Securities Overview
Company Type
Private
Broker type
Full Service Broker
Headquarters
New Delhi
Founder
Alok Lodha, Arjun Khanna
Established Year
1994
SB Code Activation Time
20 Days
Payout Time
35 Days
So, if the plans are on and you wish to go for the sub broker programs provided by the company you will be given a Sub Broker Code Activation Time of 20 days. Whereas, the Payout Time is fixed to be at 35 days. Being a full service stock broker, you can rather have a high level of expectation from them.
---
Become a Sub Broker with Aadhar Securities – Just Fill up the form
---
Compare Sub Broker Franchise
vs
---
Aadhar Securities Sub Broker – Business Models
There is only a single business model provided by the firm which you can rely upon. You will be given the opportunity of going for the sub broker model of the company, and that would be all they have in store for you. Every further details are mentioned below.
Business Models
Master Franchise
No
Sub Broker
Yes
Remisier
No
Referral Program
No
So, the Aadhar Securities Sub Broker Business Model is the only option one has got in hand.
---
Aadhar Securities Sub Broker / Authorised Person Model
By such means, one can only go for the sub broker program, which is generally open for the entities, who would sell and the products and services of the company to their clients, or even find new. Rights to work under the franchiser's trademark is provided to sub brokers.
---
Aadhar Securities Sub broker Commission / Revenue Sharing
If one opts for the sub broker Aadhar Securities Franchise Revenue Sharing Model, there is a fixed range of pay provided by the company. The pay is of a fixed percentage and varies as per a lot of factors and figures, however the agreed percentage will be entirely enjoyed by the sub brokers.
Revenue Sharing
Master Franchise
NA
Sub Broker
50% – 75%
Remisier
NA
Referral Program
NA
Possibility of earning a percentage of 50% – 75% exists in the company, if one chooses to go for the sub broker model. The agreed upon percentage is basically said to be a result of thee security deposit made by the entity. The greater the percentage of deposit done, greater will be the share of profit.
---
Check out Revenue Sharing of other Sub Brokers
---
Aadhar Securities Franchise Cost / Security Deposit
Fixed proportion of security deposit is required to form a contract of the offered models. Since the company provides only the sub broker model of business, you will only be granted the figures of the Aadhar Securities Franchise Cost for sub broker.
Security Deposit
Master Franchise
NA
Sub Broker
Rs.50,000 – Rs.100,000
Remisier
NA
Referral Program
NA
As a sub broker you shall be entitled to a payment of Rs.50,000 as a minimum charge. The maximum charge is set to be Rs.100,000, and the franchisees can choose as they please. There is also a direct relation between the security deposit and the revenue model.
---
Here are Security Deposit info of other Stock Broking Franchise
---
Aadhar Securities Partner Infrastructure Requirement
Also some additional Aadhar Securities Infrastructure Requirement dwell into the model of franchise. This is must for the scale of business a sub broker of the firm will be carrying out, and the company strongly follows by the same ideology, where only particular entities are taken into consideration.
Infrastructure Requirement
Office Area
Minimum 150 Sq Ft
Employee Strength
Minimum 1
Research Services
No
Internet Connection
Yes
Trading Terminals
Yes
Telephone Lines
No
Prior need is the office, which needs to be of minimum 150 Sq Ft. Likewise employee strength of 1 is necessary to carry on the delegate work execution successfully. Sub broker of the company will also be required to have internet connection and trading terminals to offer to clients.
---
Aadhar Securities Sub Broker Offers
Clients for sure are the highest benefitors from the company but the same can as well be said for the sub brokers. A special set of Aadhar Securities Sub Broker Offers is considered to be called out for the sub brokers and the company does so for only one.
Offers
Zero Deposit
No
10k Initial Deposit
No
Flexible Revenue Sharing
Yes
Flat Revenue Sharing
No
Zero Revenue Sharing with Prepaid
No
If you like being accounted for all the offers, you would be expecting the same. But, the company has portrayed offer compatible for the sub broker model and, you would rather be provided with only one of the offers which is of flat revenue sharing option.
---
Check out other companies Sub Broker Offers
---
Aadhar Securities Franchise Support
To help your business go ahead in time, and win over a pretty good customer base, there is also a provision of Aadhar Securities Franchise Support. Support is granted to the entities who wish to contribute to the business's upbringing.
Support
Marketing Support
Yes
Back-Office Support
Yes
Trading Support
Yes
Advisory Support
Yes
Dealing Training
No
Acquisition Training
No
Product Training
Yes
For the very first thing, you will be provided with the marketing support, and apart from this, you will also be provided with the back office support, trading support and advisory support. The last support provided is of product training, while the way of dealing with the clients is imposed on the franchisee itself.
---
Aadhar Securities Authorised Person – Brokerage Charges to Clients
Irrespective of the financial instrument opted by the customer to invest in, Aadhar Securities Brokerage Charges is applicable on all of them. Chose one, or on the contrary choose more, and you will have to pay the charge individually to all of them.
Brokerage Charges to Clients
Equity Delivery
0.1% – 0.4%
Equity Intraday
0.01% – 0.04%
Equity Futures
0.01% – 0.04%
Equity Options
Rs.15 – Rs.75 per Lot
Currency Futures
0.01% – 0.04%
Currency Options
Rs.15 – Rs.75 per Lot
Commodity
0.01% – 0.04%
Most common of all opted one is equity delivery which ranges in between 0.1% – 0.4%. The next bunch of options i.e. the Equity Intraday, Equity Futures, Currency Futures and Commodity have the common charge range of 0.01% – 0.04%. The leftover couple of instrument range at Rs.15 – Rs.75 per Lot each and they are Equity Options and Currency Options.
---
Aadhar Securities Partner – Account Opening Charges to Clients
A set of charges have to be spared by the clients of the company, including the Aadhar Securities Account Opening Charges. The opening charges are levied at the rate of Rs.400 which are to be paid for availing the services, while the further charges are given below.
Account Opening Charges to Clients
Demat AMC
Percentage of Transaction
Trading AMC
Rs.250 per Annum
Account Opening Charges
Rs.400
Transaction Charges
0.00325%
Margin Money
Rs.0 – Rs.300,000
After the opening charges are catered, the clients will have to cater the AMC. The design of AMC for demat is percentage of transaction, while for the trading is levied to be Rs.250 per Annum. Charges also include a transaction fee at 0.00325%, whereas the margin money entirely depends.
---
Benefits of Aadhar Securities Partner Program
Clients are obligated to pay a brokerage charge and sub brokers are obligated to carry business forward. However, they both will as well be given ample amount of benefits.
Flexible brokerage charges are to be paid by the customers, with a possibility of dodging greater payment of brokerage.
Minimum security deposit would as well help to form successful alliance of sub broker partnership.
Support services by Aadhar Securities are above par with the other company's franchise programs.
Revenue sharing model is as well flexible, thereby benefiting the individuals and the entities who opt for the franchise programs.
---
Become a Sub Broker with Aadhar Securities – Just Fill up the form
---
Find detailed review of other Sub Broker Franchise
---
Important Articles