Capable are those stock broking houses, which can expand their line of operation, in order to make it to the top. Aarayaa Finstock Franchise models are available with the company which gave business access to a lot of individuals and firms. You will come across a large number of Aarayaa Finstock Sub Broker all across India.
Summary
Top Business Model
Sub Broker
Revenue Sharing
60% – 70%
Security Deposit
Rs.50,000 – Rs.100,000
Become Sub Broker in
25 Days
Receive Payout in
31 Days
Founder
Hemendra Jitendra Shroff and Shashank Shripad Vijayakar
Established Year
1997
Rounding up a company based on the bunch of statistics given above would not be fair enough. It would be perfect for a quick analysis of the company's working pattern. But for a final disclosure of the company's performance, we strongly recommend you to read further, for we got everything covered here.
---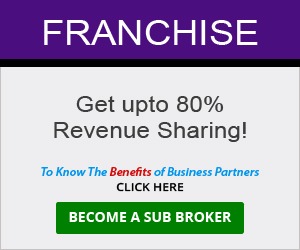 ---
Aarayaa Finstock Franchise – Customer Ratings
Customers' review is worth consideration. So the Aarayaa Finstock Sub Broker reviews are worth it, and here is the combination of both of them, stuffed into the below-mentioned table, to help you classify the company for its quality services.
Customer Ratings
Experience
2.6/5
Services
2.3/5
Products
2.6/5
Trading Platforms
2.5/5
Support
2.7/5
Revenue Sharing Model
2.3/5
Security Deposit
2.4/5
Offers
2.6/5
Market Share
2.4/5
Overall Ratings
2.5/5
Star Ratings

★★★☆☆
As displayed, the overall 2.5 Aarayaa Finstock Customer Rating lies somewhere near the average rating, as per the industry standards. As you cannot definitely expect the best of all services, you can at least expect industry standards alike services. The support services provided to the sub-brokers would definitely be the best of all the other services provided.
---
Overview of Aarayaa Finstock Franchise / Sub Broker
Aarayaa Finstock Franchise is quite a profitable business investment if all the aspects of the company are evaluated. Being headquartered in Mumbai, the company was founded by Hemendra Jitendra Shroff and Shashank Shripad Vijayakar.
Aarayaa Finstock Overview
Company Type
Private
Broker type
Full-Service Broker
Headquarters
Mumbai
Founder
Hemendra Jitendra Shroff and Shashank Shripad Vijayakar
Established Year
1997
SB Code Activation Time
25 Days
Payout Time
31 Days
The company is privately owned and a full-service stock broker, in an attempt to rise above the average threshold of the industry standards. It was founded in the year 1997 and provides a Sub Broker Code Activation Time of 25 days and a Payout Time of 31 days.
---
Become a Sub Broker with Aarayaa Finstock – Just Fill up the form
---
Compare Sub Broker Franchise
vs
---
Aarayaa Finstock Sub Broker – Business Models
The company is on the verge of expansion, as it provides most of the business models. It provides a total of 3 business models, and anyone may choose to merge with it in order to cultivate a profitable business. The model consideration can be a completely personal choice.
Business Models
Master Franchise
Yes
Sub Broker
Yes
Remisier
Yes
Referral Program
No
Three of the most in-demand models are provided by this company, thereby providing the opportunity for choices to make from.
---
Aarayaa Finstock Master Franchise Model
First is the master franchise model, where a territory of franchise activities handling is provided to an individual or firm. They will be responsible for the entire territory's franchise-related activities.
Aarayaa Finstock Sub Broker / Authorised Person Model
Second is the Aarayaa Finstock Sub Broker Business Model, where business entities have delegated the sale of broking house's products and services. They need to build a network of clients if they want a constant flow of revenue.
Aarayaa Finstock Remisier Model
The remisier is the agent who fetched and brings leads to the company, and is not directly asked to sell the products. Even a lead that turns out as a customer, would fetch the agent a small portion of the commission.
---
Aarayaa Finstock Sub broker Commission / Revenue Sharing
For the three different franchise business models, there are three different Aarayaa Finstock Franchise Revenue Sharing Models. The franchise model provides the highest revenue-sharing option, whereas the remisier has the lowest share, as in the commission.
Revenue Sharing
Master Franchise
70% – 80%
Sub Broker
60% – 70%
Remisier
15% – 25%
Referral Program
NA
The register is entitled to a commission always, and a rather small portion is provided to him. The small portion of the profit provided ranges from 15% – 25%. The sub-broker revenue model is 60% – 70%, whereas the highest revenue model of 70% – 80% is catered to the master franchise business.
---
Check out Revenue Sharing of other Sub Brokers
---
Aarayaa Finstock Franchise Cost / Security Deposit
The business is just based on simple terms, deposit a sum as Aarayaa Finstock Franchise Cost and avail of the benefits of doing business with the stock broking firm. For the three different models, there are three different rates of the security deposit to be maintained.
Security Deposit
Master Franchise
Rs.200,000 – Rs.300,000
Sub Broker
Rs.50,000 – Rs.100,000
Remisier
Rs.10,000
Referral Program
NA
A safe deposit of Rs.200,000 – Rs.300,000 is a must for a person to be a master franchise with the company. in order to become sub broker, a fee of Rs.50,000 – Rs.100,000 is necessary. Whereas for the remisier, a small amount of Rs.10,000 provided as a deposit will suffice.
---
Here are Security Deposit info of other Stock Broking Franchise
---
Aarayaa Finstock Partner Infrastructure Requirement
Some of the requirements are line a base or threshold for all types of business genres. The Aarayaa Finstock Infrastructure Requirement decides if a particular entity or individual can be considered to form a partnership or if they need to be barred.
Infrastructure Requirement
Office Area
Minimum 300 Sq Ft
Employee Strength
Minimum 3
Research Services
No
Internet Connection
Yes
Trading Terminals
Yes
Telephone Lines
No
Starting with the first necessity, a Minimum of 300 Sq Ft of land is necessary for the office construction purpose. A number of 3 employee strength for the minimum is necessary, and the other requirements are an internet connection and the trading terminals.
---
Aarayaa Finstock Sub Broker Offers
Being provided with some of the offers can be looked forward to. And, we are happy to declare the company does provide a couple of Aarayaa Finstock Sub Broker Offers.
Offers
Zero Deposit
No
10k Initial Deposit
Yes
Flexible Revenue Sharing
Yes
Flat Revenue Sharing
No
Zero Revenue Sharing with Prepaid
No
Being offered something, or just being barred from some of the most common norms feel good, and serves as an encouragement. In an attempt to encourage the sub-brokers, the company offers a 10k Initial Deposit offer and Flexible Revenue Sharing.
---
Check out other companies Sub Broker Offers
---
Aarayaa Finstock Franchise Support
A little push to the new world of business would do wonders and the push provided by the company is through the Aarayaa Finstock Franchise Support design. Refer to the table to know the kind of support and training the company provides.
Support
Marketing Support
Yes
Back-Office Support
Yes
Trading Support
Yes
Advisory Support
Yes
Dealing Training
No
Acquisition Training
No
Product Training
No
A great amount of support helps a business excel in the domain it entered, especially if it is new to the business type. So, in order to make the franchisees well accustomed to the business model and job, the company provides support marketing, back office, trading, and advisory support.
---
Aarayaa Finstock Authorised Person – Brokerage Charges to Clients
Brokerage payment is the norm of the stock broking industry but the sum or percentage payable often varies from company to company. The Aarayaa Finstock Brokerage Charges are fixed for each of the asset classes and they are as below.
Brokerage Charges to Clients
Equity Delivery
0.40%
Equity Intraday
0.04%
Equity Futures
0.04%
Equity Options
Rs.75 per Lot
Currency Futures
0.04%
Currency Options
Rs.75 per Lot
Commodity
NA
Being a full-stock broker, the company generally provides a host of financial products and services. The individual charges are as – Equity Intraday, Equity Futures, and Currency Futures of 0.04%. The next set is Equity Options, where both of them need a pay charge of Rs.75 per Lot individually. The equity delivery, however, needs a 0.40% brokerage charge.
---
Aarayaa Finstock Partner – Account Opening Charges to Clients
For clients or sub-brokers, the Aarayaa Finstock Account Opening Charges alongside some other charges should be known. Here are a few details you need to know regarding the AMC, opening charges, transaction charges, and also the margin money.
Account Opening Charges to Clients
Demat AMC
Percentage of Transaction
Trading AMC
Rs.350 per Annum
Account Opening Charges
Zero
Transaction Charges
0.00325%
Margin Money
Rs.0 – Rs.300,000
Margin money somehow depends; however, what doesn't change is the account opening charge, which is designed to be zero. Transaction charges being 0.00325%, you will also have to spare for a trading AMC of Rs.350 per Annum, where the demat AMC depends on the Percentage of Transaction.
---
Benefits of Aarayaa Finstock Partner Program
The runway for trading and also the franchise is long; however, there are vast numbers of possibilities to find an exciting journey, full of benefits.
The account opening charge of the clients is stuck up on a neutral digit, i.e. zero, which would bring down the expense list of the customers.
A vast number of franchise options provided by the company, lets a lot of people find business possibilities.
The revenue-sharing model is pretty fair, as per the business models structures should be designed. The one you opt for will determine your income capacity.
The huge area of support is as well provided by the company which makes it possible to excel in the domain chosen.
---
Become a Sub Broker with Aarayaa Finstock – Just Fill up the form
---
Find detailed review of other Sub Broker Franchise
---
Important Articles