Letting you take the journey as Aarush Equities Sub Broker, this well emerged company provides you with all the measures, to make the Aarush Equities Franchise contract successful. On the contrary, investing with this company as a client has its own share of perks.
Summary
Top Business Model
Sub Broker
Revenue Sharing
60% – 75%
Security Deposit
Rs.50,000 – Rs.100,000
Become Sub Broker in
20 Days
Receive Payout in
35 Days
Founder
Kunal Shashikant Shah
Established Year
2010
You may have considered a way to invest with this company, as a client or a sub broker. But the truth is that, you need to weigh in all the criteria's of this deal and then decide if this company does make a good deal. So, we have done half your job here, by bringing all the information to your doorsteps.
---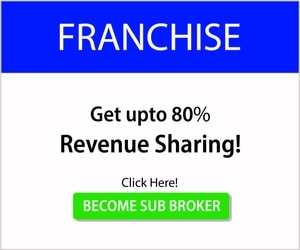 ---
Aarush Equities Franchise – Customer Ratings
While you pick up what you want and pin point them to form a basis of comparison, here is what the past Aarush Equities Sub Broker and the customers have to share, as per their personal experience. It is one of the comparison bases.
Customer Ratings
Experience
2.4/5
Services
2.5/5
Products
2.6/5
Trading Platforms
2.4/5
Support
2.5/5
Revenue Sharing Model
2.4/5
Security Deposit
2.6/5
Offers
2.5/5
Market Share
2.4/5
Overall Ratings
2.5/5
Star Ratings
★★★☆☆
You can precisely refer to each and every aspect of the company, especially the one you wish to find in this company and then decide if they are of high quality. Let us check the overall Aarush Equities Customer Rating, where the company stands at a point of 2.5 Stars, probably the average.
---
Overview of Aarush Equities Franchise / Sub Broker
Giving you an overall idea of the company, regarding it experience and line of business it is included in, we have drafted the below mentioned table. This company, which provides the Aarush Equities Franchise, was set up in the year 2010, and is a full service broker.
Aarush Equities Overview
Company Type
Private
Broker type
Full Service Broker
Headquarters
Navarangpura, Ahmedabad
Founder
Kunal Shashikant Shah
Established Year
2010
SB Code Activation Time
20 Days
Payout Time
35 Days
You will find a combination of franchise and financial solutions with this house which was founded by Kunal Shashikant Shah, and is headquartered at Navarangpura, Ahmedabad. Its Sub Broker Code Activation Time is 20 days, while the Payout Time is 35 days.
---
Become a Sub Broker with Aarush Equities – Just Fill up the form
---
Compare Sub Broker Franchise
vs
---
Aarush Equities Sub Broker – Business Models
You may be on a search for other types of business models, and if you search for the master franchise, remisier or the referral program, this company might not serve you well enough. As, this company provides only the sub broker model of business.
Business Models
Master Franchise
No
Sub Broker
Yes
Remisier
No
Referral Program
No
You would be willing to learn everything you can from this, starting from which, here is how the Aarush Equities Sub Broker Business Model work.
---
Aarush Equities Sub Broker / Authorised Person Model
Sub brokers will basically share the business model of the franchiser, i.e. Aarush Equities and they will be taking forward a part of the operation process, i.e. the sale of franchiser's goods and services. Perks are it that, the sub brokers will be given more than equal shares in the revenue earned.
---
Aarush Equities Sub broker Commission / Revenue Sharing
Here is what you need to know of the Aarush Equities Franchise Revenue Sharing Model, the part where you discover how much you will be earning from the thereby formed contract. The revenue percentage is however not fixed, it ranges.
Revenue Sharing
Master Franchise
NA
Sub Broker
60% – 75%
Remisier
NA
Referral Program
NA
The sub broker is the only model which is provided by this particular stock broking company, and we wish to convey it to you, that the percentage you will be finally entitled to shall be simultaneously higher, where you will make a fixed 60%, and this can move up to the percentage of 75.
---
Check out Revenue Sharing of other Sub Brokers
---
Aarush Equities Franchise Cost / Security Deposit
Deposits are essential for any kind of business and so is it necessary to pay a Aarush Equities Franchise Cost, of a contract is to be emerged with this stock broking company. However, the revenue granted ranges as per the security deposit made.
Security Deposit
Master Franchise
NA
Sub Broker
Rs.50,000 – Rs.100,000
Remisier
NA
Referral Program
NA
Sub broker security deposit range is Rs.50,000 – Rs.100,000. Where, the lowest of deposit will fetch you the lower of revenue. So, we suggest you to cater in huge capital to be provided, so you can make a likewise higher percentage in revenue.
---
Here are Security Deposit info of other Stock Broking Franchise
---
Aarush Equities Partner Infrastructure Requirement
So, setting up a business is lot more than simply putting in capital into the business. It has a lot more requirements you need to have to ability to fulfill. This can be achieved through planning, and so here are the insights of Aarush Equities Infrastructure Requirement, so you can manage catering them.
Infrastructure Requirement
Office Area
Minimum 100 Sq Ft
Employee Strength
Minimum 1
Research Services
No
Internet Connection
Yes
Trading Terminals
Yes
Telephone Lines
No
The lot of requirements you are obligated to fulfill as set by this stock broking house stars with the office area requirements which has to be of minimum 100 Sq Ft. Further, 1 minimum employee is must, followed by the provision of internet connection and also trading terminals.
---
Aarush Equities Sub Broker Offers
Company provides you some perks, which are referred to as Aarush Equities Sub Broker Offers. Consider them as the relaxation given on the security deposit and return ends.
Offers
Zero Deposit
No
10k Initial Deposit
Yes
Flexible Revenue Sharing
Yes
Flat Revenue Sharing
No
Zero Revenue Sharing with Prepaid
No
So, you will be given the opportunity of providing a 10k initial deposit, following which rest of the deposit can be paid. For clarification, get in touch with the company. Second offer is of the flexible revenue sharing model, and we know of the benefit it contains beforehand.
---
Check out other companies Sub Broker Offers
---
Aarush Equities Franchise Support
Encouraging is done through the offers, but the company also supports the sub brokers, by providing Aarush Equities Franchise Support help from its end. You will be perfectly guided by this stock broking company, so you do not find it too difficult to get in the franchise business.
Support
Marketing Support
Yes
Back-Office Support
Yes
Trading Support
Yes
Advisory Support
Yes
Dealing Training
No
Acquisition Training
Yes
Product Training
No
Support will be provided in terms of marketing, back office, trading as well as in advisory. Furthermore, you shall also be trained, as the company provides the acquisition training. Make the most of the firm, and invest with this firm as their sub broker.
---
Aarush Equities Authorised Person – Brokerage Charges to Clients
Client's information is next on line. You will find the Aarush Equities Brokerage Charges at the adjacent side of the particular investment instrument. Now, the decision lies upon you, where you may choose one or more of the instruments to invest with.
Brokerage Charges to Clients
Equity Delivery
0.20%
Equity Intraday
0.02%
Equity Futures
0.02%
Equity Options
Rs.20 per Lot
Currency Futures
0.02%
Currency Options
Rs.20 per Lot
Commodity
0.02%
People who have their eyes on the Equity Intraday, Equity Futures, Currency Futures and Commodity instruments, need to cater in 0.02% as the brokerage charges. Equity Options and the Currency Options have a charge which is fixed at Rs.20 per Lot each. Equity Delivery charge is at 0.20%.
---
Aarush Equities Partner – Account Opening Charges to Clients
You can easily sign up to be the client of this company, and choose to get an account with them, and then deal with the securities you wish to. However, there are going to be quite a lot of charges you need to take into account, including the Aarush Equities Account Opening Charges of Rs.250.
Account Opening Charges to Clients
Demat AMC
Percentage of Transaction
Trading AMC
Rs.250 per Annum
Account Opening Charges
Rs.250
Transaction Charges
0.00311%
Margin Money
Minimum Rs.10,000
Now that you know of the opening charges, you need to further pay AMC of percentage of transaction for the Demat account, and AMC of Rs.250 per annum for the trading account. Further, you will be asked to pay a transaction charge of 0.00311%.
---
Benefits of Aarush Equities Partner Program
Winding up this article, here are some of the benefits you need to know of, if you haven't already been able to pick them up from the above context.
Clients have access the instruments which have a pretty less amount of brokerage charges tagged on them.
Also, the opening and AMC charges are economic, thereby reducing the burden to be held along the course.
Support services from the franchiser's end to the sub brokers are vast and thereby, it makes it easy on the sub brokers to kick start with their venture.
Also, the revenue model is quite flexible, which makes it easy for the sub brokers to consider the percentage they want.
---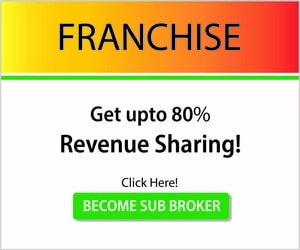 ---
Become a Sub Broker with Aarush Equities – Just Fill up the form
---
Find detailed review of other Sub Broker Franchise
---
Important Articles