Your search for a franchiser may finally come to an end with this spectacular and well-structured stock broking company, which has a well-defined Aashvik Capital Sub Broker arm through the models of Aashvik Capital Franchise it provides to the public for business investments.
Summary
Top Business Model
Sub Broker
Revenue Sharing
55% – 70%
Security Deposit
Rs.50,000 – Rs.100,000
Become Sub Broker in
21 Days
Receive Payout in
31 Days
Founder
Vikash Gupta and Ashok Kumar Gupta
Established Year
2018
Leading to your need to gain up on the information which is related to the franchise business and also an individual investment, we have constructed this article. You will find each and every detail of the sub-broker model, along with the client charges, if you keep up with this article.
---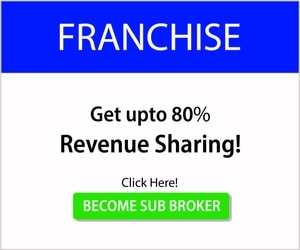 ---
Aashvik Capital Franchise – Customer Ratings
Moving on to the customer rating, you will be able to know if the company will be able to meet your expectation, based on past experience. These ratings are related to the Aashvik Capital Sub Broker, as well as the clients of the company.
Customer Ratings
Experience
2.5/5
Services
2.6/5
Products
2.7/5
Trading Platforms
2.3/5
Support
2.6/5
Revenue Sharing Model
2.5/5
Security Deposit
2.5/5
Offers
2.6/5
Market Share
2.2/5
Overall Ratings
2.5/5
Star Ratings
★★★☆☆
Count on the Aashvik Capital Customer Rating, so you will be able to discover the worthiness of each and every aspect. For the overall scenario, you may consider the company to be average in all aspects as the company got a 2.5-star rating.
---
Overview of Aashvik Capital Franchise / Sub Broker
One of the observations we can draw from the overall information of the company is that the company would soon be among the top tier companies, as it has managed to achieve a lot in the short span of life it has. This company which offers the company's Aashvik Capital Franchise was set up in the year 2018.
Aashvik Capital Overview
Company Type
Private
Broker type
Full-Service Broker
Headquarters
Kanpur
Founder
Vikash Gupta and Ashok Kumar Gupta
Established Year
2018
SB Code Activation Time
21 Days
Payout Time
31 Days
So, keeping up with the information, and also checking out how well efficient it is, this company is a full-service broker providing versatile solutions to individual investors. The Sub Broker Code Activation Time of this company is 21 days, while the Payout Time is 31 days.
---
Become a Sub Broker with Aashvik Capital – Just Fill up the form
---
Compare Sub Broker Franchise
vs
---
Aashvik Capital Sub Broker – Business Models
This company, being a recently set up institution, goes on to provide two different franchise business models, of which the sub-broker business model is the most famous model. Furthermore, you need to know the statistics related to these models, which are as well included in this article.
Business Models
Master Franchise
Yes
Sub Broker
Yes
Remisier
No
Referral Program
No
The Aashvik Capital Sub Broker Business Model is the most famous one, yes, but the franchise model is as well significantly profitable.
---
Aashvik Capital Master Franchise Model
Master franchisers opted franchisees, will have a huge amount of responsibility rested on their shoulder if you wonder. It is because; the franchisees will be given the responsibility of territorial control of franchiser activity. They will have to take care of a territory, in short.
Aashvik Capital Sub Broker / Authorised Person Model
Sub brokers have an important part to play as well, where they will have to increase the company's client base. They will have to indulge themselves in the sale of products and services of their franchiser under their trademark. The reward at the end would be retaining a high amount of revenue made.
---
Aashvik Capital Sub broker Commission / Revenue Sharing
The table given below has two different statistics of Aashvik Capital Franchise Revenue Sharing Model, both of which range. One of the same indicates the reward for the master franchisees, and the second indicates the sub brokers.
Revenue Sharing
Master Franchise
70% – 80%
Sub Broker
55% – 70%
Remisier
NA
Referral Program
NA
The master franchise applicants will be able to make a revenue, which is, or in between 70% – 80%. However, the sub brokers shall be able to make a percentage which is, or in between 55% – 70%. The percentage varies taking into consideration the scales of responsibility undertaken.
---
Check out Revenue Sharing of other Sub Brokers
---
Aashvik Capital Franchise Cost / Security Deposit
Security deposit goes into the formation of the contract, which is actually referred to as the Aashvik Capital Franchise Cost. The money range is different for both the franchise and the sub broker's models, where the thereby given range needs to be reached.
Security Deposit
Master Franchise
Rs.100,000 – Rs.300,000
Sub Broker
Rs.50,000 – Rs.100,000
Remisier
NA
Referral Program
NA
The range of security provided by the sub brokers needs to be between Rs.50,000 – Rs.100,000, however for the master franchise model, it has to be within Rs.100,000 – Rs.300,000. The higher deposit you provide the higher the revenue percentage you will be entitled to.
---
Here are Security Deposit info of other Stock Broking Franchise
---
Aashvik Capital Partner Infrastructure Requirement
You need to also keep track of some of the other Aashvik Capital Infrastructure Requirements after the security criteria are fulfilled. The fixed criteria to be fulfilled by the franchisees are precisely given below. So you can successfully avail of the model you wish.
Infrastructure Requirement
Office Area
Minimum 200 Sq Ft
Employee Strength
Minimum 2
Research Services
Yes
Internet Connection
Yes
Trading Terminals
Yes
Telephone Lines
No
The requirements start from the office area where a minimum of 200 Sq Ft need to be catered. The franchisees also need to have in-house research services and employee strength of a minimum of 2. The requirements are as well extended to internet connection and trading terminals.
---
Aashvik Capital Sub Broker Offers
Offers are basically the way in which the sub-brokers can precisely enjoy a thing or two by availing of the business models. The Aashvik Capital Sub Broker Offers are as below.
Offers
Zero Deposit
No
10k Initial Deposit
No
Flexible Revenue Sharing
Yes
Flat Revenue Sharing
No
Zero Revenue Sharing with Prepaid
Yes
There are two offers the clients can enjoy at their convenience, provided from this sub broker's end. The first offer is flexible revenue sharing models, whereas the second offer is of zero revenue sharing with prepaid.
---
Check out other companies Sub Broker Offers
---
Aashvik Capital Franchise Support
You will be provided with quite a lot of Aashvik Capital Franchise Support services, so you will be able to emerge as a franchise arm of the company Aashvik Capital. This would make the initial difficult stages of business quite feasible for the franchisees.
Support
Marketing Support
Yes
Back-Office Support
Yes
Trading Support
Yes
Advisory Support
No
Dealing Training
Yes
Acquisition Training
No
Product Training
No
You will reportedly get four of the major support services, which would definitely help you stand erect in the industry, and also give a tough competition to the other companies. The services are of marketing, back office, trading as well as dealing training.
---
Aashvik Capital Authorised Person – Brokerage Charges to Clients
Here, the clients will find information on the financial instruments this company provides, alongside the designated Aashvik Capital Brokerage Charges to them. Each of the clients is liable to pay a fee on all the investment options they go for.
Brokerage Charges to Clients
Equity Delivery
0.15%
Equity Intraday
0.02%
Equity Futures
0.02%
Equity Options
Rs.15 per Lot
Currency Futures
0.02%
Currency Options
Rs.10 per Lot
Commodity
0.02%
Speaking of the first set of instruments, the Equity Intraday, Equity Futures, Currency Futures, and Commodity charge is 0.02%, however, the Equity Delivery charge is 0.15%. On the contrary, the Equity Options charge is Rs.15 per Lot, however, the currency charge is Rs.10 per Lot.
---
Aashvik Capital Partner – Account Opening Charges to Clients
Now that you know of the brokerage charges, you need to move on to know what other charges you need to pay to the company. There are a set of charges to be incurred, which has one of the charges of Rs.200 as the Aashvik Capital Account Opening Charges.
Account Opening Charges to Clients
Demat AMC
Percentage of Transaction
Trading AMC
Rs.300 per Annum
Account Opening Charges
Rs.200
Transaction Charges
0.00285%
Margin Money
Minimum Rs.10,000
There are other sets of charges which go toward the account holding. Also, a minimum of Rs.10,000 is to be maintained as a margin at all times.
Demat AMC is a percentage of transactions.
Trading AMC is Rs.300 per annum
Lastly, the transaction charges are to be incurred at 00285%
---
Benefits of Aashvik Capital Partner Program
You will be entitled to a lot of benefits alongside the charges you pay if you choose to open an account with this company. They are as follows:
Account opening charges are actually on the lower end, where Rs.200 is quite economic in nature.
The other charges, i.e. the brokerage charges are as well quite low, if compared to its peers in the industry it belongs to.
The sub-brokers are on merits, as the revenue sharing model is designed to be flexible rather than rigid at one percentage.
Lastly, the exceptional kind of support provided by the company, to the sub brokers is spectacular.
---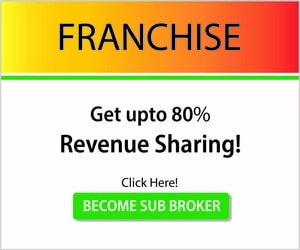 ---
Become a Sub Broker with Aashvik Capital – Just Fill up the form
---
Find a detailed review of other Sub Broker Franchise
---
Important Articles