Financial services aid is needed by all of us, and stock broking houses are the ones which lend such services to us. So does Abhik Finance, through the Abhik Finance Sub Broker program which falls under Abhik Finance Franchise options provided by the company. They are extended all across our country.
Summary
Top Business Model
Sub Broker
Revenue Sharing
50% – 70%
Security Deposit
Rs.50,000 – Rs.100,000
Become Sub Broker in
35 Days
Receive Payout in
35 Days
Founder
Anuj Nagpal
Established Year
1997
Find a ready made business model to work with and earn revenue from the start of investment. This provision is thrown over, by the company in uniform and structured way. Find everything you have been looking for, if you are drawn by the concept of sub broker or franchise and wish to work for Abhik Finance precisely.
We covered almost everything in our article related to sub brokers, and so will the clients of the company find this article greatly of use.
---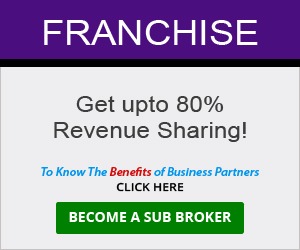 ---
Abhik Finance Franchise – Customer Ratings
Highly aspired company has a good customer rating as its efforts to serve the customers with the rightful products and services would be appreciated. The Abhik Finance Sub Broker model is as well rating by the past and existing sub brokers, and is displayed below.
Customer Ratings
Experience
2.4/5
Services
2.4/5
Products
2.3/5
Trading Platforms
2.2/5
Support
2.4/5
Revenue Sharing Model
2.5/5
Security Deposit
2.2/5
Offers
2.4/5
Market Share
2.3/5
Overall Ratings
2.4/5
Star Ratings
★★★☆☆
The quality portraying sub broker's performance will be reflected in the overall rating, as a firm which is effective ha all to the point all line of operations. The overall Abhik Finance Customer Rating of 2.4 star is rather average, portraying how average the company is in all the aspect, including the clients satisfaction and business modelling.
---
Overview of Abhik Finance Franchise / Sub Broker
Here is to another full services stock broker, which has all the solutions to the clients financial needs, and wish to take their services to the next level. Delegation has been attempted through the Abhik Finance Franchise adding up to the growth of the company.
Abhik Finance Overview
Company Type
Private
Broker type
Full Service Broker
Headquarters
Gurgaon, HR
Founder
Anuj Nagpal
Established Year
1997
SB Code Activation Time
35 Days
Payout Time
35 Days
Abhik Finance is a private establishment, which was founded by Anuj Nagpal in the year 1997, since has been contributing to the stock broking industry. Sub brokers interested in the company will have to wait for a Sub Broker Code Activation Time of 35 Days. The Payout Time is as well same, 35 days.
---
Become a Sub Broker with Abhik Finance – Just Fill up the form
---
Compare Sub Broker Franchise
vs
---
Abhik Finance Sub Broker – Business Models
Four kind of business models are generally launched by companies, of which some broking houses choose to opt for few or even one, whereas others may opt for all. It generally depends upon the particular stock broking house and for Abhik Finance, it is two.
Business Models
Master Franchise
No
Sub Broker
Yes
Remisier
No
Referral Program
Yes
Abhik Finance Sub Broker Business Model being the first one, the company also offers referral programs to benefit the clients and also increase their business.
---
Abhik Finance Sub Broker / Authorised Person Model
This model comprises of a pact between a business entity for the sale of products and service, in return for a higher share of revenue from such clients. The franchiser lets the entity sell its products and services under its name, while providing a great degree of support.
Abhik Finance Referral Program Model
This can be carried out by any of the company's clients where the concerned individual can refer someone to the company. If the referred person becomes a client of the company, the person who referred will be entitled to a commission or certain benefits.
---
Abhik Finance Sub broker Commission / Revenue Sharing
Part in profit is very essential to know before making any kind of business commitments. And before you consider this company's sub broker model, here is the sneak peek of Abhik Finance Franchise Revenue Sharing Model, displayed in the table.
Revenue Sharing
Master Franchise
NA
Sub Broker
50% – 70%
Remisier
NA
Referral Program
10%
Franchiser, i.e. Abhik Finance would allocate a percentage of revenue as displayed in the above table to the sub brokers. The percentage will be the revenue earned on behalf of the sales made, and the final percentage agreement will be led by the amount of security deposit made with the franchiser.
---
Check out Revenue Sharing of other Sub Brokers
---
Abhik Finance Franchise Cost / Security Deposit
It is quite easy to get enrolled for the sub broker program or even the referral program offered by the company. All you need to take care of is the Abhik Finance Franchise Cost the company asks for, and then take a step of paying it finally.
Security Deposit
Master Franchise
NA
Sub Broker
Rs.50,000 – Rs.100,000
Remisier
NA
Referral Program
Rs.1100
One of the two model is the sub broker model, where the minimum deposit demanded is Rs.50,000, while the maximum demanded is Rs.100,000. You can go for an amount, anywhere in the middle or the thresholds. The traders willing to enroll for the referral programs, will have to pay Rs.1100.
---
Here are Security Deposit info of other Stock Broking Franchise
---
Abhik Finance Partner Infrastructure Requirement
Sub broker model definitely has quite some requirements and one among them is the Abhik Finance Infrastructure Requirement. See the table to figure out what the company looks out for, and what it asks as an eligibility criterion.
Infrastructure Requirement
Office Area
Minimum 100 Sq Ft
Employee Strength
Minimum 1
Research Services
No
Internet Connection
Yes
Trading Terminals
Yes
Telephone Lines
No
The infrastructure is the prime requirement for the sub broker model, in a lot of aspect, as some serious business delegation is done. So, the requirements stand to be Minimum 100 Sq Ft for the office are and an employee strength of minimum 1. Others are the internet connection, and trading terminals.
---
Abhik Finance Sub Broker Offers
The right kind of Abhik Finance Sub Broker Offers provided will encourage franchisees to invest more with the company, and take up higher level of tasks. Volunteering brings lots of profits to business, and offers are what drive people to volunteer.
Offers
Zero Deposit
Yes
10k Initial Deposit
No
Flexible Revenue Sharing
Yes
Flat Revenue Sharing
No
Zero Revenue Sharing with Prepaid
No
There are two kind of offers provided by the company to the clients and they are zero deposit benefit and the flexible revenue sharing model, as described earlier.
---
Check out other companies Sub Broker Offers
---
Abhik Finance Franchise Support
Support you aspire to have from the upper level is likewise the Abhik Finance Franchise Support. It not only delegates the job to the sub brokers, but also looks after few of their requirements and provides support for them, for better and sooner returns.
Support
Marketing Support
No
Back-Office Support
Yes
Trading Support
Yes
Advisory Support
No
Dealing Training
No
Acquisition Training
No
Product Training
Yes
Marketing support, which is provided by most of the stock broking houses, is not provided by this company. but there sure are other support, such as back office support, trading support and also the product training. Making the sub brokers accustomed with the products is managed by the franchiser.
---
Abhik Finance Authorised Person – Brokerage Charges to Clients
Brokerage is the right of broking houses, it is the way they functions and the system has always allowed it. However the range of Abhik Finance Brokerage Charges varies as compared to other houses. So do the charges for all the asset classes vary.
Brokerage Charges to Clients
Equity Delivery
0.20%
Equity Intraday
0.02%
Equity Futures
0.02%
Equity Options
Rs.20 per Lot
Currency Futures
0.02%
Currency Options
Rs.10 per Lot
Commodity
NA
First group of instruments which have the same charge are Equity Intraday, Equity Futures, Currency Futures, which have a common charge of 0.02%. now considering the Equity Delivery, clients would be charged  0.20% as the brokerage. Equity options and the currency options however have a tag of Rs.20 per Lot and Rs.10 per Lot.
---
Abhik Finance Partner – Account Opening Charges to Clients
Account opening charges are definitely to be paid, if a stock broking house asks for it. Here lies our focus, upon what the Abhik Finance Account Opening Charges are. Also the other kinds of charges are to be accounted for with the minimum margin requirement which is Rs.5,000.
Account Opening Charges to Clients
Demat AMC
Percentage of Transaction
Trading AMC
Rs.250 per Annum
Account Opening Charges
Zero
Transaction Charges
0.00250%
Margin Money
Minimum Rs.5,000
Banking up the information of account opening, the clients will have to pay nothing for getting an account with the company. However AMC is definitely charged which is Percentage of Transaction for Demat and Rs.250 per Annum for trading. The final charge is of transaction – 0.00250%.
---
Benefits of Abhik Finance Partner Program
Lauding the efforts of the company, to provide profitable deals for both the clients and the customers, here is what you will be getting.
There is no account opening charged by the company from their clients, while getting an account.
Brokerage charges are feasible and low, which is a merit for the clients.
Host of support services are provided by the company to the sub brokers.
Flexible revenue sharing model, tops the list of benefits provided to the sub brokers.
---
Become a Sub Broker with Abhik Finance – Just Fill up the form
---
Find detailed review of other Sub Broker Franchise
---
Important Articles