Stocking up all the quality services in their house, and providing them to the clients who are in need of financial solutions is what Abhinandan Stock Broking does. They have developed a pretty good network of Abhinandan Stock Broking Sub Broker by offering top quality Abhinandan Stock Broking Franchise programs.
Summary
Top Business Model
Sub Broker
Revenue Sharing
50% – 65%
Security Deposit
Rs.50,000 – Rs.150,000
Become Sub Broker in
28 Days
Receive Payout in
40 Days
Founder
Nirmal Kumar Kedia
Established Year
2010
Such an opportunity to make business out of the well established company's business model is barely provided. Since, the company invites individuals and entities to invest with them and emerge as a sub broker partner with them; you might want to explore the options in the first place.
---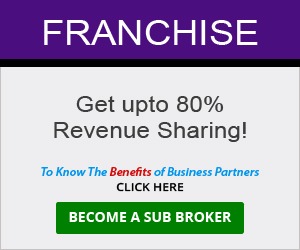 ---
Abhinandan Stock Broking Franchise – Customer Ratings
Customers would be highly obliged if they are served with fabulous quality services, and will reflect on the rating. So is the same a classic phenomenon for the Abhinandan Stock Broking Sub Broker partnership, and rating do speak a lot of the company.
Customer Ratings
Experience
2.3/5
Services
2.4/5
Products
2.5/5
Trading Platforms
2.3/5
Support
2.4/5
Revenue Sharing Model
2.5/5
Security Deposit
2.4/5
Offers
2.4/5
Market Share
2.1/5
Overall Ratings
2.3/5
Star Ratings
★★★☆☆
The fact which goes by the table, about the Abhinandan Stock Broking Customer Rating is the company is presently pretty low in demand. The overall rating of 2.3 is somewhat quite low, portraying the rather average level of performance shown by the company to both the sub brokers and the clients.
---
Overview of Abhinandan Stock Broking Franchise / Sub Broker
This stock broking house is situated out of Kolkata, and has its headquarters in the city, from where the products and services, along with the management structures are designed. The Abhinandan Stock Broking Franchise is one of its lines of operations which is sorted out from the headquarters.
Abhinandan Stock Broking Overview
Company Type
Private
Broker type
Full Service Broker
Headquarters
Kolkata
Founder
Nirmal Kumar Kedia
Established Year
2010
SB Code Activation Time
28 Days
Payout Time
40 Days
This full service stock broker was incorporated by Nirmal Kumar Kedia, in the year 2010. Since then, it has been all decked up, providing quality services to people across the country. As for its sub broker, the Sub Broker Code Activation Time rolled out by the company is 28 days whereas the Payout Time is said to be 40 days.
---
Become a Sub Broker with Abhinandan Stock Broking – Just Fill up the form
---
Compare Sub Broker Franchise
vs
---
Abhinandan Stock Broking Sub Broker – Business Models
Of among the 4 well known business models of franchise, Abhinandan provides only two. Anyone can opt for one of the tow provided business models, if they have the means and interest to do so. After checking the eligibility criteria and the access to the same, a step further can be taken.
Business Models
Master Franchise
Yes
Sub Broker
Yes
Remisier
No
Referral Program
No
There are two of Abhinandan Stock Broking Sub Broker Business Models as also displayed in the table.
---
Abhinandan Stock Broking Master Franchise Model
Master franchise is basically a new line of operation altogether and the individual or entity taking it up will be imposed with the responsibility of regulating and taking care of all the franchise related activities in the specific territory they reside.
Abhinandan Stock Broking Sub Broker / Authorised Person Model
Sub broker is basically a smaller concept, where an entity can simply set up a pact with the broking house and offer to sell their products and services to their client base, and share a higher proportion of the profit resulting from all the clients.
---
Abhinandan Stock Broking Sub broker Commission / Revenue Sharing
This company provides two different business models for franchise as discussed above, and Abhinandan Stock Broking Franchise Revenue Sharing Model is different for both of them. The master franchise always provides greater revenue than a sub broker model.
Revenue Sharing
Master Franchise
70% – 85%
Sub Broker
50% – 65%
Remisier
NA
Referral Program
NA
Pin pointing the master franchise model, the franchisee will be able to earn a revenue of 70% – 85% from all the business deals they bring in. As for the sub broker, he may retain 50% – 65% of the money earned from the clients he managed to secure.
---
Check out Revenue Sharing of other Sub Brokers
---
Abhinandan Stock Broking Franchise Cost / Security Deposit
You capacity of deposit will determine your relationship with the franchiser. The relationship is not in terms of strength, but in terms of revenue sharing. Know the Abhinandan Stock Broking Franchise Cost and determine how much you can invest.
Security Deposit
Master Franchise
Rs.200,000 – Rs.500,000
Sub Broker
Rs.50,000 – Rs.150,000
Remisier
NA
Referral Program
NA
Company would ask for a security deposit of Rs.200,000 – Rs.500,000 for the master franchise model. The sub broker model requires a significant lower investment which ranges from Rs.50,000 – Rs.150,000. The amount you pay for the final would be dependent upon your and your capability, and would also determine your payment percentage.
---
Here are Security Deposit info of other Stock Broking Franchise
---
Abhinandan Stock Broking Partner Infrastructure Requirement
No sub broker scale of business can be undertaken without an infrastructure. So, there is a Abhinandan Stock Broking Infrastructure Requirement, and the company demands Minimum 200 Sq Ft.  It is mandatory to own such measured property.
Infrastructure Requirement
Office Area
Minimum 200 Sq Ft
Employee Strength
Minimum 2
Research Services
Yes
Internet Connection
No
Trading Terminals
Yes
Telephone Lines
No
There are these other requirements however, one of which is the manpower requirement of minimum 2 employees. Then comes, the requirement of research services in the office premises, alongside provision of trading terminals, for carrying out further activities.
---
Abhinandan Stock Broking Sub Broker Offers
Of all the offers a franchiser could offer to their franchisees, Abhinandan Stock Broking Sub Broker Offers is limited to only one form, we basically know of, already.
Offers
Zero Deposit
No
10k Initial Deposit
No
Flexible Revenue Sharing
Yes
Flat Revenue Sharing
No
Zero Revenue Sharing with Prepaid
No
So, the company provides the offer of flexible revenue sharing for its sub brokers, where the profit sharing percentage can be chosen by themselves.
---
Check out other companies Sub Broker Offers
---
Abhinandan Stock Broking Franchise Support
Support requirement is not must, but take someone a long way, rather than starting from the scratch. This is the same aim, being fulfilled by the company providing a great deal of Abhinandan Stock Broking Franchise Support to the sub brokers and master franchise owners.
Support
Marketing Support
Yes
Back-Office Support
Yes
Trading Support
Yes
Advisory Support
Yes
Dealing Training
No
Acquisition Training
No
Product Training
No
You will be availing for 4 kind of support alongside the franchise business model. Franchiser i.e. Abhinandan Stock Broking will take care of marketing, back office, training and advisory support. Being associated with the company, would not be a burden after all, where everything has to be done on own.
---
Abhinandan Stock Broking Authorised Person – Brokerage Charges to Clients
Keep going with your investment option being a client of the company. There is a definite Abhinandan Stock Broking Brokerage Charges levied on each of the investment option. Make sure you note down the charge percentage of the ones you wish to consider.
Brokerage Charges to Clients
Equity Delivery
0.2% – 0.3%
Equity Intraday
0.02% – 0.035%
Equity Futures
0.02% – 0.035%
Equity Options
Rs.20 – Rs.30 per Lot
Currency Futures
0.02% – 0.035%
Currency Options
Rs.15 – Rs.30 per Lot
Commodity
0.02% – 0.035%
If you are considering one from Equity Intraday, Equity Futures, Currency Futures and Commodity as your investment you will be paying a brokerage of 0.02% – 0.035%. For the choice of Equity Delivery, you will have to pay 0.2% – 0.3%. The options have a charge of Rs.20 – Rs.30 per Lot for Equity and Rs.15 – Rs.30 per Lot for currency.
---
Abhinandan Stock Broking Partner – Account Opening Charges to Clients
Payment of Abhinandan Stock Broking Account Opening Charges is mandatory, as is for the other stock broking houses. For this particular house, the demand is of Rs.300, which is definitely of industry average standard, as a lot of houses charges up to Rs.700.
Account Opening Charges to Clients
Demat AMC
Percentage of Transaction
Trading AMC
Rs.300 per Annum
Account Opening Charges
Rs.300
Transaction Charges
0.00265%
Margin Money
Minimum Rs.10,000
Though not a perk, the opening charges is partially perk as a fee is imposed, contrary to the houses which impose none. Other charges include the AMC for both the demat and the trading account. Also, a minimum balance of Rs.10,000 is forever to be maintained. Lastly a transaction charges is as well collected from clients at 0.00265%.
---
Benefits of Abhinandan Stock Broking Partner Program
Check the box of benefits facilitation if you are the company's client or the franchisee. You will be provided with not one, rather many benefits, some of which are pointed out below.
The transaction and brokerage charges are quite low, where the brokerage charges range based on the transactions performed.
Low amount of account opening charges are taken by the company, basically belonging to the average category as per the industry standards.
Quite a remarkable support system is provided to the franchisee, to help them carry out the business.
Revenue sharing model is as well flexible and would depend upon the franchisees.
---
Become a Sub Broker with Abhinandan Stock Broking – Just Fill up the form
---
Find detailed review of other Sub Broker Franchise
---
Important Articles