In the list of some remarkable stock broking houses, you can come across the name Accord Capital Markets. It has its products and services sprawling across the nation through the Accord Capital Markets Sub Broker made available through the Accord Capital Markets Franchise business models.
Summary
Top Business Model
Sub Broker
Revenue Sharing
50% – 70%
Security Deposit
Rs.50,000 – Rs.100,000
Become Sub Broker in
30 Days
Receive Payout in
35 Days
Founder
Himanshu Anantray Ajmera
Established Year
1994
Satisfy your curiosity about this company's franchise model and also the charge it imposes on its customers here. You will come across a detailed review and explanation of every aspect of the company, in relation to the sub-brokers and the clients.
---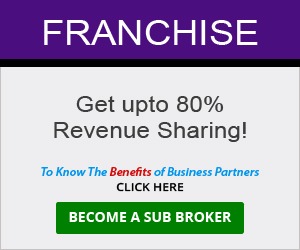 ---
Accord Capital Markets Franchise – Customer Ratings
Clients and the sub brokers are to be made equally fascinated by the firm and its services if the existing plans are for the long term. Refer to the Accord Capital Markets Sub Broker and client rating to see the kind of impact this company has made on them.
Customer Ratings
Experience
2.3/5
Services
2.4/5
Products
2.5/5
Trading Platforms
2.3/5
Support
2.4/5
Revenue Sharing Model
2.5/5
Security Deposit
2.4/5
Offers
2.4/5
Market Share
2.1/5
Overall Ratings
2.3/5
Star Ratings
★★★☆☆
Accord Capital Markets Customer Rating as studied by us results in an overall rating of 2.3 stars. Though this falls below the industry standard, there is a fair chance to make up for the race.
---
Overview of Accord Capital Markets Franchise / Sub Broker
The creator of Accord Capital Markets and its Franchise arm is Himanshu Anantray Ajmera. The company type is private and is headquartered in Kolkata since the year it came into existence in 1994. One of the older stock broking houses, Accord Capital Market has been a significant contributor to the entire country.
Accord Capital Markets Overview
Company Type
Private
Broker type
Full Service Broker
Headquarters
Kolkata
Founder
Himanshu Anantray Ajmera
Established Year
1994
SB Code Activation Time
30 Days
Payout Time
35 Days
Closing up on the sub broker deal provided by the company, the Sub Broker Code Activation Time is of 30 days, whereas the Payout Time is 35 days. Designed to reach the quality industry standards is what drives the company ahead of most of its peers.
---
Become a Sub Broker with Accord Capital Markets – Just Fill up the form
---
Compare Sub Broker Franchise
vs
---
Accord Capital Markets Sub Broker – Business Models
Franchise options are some really great strategies that open up opportunities for the broking house and other individuals or entities. Follow-up has to be made according to the models made available, and as for the Accord Capital Markets, they have sub-broker and remisier models.
Business Models
Master Franchise
No
Sub Broker
Yes
Remisier
Yes
Referral Program
No
Crafting up a business model is difficult but the Accord Capital Markets Sub Broker Business Model, alongside remisier model to the point and can be availed accordingly.
---
Accord Capital Markets Sub Broker / Authorised Person Model
Sub Broker – This model is crafted for enterprises willing to invest in franchise models of business. Such an entity that would earn the sub broker code for the company Accord Capital Market will be permitted to deal with its products and services, likewise retaining a portion of revenue for itself.
Accord Capital Markets Remisier Model
Remisier – This model is crafted for the betterment of individual enthusiasts, who will be given the responsibility of bringing leads to the company. There is no direct sale of goods or services done by remisier as it is with the sub-broker, but every lead which is converted into a customer will be rewarded.
---
Commission by Accord Capital Markets Sub broker
Revenue is often shaped in paid in accordance with the security deposit made. There is a direct relation between the Accord Capital Markets Franchise Revenue Sharing Model and security deposit which can be followed below, precisely.
Revenue Sharing
Master Franchise
NA
Sub Broker
50% – 70%
Remisier
20%
Referral Program
NA
The range of revenue earned applies for the Sub broker model, where the minimum earning would be 50% assuredly, however the extremity of revenue if of 70%. This choice and variation are however not provided in the remisier as the possible return made would sum up to be 20% for the final.
---
Check out Revenue Sharing of other Sub Brokers
---
Accord Capital Markets Franchise Cost / Security Deposit
Kickstarting the business is easy for the Accord Capital franchise models. The process is well defined, and the steps end with the payment of the Accord Capital Markets Franchise Cost. The cost varies for both models and so does the income received.
Security Deposit
Master Franchise
NA
Sub Broker
Rs.50,000 – Rs.100,000
Remisier
Rs.10,000
Referral Program
NA
For a quick overview of the security deposit, the company has surely minimized the franchise cost. There is flexibility in the deposit of sub broker, which ranges from Rs.50,000 – Rs.100,000. This does not apply to the remisier model, as the deposit to be paid is fixed at Rs.10,000.
---
Here are Security Deposit info of other Stock Broking Franchise
---
Accord Capital Markets Partner Infrastructure Requirement
Constructing a business requires gathering a lot of items, including manpower and infrastructure. Accord Capital Markets Infrastructure Requirement exists too, where a set benchmark in land, building, resources, and manpower is required to be set up.
Infrastructure Requirement
Office Area
Minimum 100 Sq Ft
Employee Strength
Minimum 1
Research Services
No
Internet Connection
No
Trading Terminals
Yes
Telephone Lines
No
Sub brokers would need to accumulate a host of items to build up a place of business they would be undertaking. Three requirements are all sub-brokers need to allude to and they are, an employee strength of 1, trading terminals and office are of Minimum 100 Sq Ft.
---
Accord Capital Markets Sub Broker Offers
Some franchise companies spare up a lot of offers for the sub-brokers, in an attempt to get the most of business from them. While some companies do not spare any kind of offers, there are two Accord Capital Markets Sub Broker Offers one can enjoy.
Offers
Zero Deposit
No
10k Initial Deposit
Yes
Flexible Revenue Sharing
Yes
Flat Revenue Sharing
No
Zero Revenue Sharing with Prepaid
No
Business can be commenced with an initial deposit of 10k or so, which is a really great perk for the sub-brokers. Also, as discussed the revenue-sharing model is flexible, thereby giving you a chance to expand your revenue earning percentage.
---
Check out other companies Sub Broker Offers
---
Accord Capital Markets Franchise Support
Some of the broking houses like accounting for their sub brokers taking into account the way they start their business deals.  Some cover all the aspect in support and some cover partial. Here is the Accord Capital Markets Franchise Support services information.
Support
Marketing Support
No
Back-Office Support
Yes
Trading Support
Yes
Advisory Support
Yes
Dealing Training
No
Acquisition Training
No
Product Training
No
Marketing is commonly provided by a lot of franchisers and this is excluded here, for Accord Capital Markets. But, there are other support services the company provides, i.e. back office support, trading support, and lastly advisory support.
---
Accord Capital Markets Authorised Person – Brokerage Charges to Clients
Note the charges for all the instruments as they are to be duly paid and differ from each other. The company provides all types of investment options which are available in the market apart from Commodity and the Accord Capital Markets Brokerage Charges are illustrated below.
Brokerage Charges to Clients
Equity Delivery
0.20%
Equity Intraday
0.02%
Equity Futures
0.02%
Equity Options
Rs.20 per Lot
Currency Futures
0.02%
Currency Options
Rs.10 per Lot
Commodity
NA
The most common of all instruments are Equity Intraday, Equity Futures, and Currency Futures which all have the same charge of 0.02%. Equity Delivery has a different and unique charge, i.e. of 0.20%. however, the other class of assets is Equity Options and Currency Options, which would demand a charge of Rs.20 per Lot and Rs.10 per Lot.
---
Accord Capital Markets Partner – Account Opening Charges to Clients
Charges are the rights of the stock broker house, and how much of a relaxation is provided is the company's interest. According to the Accord Capital Markets interest the Accord Capital Markets Account Opening Charges are briefly given below.
Account Opening Charges to Clients
Demat AMC
Percentage of Transaction
Trading AMC
Free
Account Opening Charges
Rs.400
Transaction Charges
0.00315%
Margin Money
Zero Margin
Designed charges actually go by the as follows, where there is no margin requirement whatsoever.
The perks of the AMC are that there are literally no charges for the trading account, however, for the demat account they are the Percentage of Transactions.
Every attempted and successfully commenced transaction charge are as 0.00315%.
Account opening charges are Rs.400 for every account holder.
---
Benefits of Accord Capital Markets Partner Program
The assurity of dealing with a great company comes with the benefits it provides. If you haven't already figured them all out, here is what you will have access to.
Trading AMC is free of cost, and this is for a lifetime, also there is no margin requirement.
The charges are applicable for every asset class as brokerage charges are quite cheap and affordable, leaving a greater proportion of profit to the holder.
Support services and the offers provided by the company are well structured.
The revenue sharing model is quite flexible and would suffice for the need of the franchisee.
---
Become a Sub Broker with Accord Capital Markets – Just Fill up the form
---
Find detailed review of other Sub Broker Franchise
---
Important Articles