One of the prominent players of the stock broking industry is Acemoney. You will find well set and structured Acemoney Sub Broker all across the country. Opting for the Acemoney Franchise is on the bright side, as it is the great opportunity of working for this remarkable stock broking house.
Summary
Top Business Model
Sub Broker
Revenue Sharing
50% – 70%
Security Deposit
Rs.50,000 – Rs.100,000
Become Sub Broker in
14 Days
Receive Payout in
31 Days
Founder
Ravee Rraj Jain
Established Year
1985
Expect to find all the monetary information in this article, about the sub broker models provided by the company and also the client charges. A quick read up will let you know a lot of the company and will also help to weigh in the possible outcome of your consideration.
---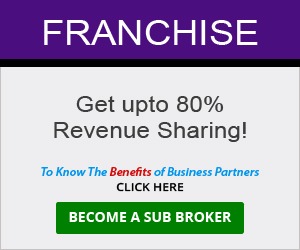 ---
Acemoney Franchise – Customer Ratings
Evaluating the past experience, one can draw a conclusion or at least an estimation of the client services and the Acemoney Sub Broker services. Each of the arena rating has been briefly provided in the table given below, to ensure the aspirant know of each aspect individually.
Customer Ratings
Experience
3.0/5
Services
3.2/5
Products
3.1/5
Trading Platforms
3.2/5
Support
3.1/5
Revenue Sharing Model
3.5/5
Security Deposit
3.3/5
Offers
2.5/5
Market Share
2.0/5
Overall Ratings
2.9/5
Star Ratings
★★★☆☆
Such a stabilized customer rating is rarely to be found. This Acemoney Customer Rating says the company is actually performing quite well through a good 2.9 star overall rating. However, the sub brokers praise the company's revenue sharing model the most, as it has the highest of all ratings 3.5.
---
Overview of Acemoney Franchise / Sub Broker
This stock broking company is a private organization which was founded by Ravee Rraj Jain. The idea of Acemoney Franchise emerged later with a view of expansion. Based in New Delhi, this company is one of the most reputed and trusted stock broking companies.
Acemoney Overview
Company Type
Private
Broker type
Full Service Broker
Headquarters
New Delhi
Founder
Ravee Rraj Jain
Established Year
1985
SB Code Activation Time
14 Days
Payout Time
31 Days
Passing on the idea of franchise, the company has marked a Sub Broker Code Activation Time of 14 days and Payout Time of 31 Days for the sub brokers. An experienced stock broking firm like this is a great investment for the sub brokers and also the individual investors.
---
Become a Sub Broker with Acemoney – Just Fill up the form
---
Compare Sub Broker Franchise
vs
---
Acemoney Sub Broker – Business Models
Franchise models have become a pretty good consideration for newly forming businesses. Availing for a ready made plan would actually work as it spares one from the hassle of starting from the first brick put into the building of big infrastructure.
Business Models
Master Franchise
Yes
Sub Broker
Yes
Remisier
No
Referral Program
No
As displayed above, Acemoney Sub Broker Business Model and the master franchise business are the two models provided by the company.
---
Acemoney Master Franchise Model
In this model, the responsibility of a particular territory and all the franchise activities which happen in the particular territory will be delegated to the franchisee. Regulation and execution is the franchisees responsibility and as it is higher, so are they entitled to greater share in revenue.
Acemoney Sub Broker / Authorised Person Model
This model is meant for entities that are in search of a business plan and have chosen to enter the franchise business. they will be given the right to sell the brokering house's products and services, from which they will be given a fair share of revenue.
---
Acemoney Sub broker Commission / Revenue Sharing
The Acemoney Franchise Revenue Sharing Model is directly in relation with the security deposit amount. If you manage to cater and contribute a greater deposit of money, you will probably be able to earn a higher percentage of revenue or vice versa.
Revenue Sharing
Master Franchise
72% – 80%
Sub Broker
50% – 70%
Remisier
NA
Referral Program
NA
Sharing the revenue with the franchiser is the way how the franchise business works. But, the perk is that you will be entitled to a higher percentage of revenue. We have the options of master and sub broker, and the percentage for the former is 72% – 80%, whereas the percentage for latter is 50% – 70%.
---
Check out Revenue Sharing of other Sub Brokers
---
Acemoney Franchise Cost / Security Deposit
Assuming you further wish to go for the models of the company and wish to know the security deposit required, here are the insights on the Acemoney Franchise Cost. You will find the minimum and the maximum requirement of deposit in the form of security.
Security Deposit
Master Franchise
Rs.200,000 – Rs.500,000
Sub Broker
Rs.50,000 – Rs.100,000
Remisier
NA
Referral Program
NA
As the company provides 2 options of franchise, you may choose to go for the either one of them, after paying a sufficient amount of security deposit. You will be required to pay a deposit in between Rs.50,000 – Rs.100,000 for the sub broker model and Rs.200,000 – Rs.500,000 for the master franchise model.
---
Here are Security Deposit info of other Stock Broking Franchise
---
Acemoney Partner Infrastructure Requirement
Know the requirements to sort and arrange for them and be termed as eligible. Acemoney Infrastructure Requirement is the prime requirement, while all the there are secondary, but are all mandatory to be followed to successfully form sub broker contract.
Infrastructure Requirement
Office Area
Minimum 250 Sq Ft
Employee Strength
Minimum 2
Research Services
Yes
Internet Connection
No
Trading Terminals
No
Telephone Lines
Yes
Not all the requirements are necessary to enter the franchise business with Acemoney. If you manage to have Minimum 250 Sq Ft of office area, minimum 2 employee strength, research services and telephone lines, you will be eligible to go for the franchise business of the Acemoney.
---
Acemoney Sub Broker Offers
Greater the number of offers presented, higher will be the performance portrayed by the sub broker. This way a good efficiency levels can be reached using the Acemoney Sub Broker Offers structure, which are two for this particular company.
Offers
Zero Deposit
No
10k Initial Deposit
No
Flexible Revenue Sharing
Yes
Flat Revenue Sharing
No
Zero Revenue Sharing with Prepaid
Yes
The idea is to create levels of efficiency and well earned clients, who would stick with the company for long. In an attempt to encourage the sub brokers to work accordingly, the company provided them with the offers of flexible revenue sharing and also zero revenue sharing with prepaid.
---
Check out other companies Sub Broker Offers
---
Acemoney Franchise Support
Draw your accountability to the firm and your clients, but the company will surely hold your hand up to an extent lending on Acemoney Franchise Support services. Here is what you will be provided from the company's end.
Support
Marketing Support
No
Back-Office Support
Yes
Trading Support
Yes
Advisory Support
No
Dealing Training
Yes
Acquisition Training
No
Product Training
No
Support extension is a good step, where the sub brokers will know the rightful ways of earning on leads and clients. To support the sub brokers with the same, Acemoney provides support services of back office, trading and advisory to the franchisees.
---
Acemoney Authorised Person – Brokerage Charges to Clients
This company provides a lot of verifies investment options the customers can choose from. All of the instruments provide a different functions and have different elements included among them. For all of them, the Acemoney Brokerage Charges differ as well.
Brokerage Charges to Clients
Equity Delivery
0.33%
Equity Intraday
0.03%
Equity Futures
0.03%
Equity Options
Rs.20 per Lot
Currency Futures
0.03%
Currency Options
Rs.30 per Lot
Commodity
0.03%
As the table depicts Equity Intraday, Equity Futures, Currency Futures and Commodity all have the same charge, which is of 0.03%. The Equity Delivery differs a bit which is of 0.33%. However, the Equity Options and the Currency Options altogether have different charge of Rs.20 per Lot and Rs.30 per Lot.
---
Acemoney Partner – Account Opening Charges to Clients
Time to observe the client's obligation towards the company, if they would sign for holding an account. Acemoney Account Opening Charges of Rs.250 are all which goes to the company which opening the account. It is a one time fee, and to be paid only at the time of opening of account.
Account Opening Charges to Clients
Demat AMC
Percentage of Transaction
Trading AMC
Rs.300 per Annum
Account Opening Charges
Rs.250
Transaction Charges
0.00265%
Margin Money
Minimum Rs.5,000
Nominal charges are a choice and Acemoney opted for it, safeguarding the interest of the holders. The margin requirement is as low as it can get, where the figures are Minimum Rs.5,000. The AMC for both the accounts are, Percentage of Transaction for demat and Rs.300 per Annum for the trading.
---
Benefits of Acemoney Partner Program
Brace yourself and stick with the company because it provides a lot of benefits to the clients and the franchise owners.
Charges for opening an account have been set up to be minimal, where other houses go up to Rs.600 – 700. So is the margin requirement less, standing at Rs.5,000.
Enjoying a host of support services is possible with this stock broking house, if you are its franchisee, and opted for one of the business model.
Brokerage charges are minimal as well, where no high amounts of payments are accepted.
Revenue sharing model is flexible for sub broker model as well as the master franchise model.
---
Become a Sub Broker with Acemoney – Just Fill up the form
---
Find detailed review of other Sub Broker Franchise
---
Important Articles