A list of renowned stock broking houses grew into a unit when ACK Capital entered the industry. ACK Capital Sub Broker is a structured business model which is designed by the house and successfully spread across the country. ACK Capital Franchise can be opted for and the must-knows are accounted for in this article.
Summary
Top Business Model
Sub Broker
Revenue Sharing
60% – 75%
Security Deposit
Rs.50,000 – Rs.200,000
Become Sub Broker in
31 Days
Receive Payout in
33 Days
Founder
Falguni Sunil Kamdar
Established Year
1994
Sub-brokers or clients are openly welcome into the firm, and while we aim mostly at the sub-broker business model in this context, we have also included the statistics in relation to the clients. Find all the information combined together, in one place here.
---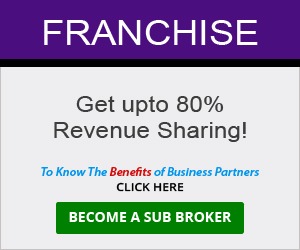 ---
ACK Capital Franchise – Customer Ratings
Service being granted or granted in the past to the ACK Capital Sub Broker and the clients contain insights into how this firm works. So, here is the feed of such information, through the rating they have given.
Customer Ratings
Experience
2.7/5
Services
2.6/5
Products
2.6/5
Trading Platforms
2.6/5
Support
2.6/5
Revenue Sharing Model
2.4/5
Security Deposit
2.7/5
Offers
2.6/5
Market Share
2.5/5
Overall Ratings
2.6/5
Star Ratings
★★★☆☆
ACK Capital Customer Rating is on an overall basis for both the clients and the sub-broker. The overall is 2.6 stars, which is average in nature, however, the possibility of a rise in the future can be witnessed clearly.
---
Overview of ACK Capital Franchise / Sub Broker
ACK Capital, which owns the ACK Capital Franchise model, debuted in the stock broking industry in the year 1994. Credits for all the services rendered and the growth of the firm are directed to the founder, who goes by the name Falguni Sunil Kamdar.
ACK Capital Overview
Company Type
Private
Broker type
Full Service Broker
Headquarters
Mumbai
Founder
Falguni Sunil Kamdar
Established Year
1994
SB Code Activation Time
31 Days
Payout Time
33 Days
Briefing the Sub Broker Code Activation Time and Payout Time, they are 31 days and 33 days simultaneously, lesser than what other competitors offer. Full-service brokers list got better with ACK Capital which is based out of Mumbai and is a private organization.
---
Become a Sub Broker with ACK Capital – Just Fill up the form
---
Compare Sub Broker Franchise
vs
---
ACK Capital Sub Broker – Business Models
The most popular business model of this stock broker is sub-broker, however, it is not the only business model made available to the public. They also offer the second most sought franchise business model, i.e. register. Both models are briefly explained further.
Business Models
Master Franchise
No
Sub Broker
Yes
Remisier
Yes
Referral Program
No
Two of the commonly found models are barred; however, you will find ACK Capital Sub Broker Business Model and the remisier model here.
---
ACK Capital Sub Broker / Authorised Person Model
Here is the deal with this model, the franchisee will have the right to work with this ACK Capital's name and sell its products and services to its personal client base it has built or will build across the future time frame. The reward will be a higher share of revenue generated.
ACK Capital Remisier Model
So, this is generally an individual program, where the person will have to produce leads for the company. Upon conversion of leads into clients, the remisier will get a commission. There is no direct sale of products or services done by the remisier.
---
ACK Capital Sub broker Commission / Revenue Sharing
The magnitude of returns from the ACK Capital Franchise Revenue Sharing Model is rather high, compared to the other franchise-facilitating stock brokers. As for the two types of business provisions the stock broker grants, here are the percentage of revenue they shall be entitled to.
Revenue Sharing
Master Franchise
NA
Sub Broker
60% – 75%
Remisier
20%
Referral Program
NA
The referral program and master franchise are excluded from this stock broker's business model. The sub-broker of this firm will however be earning a percentage of profits say between 60% – 75%, which is more than what other brokers offer. However, the remisier entitlement is 20%, which is stable and fixed and also likewise other broker's structures.
---
Check out Revenue Sharing of other Sub Brokers
---
ACK Capital Franchise Cost / Security Deposit
Note down the ACK Capital Franchise Cost, for both business models. As the broker provides only the sub-broker and the remisier model, you will find statistics of both models. The deposit for the sub-brokers is customizable. However, of the remisier, it is not.
Security Deposit
Master Franchise
NA
Sub Broker
Rs.50,000 – Rs.200,000
Remisier
Rs.25,000
Referral Program
NA
If the security deposit made goes us, the revenue provided in return goes up as well. This is well featured in the sub broker model where the deposit required is Rs.50,000 – Rs.200,000. Make a choice and invest accordingly, but for the remisier program, the deposit is rigid at Rs.25,000.
---
Here are Security Deposit info of other Stock Broking Franchise
---
ACK Capital Partner Infrastructure Requirement
Owning or renting a place depends upon the sub-broker but there sure is an ACK Capital Infrastructure Requirement. Other requirements are as well made available which are to be followed by the franchisees. Consider it as an eligibility criterion to have these requirements.
Infrastructure Requirement
Office Area
Minimum 100 Sq Ft
Employee Strength
Minimum 1
Research Services
No
Internet Connection
No
Trading Terminals
No
Telephone Lines
Yes
The first criteria are an office area of a Minimum of 100 Sq Ft, and then an employee strength of a minimum 1. The last requirement is the availability of telephone lines. These requirements are the minimum range, however, they can be taken up s per the personal interest of the franchisee.
---
ACK Capital Sub Broker Offers
Common ACK Capital Sub Broker Offers being granted to the sub-brokers and the remisier are as follows. If a firm or the individual will be chosen to be granted a franchise model, they will also be served with the offers as stated below.
Offers
Zero Deposit
No
10k Initial Deposit
No
Flexible Revenue Sharing
Yes
Flat Revenue Sharing
Yes
Zero Revenue Sharing with Prepaid
No
The table features the list of offers that stock brokers generally provide the franchisees and the ones which are availed by ACK Capital. Ponder over the thoughts of choosing your franchise partner as this broking house provides flexible revenue sharing and also flat revenue sharing.
---
Check out other companies Sub Broker Offers
---
ACK Capital Franchise Support
Support services would level up the existing knowledge and expertise of the sub-brokers with the levels required by the stock broking firm. This ACK Capital Franchise Support service tactic is to make the most out of the sub-brokers of the company.
Support
Marketing Support
No
Back-Office Support
Yes
Trading Support
Yes
Advisory Support
Yes
Dealing Training
No
Acquisition Training
No
Product Training
No
You might now find all the support services here, but we assure you, the ones ACK Capital provides are enough to get and create good business deals. Pinpointing the support extension, you will find back-office support, trading support, and advisory support with this stock broker.
---
ACK Capital Authorised Person – Brokerage Charges to Clients
We have included the percentage of ACK Capital Brokerage Charges below, and if you take a sneak peek at them, you will encounter the low prices set by the broker. The prices are firstly economic and secondly customizable as the percentage ranges.
Brokerage Charges to Clients
Equity Delivery
0.1% – 0.2%
Equity Intraday
0.01% – 0.02%
Equity Futures
0.01% – 0.02%
Equity Options
Rs.10 – Rs.20 per Lot
Currency Futures
0.01% – 0.02%
Currency Options
Rs.7 – Rs.10 per Lot
Commodity
0.01% – 0.02%
Weighing in the brokerage charges of the firm, here is what you will have to pay, for the diverse financial instruments you would choose:
4 of the financial instrument you would avail of have the same set of brokerage charges. They are Equity Intraday, Equity Futures, Currency Futures, and commodity, and their charges are 0.01% – 0.02%.
Equity delivery will however cost you more than what the above items would cost, i.e. 0.1% – 0.2%.
The remaining are the options, where Equity Options would cost Rs.10 – Rs.20 per Lot and Currency Options would cost Rs.7 – Rs.10 per Lot.
---
ACK Capital Partner – Account Opening Charges to Clients
ACK Capital Account Opening Charges are to be borne by the clients who wish to become an ACK Capital client. Also, the other set of charges directed towards the clients are mentioned below, where the margin money to be maintained in the account is set to be Minimum Rs.1,000.
Account Opening Charges to Clients
Demat AMC
Percentage of Transaction
Trading AMC
Rs.300 per Annum
Account Opening Charges
Rs.300
Transaction Charges
0.00290%
Margin Money
Minimum Rs.1,000
Opening an account is easy, as we now have the online account opening process, but the fee of Rs.300 stands valid for either of the medium opted.
Furthermore, there lies an AMC for both demat and trading accounts. The demat AMC depends, however, the Trading AMC is fixed at Rs.300 per Annum. Transaction charge is applicable as well, which is 0.00290%.
---
Benefits of ACK Capital Partner Program
Resolving the issues which have been faced by the clients and sub-brokers of the company, ACK Capital has made some great amendments to its working structure, and benefits are all left now.
What makes investing with this firm likely is the low margin maintenance, as the burden of having a huge margin all the time is almost nonexistent.
Brokerage fees are customizable, which makes it a plus point for the clients.
Low-security deposit and good support services sum up the program of sub-brokers as a whole.
A flexible and rather higher revenue-sharing model tops the list of benefits for the sub-brokers.
---
Become a Sub Broker with ACK Capital – Just Fill up the form
---
Find detailed review of other Sub Broker Franchise
---
Important Articles