Taking up the pace and challenge of outsmarting the present stock broking industry is this house, Action Financial, which is embedded with all the rightful means. Host of products and services are provided through the Action Financial Sub Broker model which is well structured through Action Financial Franchise.
Summary
Top Business Model
Sub Broker
Revenue Sharing
50% – 75%
Security Deposit
Rs.50,000 – Rs.200,000
Become Sub Broker in
25 Days
Receive Payout in
31 Days
Founder
Bakul Ramniklal Parekh
Established Year
1992
The key personnel work towards making the establishment a huge success and credits ought not be given to someone else in this context. Gain up on the information of the company, the clients and sub broker's liability and benefits though the franchiser, i.e. Action Financial here.
---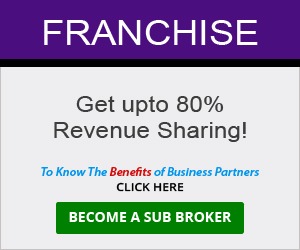 ---
Action Financial Franchise – Customer Ratings
Company which is well praised is always in demand. The praises have now become a trend, where rating option is provided to the customers on rendering the goods and services. All of the Action Financial Sub Broker and client rating are mentioned below.
Customer Ratings
Experience
2.4/5
Services
2.6/5
Products
2.3/5
Trading Platforms
2.6/5
Support
2.3/5
Revenue Sharing Model
2.7/5
Security Deposit
2.6/5
Offers
2.4/5
Market Share
2.5/5
Overall Ratings
2.6/5
Star Ratings
★★★☆☆
Indicating the overall Action Financial Customer Rating of 2.6 star, the firm is of average basis as per the industry standard. The firm is best loved for the revenue sharing model to the sub brokers it provides.
---
Overview of Action Financial Franchise / Sub Broker
This distinguished stock broking firm is a public establishment which was first founded by Bakul Ramniklal Parekh, back in the year 1992. Since the house is sought after, its Action Financial Franchise models are as well in demand, where the existing sub brokers are highly benefiting from the model.
Action Financial Overview
Company Type
Public
Broker type
Full Service Broker
Headquarters
Mumbai
Founder
Bakul Ramniklal Parekh
Established Year
1992
SB Code Activation Time
25 Days
Payout Time
31 Days
Full stack of financial services are provided by this stock broking house as it is a full service broker. As for the Sub Broker Code Activation Time, it is set up on 25 days, while the Payout Time is set to be 31 days, probably lesser in competition with the market standards.
---
Become a Sub Broker with Action Financial – Just Fill up the form
---
Compare Sub Broker Franchise
vs
---
Action Financial Sub Broker – Business Models
If you wish to invest in a franchise model, Action Financial has means for it through the sub broker model. If you also are a client to them and wish to earn something on the side, Action Financial also have the means for you through the referral program.
Business Models
Master Franchise
No
Sub Broker
Yes
Remisier
No
Referral Program
Yes
Highly in demand is the Action Financial Sub Broker Business Model, but so is the second referral program beneficial.
---
Action Financial Sub Broker / Authorised Person Model
So, this is the opportunity for the entities or corporation which are in search of a business idea to work on. They will basically have the right to the stock broker's trademark, so they can sell the products and services which are designed by and belongs to Action Financial.
Action Financial Referral Program Model
This can be carried out by any demat and trading account holder. The holder will have to sign up for the program and only refer the ones he knows. If the referral made turns into a client, the holder will be rewarded on the basis of per referral made.
---
Action Financial Sub broker Commission / Revenue Sharing
The Action Financial Franchise Revenue Sharing Model is defined, and pretty similar to most of its industry peers. The sub broker model basically ranges and is customisable. Referral programs are not generally found in most of the business model, so this is a perk for the account holders of Action Financial.
Revenue Sharing
Master Franchise
NA
Sub Broker
50% – 75%
Remisier
NA
Referral Program
Rs.1500 per Refer
As mentioned earlier, the reward for the holder would be on per refer basis. So, ever refer the holder would make, would earn him Rs.1500. On the contrary, the sub brokers who perform successful business deals, will be able to retain a percentage ranging from 50% – 75%.
---
Check out Revenue Sharing of other Sub Brokers
---
Action Financial Franchise Cost / Security Deposit
The Action Financial Franchise Cost is the decision making criteria for the revenue earned. This is precisely for the sub broker model, and the structured is designed to have a direct relation between security deposit made and the revenue earned at the end.
Security Deposit
Master Franchise
NA
Sub Broker
Rs.50,000 – Rs.200,000
Remisier
NA
Referral Program
Zero
The percentage determinant is the security cost, so if you pay a minimum deposit of Rs.50,000, you will earn a lesser revenue. However, if the security deposit made goes higher up to Rs.200,000, the revenue earned will go up too.  For the second model, i.e. the referral program, there is no applicable security deposit to be made.
---
Here are Security Deposit info of other Stock Broking Franchise
---
Action Financial Partner Infrastructure Requirement
Business has requirements and cannot be kick started randomly. The first and most common requirement is Action Financial Infrastructure Requirement, which has to be met up to a great extent in order to be eligible to be the sub broker of Action Financial.
Infrastructure Requirement
Office Area
Minimum 100 Sq Ft
Employee Strength
Minimum 1
Research Services
Yes
Internet Connection
No
Trading Terminals
Yes
Telephone Lines
No
As mentioned, there is a requirement of infrastructure, most precisely Minimum 100 Sq Ft of office area, alongside a fixed employee. These figures can go up, up to a range as feasible for the sub brokers but shall not go below the mentioned threshold. Also, the research and trading services are to be provided by the sub brokers.
---
Action Financial Sub Broker Offers
Encouraging people to invest with the firm and commence business with them, this stock broker provided Action Financial Sub Broker Offers. The offers to be enjoyed by the signed up sub brokers are as follows.
Offers
Zero Deposit
Yes
10k Initial Deposit
No
Flexible Revenue Sharing
Yes
Flat Revenue Sharing
No
Zero Revenue Sharing with Prepaid
No
Transforming into a sub brokers of the company Action Financial, one will be given access to a flexible revenue sharing model which is designed entirely to the benefit of the sub broker. Zero deposit from the referral program is the perk, while the flexible revenue sharing is for the sub brokers.
---
Check out other companies Sub Broker Offers
---
Action Financial Franchise Support
The support required by the sub brokers is well included by this stock broker under its Action Financial Franchise Support. Not all support services are provided by the firm, but the majority and the most important aspects are covered briefly.
Support
Marketing Support
Yes
Back-Office Support
Yes
Trading Support
Yes
Advisory Support
No
Dealing Training
Yes
Acquisition Training
No
Product Training
No
You can expect the stock broking company to provide, marketing support, back office support and trading support. Also, the way of dealing with the customers is as well provided, where the sub broker employee are given training on how to deal with clients.
---
Action Financial Authorised Person – Brokerage Charges to Clients
Charges are assuredly taken from the customers, but the amount deducted, i.e. the percentage charge differs. The charge is targeted towards a particular aspect by the stock broker. As for the Action Financial Brokerage Charges, they are as below for all the asset classes.
Brokerage Charges to Clients
Equity Delivery
0.40%
Equity Intraday
0.04%
Equity Futures
0.04%
Equity Options
 Rs.60 per Lot
Currency Futures
0.04%
Currency Options
Rs.40 per Lot
Commodity
0.04%
Four asset classes have the same set of charges, while the other three have distinctive charges, uncommon to the other asset classes.
Four comment assets are Equity Intraday, Equity Futures, Currency Futures and commodity, and their charge is 0.04% individually.
Second assets class is the Equity Delivery, which has a charge of 0.40%.
Next asset class is the options, where Equity Options has Rs.60 per Lot charge, while Currency Options has Rs.40 per Lot charge.
---
Action Financial Partner – Account Opening Charges to Clients
Action Financial Account Opening Charges are applicable at time when a customer of the house avails for an account for the first time. Following the activation of the account, there are some other charges to be paid along the course of time the account is held.
Account Opening Charges to Clients
Demat AMC
Percentage of Transaction
Trading AMC
Rs.500 per Annum
Account Opening Charges
Rs.350
Transaction Charges
0.00325%
Margin Money
Minimum Rs.25,000
First charge to be paid is opening charge of Rs.350, while the next set of charges to be paid occur once ever year, i.e. the AMC. AMC of the demat account is Percentage of Transaction and trading account is Rs.500 per Annum. Margin requirement is higher at Rs.25,000 while the charge per transaction is  0.00325%.
---
Benefits of Action Financial Partner Program
One would be benefited by the business plan this firm provides, and also by the services and products aimed at the betterment of the clients.
Support services are absolutely commendable, as the broker does not only provide a business plan but also provides the mean of successful execution.
Offers are as well provided to the sub brokers, making it possible to work on a pretty defined structure.
The referral program is feasible for the clients as any trader or account holder can sign up for it and earn a handsome side income.
Revenue sharing model is flexible to provide a boost to the sub brokers, and the individuals willing to sign up for the same.
---
Become a Sub Broker with Action Financial – Just Fill up the form
---
Find detailed review of other Sub Broker Franchise
---
Important Articles